To increase your odds of taking a clean shot when hunting with the 308, you must have a glassing tool that enhances your vision. This is where a scope comes in to play. A rifle scope is an invaluable tool to have in your hunting tool kit irrespective of whether you are a beginner or a seasoned hunter/shooter. Today's focus is on the best scopes for 308 under $500.
Since its introduction way back in 1952, the 308 Winchester has tremendously grown to become a versatile round that is widely used for hunting and tactical shooting applications. This rimless, bottlenecked cartridge is enough for deer hunting and any other small or deer-size game at normal hunting distances.
When hunting, the 308 Winchester is an adequate cartridge out to 500 yards. For such a range, you will need a scope to acquire targets accurately. A good rifle scope is important in bringing distant targets closer and magnifying the smaller targets.
What Makes a Great Scope for 308
If you are buying a 308 scope for the first time, you are probably wondering what attributes make one great. Firstly, a great scope for 308 should have broad magnification power to zoom in the small targets and cover different ranges with ease.
Furthermore, the scope should be built ready for outdoor use. It should have a body that is rigid enough to take in the abuse and last long. Over and above that, the scope should be shockproof, fog proof and waterproof to guarantee reliable performance in any environment.
The best scopes for 308 under $500 should be crafted with top-notch glass elements to optimize sharpness and clarity. The lenses should also feature proper anti-reflective coatings to minimize glare and guarantee higher levels of light transmission.
The other noteworthy features that a great scope for 308 should have include a long eye relief, lightweight design and a parallax adjustment that is easily accessible.
6 Best Scopes for 308 under $500
Rifle scopes come in varying prices based on the brand and the features included. Listed below is a list of the very best scopes for 308 that come with a price tag that is under $500. Thought these scopes are budget friendly, they are built functional, durable and as versatile as the 308.
So, without any further delay, let's jump right in.
1) Leupold VX-Freedom 3-9x40mm Rifle Scope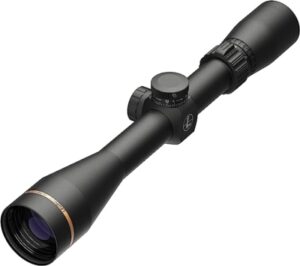 First on our list is the Leupold VX-Freedom 3-9x40mm Rifle Scope. This moderately powered rifle scope from Leupold is packed with a multitude of premium quality features that make it one of the best scopes for 308 under $500.
The durability of this rifle scope is impressive. It has a single-piece 1-inch main tube that is built from 6061-T6 aircraft quality aluminum. The quality construction makes the scope ideal for use in all hunting fields and shooting ranges. Additionally, the scope has scratch resistant lenses to add on protection, and is fully waterproof and fog proof for all-weather performance.
Complementing the outstanding build quality is a Twilight Light Management System that makes the scope ideal for use even in the poor lighting environment. This system adds glassing light in twilight conditions and maximizes the brightness and clarity of the images in such conditions.
The other essential features this optic brings to the table are a generous eye relief through the entire 3-9x magnification, tactile capped turrets and a lightweight design of 12.2oz only.
Features
Twilight Light Management System
6061-T6 aircraft quality aluminum housing
1-inch main tube
Second focal plane reticle
Waterproof and fog proof
Scratch resistant lenses
3:1 zoom ratio
Pros
Tactile capped turrets
Lightweight with great build quality
Crisp clear optics
Stunning low light performance
Generous eye relief
Cons
2) Vortex Diamondback 4-12x40mm Rifle Scope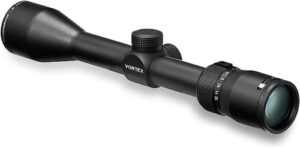 The Diamondback 4-12x40mm Rifle Scope is designed to deliver all the power a hunter needs for medium to long range hunting. It is built on a 1-inch body tube and has an ultra-lightweight design of 14.6oz to be portable and easy to use.
A defining feature of this scope is the optical performance. It is built with a large 40mm objective lens that draws in more light inside the optics to the magnification power useable at every level. Additionally, the scope has fully multi-coated optics to enhance the transmission of light by alleviating internal light loss and limiting glare.
Another remarkable feature of this optic is quality construction. It has an aircraft grade aluminum body that shockproof to withstand recoil and impact. The body is anodized to be scratchproof and rustproof, and weatherproofed for use in all weather conditions.
Furthermore, the scope features a Dead-Hold BDC reticle that is put on the second focal plane. This means that the reticle maintains a constant size through the whole zoom range. The scope is also built with pop-up dials for precise and easy windage and elevation adjustment.
Features
1-inch main tube
Waterproof, fog proof and shockproof
SFP Dead-Hold BDC reticle
Aircraft grade aluminum body
Hard anodized finish
Fully multi-coated optics
Variable 4-12x magnification
Pros
Great value for money
Easy to mount and use
Holds zero well
Solid build
Cons
3) Bushnell Engage 2-10x44mm Rifle Scope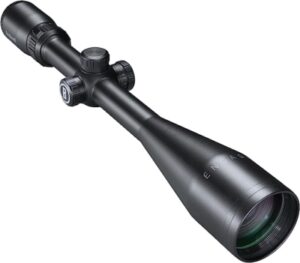 If you want to better your odds of having more successful hunting trips this season, you need a quality sighting tool like the Bushnell Engage 2-10x44mm Rifle Scope. This rifle scope is optimized for hunting where it delivers great precision even in the most unforgiving hunting environments.
The selling point of this rifle scope is low light visibility. It has a large 44mm aperture that optimizes performance in poor light conditions of dawn and dusk. The optics are also fully multi-coated with an ultra-wide band coating to deliver the best-in-class image brightness and clarity.
Moreover, this rifle scope is built with ease of use in mind. It has tool-less locking turrets to prevent accidental adjustments in the field. On top of that, it has a lightweight and compact design for easy maneuverability in the field.
For all-weather use, this rifle scope is fog proof and IPX-7 rated to be fully waterproof and dustproof. It also boasts an EXO Barrier lens coating that repels water, oil and stains to keep the lens clean in all environments.
Features
Rear focal plane Deploy MOA reticle
Fully multi-coated optics
Fog proof, water proof and dust proof
30mm main tube
Tool-less locking turrets
Water and dirt repellent EXO Barrier lens coating
5-10x magnification
Pros
Generous eye relief
Lightweight and durable
Easy and effective reticle
Good low light visibility
Cons
4) Leapers UTG 3-12x44mm Rifle Scope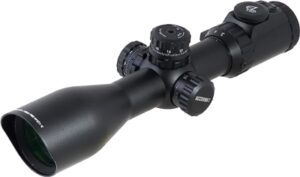 As one of the best scopes for 308 under $500, the UTG 3-12x44mm Rifle Scope is off the charts when it comes to multifunctionality. It makes an excellent sighting tool for a wide range of hunting applications at close to long ranges.
The scope is built on a 30mm body tube that provides ample room for adjustments during use. This body tube has a rugged and shockproof construction to stand up to rough handling. Additionally, it is completely sealed and filled with nitrogen gas to offer a lifetime of waterproof and fog proof performance.
What's more is that this rifle scope has an illumination enhancing reticle to ensure quick and easy target acquisition in low light settings. This illumination is housed in a special circuit and housing design to ensure that it stays uninterrupted even under heavy recoil.
To top it all off, the scope features premium zero locking and zero resetting target turrets for consistent and precise 1/4 MOA per click windage and elevation adjustment.
Features
30mm main tube
3-12x magnification power
Adjustable parallax from 10 yards to infinity
Waterproof and fog proof construction
Multi-coated emerald lens coatings
1/4 MOA per click windage and elevation adjustment
Aircraft grade aluminum construction
Pros
Illuminated reticle
Clear glass
Easy to mount and detach
Cons
5) Athlon Optics Argos BTR Gen II 6-24X50mm Rifle Scope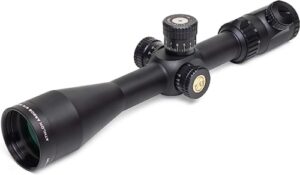 If you are a beginner is hunting or competitive shooting, the Argos BTR Gen II 6-24X50mm Rifle Scope suits you. This entry level rifle scope from Athlon Optics is not only affordable, but also very easy to use.
The scope has a broad magnification power that spans from 6x to 24x. This makes it ideal for medium to long ranges hunting and shooting. On top of that, it boasts a large 50mm aperture to complement the broad zoom power and ensure that the images generated are crisp and rich in detail even at the highest zoom settings.
More importantly, this riflescope has a first focal plane reticle that yields stunning precision at all ranges. It shrinks or enlarges with change in magnification and has LED illumination that makes it ideal for use even in low light settings.
When it comes to construction, this rifle scope has a 30mm body tube that is waterproofed, fog proofed and shock proofed to ensure unimpeded field use. Besides that, this sighting tool boasts fully multi-coated lenses to enhance light transmission in low light environments. It is also built with an XPL lens coating that provides extra protection from dirt, oil and scratches.
Features
Precision zero stop system
First focal plane reticle
30mm body tube
Advanced fully multi-coated lenses
6061-T6 aluminum housing
Waterproof and shockproof
Scratch resistant XPL coating
6-24x variable magnification
Pros
Sturdy and durable construction
Versatile
Easy to use and great for beginners
Illuminated reticle
Cons
Slightly heavy
Poor eye relief
6) Primary Arms 4-14 x 44mm Rifle Scope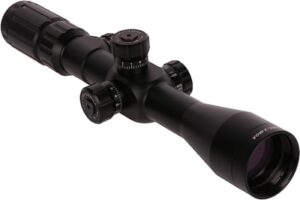 Lastly on our list of the best scopes for 308 under $500 is the Primary Arms 4-14 x 44mm Rifle Scope. This variable powered rifle scope is uniquely designed to enhance your precision when hunting/shooting with your favorite 308 rifle.
Primary Arms built this rifle scope with durability in mind. It has a 30mm single-piece body tube that is built from high strength aluminum. With the quality construction, the scope is able to stand up to whatever punishment you throw at it. Besides, it is shockproof, waterproof and nitrogen filled to provide a lifetime of use in all kinds of weather conditions.
Another highlight of the rifle scope is the reticle. It is built with an ACSS HUD DMR .308 reticle housed on the front focal plane. This reticle stays true through the entire 4-14x magnification range where it provides quick ranging and accurate wind holds. Better yet, it is illuminated to maximize visibility in low light settings.
With all these handy features at your disposal, the Primary Arms 4-14 x 44mm Rifle Scope will with no doubt change how you hunt/shoot and make you a better hunter/shooter.
Features
Finger adjustable turrets
30mm body tube
FFP ACSS HUD DMR .308 reticle
Shockproof, waterproof and fog resistant
4-14x variable magnification
Robust aluminum housing
Side mounted parallax adjustment
Pros
Reticle illumination
Fairly lightweight
High-quality glass
Rugged and reliable construction
Cons
Read Also 
What Magnification Do You Need?
For both hunting and target shooting with the 308, you will need a scope whose magnification is enough for the distance you will be shooting at. It is also wise to get a variable power scope that has a broader zoom power to cover different ranges.
Close to Medium Range Hunting/ Shooting
For close to medium range hunting or shooting up to 300 yards, you should get a scope with not more than 9x magnification power. Anything higher than that will be an overkill.
Long Range Hunting/ Shooting
The effective range of the .308 Winchester is 500 yards. For long range shooting at this range, it is best to get a scope that has a higher zoom power of 10x and above.
Things to Look for in the Best Scopes for 308 under $500
Now that you have a budget you are working with, it is important that you get a scope that offers you the best value for money. Here are the key factors you should take into consideration when shopping for the best scope for 308 under $500.
Build Quality
You will want to get a scope that lasts as long as your hunting/shooting rifle. With quality construction, the scope will not only last long but also be there for you when you need it the most.
Go for a scope that has its body crafted with top notch materials preferably aerospace grade aluminum or magnesium. In addition to that, the scope should also have a ruggedized construction to withstand impacts and rough handling during use.
Objective Lens
In rifle scopes, the objective lens is responsible for drawing light inside the optics. The larger the diameter is, the more light the scope collects. The end result is optimized low light performance and a wide field of view.
However, a scope with an extra-large objective lens has a drawback of being heavy, cumbersome and costly. A tip is to get a scope with an objective lens whose diameter is between 40mm and 50mm. Such scopes offer the ultimate balance between size and weight.
Reticle
When shopping for the best scopes for 308 under $500, ensure that you get a reticle that matches your shooting style. On top of that, consider your hunting/shooting skills and experience and get a reticle that is easy to use. The last thing you would want is to get a complex reticle that you will find hard to use in the field.
Lens Coating
For hunting or tactical, you will want to have a bright and crisp view of the targets even in the low light settings. To achieve this, the scope you get should have lenses that transmit as much light as possible without any glare or reflection.
This is where lens coatings come into play. A scope with multiple antireflective lens coatings will reduce the volume of light reflected and also limit glare. The end results will be production of bright and crisp images that are rich in detail and edge-to-edge sharpness. Lens coatings are also important in shielding the lens from scratches.
Weatherproofed Construction
All-weather construction is another important feature that the best scopes for 308 under $500 should have. The optical tube should be O-ring sealed against moisture, dirt, dust and any other debris that can damage the optics when it enters the scope. Additionally, the interior optics should be filled with a dry inert gas like argon or nitrogen to keep the lenses fog free.
FAQs
How much eye relief do I need for .308?
The .308 produces moderate recoil during use. This calls for an eye relief that is long enough to not only protect the eye from the scope as it recoils, but also guarantee comfortable use of the scope with or without eyeglasses. A tip is to get a scope with at least 3.5 inches of eye relief if you don't wear eyeglasses and 4 inches if you wear eyeglasses.
How far can a .308 shoot?
Typically, 500 yards. However, the distance depends on a wide range of factors including the angle you are shooting at, shooting skills and the barrel length among others.
What scope size should I get for 308?
It depends on several things from the activity you will using the scope for, to the shooting range and individual needs. So, take into account these factors then get the scope that works best for your individual needs.
Conclusion
308 Winchester is a versatile round that requires an equally versatile scope if you want to push it to its full potential. With the right scope at you disposal, you will be able to boost your shooting confidence and change how you hunt/shoot for the better. No matter the scope that you end up choosing, it is our hope that you have found this post to be helpful and insightful.