Bird watching is an outdoor recreational activity enjoyed by people of all ages. It is fun and thrilling especially for those who love to get closer to nature. If you fall under this category, bird watching becomes even more enjoyable when you have a pair of binoculars at hand. In today's article, our main focus will be on the best 8×42 binoculars for bird watching.
Binoculars come in different designs and configurations, and 8×42 size is by far the best configuration for bird watching. 8x represents the size of the magnification power and 42mm is the diameter of the objective lens.
8×42 binoculars strike the perfect balance between performance and value. They are easy to hold steady with either one or both hands, eliminating the need to use a tripod. Additionally, the are small in size to enhance portability and offer the widest field of view which is a vital feature for birdwatching.
What Makes a Great 8×42 Binocular for Bird Watching
A great pair of 8×42 binoculars is made of a number of attributes. Firstly, the binocular should have solid and sturdy construction to enhance durability and guarantee reliable performance in the field.
Secondly, the binocular should boast high-transmission optics that promise high resolution and unmatched color accuracy. On top of that, all air to glass surfaces should have quality anti-reflective lens coatings to boost light transmission while limiting glare.
The other noteworthy features of the best 8×42 binoculars for bird watching include:
Comfortable, adjustable eyecups
Lightweight construction
Long eye relief
Smooth focusing system
A housing that has dependable protection from moisture, dust and elements
Best 8×42 Binoculars for Bird Watching – Top Picks
Getting a closer and better view of the birds is the main benefit that comes with investing in binoculars for bird watching. Here is a round up of the best 8×42 binoculars for bird watching that are available on the market.
Let's take a look.
1) Celestron – Nature DX 8×42 Binoculars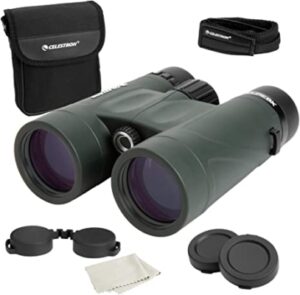 Celestron – Nature DX 8×42 is by far the best 8×42 binoculars for bird watching that is available out there. Made with the outdoor enthusiast in mind, this pair of binoculars offers the perfect combination of magnification, field of view and close focus distance for bird watching.
It is easy to use and a great choice for all birders, including beginners. The compact design allows for easy packability while the lightweight construction makes glassing a breeze even during long birding session.
In addition to ease of use, the Celestron – Nature DX 8×42 Binoculars feature optical perfection to ensure that you enjoy your time outdoors. It employs multi-coated optics which offer quality detail that you won't find with other entry-level binoculars.
Furthermore, this optical gear features twist-up eyecups that create a comfortable viewing experience for all users, including those who wear eyeglasses. Other than that, this pair of binoculars is waterproof and nitrogen purged to withstand elements and be operable in all weather conditions.
Features
Fully multi-coated optics
5ft/2m close focus distance
Waterproof and nitrogen filled
Durable polycarbonate housing
BaK-4 prisms
Anti-slip rubber armor
Twist-up eyecups
Pros
Lightweight and compact
Easy to use
Wide field of view
Great value for money
Excellent image quality
Cons
The accessories included aren't durable
2) Vortex Optics Diamondback HD 8×42 Binoculars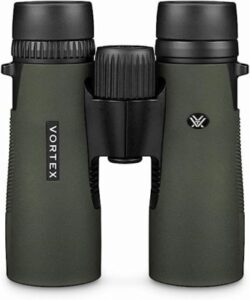 Carrying the respected Vortex name, Diamondback HD 8×42 Binoculars smash the scale of price and performance to deliver a solid sighting tool that optically punches way above its class. It has a user-friendly design to accommodate users of all levels and smooth focusing system for added convenience.
The selling point of this pair of binoculars is optical finesse. It is optimized with HD glass elements to deliver exceptional resolution, limit chromatic aberration and deliver outstanding color fidelity. On top of that, the lenses are fully multi-coated to boost transmission of light.
Not only is the binocular's optical performance outstanding, but also its build quality. It has a rugged chassis design to withstand impacts and rough handling. Additionally, the chassis is rubber armored to provide a secure, anti-slip grip as well as durable protection from elements.
Weighing a mere 8ounces, the Diamondback HD 8×42 Binoculars are lightweight, portable and very comfortable on the hands. The eyecups twist up and down for comfortable viewing with or without eyewear. Also, the binocular features a diopter located on the right eyepiece to adjust for differences in the user's eyes.
Features
Waterproof and argon purged
Rugged construction
Adjustable eyecups
Fully multi-coated lenses
Central focus wheel
Right eyepiece diopter
Armortek lens coatings
Premium HD glass elements
Pros
Ultra-lightweight construction
High build quality
Bright image clarity
Easy to focus
Cons
3) Nikon PROSTAFF 3S 8×42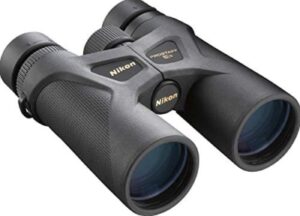 Sitting comfortably in third is the Nikon PROSTAFF 3S 8×42. This is an outstanding binocular for anyone looking for a rugged and portable optic worthy of every adventure.
The Nikon PROSTAFF 3S binocular features an optical system made from lead-and-arsenic-free Eco-Glass. It maximizes resolution to provide brilliantly clear and detail rich of the birds in their different habitats. Moreover, the binocular features multi-layer coatings which provide high light transmission in the entire visible light spectrum.
With the high-eyepoint design, this optic delivers a long eye relief without vignetting. As a result, users are guaranteed of a clear field of view during use. Furthermore, the rubber eyecups turn and slide to help you adjust the eye relief for a custom fit.
When it comes to construction, Nikon PROSTAFF 3S binoculars are optimized for durability. They feature an ultra-robust chassis that is rubber armored to provide a non-slip grip even in the wettest conditions. The binocular also boasts reliable waterproof and fog proof protection for all weather use.
Features
Rubber armored body
Multi-layer lens coatings
Turn-and-slide rubber eyecups
High reflective silver alloy mirror coatings
Waterproof and fog proof construction
High-end Eco-glass elements
Pros
Rugged design
Lightweight and portable
Long eye relief
Wide field of view
Affordable pricing
Cons
Some aberrations around the edges
4) Zeiss Conquest HD 8×42 Binoculars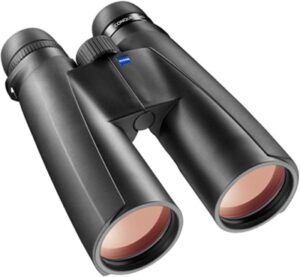 Zeiss Conquest HD 8×42 binoculars are by far the best value binoculars for bird watching. Designed as a rugged and twilight capable companion, this pair of binoculars delivers phenomenal image views in all situations.
The 8×42 configuration will impress you with the large 128m at 1000m field of view that guarantees quick scanning and monitoring of the birds as they fly or jump from one point to the other. The large field of view is also beneficial in that it enables long, fatigue-free observation.
Optically, Zeiss Conquest HD binoculars use high-definition glass which enhances light transmission up to 90%. As a result, the binocular provides excellent resolution, even in low level light settings.
Furthermore, this optic has a compact and robust body construction that makes it ready for use under any conditions. It also features a water repellent LotuTec lens coating that maintains a clear view in all kinds of weather conditions.
Features
HD type lens
2m close focus distance
T premium lens coating
Rotating and lockable eyecups
Fully armored body
Waterproof and fog proof
LotuTec water shedding outer coating
Pros
Wide field of view
Compact, lightweight and portable
Solid and sturdy construction
Phenomenal picture quality
Cons
5) Maven C1 42mm ED Binoculars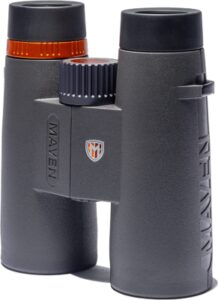 As one of the best 8×42 binoculars for bird watching, Maven C1 42mm ED Binoculars are built with an advanced optical system for the best available performance. These binoculars are dependable, solid and a perfect companion for all birding expeditions.
At 24oz only, the binocular is one of the lightest mid-sized binoculars available out there. This makes it easy to carry and hold during long glassing sessions. Over and above that, it employs Schmidt-Pechan prism system that produces exceptionally bright, clear and high contrast images.
When it comes to construction, the Maven C1 42mm ED binocular is optimized for long term durability. It has scratch-resistant lens coatings and a shockproof body to weather the most unforgiving outdoor conditions. Furthermore, it is 100% waterproof, fog proof and dustproof for all weather use.
With all these handy features, this set of binoculars is a workhorse that guarantees reliable performance when you need it most.
Features
Extra-low dispersion glass
Waterproof and fog proof
Schmidt-Pechan prisms
Scratch resistant lens coatings
Fully multi-coated lenses
Ruggedized polymer frame
Rubber armored body
Pros
Sturdy construction
Smooth focusing system
Excellent image quality
Cons
6) Athlon Optics Midas Binoculars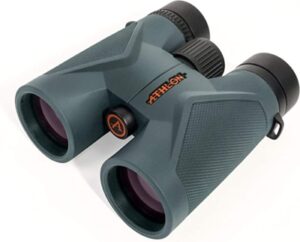 Next up, we have Athlon Optics Midas Binoculars. Ideal for both adult and kids, this pair of bird watching binoculars is compact, lightweight and easy to hold steady with one or both hands.
The selling point of this mid-sized binocular is ultra-high definition views. It employs ED glass for sharper images views with edge-to-edge clarity. Additionally, both the lenses and the prisms are coated to boost light transmission and enhance accurate color reproduction.
To complement the optical finesse, this set of binoculars is made to last. It has a durable magnesium chassis that is as tough as metal chassis but more lightweight. A tough XPL lens coatings is also applied on the exterior surface of the lens to prevent scratches and dirt buildup.
Moreover, this binocular is argon purged and sealed to provide better waterproofing and thermal stability. As a result, it is safe to use in the less-than-ideal weather conditions.
Features
Magnesium chassis
ESP dielectric prism coating
High-quality BaK4 prisms
Fully multi-coated optics
UHD glass elements
Waterproof and argon purged
Durable and non-slip rubber armor
Pros
Generous eye relief
Reasonable price
Good picture quality
Large and clear field of view
Compact and lightweight
Cons
The focusing system is not entirely smooth
7) LEICA Trinovid 8×42 HD Binoculars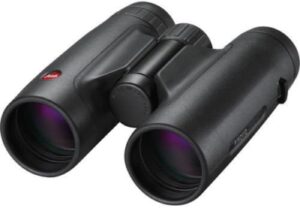 Our last 8×42 binocular recommendation for bird watching is the Trinovid 8×42 HD Binoculars from Leica. Designed for the widest array of uses, this mid-sized binocular offers superb performance in any environment.
Leica designed this set of binoculars with ease of use in mind. It comes with an ergonomic design for safe handling during use. Furthermore, it guarantees a steady grip for absolute precise focusing.
As one of the best 8×42 binoculars for bird watching, this optic is made to survive virtually anything. It has a fully rubber armored body that is impact resistant and shock proof. On top of the quality construction, the binocular is fully waterproof, dust proof and fog proof for operability in all kinds of weather conditions.
Optically, this binocular is equipped with the highest quality glass elements which deliver state-of-the-art image performance. The high-end glass elements coupled with the premium prism and quality lens coatings offer phenomenal picture quality even in low level light conditions.
Features
Top-quality Leica optics
Waterproof and fog proof
Fully rubber armored body
Outstanding mechanical features
Rugged and durable construction
Center focus type
Pros
High level of wear comfort
Impressive optical performance
Compact and ideally balanced design
Easy, intuitive operation
Cons
Read Also
How to Choose the Best 8×42 Binoculars for Bird Watching
Apart from magnification power and objective lens diameter, here are the other key things to consider when shopping for 8×42 binoculars for birding.
Optics Quality
The first feature to take into consideration is the quality of the optics. In binoculars, image quality is directly proportional to optics. If the binocular is equipped with high-end optics, it will yield high-quality image views and vice versa.
For the best 8×42 binoculars for bird watching, we recommend that you settle for a product that employs the best glass you can afford. Typically, models with UHD, ED and fluorite glass elements are the best.
Lens Coatings
Binoculars come with anti-reflective lens coatings that assist with light transmission. These coatings make a really big difference on the brightness and quality of the images generated.
Whether you go birding regularly or occasion, go for a binocular that has either multi-coated or fully multi-coated lenses. The more coatings are applied on the lenses, the better the optical performance. Lens coatings also play a big role of protecting the lenses from scratches.
Weight
The next thing to consider is weight. This is very important if you are always using the binoculars when you are on the go. Lightweight binoculars make birding a more fun expedition compared to the heavy and bulky counterparts. They are also much more comfortable to hold steadily during use without necessitating the use of a tripod.
Durability
Bird watching binoculars are an investment. It is for this reason that you should settle for a unit that offers the best value for your money. When making your selection, look at the type of materials used for construction and pick a product that is built with the most durable materials.
Well-made binoculars promise dependable performance in all environments. The best 8×42 binoculars for bird watching should also be built with reliable weatherproof protection to maximize durability.
Rubber Armoring
Ensure that the binocular you choose to buy comes with a rugged rubber armoring. This is an important feature that provides additional shield from elements and shock. A rubber armoring is also vital for providing a secure, anti-slip grip in wet weather conditions or when your hands are sweaty.
Eye Relief
Eye relief in binoculars determine how comfortable they will be to glass with. The longer the eye relief, the greater the glassing comfort.
If you wear eyeglasses, eye relief is an important feature to take into account. Look at the design of the binoculars and pick a model that had adjustable eyecups. With this function, you will have the flexibility to tailor the eye relief based on your glassing needs.
FAQs
Are 8×42 binoculars good for bird watching?
Yes. 8×42 is arguably the best binocular size for bird watching. Most birding enthusiasts prefer this binocular configuration because it is bright and easy to hold steady. 8×42 binoculars also feature ultra-wide field of view that makes it easy to find the bird and track them in flight.
How much does a good pair of binoculars cost?
The cost of binoculars varies from one model to the other based on the brand, features incorporated and the quality of construction. For birding binoculars, the cost varies from as low as under $100 to the budget models and as high as over $2000 for the top-tier units.
What makes expensive binoculars?
Generally, the more costly a pair of binoculars is, the better the optical performance and built quality. This is attributed to the advanced technology, high-end glass elements and top-grade materials used during the construction process.
Final Thoughts
Investing in the best 8×42 binoculars for bird watching is the first step to making your birding excursions better and more enjoyable. All the binoculars we have listed above are optimized for bird watching. They have all the essential features a birder will need for their outdoor excursions. Whatever model you decide to settle for, it is my hope that this article has steered you in the right direction.