Are you in the hunt for the best scope for 25-06? If so, you are in the right place. This is your ultimate guide to purchasing the best scope for your .25-06 rifle.
The .25-06 is one of the most reliable and efficient calibers out there. Irrespective of the hunting activity you use your .25-06 for. a scope is an indispensable tool to have. Having the right scope will transform how you hunt for the better and increase your odds of going back home a happy hunter. A good scope also gives you an edge when it comes to finding targets at extended ranges and enhances your shooting accuracy no matter the situation.
In this post, we have a detailed review of the best scopes for .25-06. They are as versatile as this cartridge, and ideal for shooting and plinking in addition to hunting. Before we take a look at the scopes in detail, let's start by looking at the key attributes that make a scope great for .25-06.
What Makes a Great Scope for 25-06?
A great scope for .25-06 is made of a multitude of features and the first one is ample magnification. Whether you purpose to use the .25-06 for hunting, shooting, plinking or any other application, with the right magnification power, you will have an easy time finding and acquiring targets.
Secondly, the scope should a have high-quality optical system that yields bright and clear image views under any lighting condition. To complement the optical system, the scope should also be fully waterproof and fog resistant for use even in harsh environments.
A great scope for .25-06 should also have a robust housing. With a sturdy and durable housing comes reliable performance even in the most unforgiving outdoor conditions. Above all, the scope should offer a decent eye relief for snug shooting and be lightweight to scatter the recoil the .25-06 generates.
7 Best Scope for 26-06 – Our Top Picks
With so many scopes available on the market currently, going through each one of them makes the buying process taxing and time consuming. To make your selection process less daunting, here are the best scopes for .25-06 you can choose from. Let's take a look.
1) Leupold VX-3i 4.5-14x50mm Riflescope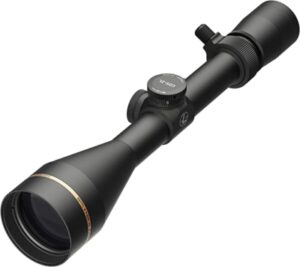 Leupold makes a multitude of premium quality riflescopes and the VX-3i 4.5-14x50mm is not any different. Adding this model on your 25-06 rifle will help you enhance your shooting precision, even at long ranges.
The scope is built to offer superb image clarity under any situation. It possesses a Twilight Light Management System which provides great image brightness and intensified color contrast across the whole field of view. This is regardless of whether you are hunting in broad daylight or in low light conditions.
Another feature that makes it shine is its durability. It is impact tested and verified to be shockproof and recoil resistant. Additionally, the scope is designed with advanced sealing methods that make it fully waterproof, dust proof and fog resistant.
For added convenience, the scope boasts a generous eye relief for comfortable shooting with or without eyeglasses, and a lightweight design to ensure ease of portability. The scope also comes with an easy turn power selector for swift magnification adjustments and dual spring precision adjustments that offer match grade precision.
Features
Versatile 4.5-14x magnification
Twilight Light Management System
Waterproof and fog proof
Dual spring precision adjustments
1-inch body tube
Duplex reticle
Easy turn power selector
Pros
Generous eye relief
Lightweight design
Solid built quality
Excellent low light performance
Cons
It's a 1-inch tube scope
The turrets don't have a zero stop
2) Primary Arms SLX 4-14x44mm FFP Rifle Scope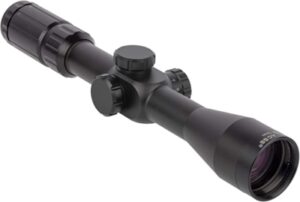 When it comes to versatility, the Primary Arms SLX 4-14x44mm FFP Rifle Scope is hard to beat. It is built with a multitude of high-end features to meet the demands of hunters and shooters all over.
The scope is built to be nearly indestructible. It possesses a durable and shockproof aluminum body that is rigid enough to weather anything that comes its way. Better yet, it is waterproof for use in all weather conditions and nitrogen purged to keep the lenses fog free.
With a weight of just 25.2 ounces, the scope is light, portable and easy to use. It also features a first focal plane illuminated reticle with six different brightness settings for visibility in virtually all light settings, and a fast focus eyepiece that is essential for swift reticle focusing.
Best of all, the scope has a variable 4-14x magnification power suitable for medium and long range hunting and a wide 44mm aperture that yields bright and quality image views across the entire zoom range.
Features
Illuminated first focal plane reticle
Waterproof and fog resistant
4-14x magnification
30mm main tube
Fast focus eyepiece
.25 MOA adjustments
Side mounted parallax adjustment knob
Durable aluminum body
Pros
Lightweight design
Reticle illumination
Wide magnification range
Easy to use
Cons
Narrower field of view
Not ideal for shooting below 100 yards
3) Simmons 8-Point 3-9x50mm Rifle Scope with Truplex Reticle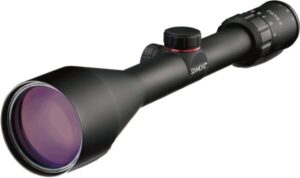 The Simmons 8-Point 3-9x50mm is arguably the best scope for 25-06 for the money. It offers a plethora of reliable features at a price that is easy on the wallet.
This rifle scope is ideal for taking shots at close to long ranges. It has a variable 3-9x zoom power that offers the perfect combination of large field of view at close quarters and rapid target acquisition at longer distances. It also features a large 50mm objective that maximizes image quality at every zoom level.
Furthermore, the optic has a quick target acquisition eyepiece for easy and rapid target acquisition. It is also equipped with a triplex reticle that is easy to use and fully-coated high quality optics that yield bright, detailed and high-contrast image views from sunrise till sunset.
Above all, the scope is fully waterproof and fog resistant for use in all weather conditions and recoil proof to handle the recoil the 25-06 emits.
Features
TrueZero fingertip windage and elevation adjustment
Waterproof and fog proof construction
Matte finish
Truplex reticle
Quick target acquisition eyepiece
Fully-coated high-quality optics
3-9x variable magnification
1/4 MOA SureGrip audible click windage and elevation adjustments
Pros
Accommodating eye relief
Light and compact design
Wide field of view
Easy on the pocket
Cons
4) Vortex Optics Viper PST Gen II First Focal Plane Riflescopes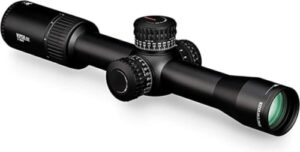 Next up is the Vortex Viper PST Gen II 3-15×44 EBR-2C Riflescope. This optic is your ideal option if you are looking to take your hunting or tactical shooting with the .25-06 to the next big level.
Featuring a vast 3-15x magnification, this riflescope gives you the flexibility to take take shots at close to long ranges. Further, it features a large 44 aperture and a fast focus eyepiece that allows for rapid and simple reticle focusing. It also comes with an illuminated first focal plane reticle that is glass-etched for optimal durability and reliability.
Another facet that makes the scope stand out is its optical finesse. It boasts extra-low dispersion glass which increase resolution and color fidelity. On top of that, it features XR fully multi-coated lenses that increase transmission of light to yield bright and clear image views.
More importantly, the scope is built to last. It has a single-piece tube made from aircraft-grade aluminum which gives shooters a durable platform. It also brings to the table Armortek lens coatings for added protection in the field and a waterproof and fog proof housing for all-weather reliability.
Features
Fiber optic rotation indicator
Versatile 3-15x magnification
XR fully multi-coated lenses
Waterproof and fog proof
Laser etched turrets
RZR zero stop
Extra-low dispersion glass
Fast focus eyepiece
Precision glide erector system
Pros
Illuminated reticle
Durable and reliable construction
Lightweight design
Excellent glass quality
Cons
No mounting hardware included
The turrets are not capped
5) Trijicon TR22 AccuPoint 2.5-10x56mm Riflescope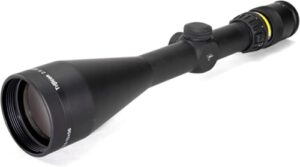 When you want the absolute best, go for the Trijicon TR22 AccuPoint 2.5-10x56mm Riflescope. This top-notch scope is designed with modern technology to ensure that you get the most out of your hunting or shooting excursions.
The scope is built with ease of use in mind. It features a battery-free illumination to help you aim confidently in any lighting condition. Moreover, it has crisp and precise windage and elevation adjustment knobs that require no tools to operate and capped turrets to ensure no accidental shift occurs when you are on the field.
When it comes to construction, the scope features a ruggedized design for optimal reliability. It is sturdy enough to withstand extreme hunting conditions. It also features a black anodized finish that keeps it free of rust, corrosion and scratches.
In addition to everything else, this scope comes with superior quality multi-coated lenses that provide superior clarity and light gathering abilities in low light conditions, and a waterproof housing for all-weather reliability.
Features
30mm main tube
Waterproof construction
High-end multi-coated lenses
Capped turrets
Aircraft-grade aluminum housing
Black anodized finish
Second focal plane reticle
Pros
Battery free illumination
Zero forward emission
The optics are crystal clear
Solid construction
Cons
Pricey
Smaller eye relief at max power
6) ZEISS Conquest V4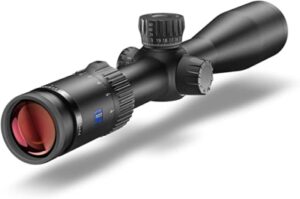 As one of the best scopes for 25-06, Zeiss Conquest V4 4-16×44 offers the perfect balance of value and performance. It has a large visual field for swift target finding and versatile zoom power which makes it the ideal optic for hunting and shooting in any environment.
The scope is built to offer unmatched durability. It has a sturdy and durable body that is built to take in any beating and stand up to anything nature throws at it. Even better, it utilizes a LotuTec coating that provides a clear and unhindered view in all weather conditions.
With a mere weight of 22.58 ounces, you will have an easy time carrying the scope everywhere you go. Furthermore, it utilizes higher definition glass that offers great low light performance and outstanding image resolution across the vast 4-16x magnification range.
The scope also features high-quality lens coatings that enhance light transmission and a fine crosshair reticle which provides precise point of aim under any environment.
Features
4-16x magnification range
High-end glass quality
Hydrophobic LotuTec coating
#20 Z-Plex reticle
44mm aperture
Zeiss T lens coating
Pros
Great low light performance
Lightweight design
Wide field of view
Reticle illumination
Cons
7) Bushnell 1-8×24 AR Optics Riflescope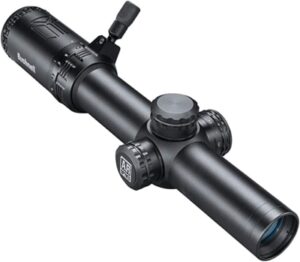 Last but not least, we have the Bushnell 1-8×24 AR Optics Riflescope. The scope features a second focal plane BDC reticle that is illuminated to provide excellent low light performance and accurate holdovers out to 500 yards.
Bushnell designed this riflescope ready for rugged outdoor conditions. It is fully shockproof to withstand recoil and heavy impact that comes with hunting. It is also waterproof and nitrogen purged to be usable under any environment.
Furthermore, it has multiple layers of anti-reflective lens coatings on all air to glass surfaces. The coatings maximize light transmission and reduce loss of light through reflection to deliver exceptional image clarity and brightness.
This 30mm tube scope also comes with a throw down power change lever for fast magnification changes and a lightweight construction to enhance mobility.
Features
1-8x magnification range
30mm body tube
Second focal plane illuminated BDC reticle
Throw down power change lever
Fully waterproof and fog resistant
Capped turrets
Fully multi-coated optics
Pros
Reticle illumination
Bright and clear optics
Good built quality
Excellent performer for the price
Cons
Less ideal for shooting in low light conditions
Read Also
Factors to Consider when Choosing the Best Scope for 25-06
Glass Quality
Good image clarity is an important feature that every scope should provide. A scope that has high-quality glass yields outstanding image clarity from dawn to dusk. It also enhances resolution and color contrast.
Go for a scope that utilizes either HD or ED glass. It will offer the clearest and sharpest image views in virtually any lighting condition.
Eye Relief
Eye relief refers to the distance from the scope's eyepiece to your eye. It is important that you get a scope that has a long eye relief to ensure that you get a snug glassing experience with or without eyeglasses. A scope that offers a long eye relief will also keep your eye safe from getting hit by the scope as the rifle recoils.
Durability
Durability is key if you are looking to get the best from your scope. The scope you get should be sturdy enough to weather the recoil this round generates and all types of environmental damage.
Scopes made from aircraft-grade aluminum or any other sturdy metal offer the ultimate durability. Also make sure that you get a unit that is rated to be recoil proof and shockproof for greater durability.
Magnification
The next feature you should take into account is magnification. Magnification is crucial in a scope as it brings you closer to the distant targets and magnifies the small targets.
Generally, the distance you will be shooting at dictates the ideal magnification for you. If you plan to take shots from close to medium ranges, a model with a variable 3-9x is more than sufficient. However, you will need more than 10x magnification power for long range hunting and shooting.
Weight
The weight of the scope is also very important. Whether you plan to use the scope for hunting, tactical shooting or plinking, it is best to get a lightweight scope.
A scope that weighs less than 2lbs won't slow you down or get in your way as you maneuver the field looking for targets. A light scope also scatters recoil more effectively compared to a heavy one.
Weatherproof
Lastly, ensure that you get a scope that is fully weatherproof. The best scope for 25-06 should be sealed with high-quality O-rings to be free of moisture, dirt, dust and any other debris. The scope should also be fog resistant to offer a clear field of view under any environment.
Best Scope for 25-06 FAQs
What is the effective range of 25-06?
The 25-06 is a flat-shooting round suitable for taking shots at both close and long ranges. With the right rifle and all environmental factors being favorable, it can shoot accurately out to 350 yards.
What is the 25-06 used for?
The 25-06 round is widely used for hunting medium and big sized game. It offers exceptional accuracy from close to long ranges and a high muzzle velocity to ensure that you take down the game ethically on the first shot.
What do numbers on the scope mean?
The numbers found in a scope description represent the magnification power and the size of the objective lens. In a 4-16×44 model for example, the scope has an adjustable magnification that ranges from 4x to 16x and a 44mm objective lens diameter.
Final Thoughts
We do hope that this guide has given you the insight into the best scope for 25-06. The activity you intend to use your 25-06 for plays a big role in determining the scope that you get. As you shop around for the best scope, put into consideration your preference and hunting/shooting habits and settle for a model that will help you better your overall performance in the hunting field or shooting range.