Are you in the market for the best scope for 223 coyote hunting? This guide is for you. We have put up a review of the best scopes for 223 coyote hunting to help you find the right fit for your needs effortlessly.
The .223 Remington is a popular cartridge in the hunting field. It is a viable coyote, varmint and medium-sized game hunting cartridge that maintains enough velocity out to about 250 yards. Once you take an accurate shot, it penetrates deeply and expands reliably so you are able to take out the game ethically.
However, the .223 Remington is not foolproof. When you take a shot from an angle or distance that isn't right, be ready for it to pass on a game. To avoid that, you need to get a scope. A quality scope will revolutionize how you hunt and make you a proud hunter. It will help you find the coyotes effortlessly in any environment and increase your odds of placing the shots accurately.
What Makes a Great Scope for Coyote Hunting?
Coyotes are highly elusive creatures. When hunting them, you need to have the best hunting tools by your side to increase your chances of success. There are several facets that make a great scope for coyote hunting.
Firstly, the scope has to have the right magnification power and a large objective lens to provide bright and quality sight pictures. The ideal magnification power will depend on the hunting environment and the distance at which you will be hunting the coyotes.
The other important features that the scope should have include:
Durable and shockproof construction to weather heavy recoil and the rough handling that is associated with hunting
A good fast-focus eyepiece for bringing the target into focus hastily
Solid lens coatings and high-quality glass that enhance image brightness, sharpness and clarity
Fully waterproof, fog proof and dustproof construction if you plan to use it for hunting in different weather seasons
Lightweight design for easy handling in the hunting field
An accommodating eye relief to allow for comfortable glassing, with or without eyeglasses
7 Best Scopes for 223 Coyote Hunting
Finding the best scope for 223 coyote hunting is no mean feat. The market is flooded with a multitude of scopes from different brands for you to pick from. If you are having a hard time finding the right scope for your hunting needs, here are some of the best models to choose from. Let's take a look.
1) Vortex Optics Razor HD Gen II First Focal Plane Riflescope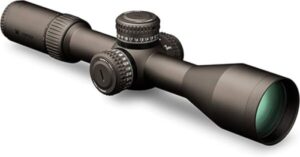 First up we have the Razor HD Gen II 3-18×50 Riflescope. Built with the avid hunter in mind, this riflescope provides unmatched precision at both close and long ranges to make your hunting expedition a success.
The scope features a variable zoom power from 3-18x. At close ranges, it provides a wide field of view for effortless target finding. When you ramp up the zoom power to 18x, you get to acquire the targets accurately and easily at longer distances.
To complement the versatile magnification, the scope features a large 34mm main tube which provides ample room for adjustments. Furthermore, it features a large 50mm objective lens and a HD optical system which delivers exceptional resolution and outstanding color richness. It is also equipped with fully multi-coated lenses to increase light transmission in low light hunting conditions.
Another facet that makes the scope shine is the illuminated reticle which provides precise aiming when you are hunting in low light conditions. Construction-wise, this riflescope is precision machined from aircraft grade aluminum for strength and rigidity. It is also shockproof to stand up to the highest level of impact.
Above all, the scope is O-ring sealed and argon purged to be usable in any weather condition.
Features
Glass-etched reticle
HD optical system
Waterproof, fog proof and shockproof
Aircraft grade aluminum housing
Fully multi-coated lenses
Maximized zero turret adjustment
34mm main tube
Pros
Illuminated reticle
Crisp clear optics
High build quality
The turrets have a positive and firm click
Cons
2) ATN X-Sight LTV Ultra Light Day & Night Vision Rifle Scope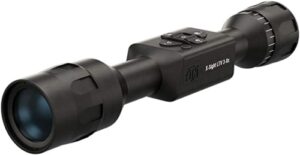 Coyotes are mostly active after sunset and at night. With this high-quality night vision rifle scope from ATN, you will have the flexibility to hunt them down at any time during the day and at night.
It is powered by the new revolutionary ATN Obsidian LT Core which is optimized to consume low power and keep you in the field for longer. During the day, the scope provides vivid and crisp clarity which is what every hunter needs in a sighting tool. It also offers amazing night time performance to make your hunting trips more rewarding.
For added convenience, the scope features a quick detach mount for easy mounting and removal from the firearm. Moreover, it has a profile manager that lets you move it from platform to platform without losing zero and one shot zero for fast and easy sighting in.
If you like to document your hunting trips, the scope is equipped with a video recorder which records videos in razor-sharp 720P quality. It also comes with a long range 850mW infrared illuminator that maximizes your vision in the dark and makes target finding a breeze.
Features
Multiple reticle patterns
ATN Obsidian LT Core
850mW infrared illuminator
Quick detach mount
Profile manager
Multiple reticle system
One shot zero
Pros
User-friendly interface
Easy to mount and detach
Wide field of view
Dual day and night functionality
Cons
3) Primary Arms 4-14x44mm Rifle Scope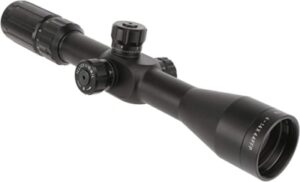 The best scope for 223 coyote hunting for the budget buyers is the Primary Arms 4-14x44mm Rifle Scope. It is designed to boost your accuracy in the hunting field and turn every hunting trip into a success, without draining all your savings.
This top-performing riflescope is built to last. It is made from high-strength aluminum which is lightweight and durable. The main tube is nitrogen purged to be fog resistant and sealed to provide a lifetime of protection from moisture, dust and dirt.
The reticle on this scope is housed on the first focal plane. It changes in size as you change the magnification power and offers stunning accuracy at longer ranges. Even better, it is illuminated for visibility in low light settings.
Other essential features included are a side mounted parallax adjustment knob for parallax elimination and finger adjustable turrets.
Features
30mm main tube
First focal plane reticle
Side mounted parallax adjustment knob
Waterproof and fog resistant
Finger adjustable turrets
Rugged aluminum housing
4-14x magnification power
Pros
Decent price
Illuminated reticle
Lightweight and easy to use
Cons
4) Leupold VX-3i 3.5-10x40mm Rifle Scope

Leupold is a household name in the optics industry. It is renowned for its rugged and high-quality optics and the VX-3i 3.5-10x40mm Rifle Scope is not an exception.
The scope features a Duplex reticle which works in virtually all hunting environments. The extremely versatile 3.5-10x magnification makes it ideal for hunting coyotes at different ranges as well as different environments. Besides, the scope is made to perform in different temperature ranges from -40℉ to 160 ℉.
Another thing that makes this rifle scope stand out among similar optics is its durability. It is made with 6061-T6 aircraft quality aluminum for strength and rigidity. It is also punisher tested to survive the fiercest recoil and weatherproofed to be usable in rain, mist and fog.
With a weight of 0.01 ounces only, the scope is ultra-light and easy to carry in the field. The lightweight design also makes the scope easy to use and disperses recoil more effectively to add on durability.
Another of its selling point is the superb low light performance. It features an ion-assist lens coating that optimizes light transmission in low light settings. It also has a Twilight Max Light Management System that provides bright and clear sight pictures in a wider variation of low and bright lighting conditions.
Features
Aircraft quality aluminum housing
Second focal plane Duplex reticle
Twilight Max Light Management System
DiamondCoat 2 ion-assist lens coating
1/4 MOA finger-click windage and elevation adjustment
Waterproof and fog proof
1-inch main tube
5-10x magnification
Pros
Lightweight design
Superb low light performance
Solid construction
Crisp clear optics
Cons
4) Vortex Diamondback Tactical 4-12x40mm Rifle Scope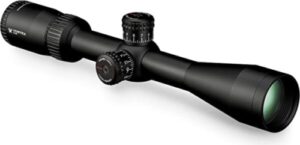 Next up we have the Vortex Diamondback Tactical 4-12x40mm Rifle Scope. This versatile scope is loaded with an array of quality features suitable for hunters of all levels.
Vortex designed this rifle scope with extra-low dispersion lenses which vastly boost color richness and resolution. The lenses are fully multi-coated to maximize the transfer of light reduce light loss through internal reflection. The end results is glare reduction and bright and clear sight pictures from dawn till dusk.
Regarding construction, the scope is built to be nearly indestructible. It has a single-piece main tube made from aircraft-grade aluminum. This maximizes durability and strength without adding any unnecessary weight. On the exterior surface, it is coated with a hard anodized finish which reduces surface reflection and prevents scratches.
Moreover, the scope features exposed turrets which allow for quick and easy adjustments even when you are on the go. It is also fully waterproof and fog proof so you can go hunting in any weather condition.
Features
Fully multi-coated lenses
Rugged aircraft-grade aluminum construction
Hard anodized finish
XD lens elements
Waterproof, fog proof and shockproof
Second focal plane reticle
1-inch main tube
Pros
Accommodating eye relief
Budget friendly
Built to last
Excellent image brightness and clarity
Cons
6) Trijicon TR24 AccuPoint 1-4x24mm Riflescope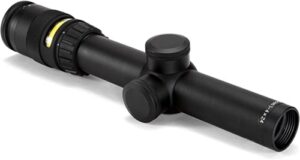 For close and medium range coyote hunting, the Trijicon TR24 AccuPoint 1-4x24mm Riflescope is your ideal option. It has a variable 1-4x magnification that offers a large field of view at closer ranges and better target acquisition at medium ranges.
The scope is built to be offer unrivaled durability. It has a rugged aircraft grade aluminum housing which guarantees durability and longevity, even when you constantly subject it to unforgiving conditions. The weatherproof housing protects the optics against the toughest elements and allows for operability in all weather conditions.
Furthermore, this rifle scope has superior quality lenses that are multi-coated to provide stunning clarity by boosting light transfer. It also has fiber optic technology which adjusts the brightness level and contrast of the reticle depending on the available light conditions. This makes target acquisition easy when you are hunting in low light conditions of sunrise and sunset.
Features
Tritium phosphor light
Aircraft grade aluminum housing
Superior quality optics
Fiber optic technology
Multi-coated lenses
Second focal plane reticle
Pros
Battery free illumination
Wide field of view
Rugged and reliable construction
Great eye relief
Cons
The illuminated triangle is less visible in daylight
7) Bushnell Banner 3-9×40 Rifle Scope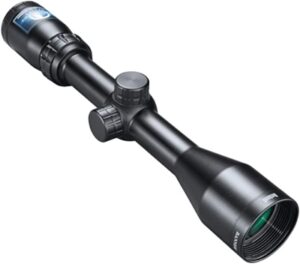 Last but not least, we have the Bushnell Banner 3-9×40 Rifle Scope. Adding this rifle scope on your .223 coyote hunting rifle will increase your speed of target acquisition, fine tune your accuracy and turn your hunting trip into a rewarding and successful experience.
The 3-9×40 configuration makes the scope an ideal choice for hunting at close and long ranges. It provides a wide field of view for quick target finding and stunning precision at all ranges. Furthermore, it has an IPX7 waterproof construction for use in all weather conditions and argon filled optics that remain fog free even when there are massive changes in temperature and humidity.
With the Dusk & Dawn Brightness multi-coated lenses, the scope provides stunning image clarity and brightness even in low light settings. The coatings also reduce glare and provide additional protection from scratches and abrasions when you are out in the field.
Moreover, this rifle scope is built with ease of use in mind. It has a fast focus eyepiece that let's you adjust the reticle quickly, so you are able to focus on the target with perfect clarity. It also brings to the table a second focal plane Multi-X reticle that is a perfect choice for hunting as it is easy to see even at dusk and dawn.
To top it all off, the scope has resettable windage and elevation turrets that are capped to prevent accidental adjustments and provide addition protection from bumps and hard use.
Features
Fully multi-coated optics
Second focal plane Multi-X reticle
Fast focus eyepiece
Fog proof and IPX7 waterproof
Capped and resettable windage and elevation turrets
3-9x magnification
Pros
Long eye relief
Superior light gathering ability
Lightweight and durable
Bright and crisp clear optics
Inexpensive
Cons
Slight image distortion at high magnification
Read Also
Best Scope for 223 Coyote Hunting – Buyer's Guide
There are a lot of factors you need to put into consideration when shopping for a .223 coyote hunting scope. These factors include:
Magnification
This is the first factor to consider. In scopes, the magnification power varies from one product to the other. Some scopes have a fixed zoom power and others have a variable magnification power.
For .223 coyote hunting, it is best to get a variable powered scope with at least 9x maximum magnification. The broader the magnification power a scope has, the better. You will be able to use it at varying ranges as well as different hunting environments.
Durability
A scope for hunting must be durable to weather the rough outdoor conditions you will encounter when hunting. Look for a scope that is crafted using high-quality materials such as aircraft grade aluminum or magnesium alloy. The scope should also be shockproof to withstand recoil and harsh impacts.
Image Quality
A scope for hunting will be of no help if it generates dull and unclear sight pictures. Majorly, the image quality a scope generates relies greatly on the quality of optics used. Try and look for a scope that employs extra-low or high-density glass. Such premium quality glass maximizes resolution and provides clear and brilliant image views that are rich in color, even in low light settings of dawn and dusk.
Reticle
A reticle is the aiming point that you see when you look through the scope's eyepiece. It is housed either in the first focal plane or second focal plane. It also comes in different styles and shapes for you to pick one that is best for your hunting needs.
The best reticle for coyote hunting is one that is easy to use. This is irrespective of whether you are a seasoned hunter, a beginner or anyone in between. The best scope for 223 coyote hunting also has a reticle that is illuminated to increase visibility in different light settings.
Ease of Use
A scope that is made with ease of use in mind is important to having a successful hunting trip. Firstly, the scope should have a straightforward installation process. There should be no special tools for installation to save on time. A good scope for coyote hunting should also have easily accessible knobs whereby you don't need change your shooting position to make adjustments.
Lens Coating
Lens coatings are very important in every scope. A scope with fully-coated or multi-coated lenses casts high-quality images, even when you are hunting in low light settings or taking shots at long ranges.
The coatings maximize light transfer and reduce glare as well as reflection that causes light loss. Solid lens coatings also protect the lens from scratches.
Weight and Size
Next, consider the weight. The best scope for 223 coyote hunting should be compact, lightweight and portable. A compact scope will be easy to maneuver with as you look for game. Additionally, a light scope will be pleasant to carry around without it weighing you down.
Weatherproof
The best scope for 223 coyote hunting should be built to be operable in all weather conditions. The optics should be filled with an inert gas like argon or nitrogen to prevent build up of fog when you carry the scope to a hunting environment that has a significant temperature gradient. Additionally, it should be sealed to prevent moisture, dirt and dust from getting inside the optics.
Eye Relief
Another important feature to consider is the amount of eye relief the scope has. What you see in the field of view of your scope is dependent on eye relief. With a long eye relief, you will get a large field of view without moving the scope around. Another benefit that comes with a generous eye relief is that you are able to glass for long without experiencing any eye strain or fatigue.
FAQs
What is the best scope magnification for coyote hunting?
It depends on several factors including individual preference, how far you will be hunting and the environment you will be hunting at. For long range coyote hunting, a scope with more than 12x magnification will suffice.
However, since the .223 Remington is more accurate up to about 250 yards, a moderately powered scope will do as too much magnification might be an overkill.
What kind of scope do you use for coyote hunting?
The type of scope you use for coyote hunting is one that fits your hunting needs in the best manner possible. It should have all the features that you need to turn your hunting trip into a success. It should also be easy to use, irrespective of whether you are a beginner or a seasoned hunter.
How many yards is the .223 good for?
The .223 Remington is good for taking shots at varying ranges in different environments. When hunting, it provides enough velocity to take out game out to 250 yards.
Conclusion
Finding the best scope for 223 coyote hunting is a pleasant and less exhaustive task if you know what features to look for. All the scopes we have mentioned in this guide offer the vital features you require to turn your hunting trip into a success once you set foot in the hunting field. Irrespective of the model that you choose to buy, it is our hope that you have found this article to be of great help to you.