If you are preparing to go for an adventure at Yellowstone National Park and looking for a spotting scope, you have come to the right place. We have created this post on the best spotting scope for Yellowstone to help you find the best optic for your needs.
Year in, year out, millions of people visit the Yellowstone National Park to watch birds and view wildlife in their natural habitat. For such a recreational visit, it is always important to carry a glassing tool that will give you better views of the birds and animals especially when you are observing them from a distance.
A spotting scope with a good magnification power is one of the most invaluable optics one should have when going for a trip to this nature's wonderland. The high zoom power that spotting scopes have will get you closer to your targets and ensure that you don't leave anything undiscovered. It will also give you better views of the objects will be observing.
What Makes a Great Spotting Scope for Yellowstone?
Several attributes make a great spotting scope for Yellowstone and the first one is usability at close and long ranges.  A spotting scope with a broad zoom power will give you the flexibility to see different subjects across different distances. Additionally, the scope should have a close focus distance for viewing targets at up close distances.
The other important feature that the spotting scope should have is an advanced lens system. Firstly, the scope should have a large objective lens that maximizes the volume of light collected. On top of that that, the optic should have premium quality glass elements and solid lens coatings to ensure effective transmission of light.
Moreover, the best spotting scope for Yellowstone should be built lightweight and durable. With lightweight construction, the scope becomes easy to carry around from one point to the other. Solid construction is also important in enhancing both longevity and durability.
Last but not least, a good spotting scope should be O-ring sealed and filled with a dry inert gas to be operable in all kinds of weather conditions.
7 Best Spotting Scopes for Yellowstone – Our Top Picks
The optics market is so broad that finding a spotting scope for Yellowstone isn't always a walk in the park. To help, we have done the legwork for you and put up a list of the best spotting scopes for Yellowstone that are available on the market currently.
Without wasting any further time, let's take a look.
1) Vortex Optics Viper HD 20-60×85 Spotting Scope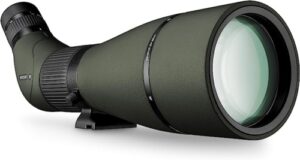 The Viper HD 20-60×85 Spotting Scope is hands down the best spotting scope for Yellowstone that is available on the market currently. Built with outdoor enthusiast in mind, this spotting scope is packed with incredible features that offer stunning performance in all lighting and weather conditions.
The scope brings to the table a broad zoom power from 20-60x for glassing objects across vast ranges. To complement the variable magnification power is a large 85mm objective lens that makes the magnification useful at every level. Additionally, the scope offers impressive clarity, resolution and color fidelity across the whole visible spectrum.
Another outstanding facet of this spotting scope is the rugged construction. It is built with premium quality materials to offer unmatched durability. On top of that, the exterior lenses are scratch proof for extra protection during use.
For all-weather performance, the scope is O-ring sealed and argon purged. Besides that, it has a smooth helical focus for smooth focusing, and a multi-position eyecup that makes it eyeglass friendly.
With all these handy features, the Viper HD 20-60×85 Spotting Scope makes a great sighting tool when visiting Yellowstone.
Features
Angled body design
Waterproof and fog proof
Armortek lens coating
HD optical system
Multi-position eyecup
Smooth helical focus
XR anti-reflective optics coating
Pros
Fairly lightweight design
Incredible picture quality
Excellent build quality
Easy to use
Cons
The image crispness decreases at highest zoom levels
2) Celestron – Ultima 65 Angled Spotting Scope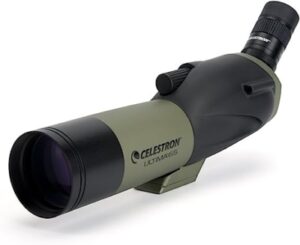 Celestron – Ultima 65 Angled Spotting Scope is a great all-round optic that offers the best balance of portability, functionality and value. It is ideal for both close and long distance viewing where it yields admirable views of targets even in the less-than-ideal lighting conditions.
The selling point of this spotting scope is that it's built with user comfort in mind. It has a 45-degree viewing angle that makes it ideal for long glassing sessions. It also has a compact size and a lightweight design of 2.31 pounds for easy portability.
Optically, the spotting scope has fully multi-coated lenses to reduce glare and offer high levels of light transmission. This results to production of bright and clear image views in virtually all lighting conditions. Besides that, the scope is waterproofed and fog proofed to maintain a clear field of view in all weather conditions.
The other essential features this spotting scope brings to the table include a ruggedized construction to withstand rough abuse, and a large focus wheel for quick image focusing.
Features
Multi-coated optics
Sharp zoom eyepiece
Angled eyepiece design
Integrated T-adapter for Digiscoping
Fully waterproof and fog proof
Large focus dial
Pros
Lightweight, compact and portable design
Inexpensive
Ease of use
Interchangeable eyepieces
Cons
3) Maven CS.1 15-45X65mm Spotting Scope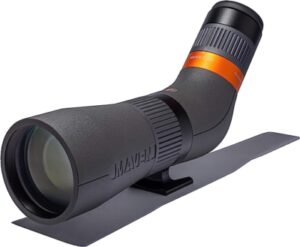 Maven CS.1 15-45X65mm Spotting Scope is another premium quality scope that is built to offer incredible performance for outdoor enthusiast. The scope has a moderate magnification of 15x to 45x and a large 65 mm objective lens that yields stunning pictures in every zoom setting.
This powerful spotting scope is built in a compact and well-balanced body for easy packing and convenient portability. Furthermore, it is built ready for use in any environment. It boasts a ruggedized body that is scratch resistant, waterproof and fog proof to ensure unimpeded use in any environment.
Another stunning feature of this spotting scope is its optical performance. It employs extra-low dispersion glass that optimizes resolution and color accuracy. This coupled with the fully multi-coated lenses offer bright and crisp clear image views with excellent color reproduction.
Above all, the scope features a lightweight magnesium frame that guarantees great durability even in the most unforgiving environments.
Features
Premium extra-low dispersion glass
Fully waterproof, dustproof and fog proof
Scratch resistant lens coatings
Variable 15-45x magnification
Durable magnesium frame
Fully multi-coated lenses
Schmidt Pechan prisms
Pros
Lightweight and portable
Great picture quality even at long ranges
Quality construction
Versatile
4) Athlon Optics Ares UHD 15-45×65 Spotting Scope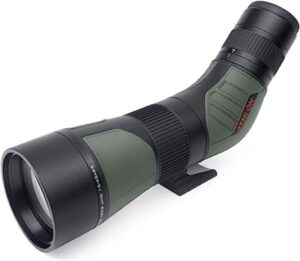 Fourthly on our list of best spotting scope for Yellowstone is the Ares UHD 15-45×65 Spotting Scope from Athlon Optics. This spotting scope is packed with a ton of high-quality features that make it ideal for wildlife viewing, birding and other outdoor activities.
Athlon built this compact spotting scope for durability. It has a magnesium chassis base that is lighter and more rugged than the counterparts made from aluminum. Additionally, the optical tube is O-ring sealed against moisture and dust, and argon purged to ensure that the optics don't fog up when the temperature and humidity levels change.
What's more is that this spotting scope yields spectacular image views even in low light settings. This is made possible by the UHD glass lenses, fully multi-coated optics and the high-quality BAK prisms that work together to ensure maximum light transmission and brilliant color fidelity.
Moreover, the spotting scope is built with an adjustable eyecup to ensure comfortable glassing with or without eyewear. It also comes with an interchangeable eyepiece to add on versatility.
Features
Extra-low dispersion glass elements
15-45x zoom eyepiece
ESP dielectric prism coating
Sturdy and durable magnesium chassis
Waterproof and argon purged
Straight eyepiece
Interchangeable eyepiece
Pros
Lightweight design
Large field of view
Solid construction
Easy to use and focus at all distances
Cons
The focus wheel could be better
5) Burris Signature HD Spotting Scope 20-60x85mm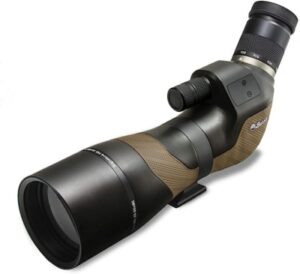 Carrying the highly respected Burris name, the Signature HD Spotting Scope 20-60x85mm is built to take glassing to the next big levels. It is a multifunctional optic that yields incredible image views in all environments. This makes it a handy companion for every outdoor enthusiast planning to visit Yellowstone.
The scope features a broad zoom power of 20-60x for use across different ranges. Furthermore, it is designed with premium HD glass to optimize resolution and ensure excellent color production. The scope also features solid lens coatings that maximize light transfer and yield bright and clear sight pictures even in the critically low light settings.
Another highlight of this high-end spotting scope is premium construction. It boasts a lightweight and durable magnesium body that is rubber armored to ensure reliable use anywhere, anytime. On top of that, the optic is shockproof to add on durability, and weatherproofed for use even in harsh weather conditions.
To accommodate eyeglass wearers, this optic comes with an adjustable eyecup. It is also built with a retractable sunshade for glare elimination and an angled eyepiece that enhances glassing comfort.
Features
Armored die-cast magnesium body
Waterproof, fog proof and shock proof
Built-in sunshade
Fine and coarse adjustment knob
Adjustable eyecups
Angled eyepiece
Premium HD glass
Antireflective lens coatings
Pros
Crisp clear optics
Sturdy and durable construction
Lightweight and portable design
Superb picture quality
Cons
6) Swarovski Optik HD ATS-80 HD Spotting Scope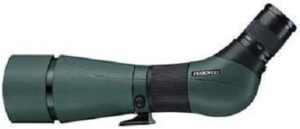 Next on our list of the best binoculars for Yellowstone is the Swarovski Optik HD ATS-80 HD Spotting Scope. Optimized for versatility and performance, this high-end spotting scope comes with every feature you need to get closer to nature and enjoy the best views of the birds, wildlife and other objects outdoors.
The spotting scope features a large 80mm objective lens to draw in more light inside the optics. Additionally, the large objective lens provides a large field of view to let you scan the terrain easily. The scope also features a minimum focus distance of 16.4 feet for viewing birds and insects at up close rages.
Complementing the large objective lens are fluoride containing HD lenses that produce crisp and high contrast image views across the whole visible spectrum. Over and above that, the spotting scope features an individual twist-in eyecup that gives users the flexibility to tailor the eye relief based on their glassing needs.
In addition to everything else, the spotting scope has a heavy-duty housing that is weatherproofed to be ready for anything Mother Nature might have in store for your adventure.
Features
Large 80mm objective lens
Fluoride containing HD lenses
20-60x zoom eyepiece
Individual twist-in eyecup
Hydrophobic lens coating
Angled eyepiece design
Weatherproofed body
Pros
Excellent durability
Crystal clear optics
Versatile
Cons
7) Vanguard Endeavor HD 82A Angled Eyepiece Spotting Scope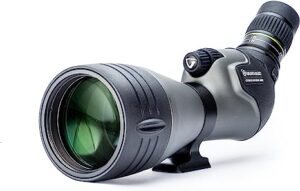 The Vanguard Endeavor HD 82A is another angled body spotting scope that is ideal for a ton of outdoor applications including birding and wildlife viewing. It is reasonably affordable yet rich is impressive features that guarantee superb performance in all conditions.
This spotting scope employs premium ED glass that yields sight pictures that are rich in exceptional detail and brilliant colors. Besides, it has advanced lens coatings to minimize internal light reflection and ensure high levels of light transmission. On top of that, this optic comes with a built-in sunshade for glare elimination in direct sunlight.
Well, that's not all. Vanguard built the Endeavor 82A with a ruggedized rubber armor that provides added shield from elements. This plus the ultra-durable magnesium chassis guarantee unmatched durability and longevity.
Moreover, this spotting scope comes with an angled eyepiece that is detachable and a soft rubber eyecup that enhances glassing comfort. It is also O-ring sealed and nitrogen purged to be fully waterproof and fog proof.
Features
Fine and coarse focusing
Waterproof and nitrogen purged optical tube
MultiGuard lens coating
Premium ED glass
Built-in sunshade
Rubber armored magnesium body
Detachable angled eyepiece
Pros
Comfortable rubber eyecup
Long eye relief
Decent price
The focusing system is smooth and easy
Cons
Angled Vs Straight Spotting Scope
Spotting scopes have two eyepiece designs; angled and straight. With straight spotting scopes, the eyepiece is in line with the objective lens. On the other hand, an angled spotting scope has the eyepiece at an angle with the objective lens.
Both eyepiece designs are good for Yellowstone applications, but angled spotting scopes are the best. The angled eyepiece design makes it easy for users to observe different objects at different angles, either at an uphill or down hill position. Furthermore, they are more appropriate for group sharing and the best for Digiscoping.
See Also
Best Spotting Scope for Yellowstone Buyer's Guide
Choosing a spotting scope for Yellowstone is not something you do on a whip. Outlined below are the key factors you should consider before you settle on any specific product.
Magnification Power
The magnification power in spotting scopes varies between one product to the other and ranges between 15x and 60x. If you plan to use the spotting scope for extremely long range observation, look for a product that has a high zoom power up to 60x. The higher the magnification, the longer the distance the scope will be able to cover.
Objective Lens
The objective lens is an important part of every spotting scope. The higher the magnification the scope has, the large the objective lens should be to ensure that the images produced are bright and crisp clear even at the highest zoom setting.
That said, scopes with oversized objective lens tend to be heavier and cumbersome to carry around. To achieve the best balance between size and portability, go for an optic whose objective lens is not larger than 80mm.
Glass Quality
Another important feature to take into account is the glass quality of the spotting scope. Go for a spotting scope that is built with HD, ED or fluoride containing glass elements. Such spotting scopes offer spectacular image views free from any color fringing and distortion. The best spotting scope for Yellowstone should also have proper lens coatings to ensure high levels of light transmission.
Eye Relief
Next consider the eye relief. This is the distance from your eye to the eyepiece of the spotting scope. Eye relief is an important factor to consider especially for those people who wear eyeglasses. A spotting scope with a long eye relief will guarantee snug glassing and alleviate eye strain and fatigue during long glassing periods.
Weight
In spotting scopes, the type of material used to make the chassis plays a big role in determining how heavy the glassing tool weighs. A tip is to get a product that is made either with magnesium alloy or aluminum alloy. Such spotting scopes are not just durable, but also lightweight and portable.
Price
Last but not least, consider the price. Like any optic, quality construction in spotting scopes comes at a cost. Cheap spotting scopes often have poor quality optics and poor construction which means that they will be ideal for use only for a short period of time. Beware of such scopes and instead go for a premium quality product even if it is expensive. In the long run, it will last long, give you great performance in the field and ensure that you have great value for your money.
Conclusion
A good spotting scope will better your views when you are on a trip to Yellowstone and help you capture details of creatures that you would be hard to see with your naked eyes. All the scopes we have listed above are durable, easy to use and a handy companion for outdoor adventure activities. Whichever product you end up getting, it is my hope that you have found this post to be insightful.