Looking for the best tripod for binoculars? You have come to the right place. This post sheds light on the best tripods for binoculars available on the market today.
A tripod is an indispensable binoculars accessory. When glassing objects for a long period of time, holding your binoculars up to your eyes can be tiring. Having the right tripod will make your glassing experience better and more comfortable, especially during length glassing sessions. It will lift the binocular's weight off your arms and also keep it stable.
A good tripod setup and a quality pair of binoculars gives you the most comfortable glassing experience irrespective of the outdoor expedition you are engaged in. Besides, modern-day tripods are made with user comfort in mind. They are ultralight, portable, sturdy and easy to set up and make adjustments.
However, with hundreds of models available on the market, finding the right tripod can feel overwhelming. We have made a list of the best tripods for binoculars to help you choose right.
Without further ado, let's take a look.
Best Tripods for Binoculars – Our Top Picks
1) Bushnell 784030 Advanced Tripod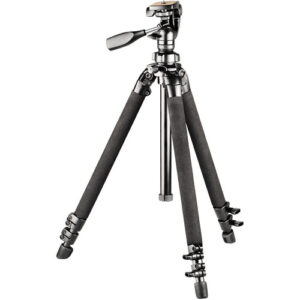 Bushnell is renowned for its high-quality optics. They still maintain a similar reputation with their optics accessories. The Bushnell 784030 Advanced Tripod is a high-quality tripod suitable for a wide range of outdoor applications. You can use it with any pair of binoculars even the largest models.
The tripod feels stout and well-made. It is durable and light so you'll have an easy time carrying it around. The durable aluminum legs can be adjusted to different heights/angles. You can adjust their height from 18 inches to 61 inches depending on your body height. Besides, you can sit, stand or crouch with this tripod and it will give support for your optic anytime you need it.
This tripod comes with a sturdy 3-way pan/tilt head with a large mounting platform. It also features foam padding on each of its legs so it's comfortable on your hands even in extreme hot or cold seasons. After use, the tripod folds into a compact size for convenient transportation and easy storage.
Overall, this is a high-quality full size tripod ideal for binoculars, spotting scopes, camcorders and SLR cameras.
Features
Individually adjustable legs
Three-way pan head
Three-position leg angle adjustment
Sturdy and durable aluminum legs
Large mounting platform
Adjustable height from 18.3inches to 61 inches
Foam padded leg covers
Lightweight and portable
Universal 1/4″-20 mount
2) Vortex Optics Pro GT Tripod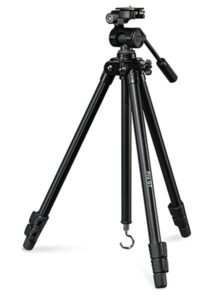 If you are looking for a lightweight tripod, the Vortex Optics Pro GT Tripod suits you. Though lightweight, this tripod is sturdy and tough enough to withstand any rugged conditions. It is also strong enough to accommodate the heaviest and largest binoculars without any issue. Plus, it is very solid so you don't have to worry about it collapsing or having other issues.
This tripod is made with different users in mind. You can easily adjust its height up to 67 inches depending on your body height. It also features a strong three-way pan head and an integrated handle so you can be able to make smooth and accurate adjustments. It also allows for a 360-degree rotation, panning, tilting and any other free movement you would like.
The tripod features a flip lever leg locks which are important for quick and simple set up and height adjustment. The balance hook included holds additional weight on the bottom of the center column for added stability especially during windy conditions. Better yet, the tripod has foam padded leg covers so your hands won't come into contact with hot or cold metal during extreme hot or cold conditions. There are also rubber feet at the bottom of the legs to provide solid footing on slippery or wet surfaces.
After use, the tripod folds down to 24-inches for easy storage. A small carrying bag is also included for convenient transportation. Above all, the tripod is protected by a lifetime replacement warranty.
Features
Flip lever leg locks
Extends to 67-inches and folds down to 24-inches
Rugged 3-way quick-release pan head
Balance hook for greater stability
Rubber feet for added stability
Foam padded leg covers
Very good weight limit
Solid build quality
Carrying case included
Lifetime replacement warranty
Lightweight design
3) Manfrotto 290 Xtra Aluminum 3-Section Tripod Kit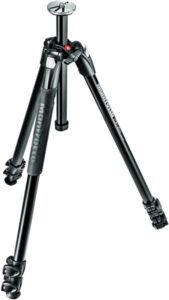 Manfrotto makes high-quality tripods and the 290 Xtra Tripod Kit is no exception. The tripod features robust aluminon construction to provide you with many years of field use. It has good weight capacity which helps it achieve great stability regardless of the size or weight of your binoculars.
Thanks to the 4 leg angle positions, the tripod is more flexible and stable. You can easily position the legs into 4 different angles using the leg angle selectors included. Photographers find the 4 leg angle positions handy as they make them more creative. Additionally, the tripod's height can be adjusted from 15.9-iches to 67.5-inches to suit different users.
The tripod comes with a capable fluid video head, so all you have to do is to invest in an adapter only. This kit also features a 2-way head for rapid and accurate set up, and a built-in handle which helps you make precise adjustments easily.
Features
Robust aluminum construction
Shoulder bag included
Adjustable height from 15.9-iches to 67.5-inches
4 leg angle positions
2-way head for rapid and accurate set up
Folded length: 23.4 inches
Quick flip leg locks
Excellent weight capacity
Capable fluid video head
Built-in handle
4) Orion Tritech II Field Tripod with Fluid Pan Head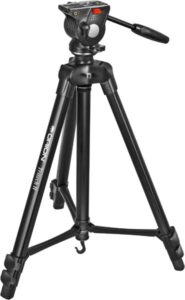 The Orion Tritech II Field Tripod is your ideal binoculars tripod if you are on a budget. This cost-effective tripod is well-made and very stable. It is strong enough to support equipment loads weighing up to 13.2lbs. This excellent weight capacity makes it the ideal option for portable support of binoculars, cameras, spotting scopes and more.
The tripod features a smooth, 2-way fluid pan head which boasts 360-degrees azimuth motion and over 90-degrees of altitude rotation. It also features two handy bubbles levels for fast leveling and an adjustable-angle pan handle with a snug grip for a simple pan and tilt control.
Moreover, the tripod features a three-section extendable aluminum alloy tripod legs for great stability and durability. Each leg extends to 56.7 inches. Better yet, a geared center column elevator shaft with lock lever provides 11.7-inches of additional extension bringing the total height to 68.2 inches. The extra-long 3-7/8" slotted quick-release shoe with rubber pads stays captive even when loose so your attached instrument stays in place all through.
Weighing just 4.8lbs, this tripod is highly portable. It collapses to 27.25" long for convenient transportation and storage. It also comes with a soft zippered carry case with adjustable shoulder straps for easy transportation.
Features
Lightweight and portable
Extends up to 68 inches
Excellent weight capacity
Extra-long 3-7/8" slotted quick-release shoe with rubber pads
Collapses to 27.25-inches long for easy transportation
Zippered carry case
3-section adjustable aluminum alloy legs
Built-in balance hook at the bottom of the tripod's center column
Two bubble levels for fast levelling
2-way fluid pan head
360-degrees azimuth motion
90-degrees of altitude rotation
5) Gosky Tripod-Travel Portable Tripod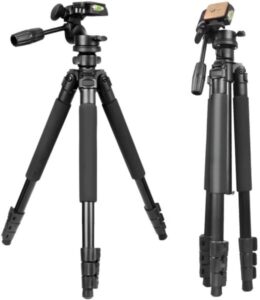 The Gosky Travel Portable Tripod has a maximum load capacity of 11lbs. This full-size tripod is compatible with binoculars, camcorders, DSLR cameras and spotting scopes.  It is easy to set up and ideal for multiple outdoor activities such as bird watching, hunting and astronomy among others.
The tripod is built to last. It features study, anodized aluminum construction for long-lasting durability. At the bottom of each leg is a non-slip rubber feet which creates a stable mounting platform even in wet and slippery surfaces. You can attach an extra weight on the hook included and increase the tripod's stability in windy conditions.
The tripod has an adjustable height from 18-inches to 61-inches. The lever-lock legs keep the tripod set in the right height. It also makes height adjustment a breeze. Other than that, the tripod has a 3-way pan head and an ergonomic pan handle which helps you make smooth and accurate horizontal and vertical height adjustments.
After use the tripod folds down to 26 inches for easy transportation and storage. The padded foam leg cushions provide additional comfort in extreme hot or cold conditions, while the included carry case makes portability more convenient. Above all, the tripod is reasonably affordable.
Features
Adjustable height from 18-inches to 61-inches
Easy to set up
Sturdy anodized aluminum construction
Quick flip locks
Non-slip rubber feet
Built-in weight hook
Maximum load capacity: 11lbs
Folded length: 26-inches
360-degree rotating handle
Quick-release plate
Padded foam leg cushions
3-way fluid pan head
Lightweight and portable
6) Celestron 82052 Tripod, Regal Premium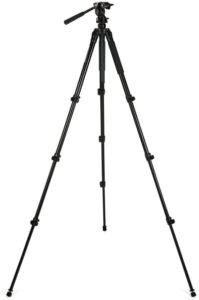 Next on our list is the Celestron 82052 Tripod, Regal Premium. This treadmill features an impressive 69-inch height. You can easily extend it to this height and use your binoculars when standing. This makes it more comfortable to use, especially during long glassing periods. Plus, it come with a built-in balancing hook so you can increase its stability.
This lightweight tripod has a maximum weight capacity of 9lbs. It features a two-way fluid pan head and an ergonomic handle which helps you move the binoculars around with ease. A quick release plate with a standard 1/4-20 thread mount provides a stable platform where you can easily mount your binoculars, camera spotting scope, or small telescope.
Each leg has four different sections which can be shortened or lengthened with a flip of a simple lever lock. Better yet, each leg can be set to three different angles depending on the nature of the terrain. Two of the tripod legs have padded coverings so its comfortable on your shoulder when carrying and snug on your hands when making adjustments during cold seasons. The tripod also has a carrying case and shoulder strap included.
Features
Sturdy aluminum construction
Bubble levels
Impressive 69-inch height
Retractable balance hook for greater stability
Lightweight design
Maximum weight capacity: 9lbs
Standard 1/4-20 thread mount
Two-way fluid pan head
Ergonomic handle
Padded leg covers
Adjustable height and angle
7) Nikon Compact Outdoor Tripod, Black, 16794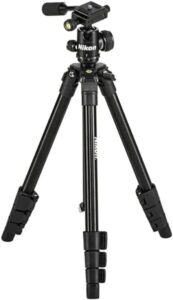 The Nikon Compact Outdoor Tripod is another quality option for anyone on a budget. This tripod is reasonably affordable, compact and user-friendly. It's an ideal option for anyone looking for their first binoculars tripod.
Weighing just 2.3 pounds, this tripod is incredibly light and great for travel. It has a 49.61" length when fully extended and folds down to 15.75" for compact and easy storage. When it comes to the maximum weight capacity, the tripod has a 5.5lbs load capacity. This makes it ideal for small and medium sized binoculars, spotting scopes and cameras that weigh less than 32.8 ounces.
The fully adjustable 360-degree rotating aluminum ball head has a quick-release plate which locks the instrument in place. The ergonomic handle makes panning and tilting motions simple and hassle-free. Besides, the tripod features a versatile 90-degree tilt functionality and two bubble levels to make levelling simple.
Overall, this is your ideal tripod if you value portability and low-weight.
Features
Sturdy aluminum construction
Cost-effective
Compact and lightweight
Easy to use and set up
Two bubble levels
Comfortable grip handle
Versatile 90-degree tilt functionality
Fully adjustable 360-degree rotating aluminum ball head
Maximum weight capacity: 5.5lbs
Read Also
Best Tripods for Binoculars Buying Guide
Whether you are buying the first tripod for binoculars or looking for an upgrade, here are some of the important factors you should consider before you make any purchase.
Weight Limit
The maximum weight limit is one of the important factors you should consider when shopping for the best tripods for binoculars. You'll want the tripod to support your binoculars depending on their weight and size.
Most small and mid-sized entry-level binoculars weight between 1 and 2.5 pounds. Most tripods can accommodate such weight. However, if you have a large-sized pair that weighs more than 5 pounds, you should look for a tripod with a higher maximum weight capacity.
Tripod Material
The best tripods for binoculars are mainly made from aluminum or carbon fiber. Both materials have their strengths and drawbacks.
Tripods crafted from aluminum are durable, light and the best choice for anyone staying in cold environments because of their high resistance to cold. Carbon fiber loses its strength when exposed to lower temperatures, but aluminum doesn't. Aluminum tripods are also more cost-effective.
Carbon fiber tripods are stronger and more durable. They are more expensive but worth it. They are less resistant to accidental knocks and lightweight too.
Height
How high is the tripod when fully extended? Height plays a critical role in binoculars tripods as it determines how comfortable your glassing experience will be. If you prefer to use the binoculars when standing, look for a tripod that's at least 6-inches taller than you when fully extended. Such binoculars are more comfortable as they eliminate the need to bend over regularly as you try to find the best viewing position.
Weight
The best tripods for binoculars should be lightweight and easy to carry around. The last thing you would want is a heavy-weight tripod that's difficult to carry. In addition to that, the tripod should be foldable for easy transportation. Compact and lightweight tripods make the best tripods for outdoor enthusiast who are always on the go.
Tripod Head
The other important factor you should consider is the quality of the tripod head. Big binoculars require heavy and durable tripod heads. So, make sure that you get a tripod that matches your binoculars and needs. Avoid cheap tripods with plastic heads as they can crack and drop your valuable binoculars on the ground without a warning.
How to Mount Binoculars on a Tripod
Before you attach your binoculars on a tripod, you must have a binocular adapter or mount. Majority of binoculars mounts are compatible with different tripods because of their universal design.
If you are new in the market, a mount is a metal plate combined with Velcro straps which wrap around your binoculars and keep them in place during use. They might be uncomfortable but very necessary especially if your binoculars don't have an integrated threaded socket.
The adapter is attached to the right screw port on the binoculars, normally hidden under the flap or protective cover. An adapter helps raise your binoculars up from the tripod's mount, giving you a more comfortable glassing experience.
Why Mount your Binoculars to a Tripod?
Hands-free viewing. Mounting your binoculars to your tripods takes the binoculars weight off your hands for a more comfortable viewing experience,
Great stability. Binoculars that are mounted on a tripod are more stable than when holding them with your hands. It not only improves steadiness when using high magnification binoculars, but also when the weather condition is windy.
Better target identification. With great stability comes easy and effective target identification particularly when hunting.
FAQs
Can you use a camera tripod for Binoculars?
Absolutely. However, you'll need to make sure that the tripod is sturdy enough to accommodate the weight of your binoculars. It should also offer enough height and fine angle adjustment so you glassing experience will be comfortable.
Do I need to match the binocular brand with the tripod?
Not at all. You can use any tripod that's compatible with your binoculars. All you need to do is to make sure that you have the right mount or adapter for your binoculars. All binoculars' tripods and mounting plates have built-in standard 1/4×20 screws and this is the exact connector you'll find on your adapter or mount.
Conclusion
If you never saw the importance of having a tripod for binoculars, I hope that this post has changed your mind. Tripods are an important accessory for any outdoor enthusiast who owns any optical equipment. All the tripods listed above are quality products worth your investment. Get any one of them and enjoy comfortable, hands-free glassing.