A pair of binoculars should be at the top of your list when you are preparing to go for a trip to Yellowstone. With its abundant wildlife, immaculate lakes and great geothermal pools, carrying a set of the best binoculars for Yellowstone will help you get the best views of this incredible national park and the trip memorable.
Binoculars are an invaluable glassing tool for birding and wildlife viewing. They provide a more detailed look of the wildlife even from a distance and useful for viewing the smaller objects like birds and insects up close. A set of binoculars also comes in handy when one needs to observe the plumage of the birds in rich color.
What Magnification Do You Need?
In binoculars, the magnification power varies between one model to the other and is usually represented by the first number before the "x" in the configuration. The most common activities at Yellowstone are wildlife viewing and bird watching. For these and any other activities, a binocular with either 8x and 10x magnification power will suffice.
Both magnification powers are easy to hold steadily without the need to mount the binoculars on a tripod. Additionally, binoculars with 8x or 10x provides a spacious field of view which is essential for easy finding of the birds and tracking of the fast-moving wildlife.
Attributes of a Great Binocular for Yellowstone
It is clear that a pair of binoculars is an indispensable tool to have for Yellowstone. However, it is more important that you have a binocular with the right features for your specific needs. For the binocular to be great for Yellowstone, it should have bright and clear optics that provide sharp and true to color image views that are free of any distortions.
Furthermore, the binocular should be built with ease of use in mind. For the focus system, the binocular should have single focus for both tubes to ensure quick focusing. It should also have a lightweight, ergonomic design to ensure comfortable handling during use.
The best binoculars for Yellowstone should also have a premium build quality to withstand whatever rough handling you subject it to. On top of that, the optical tubes should be fully waterproof and fog proof for use in all weather conditions.
Last but not least, a great binocular for watching birds and viewing wildlife should be built with a spacious field of view for quick and effortless target finding.
7 Best Binoculars for Yellowstone – Our Top Picks
The binoculars market is diverse and getting a pair from reputable brands is always a good starting point. We have put together a list of the very best binoculars for Yellowstone to help find the right model for your needs.
So, without any further delays, let's get started.
1) Celestron – Nature DX ED 8×42 Binoculars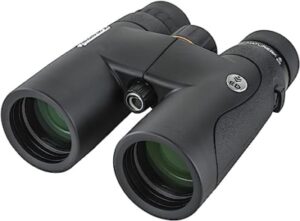 Celestron – Nature DX ED 8×42 are by far the best binoculars for Yellowstone that are available on the market currently. This pair of premium binoculars is packed with a ton of stunning features to deliver the best performance outdoors.
A defining feature of the binocular is the optical finesse. It is built with superior quality ED glass that provides vivid and tack-sharp image views. On top of that, the binocular boasts phase-coated BaK4 prisms that enhance image resolution and contrast. It also features fully multi-coated optics to increase light transmission and prevent glare.
To complement the superb optical performance, this pair of binoculars has 8x magnification power that provides clear views of the distant targets without compromising on the field of view. Additionally, the optical tubes are waterproofed against moisture and dust, and filled with dry nitrogen gas to provide a lifetime of fog proof integrity.
This lightweight and compact pair of binoculars is built with twist-up eyecups to ensure snug glassing with or without spectacles. You can also mount it on a tripod and get steady views of the objects you are glassing and at the same time free your hands.
Features
8x magnification
Fully multi-coated optics
Twist-up eyecups
Superior quality ED glass
Waterproof and nitrogen filled
Phase-coated BaK4 prisms
5 feet close focus
Pros
Compact and ultralight construction
Bright and high detailed image quality
Easy to focus and comfortable to use
Great value for money
Cons
2) Zeiss Conquest HD 8×42 Binoculars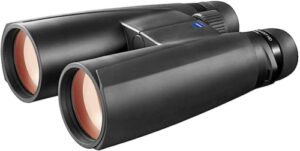 Carrying the highly respected Zeiss name, the Conquest HD 8×42 Binoculars are an excellent optic for birdwatching and wildlife viewing. They offer great low light performance and stunning target resolution across the whole magnification range.
This set of binoculars is built to last. It has a compact, low weight and robust body construction to endure whatever punishment you subject it to. Furthermore, the unique design and superb ergonomics ensure fatigue-free even during long glassing periods.
Another remarkable feature of this binocular is the field of view. You will be impressed by the spacious viewing angle of 128m at 1000 yards which is important for quick target finding. Besides that, this sighting tool has a long eye relief that makes it comfortable to use with or without eyeglasses. It is also built with a large focus wheel to ensure precise focusing.
Features
Water and dirt repellent LotuTec coating
Robust body construction
SCHOTT ED glass
Large focusing wheel
Zeiss T premium lens coating
Rotating and lockable eyecups
2m close focus
Pros
Large field of view
Superior ergonomics
Bright and clear optics
Lightweight and durable
Cons
3) Nikon Monarch M5 8×42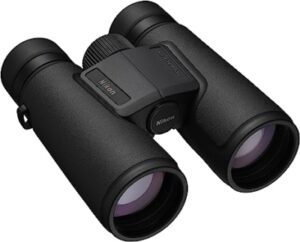 Nikon Monarch M5 8×42 is a compact pair of binoculars that is optimized for travel and versatility. It weighs 22.2 ounces only and comes packed with a multitude of other great features to provide a reliable and functional sighting tool for outdoor enthusiasts.
This binocular is ideal for use in virtually all lighting and weather conditions. It has a large 42mm objective lens to draw in more light inside the optics. Additionally, Nikon built it with their renowned ED glass to reduce chromatic aberrations. Even better, it has dielectric high-reflective multilayer prism coatings to alleviate glare and boost light transmission.
When it comes to construction, this tool is built with a large, smooth spinning central focus knob for precise focusing. The entire body is rubber armored to provide added protection from bumps and bruises while ensuring that the user gets a secure, non-slip grip.
For all weather reliability, the binocular is nitrogen filled and O-ring sealed to be fog proof and waterproof respectively. It is also built with convenient turn and slide rubber eyecups to maximize eye comfort during use.
Features
Rubber armored body
Waterproof and fog proof construction
Premium ED glass
Turn and slide rubber eyecups
Advanced multilayer lens coating
Phase corrected prisms
Flip down objective lens cover
Locking diopter
Pros
Comparatively affordable
Compact and lightweight
Incredible brightness and clarity
Crisp sharp focus
Cons
Slightly shallow depth of field
4) Athlon Optics Midas Binoculars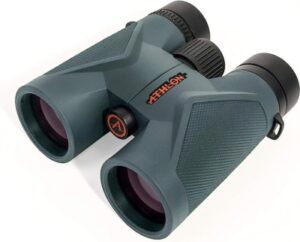 Athlon Optics Midas is the best binoculars for Yellowstone for family use. It is easy to use both for the kids and adults, and ultralight to ensure easy portability and comfortable handling during use.
This binocular is optimized for durability. It has a robust magnesium chassis that is more rugged than counterparts made from aluminum and other materials. On top of that, the body is rubber armored to provide a durable and slip resistant grip in any weather condition.
Another feature that makes this binocular stand out is the optical performance. It is built with ED glass that yields sharp and color accurate images with stunning edge-to-edge clarity. It also boasts phase corrected prisms to maximize light transmission and a scratch resistant XPL lens coating for repelling dust, dirt and stains.
In addition to everything else, this versatile set of binoculars is argon purged to enhance thermal stability and keep the both the internal and exterior lenses free of fog.
Features
Robust magnesium chassis
Waterproof and argon purged
Non-slip rubber armor
Advanced fully multi-coated optics
ED glass
Dirt and moisture repellent XPL lens coating
Roof prism optical path
Pros
Versatile
Lightweight, ergonomic design
Good for both adults and kids
Bright optics
Cons
5) Maven C2 10X28mm Compact Binocular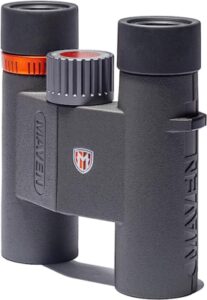 If you are looking for binoculars that are easy to use, lightweight and compact enough to fit your pocket, look no further than the Maven C2 10X28mm Compact Binocular. While this set of binoculars is compact, it provides similar optical performance as full size and medium sized binoculars.
Built with a high 10x magnification, this binocular is ideal for both close and long range glassing. Complementing the powerful zoom is a ruggedized body that protects the optics from impact and guarantees many years of use. Besides, the binocular has scratch resistant body and lenses to ensure unobstructed field use.
To maximize functionality, this pair of binocular is fully waterproof and fog proof for use even in adverse weather conditions. In terms of optical features, it is made with ED glass to enhance resolution and color richness. It also boasts fully multi-coated lenses that yield exceptionally clear and high contrast image views, even in the poorly lit environments.
Features
10x magnification
Schmidt-Pechan prims
Scratch resistant body
Waterproof and fog proof
Premium ED glass
Durable polymer frame
Fully multi-coated optics
Pros
Lightweight and slim design
Solid build
Easy to hold and use with one hand
Spectacular picture clarity and quality
Cons
6) Vanguard Endeavor ED 10×42 Binocular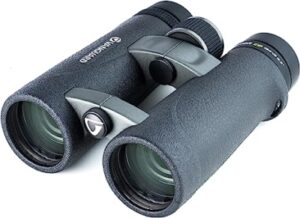 Next up we have the Vanguard Endeavor ED 10×42 Binocular. This pair of binoculars harbors a wide range of high-performance features at an incredible value. It is lightweight, portable and great for use in all lighting and weather conditions.
The magic behind is stunning performance lies behind the high-quality ED glass. This premium quality glass alleviates color dispersion to provide high resolution images rich is clarity and color accuracy. Furthermore, this optic is made with BaK4 roof prisms and special anti-reflection lens coatings to enhance image brightness and detail.
Another feature that makes it one of the best binoculars for Yellowstone is the open bridge design. This design guarantees comfortable handling and great comfort during use. Over and above that, the binocular has a wide viewing angle to add on glassing comfort and a long eye relief that makes it eyeglass friendly.
For added protection, the Vanguard Endeavor ED 10×42 is O-ring sealed and nitrogen purged to provide reliable performance in good or extreme weather conditions. It also comes with a lock diopter that one should use to adjust the focus and accommodate for the differences between their eyes.
Features
10x magnification power
Three-stage twist out eyecups
Extra-low dispersion glass
Waterproof and nitrogen filled
Phase-coated BaK4 roof prisms
Open bridge body design
Large focus wheel
Pros
Excellent craftmanship
Bright and clear optics
Lightweight, ergonomic design
Decent price
Cons
Some chromatic aberrations
7) Vortex Optics Viper HD 10×42 Roof Prism Binoculars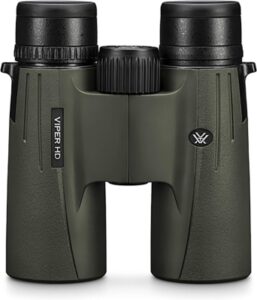 The Viper HD 10×42 is a premium quality binocular packed with every feature you need to make your views better when on a trip to Yellowstone. It is built compact for easy packability and has a mere weight of 0.7kgs to be comfortable to carry and hold during use.
This premium roof prism binocular is built for use in all weather conditions. It has an argon purged and O-ring sealed body to defy all elements and provide reliable waterproof and fog proof performance. Moreover, this binocular has a rugged rubber armored chassis and a scratch resistant lens coating which provides additional protection in the field.
The optical performance of this binocular is stunning. It is built with an advanced HD optical system to offer high image quality. Additionally, both the lenses and the roof prisms are coated with anti-reflective coatings to enhance resolution and contrast even in the less-than-ideal lighting environments.
The other noteworthy features included are a locking eye diopter and multi-position eyecups that ensure custom fit for snug use of the binoculars even with sunglasses or eyeglasses.
Features
Waterproof and argon purged
Rubber armored chassis
Multi-position eyecups
Anti-reflective lens coating
HD glass elements
Locking right eyepiece diopter
Scratch resistant Armortek coating
Pros
Ergonomic and easy to hold
Premium build quality
Simple to use
Excellent image brightness and sharpness
Smooth focus wheel
Binoculars Vs Spotting Scope for Yellowstone
When going for a trip to Yellowstone National Park, you can either carry a spotting scope or binoculars. Both sighting tools make a handy companion for glassing objects from a distance and tracking the fast-moving wildlife.
If portability and ease of use are the main features you are looking for in an optic, it is best to go with binoculars. The best binoculars for Yellowstone are compact, lightweight and comfortable to use and carry around with ease.
On the other hand, the higher magnification in spotting scopes makes them the best choice for long range observation. Spotting scopes are also more ideal for photographers as they Digiscoping ready.
Read Also
Thing to Look for in the Best Binoculars for Yellowstone
When looking to buy a binocular for Yellowstone, ensure that it has all the features that you require based on your glassing needs. Explained below are the important factors you should take into account when making your selection.
Build Quality
Go for a binocular that is crafted with premium quality materials. In most cases, binoculars made from standard aluminum alloy or magnesium are the best. They are not only durable and sturdy, but also lightweight and portable. The housing of the binocular should also have a shock absorbing rubber armor which is important in providing a secure grasp and extra protection from elements.
Magnification Power
A pair of binoculars with 8x to 10x is the best for Yellowstone. Any binocular with higher magnification than 10x might be harder to hold steady during use, thus necessitating the use a tripod or monopod which will add bulk if you are trying to pack light for your trip.
On the other hand, 8x and 10x binoculars are not just simple to use, but also easy to hold steady with either one hand or both hands. This eliminates the need to use a tripod which can be cumbersome to pack and carry around.
Weight and Size
The best binoculars for Yellowstone are lightweight and compact. With the compact size, the binoculars become much more convenient to pack and carry around. Additionally, a binocular that is lightweight maximizes glassing comfort as it is easy to hold and carry even during long glassing periods.
Weatherproof
Another key feature to look for is whether or not the binocular is built to be operable in all weather conditions. Given that you will using the binoculars outdoors, it is important that you choose a pair that is fully waterproof and fog proof. You never know what Mother Nature will wield your way, so it is best to stay ready for the worst.
Eye Relief
Eye relief is the other important feature to pay attention to especially if you put on eyeglasses. It is a measure of the distance you have to put the binoculars from your eye and still enjoy the full field of view. It is measured in millimeters and varies from one model to the other.
Look for a binocular that has at least 15mm eye relief if you don't put on glasses, and 18mm and more if you wear eyeglasses.
FAQs
What size of binoculars is best for Yellowstone?
8x and 10x. If you plan to use the binoculars primarily for viewing birds, a model with 8x magnification power is the best. It will offer better image views of the birds even at a distance without compromising on field of view or eye relief. On the other hand, go for a 10x binocular if what you want is a higher magnification power.
Which brand is best for binoculars?
There are so many binoculars' brands present in the market today. Each brand is unique on its own and specializes in making binoculars for their preferred market.
Conclusion
Finding the best binoculars for Yellowstone can be overwhelming given the sea of products available out there. However, knowing the features that you need the binoculars to have will make your shopping process pleasant and less taxing. So consider your needs and budget, then use this guide to find a pair that will not only better your experience at Yellowstone, but also make it memorable.