Long range shooting is exhilarating, but hitting a target that is 1000 yards away is easier said than done. Whether you are in the field hunting game or in the range shooting targets, you will need an optic to enhance the view of the target and improve your accuracy. Without a good quality long range scope, it will be hard to see the target, let alone hit it even if you are using the most powerful long range rifle or the worlds' best ammo.
Nevertheless, mounting the right scope on your long range rifle will rekindle your hope of hitting the 1000-yard accurately. But finding the right long range scope can be difficult especially when you are on a budget. Long range scope are made using high-end optics and that's why they have a high price tag.
If you are having a hard time finding the best budget scope for 1000 yards, we are here to help.
Listed below is a number of top-quality yet budget-friendly scopes capable of reaching the 1000-yard mark. These scopes have best-in class optics that offer admirably bright and quality sight pictures of distant targets even in dismal environment. For long range applications, they make a handy companion.
But before we dive into these scopes, let's start by looking at the key attributes that make a great budget scope for 1000 yards.
Essential Features of the Best Budget Scope for 1000 Yards
Firstly, for a scope to work as far as 1000 yards, it should have a high magnification to bring the distant objects close. Here, you will need at least 10x magnification. The scope should also have a good optics to complement the high zoom range and ensure that you get brighter and good quality sight pictures all through, even at the highest magnification setting.
Moreover, the scope should have a rugged and sturdy make. With a durable housing, the scope will stand up to any beating and be more reliable. A great scope for 1000 yards should also offer simple adjustments for both elevation and windage, be light and portable, and have a reticle that is not only simple to use, but also accurate and easy to aim even in critically poor light settings.
Best Budget Scope for 1000 Yards – Our Top Picks
Let us now dive into the best best budget scopes that are ideal for hunting and shooting at long ranges out to 1000 yards.
#1) Primary Arms Orion 4-14x44mm Rifle Scope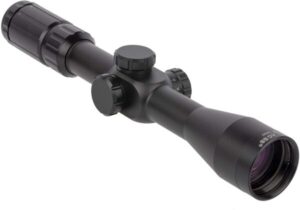 The Primary Arms Orion 4-14x44mm Rifle Scope is arguably the best budget scope for 1000 yards out there. It offers great optical performance and high zoom power that makes it ideal for long range applications. It makes a great companion when shooting targets or hunting varmints and various medium-sized game.
The scope has a versatile magnification that spans up to 14x. With this variable optical power, you will have the flexibility to shoot targets at varying distances. At at every magnification, the scope provides brighter and vivid image views no matter the lighting and weather conditions. This is made possible by the 44mm objective lens and the fully multi-coated lenses.
This rifle scope features a side-mounted parallax adjustment knob and an ACSS Orion reticle for easy range estimation. Construction-wise, it is built with aluminum, a material that is durable and light in weight. Better yet, it is shock resistant, fog resistant and water resistant for optimal use even in harsh weather conditions.
With a length of about 13 inches and the lightweight construction, the scope is highly portable. It also boasts a 30mm main tube that works well with a wide selection of platforms.
In the company of all these handy features, this Primary Arms Orion 4-14x44mm Rifle Scope offer great value for money.
Features
4-14x magnification range
30mm main tube
Fully multi-coated lenses
ACSS Orion reticle
Side-mounted parallax adjustment knob
Low-profile finger adjustable windage and elevation turrets that are capped
Water resistant, fog resistant and shockproof
Pros
Generous amount of eye relief
Compact and light in weight
Matte finish
Clear picture
Great value for the money
Cons
Only offers a 3-year warranty
Lack reticle illumination
#2) Vortex Venom 5-25x56mm Rifle Scope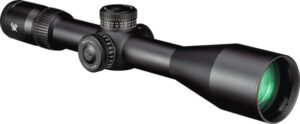 If you are new in long range shooting and hunting, the Venom 5-25x56mm Rifle Scope is your ideal option. In addition to being budget-friendly, it is packed with a wide array of shooter-friendly features to help you cover longer distances with ease.
This Venom scope has a versatile magnification range of 5x to 25x. This is ideal for hunting and shooting from intermediate to lengthy distances in different environments. It is also built into a large 34mm tube that allows for a huge amount of turret adjustment and reticle travel.
The scope is made with simplicity in mind. It has a throw lever that aids in quick and rapid transitions from one magnification setting to the other, and a RevStop Zero system for fast, simpler and reliable return to the initial zero. Moreover, it has exposed tactical turrets for easy windage and elevation adjustments and a generous eye relief that lets you shoot comfortably and confidently from any position.
Another feature that makes this optic shine is the durable make. It has a shock resistant aluminum body that is well-made to withstand any beating. Also, it is fully waterproof and purged with nitrogen gas to ensure that fogging doesn't occur on the internal lenses.
Above all, the scope has a first focal plane EBR-7C reticle that provides the exact holdovers at any magnification and a large 56mm objective that guarantees crisp image views even at the highest zoom power.
Features
Variable 5-25x magnification
RevStop Zero system
Large 34mm tube
Waterproof, fog proof and shockproof
FFP EBR-7C reticle
34mm main tube
Tall and exposed tactical turrets
Pros
A reticle that is easy to see and accurate even in low light
Clear field of view
Dials that are easy to see and read
Versatility and high performance
Solid build
Cons
#3) Leupold VX-3i LRP 4.5-14x50mm Rifle Scope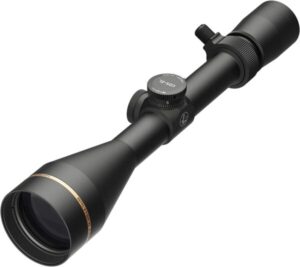 Leupold makes premium quality optical instruments and this is clear in the VX-3i LRP 4.5-14x50mm Rifle Scope. It is specially designed for long distance applications since the LRP stands for long range precision.
Leupold has made this rifle scope to offer repeatable results both in the hunting field and shooting range. When it comes to precision, it is a no non-sense optic. It will help you acquire your target with unprecedented accuracy regardless of the lighting or weather condition.
Even better, it boasts a Twilight Max Light Management System that delivers admirably bright image views, while reducing 85% glare-producing light for better image clarity and color fidelity. On top of that, the external lenses are scratch-resistant so you can use it anywhere worry-free.
Moreover, the scope has a rugged housing with total waterproof and fog proof protection. For added convenience, it comes with a throw lever for instant magnification adjustment and an ultralight main tube for easy maneuverability.
With all these handy features, you can trust the VX-3i LRP to offer an outstanding sighting experience that will certainly enhance your efficiency and shooting accuracy.
Features
30mm main tube
5-14x versatile magnification range
Twilight Max Light Management System
Throw lever included
Scratch-resistant lenses
Long range precision target adjustment
Waterproof, fog proof and punisher tested
Pros
Ultralight design
Parallax free
Outstanding glass clarity
Simple to use
Smooth focus knob
Cons
#4) Vortex Diamondback Tactical 6-24x50mm Rifle Scope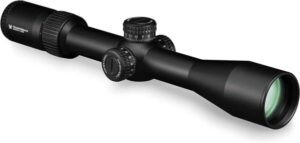 Another best budget scope for 1000 yards in this list is the Vortex Diamondback Tactical 6-24x50mm Rifle Scope. It is designed for tactical shooters, but it is also ideal for long range hunting.
The scope has a 30mm main tube that gives you the flexibility to mount it on a large variety of rifles. It has a rugged body to stand up to anything you subject it to, and has a hard anodized outer finish that ensures no rust forms when you use it in wet environments. Moreover, it has a rugged aluminum body that is waterproof, fog proof and shockproof for unmatched durability.
This rifle scope offers unparalleled optical performance. It features XD lens elements which offer HD optical clarity no matter the light or weather condition. Further, the lenses are fully multi-coated to increase light transmission for brighter, clearer and color right sight pictures of the targets no matter the distance.
Moreover, the scope brings to the table a fast focus eyepiece that ensures fast and simple reticle focusing and a precision-glide erector system for precise tracking and repeatability. To top it all, it has a low weight design that enhances its portability and a glass-etched first focal place reticle for swift range estimation
Features
30mm main tube
Waterproof, fog free and shockproof
Hard anodized finish
XD lens elements
Precision-glide erector system
Glass-etched first focal place reticle
Fully multi-coated lenses
Fast focus eyepiece
Rugged aluminum body
Pros
Versatility
Generous eye relief
Magnification rib
Smooth parallax adjustment
Great quality for the price
Cons
#5) Vortex Optics Viper HS-T Second Focal Plane Riflescopes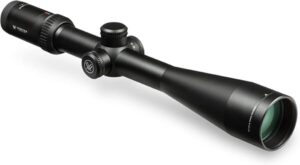 The Viper HS 4-16×44 is another quality optic that is ideal for the shooting and hunting at extended ranges out to 1000 yards. While it is not that cheap, it is relatively cost-friendly. Plus, it offers quality and nice features that are worth the investment.
The scope features a VMR-1 MOA reticle that provides the most accurate holds at long ranges. It incorporates high-quality, fully multi-coated ED lenses which offer excellent resolution, color accuracy and brightness across the entire 4-16x zoom range. It also boasts a side focus parallax adjustment which offers optimal image focus as well as parallax adjustment at extended ranges.
This optic is built to provide long-term durability. It features a 1-piece tube that is built using top-notch materials which make it virtually indestructible. Further, it is sealed with O-rings to prevent dirt and moisture entry, and argon purged to ensure that internal fogging occurs.
More importantly, the scope has a fast focus eyepiece that helps you adjust the reticle to your eye in the right manner for simple reticle focusing. It also brings to the table a CRS zero stop for reliable and straightforward return to zero and a generous eye relief that allows for quick acquisition of targets.
Overall, it makes a great and reliable scope that is ideal for a wide range of applications such as hunting, target shooting and tactical application among others.
Features
Waterproof and fog resistant
Exposed target-style turrets
Fast focus eyepiece
Side focus parallax adjustment
CRS zero stop
Armortek lens coatings
VMR-1 MOA reticle
Fully multi-coated ED lenses
Pros
Excellent transmission of light
Crisp clear resolution
Excellent scope for multiple applications
Well built
Simple to use
Cons
Read Also
Best Budget Scope for 1000 Yards Buyer's Guide
Whether you are in the market for your first scope for 1000 yards or you need a new one to add in your collection, here is what you should look out for.
Magnification
High magnification is a must for shooting targets at 1000 yards. A scope with plenty of magnification will bring you close to the distant target and help enhance your shooting accuracy. 10x magnification is the general recommendation. It is sufficient to let you hit a 20-inch plate that is as far as 1000 yards away.
If you want to use the scope for shooting at varying distances not just 1000 yards, try and look for a model that offers a broader magnification range.
Image Quality
Hitting a 1000-yard target is an exhilarating activity only if the optic you are using offers brilliant and clear image views. Otherwise, you will have a hard time placing the shot accurately let alone recognize it.
Additionally, accurate target identification is vital especially when you are hunting. For the best image quality, go for a rifle scope that uses ED glass or any other better glass. Also makes sure that the lenses are coated severally with anti-reflective or any other better coating.
Objective Lens
For 1000 yards hunting and shooting, you will need a scope with a large objective lens. With the target being far away, the more lighting the scope needs to generate bright image views. A large objective lens will also give you a larger viewing angle even when you crank the magnification to the highest setting.
Whether you are going to use the scope for hunting or target shooting, go for model with 40mm to 50mm objective lens.
Build Quality
A durable and well-made rifle scope is a reliable scope. To take the beating that comes with both hunting and range shooting, the scope you intend to buy should be durable and shockproof. It should also be sealed and filled with dry argon or nitrogen gas to be fully waterproof and fog proof. Some scopes also come with scratch resistant lenses for extra protection.
Eye Relief
To hit the 1000-yard mark, it is more likely that you will be using a powerful rifle and ammunition. If the firearm you are using or the ammunition generates heavy recoil, make sure that you pick a scope that offer a large amount of eye relief. This way, you will be able to shoot with greater confidence not worrying about your eye getting hit by the recoiling rifle.
Also, a scope with a long eye relief will let you glass comfortably no matter your shooting position. Make sure that you choose a scope with at least 3.5 inches eye relief.
Parallax Adjustment
Remember to check if the scope comes with a parallax adjustment feature. Some models have an adjustable objective lens and others have a parallax knob that is mostly put on the side. Parallax adjustment is key when shooting at 1000 yards for greater accuracy.
Best Budget Scope for 1000 Yards FAQs
What magnification do I require for 1000 yards?
For both hunting and shooting at 1000 yards, you will need a minimum magnification of 10x. Higher than 10x magnification will also be ideal, but don't go too high as you can interfere with the image quality.
Do scope tube size matter?
Yes. The size of the scope tube matters in multiple ways. Generally, scopes with smaller 1-inch and 30mm tube sizes are easier to mount and compatible with most platforms. They are also lighter in weight than their 34mm and 35mm counterparts. But they have a smaller range of windage and elevation adjustment as well as reticle movement.
If your priority is mainly on size and weight, scopes with the smaller tubes are the best for you.
Absolutely. In modern age, budget scopes are as good as the most expensive models out there. They are built with decent optics and top-notch features to ensure that you get the most out of your hunting or shooting excursion.
Final Thoughts
In this day and age, you don't have to break the bank to get a quality, reliable and functional scope. We hope that this guide has offered you the insight into the best budget scope for 1000 yards and you are now confident enough to make the correct buying decision. Consider what you intend to use the scope and then get the scope that suits you perfectly.