If you are looking for the best scope for 450 Bushmaster, look no further. In this post, we have taken out time and compiled a list of the best scope for 450 Bushmaster available out there.
When it comes to hunting medium and big-sized game, the 450 Bushmaster is one of the most popular cartridges you will find on the market today. It offers great accuracy at varying ranges from 200 to 250 yards mark and is quickly becoming the popular straight-wall cartridge choice for most hunters.
To place a shot accurately on a target at this range, you will need a scope. A quality scope will give you a better and up-close view of the target and help you take a difficult shot with much more ease. However, finding the best scope for 450 Bushmaster isn't that simple and straightforward.
There are a multitude of scopes to choose from and as you make your selection, you need to consider numerous factors that are important to your shooting precision. Whether you are buying the first 450 Bushmaster scope or looking for a better and newer model, here are some of the best models you can pick from. Let's take a look.
Best Scope for 450 Bushmaster
1) Leupold VX-Freedom 450 Bushmaster 3-9x40mm Riflescope

The VX-Freedom 450 Bushmaster 3-9x40mm is arguably the best scope for 450 Bushmaster out there. f. It is specially designed for use with the 450 Bushmaster  and it offers reliable performance in any hunting situation.
Built around the Leupold's advanced optical performance, the scope delivers great image clarity and brightness no matter the hunting environment. It offers top-notch glare reduction when hunting in harsh light and excellent light transmission in low light settings. It also comes with a duplex reticle that stands out against cover in dismal lighting conditions.
The VX-Freedom in made to offer a lifetime of field use. With the robust and shockproof design, it withstands whatever punishment you subject it to. It also comes with 1/4 MOA windage and elevation adjustments which offer absolute repeatability and dependability over a lifetime of extreme use.
In addition to everything else, the optic has a lightweight design for easy carrying in the field and a waterproof and fog proof design for use in any environment.
Features
3-9x magnification range
Rugged aluminum body
100% waterproof and fog proof
1-inch main tube
An elevation dial that is optimizes for the .450 Bushmaster
Duplex reticle
Matte finish
40mm objective lens
Pros
Lightweight and portable
Budget-friendly
Excellent low-light performance
American quality
Crystal clear scope
Cons
Some users find the reticle to be too fine to use
2) Vortex Optics Crossfire II Second Focal Plane, 1-inch Tube Riflescopes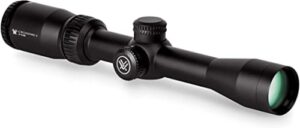 The Crossfire II 3-9×40 is your ideal option if you are on a budget. It is cost-effective yet quality to ensure that you push your 450 Bushmaster to its full potential.
This rifle scope is built to be nearly indestructible. It is sturdy enough to handle anything you subject it to and rigid enough to stand the high recoil this straight-walled cartridge generates. It is also sealed with O-rings to be fully waterproof, dust proof and nitrogen purged to be fog resistant.
Another feature that set is apart is the optical clarity. Even in low light settings, it generates bright and clear views for the user to aid in easy target identification and accurate shot placement. It also offers a long eye relief which makes it eyeglass-friendly and a fast focus eyepiece for rapid and simple reticle focusing.
Other essential features the scope presents are a Dead-Hold BDC reticle, capped reset turrets that are finger adjustable and a lightweight design.
Features
Fully multi-coated lenses
Fast focus eyepiece
3-9x magnification range
Resettable MOA turrets
60 MOA maximum elevation adjustment
Dead-Hold BDC reticle
Waterproof and fog proof
Pros
Excellent craftmanship
Capped turrets
Lightweight design
Long eye relief
Backed by an unlimited lifetime warranty
Cons
No reticle illumination
Does not come with lens covers
3) Hawke Sports Optics Endurance 3-12x56mm Rifle Scope

The Endurance 3-12x56mm Rifle Scope is a great scope to have for your 450 Bushmaster. It is ideal for shooting at varying ranges where it offers excellent image quality at every zoom range.
The scope is made to offer state-of-the-art optical clarity from dawn till dusk. This is thanks to the large 56mm objective that maximizes low light performance and the fully multi-coated optics enhance light transmission. Better yet, it possesses an LED illuminated reticle which helps you aim with greater precision in low light settings.
Construction-wise, the scope has a 30mm body tube crafted from aluminum. It is sturdy enough to endure any punishment you subject it to, yet light in weight for portability convenience. It also features capped turrets to prevent accidental adjustments and to maintain a low profile.
Above all, the scope has a long eye relief that aids in rapid target acquisition and a large-angle field of view that makes target finding a snap.
Features
30mm main tube
3-12x variable magnification
.350 Legend second focal plane reticle
Capped low-profile turrets
Fully multi-coated optics
Large 56mm aperture
Pros
Reticle illumination
Great low light performance
Generous eye relief
Lightweight design
Cons
4) Burris Fullfield II Ballistic Plex Scope

The Fullfield II Ballistic Plex scope is built using advanced technology to ensure that it performs under virtually any hunting environment. Being a 1-inch tube scope, it is easy to use, mount and sight.
You can use the scope to find targets at both close and medium ranges. This is thanks to the variable 3-9x magnification power. To complement this versatile zoom, the optic also has a large 40mm objective lens which yields superior low light performance and quality image views at every zoom power.
With the mere 13oz design, the scope is super light and it won't weigh you down as you carry it in the field. It also brings to the table a second focal plane ballistic plex reticle that stays constant in size at every zoom power. This ensures that you get more accurate aim points even at the lowest zoom power. Lastly, the scope has a matte finish to help you remain inconspicuous when hunting in broad sunlight.
Features
3-9x magnification range
Second focal plane reticle
MOA adjustment type
40mm aperture
Matte finish
1-inch main tube
Pros
Ultralight design
Easy to use
Lens caps included
Easy on the wallet
Cons
No illumination
No parallax adjustment
5) UTG 3-9×32 1" Scope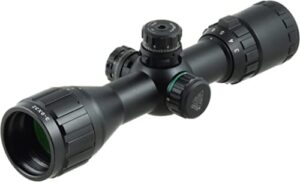 Next up is the UTG 3-9×32 1" Scope. Pairing this ultra-versatile scope with your 450 Bushmaster scope will help you get the absolute best from your hunting trip. It is highly efficient and simple to use as well.
Featuring an Emerald lens coating, the scope maximizes transmission of light to offer bright, clear and color accurate image views in any lighting condition. The adjustable objective aids in parallax removal and image focusing, while the range estimating reticle ensures optimal aiming and shooting performance under virtually any environment.
For added shooting comfort, the scope comes with a built-in 2" sunshade which helps protect your eye from harsh sunlight rays. It also brings to the table a large field of view that makes target location a snap, an accommodating eye relief for use even with eyeglasses and quick detachable rings for quick installation and removal.
Furthermore, the UTG 3-9×32 scope has a 1-inch body tube built on true strength platform. It is shockproof for greater protection in the field. It is also sealed to be rain and dustproof, and filled with nitrogen gas to ensure that lens stay fog free. Above all, it has a feather-light design that makes it easy to carry around.
Features
Range estimating mil-dot reticle
1-inch main tube
Water, fog and shockproof
Quick-detachable rings
Emerald coatings
Adjustable objective
Integrated 2-inch sunshade
Pros
Red/green reticle illumination
Solid construction
Lightweight and easy to use
Parallax free viewing from 3 yards to infinity
Fits easily on Picatinny and weaver rails
Cons
Smaller aperture
Made in China
6) Sig Sauer Whiskey 3 3-9×40 SFP Standard Quadplex Riflescope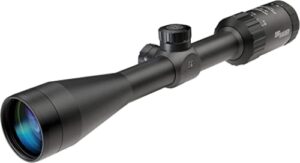 Another best scope for 450 Bushmaster on our list is the Sig Sauer Whiskey 3 3-9×40 SFP Standard Quadplex Riflescope. It is an ideal for multiple hunting applications at different ranges and recreational shooting with different calibers.
The scope is built ready for rough outdoor handling. It has a dependable IPX-7 rating which makes it water proof up to 1m and dust proof as well. Additionally, it is fog proof to ensure that the field of view stays clean and clear even when you move to areas with large temperature and humidity gradient.
The optical finesse offered by this scope is exceptional. It employs low dispersion glass which deliver great optical clarity for any situation. It also has multiple reticle options ideal for various hunting environments and a European style eyepiece that ensures rapid and precise reticle adjustment.
Features
3x optical zoom
Waterproof, fog proof and dust proof
Second focal plane reticle
1" body tube
Low dispersion (LD) glass
40mm aperture
European style eyepiece
Pros
Competitive pricing
Multiple reticle options
Great image quality
Crisp clear field of view
Cons
Made of plastic
No so many features included
7) Vortex Optics Strikefire II Red Dot Sight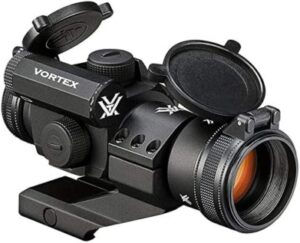 Lastly on our list is the Strikefire II Red Dot Sight from Vortex. If what you are after in a 450 Bushmaster scope is rapid target acquisition and a wide field of view, this optic suits you.
It features a 4 MOA red dot that optimizes shooting accuracy under any lighting condition. With it, you can shoot with both eyes open and maximize your situational awareness. Better yet, the red dot comes with 10 brightness levels for visibility in different light setting and the   two lowest settings are night vision compatible.
Another feature that makes it ideal for use with the 450 Bushmaster is the robust construction. It has a 30mm tube crafted from aluminum alloy chassis. The sturdy construction provides a higher recoil resistant rating for reliable performance. Moreover, you can use it under any weather condition as it is fully waterproof and fog proof.
To top it all, the scope boasts fully multi-coated lenses which provide a clean and unobscured field of view and a compact and lightweight design that make it easy to install and remove.
Features
Single piece chassis
Fully multi-coated lenses
Waterproof and fog proof
4 MOA dot
30mm body tube
10 dot intensities
Pros
Night vision compatible
Crisp clear red dot
Auto turn off after 12 hours
High recoil and impact resistance
Lightweight
Cons
Read Also
Criteria for Choosing the Best Scope for 450 Bushmaster
When shopping for the best scope for 450 Bushmaster, below are some of the important features you should take into consideration.
Heavy Duty Construction
This is the first thing you should consider. The 450 Bushmaster is known to generate high recoil that can destroy an optic instantly if it is of poor quality. The scope you choose to buy must therefore have a robust housing that takes it this heavy recoil.
Avoid scopes made from plastic as they are less durable. Instead, try to look for a unit that is made with materials such as aluminum or any other durable metal.
Magnification
The next thing to consider is the scope's magnification. Given that the 450 Bushmaster is effective out to about 250 yards, there is no need to get a scope with a high magnification power.
Any variable powered scope with 3-9x magnification will do. It will give you the flexibility to take shots at close and medium shots with ease.
You can also pick a fixed power scope or a red dot sight if you use your 450 Bushmaster to take shots at constant ranges.
Lens Coatings
You want your scope to yield bright, clear and sharp image views even in low light hunting environments. This can only be achieved if the scope has quality lenses and proper lens coatings. A tip is to pick a unit that has fully multi-coated lenses and one that utilizes ED, XD, HD or any other premium-quality glass.
Eye Relief
The best scope for 450 Bushmaster offers a generous eye relief of 3.5 inches or more. This is the distance between your eye and the lens of the scope and it differs from one scope to the other.
A long eye relief will keep you eye safe from the high recoil the 450 Bushmaster generates. It will also help with rapid acquisition of targets and ensure that you get optimal eye comfort during lengthy hunting sessions.
Weather Resistance
Get a scope that is built to be used in any weather condition. The best scopes for 450 Bushmaster are sealed with O-rings to be waterproof and dust proof. They are also nitrogen filled/argon purged to keep the lenses free of fog. Go for such scopes if you intend to hunt game in all weather conditions.
Price
Scopes for 450 Bushmaster vary greatly in price from one model to the other depending of the brand, features and other factors.
Choose a scope that offers the features that you deem important depending on your budget needs and preference. It will be more economical in the long run if the scope you get offers many years of field use regardless of the initial investment cost.
Best Scope for 450 Bushmaster FAQs
What is the effective range of the 450 Bushmaster?
The effective range of the 450 Bushmaster is between 200 and 250 yards when hunting medium sized game. This range however can increase or decrease depending on the quality of rifle you are using, your shooting skills and the weather condition.
What game can you hunt with 450 Bushmaster?
The 450 Bushmaster cartridge yields a lot of punch which is usually sufficient to take down deer, elks, black bear and any other medium-sized game successfully.
What do numbers on a scope mean?
The two numbers in a scope configuration represent the magnification power and size of the objective lens respectively. So, a scope with a 3-12x56mm configuration for instance has a 3-12x variable magnification and a 56mm objective lens.
Conclusion
We do hope that this article has helped point you in the right direction. The best scope for 450 Bushmaster can increase your shooting accuracy and  boost your confidence when taking difficult shots especially at long ranges. Remember that your hunting style, needs and preference play a big part in determining the scope that you choose. Use our guide above to find the scope that matches best with your needs.