If you are on the market for the best budget spotting scope for bird watching, you are in the right place. This is your ultimate guide to the most cost-effective spotting scopes suitable for bird watching.
A good spotting scope is an indispensable tool to have for bird watching. It will help you see every detail of the feathered creatures in any habitat. They have great magnification which makes them ideal for watching birds that are close by as well as those that are hundreds of feet away. They also provide the most comfortable views of birds both on land and on air.
When birding, spotting scopes provide higher magnification and a wider field of view than binoculars. They are also more comfortable on the eye especially during long glassing sessions. With a good quality model, you'll get an unforgettable experience with excellent image quality and versatile zoom. , the following are some of the best models you can choose from. Let's take a look.
Best Budget Spotting Scope for Bird Watching
1) Vortex Optics Diamondback Spotting Scope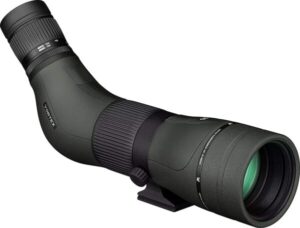 The Diamondback Spotting Scopes deliver exceptional performance in a very compact package. It features a wide 20-60x magnification suitable for watching birds at varying distances and a large 60mm objective lens that provides clear views of the targets even at the highest magnification settings.
This scope is a superb option when you need to watch birds in low light settings. It features XR fully multi-coated lenses that provide excellent light transmission and reduce light loss through reflection. The angled design reduces eye fatigue during extended viewing sessions, while the built-in sunshade helps minimize glare when viewing birds under direct sunlight.
This budget spotting scope is well-made to give you many years of use. It has a rubber armor that enhances durability and provides a positive grasp even with your hands wet or sweaty. It's also O-ring sealed so you don't have to worry about moisture damage and purged with nitrogen for total fog proof performance.
Another good thing about the scope is the lightweight design. It weighs less than a kilogram for convenient portability. For added convenience, it comes with a smooth and easy to use focus wheel, and an adjustable eyecup that makes it eye glass friendly. Overall, it's an excellent spotting scope for avid birders interested in watching birds in different habitats.
Features
20 feet close focus
Waterproof and fog proof
XR fully multi-coated lenses
Twist and lock collar
Adjustable eyecup
Durable rubber armor
Lightweight and portable
Angled design
20-60x magnification
Built-in sunshade
2) Celestron – Ultima 80 Angled Spotting Scope
When it comes to versatility, you can count on the Ultima 80 Angled Spotting Scope. It is a perfect all-round spotting scope that makes a great companion when outdoors. It has a lightweight design for easy portability and a 45-degree viewing angle that's reduces eye fatigue when watching birds at long distances.
This spotting scope provides bright and sharp images even in low light situations. It has an Achromatic objective lens that is fully multi-coated to increase light transmission and reduce light reflection. Additionally, it boasts an integrated zoom lens that provides sharp images in every magnification setting.
The Ultima 80 angled spotting scope is fully weatherproof and fog proof. This means that you will be able to use it regardless of the weather condition. it's also well-made to stand up to the harsh outdoor environments. Above all, it comes with a T-mount adapter suitable for Digiscoping.
Features
45-degree viewing angle
Waterproof and fog proof
Multi-coated optics
Built-in zoom lens
T-mount adapter for Digiscoping
Removable rubber eyecup
27-feet close focus
20-60x magnification
Compact and portable
3) Bushnell Trophy Xtreme Spotting Scope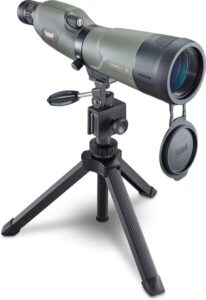 As one of the best budget spotting scopes for bird watching, the Trophy Xtreme Spotting Scope provides excellent image brightness and clarity. It features fully multi-coated optics which provide the best bird views from dusk to dawn. It's easy to use and a great choice for beginners.
The spotting scope is built tough to withstand anything you throw at it. It has a durable rubber armor that shields it from shock and impacts and provides a positive grasp even in wet conditions. Better yet, it has a waterproof and fog proof construction so you can use it in virtually any weather condition.
The magnification on this scope can be adjusted from 20-60x. This wide zoom will help you spot the birds easily regardless of how far they are. Furthermore, it has a small and fairly lightweight design which ensures that you'll have an easy time carrying it on the field. Above all, this spotting scope comes complete with a tripod and car window mount for snug and hands-free viewing.
Features
Porro-prism design
High quality fully multi-coated optics
Waterproof and fog proof construction
Compact and lightweight
Shock-absorbing rubber armor
Versatile 20-60x magnification
Compact tripod
Car window mount
Scope glove
4) ROXANT Blackbird Compact Spotting Scope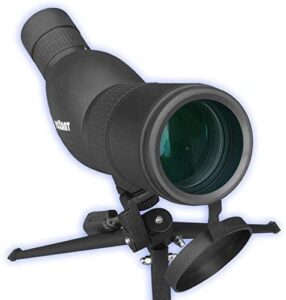 The ROXANT Blackbird Compact Spotting Scope is the perfect bird watching tool for any beginner looking to start their bird watching hobby. It's amazingly affordable and very simple to use. It also has a lightweight design that makes it very easy to carry and a molded grip for comfortable and secure handling.
Featuring an adjustable magnification from 12x to 36x, this spotting scope will let you see every single detail of the birds you are watching at any distance. Additionally, it offers good image clarity all through. It features a large objective and fully multi-coated lens that increase light transmission for crystal clear viewing even in dismal environment.
When it comes to construction, the scope is made to provide unbeatable durability. It has a non-slip rubber armor that enhances durability and shields it from weather elements. Besides that, this unit has a 45-degrees angled eyepiece that's highly convenient for most viewing situations. The eyepiece is also retractable for comfortable viewing with or without eyeglasses.
Features
Adjustable 12-36x magnification
45-degrees angled eyepiece
Non-slip rubber armor
Fully multi-coated lens
Weatherproof construction
Retractable eyepiece
High-grade BAK-4 prisms
Compact and lightweight
Extendable sunshade
5) Vanguard Endeavor XF Angled Eyepiece Spotting Scope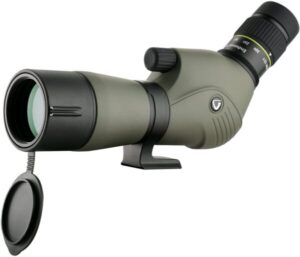 Next on our list is the Endeavor XF Angled Eyepiece Spotting Scope from Vanguard. This spotting scope has virtually every feature that you need to make your birding experience better and memorable. It boasts an adjustable 15-45x magnification suitable for viewing birds at any range and a wide field of view that is essential for easy target identification.
The scope offers excellent optical performance even in low light conditions. The fully multi-coated lenses combined with the BAK-4 prisms provide bright, clear and ultra-sharp image views. Moreover, this unit has a built-in sunshield that reduces glare in direct sunlight and a long eye relief that makes it eyeglass-friendly.
For added convenience, the Endeavor XF boasts a large and smooth focusing wheel for easy focusing. It is also designed to mount directly to any Vanguard tripod head. Lastly, it's fully weatherproof and has a rubber-armored magnesium body that enhances durability without adding unnecessary weight.
Features
Fully waterproof and fog proof
15-45x zoom magnification
Long eye relief
Rubber armored magnesium body
Angle-eyepiece design
Quick adjustment focus wheel
Fully multi-coated lenses
Phase-coated BAK-4 prism
Built-in sunshade
6) CREATIVE XP Spotting Scope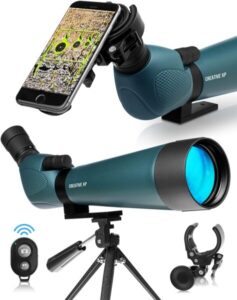 Finding a good quality yet budget spotting scope for bird watching is no easy feat. Majority of the low-end spotting scopes hardly live up to expectations. However, the CREATIVE XP Spotting Scope is different. It offers excellent performance at a very affordable price. It is reliable and suitable for multiple outdoor application among them bird watching.
The scope offers bright and crisp images in any environment. It's simple to zoom up to 60x and it offers high-quality images even at the 60x magnification. It boasts premium lens coating for brilliant and vivid image production and a 2-knob fine focus that provides the extra detail that's much needed by most birders.
This spotting scope for bird watching is built ready to handle any weather condition. The outer shell is O-ring sealed to lock out moisture and dirt, while the interior optical surfaces are fully fog proof. Furthermore, the scope offers a long field of view that comes in handy when viewing flying birds. If you are looking to casually watch birds in different habitats, this is your ideal spotting scope.
Features
Fully multi-coated lens
100% waterproof and fog proof
Durable and shockproof construction
Long field of view: 114-60ft at 1000 yards
4-1.3mm exit pupil
BAK-4 Porro prism
Scratch-proof lens
2 fine focus knobs
20-60x magnification
80mm objective lens
7) Emarth 20-60x60AE 45 Degree Angled Spotting Scope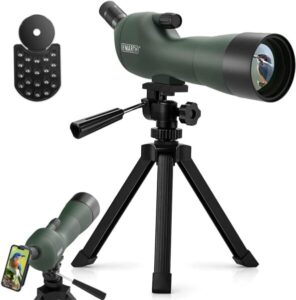 If you are a value conscious birder, you can hardly go wrong with this angled spotting scope from Emarth. It features a variable magnification range from 20x to 60x that makes it suitable for viewing birds at any distance. It also offers a wide field of view which is essential for easy target spotting.
This spotting scope is toughly made to provide outstanding performance in any condition. It has a shock-absorbing rubber armor that provides a non-slip grip and a durable external protection as well. It's also fully sealed with O-rings to prevent entry of dirt and debris, and nitrogen-filled to inhibit internal lens fogging.
In terms of optical performance, this product boasts fully multi-coated lens which facilitate maximum light transmission for bright and clear images. It also features premium BaK-4 prisms which deliver exceptional color fidelity and crisp images in any light condition. To top it all, the scope comes with a cellphone adapter where you can mount your smartphone and capture the images of the birds that you view.
Features
45-degrees viewing angle
20-60x magnification
Fully multi-coated lens
Cellphone adapter
BaK-4 prism
Durable and shockproof construction
Fully waterproof and fog proof
Built-in retractable sunshade
Dual focus wheel
See Also
Best Budget Spotting Scope for Bird Watching Buyers Guide
When you are shopping around for best budget spotting scope for bird watching, these are some of the important factors that you should consider in order to make an informed buying decision.
Image Quality
To enjoy the best bird views, you need to have clear views regardless of the light conditions. A spotting scope with excellent glass quality will provide high-quality images that don't have any blemishes such as chromatic aberration and graininess. If you can afford, invest in a scope that has lenses made from HD glass or fluorite crystal.
Magnification
Magnification refers to the measure of how big the image appears when you look through the spotting scope. It's represented by a number that's followed with an x. Spotting scope are ideal for watching birds at long range because of the high magnification that they provide. A model with 20-60x or less will be sufficient for most birding activities.
Size and Weight
If you are an adventurous birder, you'll need a spotting scope that's compact, light and portable. This way, you'll have an easy time carrying it wherever you go. A spotting scope that's lightweight is also easy to mount on the tripod or car window mount.
If you mostly watch the birds at the comfort of your balcony or garden, you don't have to worry so much about the size or weight of the spotting scope. However, avoid larger scopes as they are bulky and difficult to use.
Durability
A spotting scope that's well-made will give you many years of field use. As you move around in search of birds, the scope will be introduced to harsh outdoor conditions. It can be hit by a branch of tree or fall accidentally on the rock as you move towards the most perfect vantage point.
To help protect your valuable scope in such unforgiving conditions, look for a model that's sturdily made to endure such conditions. Make sure that the scope has a rugged rubber armor that will protect it from shock, scratches and impacts. Also make sure that it's fully waterproof and fog proof so it can handle the extreme weather conditions.
Warranty
Bird watching spotting scopes are great investments. Therefore, it's important that you get a model that comes with a warranty. Some brands offer a lifetime warranty while others offer limited warranty. With a good warranty, you'll be at peace knowing that you purchased a quality product.
Why Use a Spotting Scope for Bird Watching?
Wider magnification. The broad magnification that spotting scopes provide will help you spot birds with ease regardless of how far they are.
Large field of view. Spotting scopes provide a wide field of view that's essential for tracking flying birds.
Due to the excellent image brightness, theses scopes are ideal for viewing birds in any habitat and at any distance.
Perfect for Digiscoping. You can easily mount a smartphone or camera on the spotting scope and capture pictures of the birds you are watching.
FAQs
Which is better, binoculars or spotting scopes?
Both binoculars and spotting scopes are great for bird watching. However, spotting scopes offer a wider magnification, wider field of view and high-quality images. In most cases, a good-quality spotting scope for bird watching will always perform better than binoculars.
How powerful should a spotting scope be?
It depends on what you intend to use it for and how far your targets are. Typically, a spotting scope with 15x to 60x magnification is sufficient for most bird watching applications.
Are spotting scopes good for bird watching?
Yes, they are. A quality spotting scope is an important item for avid birders. They provide a wide magnification suitable for watching birds at long distances where binoculars can't reach. Spotting scopes also provide comfortable views and are perfect for birders who like to do a lot of Digiscoping.
Conclusion
We hope that you have found everything you need to know about the best budget spotting scope for bird watching. Once you know what you need in a spotting scope, you'll be able to find your ideal model easily. All the spotting scope listed above are durable, reliable and ideal for various outdoor activities, not just bird watching.