When it comes to finding the right set of binoculars, there are a lot of factors to consider. Each factor is important in its own way and plays a big role in determining which pair you pick. Whether you are purchasing your first set of binoculars or looking for a newer model, one of the important factors to take into account is magnification. This is first number after "x" in binoculars configuration.
Magnification plays a huge role in determining which activity you can use the binoculars for. It determines whether you will use it to observe targets at close, medium or extended ranges. Magnification also determines whether you will use the binoculars hand-held or tripod-mounted.
Today, the market is flooded with binoculars from different brands. Each product is unique in its own way and is ideal for certain applications. If you are buying your first pair of binoculars, chances are that you are wondering which binocular magnification is best for you.
To help you make the right selection, we have done our homework and outlined the important things one should consider when choosing binoculars magnification. Let's take a look.
How to Choose the Right Binoculars Magnification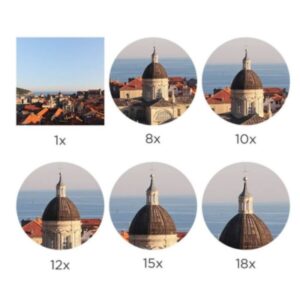 Choosing the correct binoculars magnification starts with evaluating the activities you intend to use the binoculars for. 7x, 8x and 10x magnification are the standard for most applications and any magnification outside this range is more specific to certain activities. Here is the most ideal binocular magnification depending on specific outdoor activities.
Hunting
Selecting the right binocular magnification for hunting starts by identifying the distance you will be hunting at and the hunting environment.
A bow hunter pursuing game at thickly forested areas will benefit more when they use a binocular with not more than 8x. In such an environment, you will need a wide field of view for quick target finding and image stability that is hard to find with high powered binoculars.
On the other hand, hunting in large, open plains requires higher magnification. A model with 10x magnification will do if you plan to use it hand-held, But you can go higher to 12x or 15x if you plan to use the binoculars on a tripod.
Check out these binoculars that make a handy companion when hunting:
Bird Watching
When it comes to bird watching, the best binocular magnification is 8x. 8x is enough magnification to let you observe birds in various habitats out to 200 yards away with steady and wide field of view.
However, a set of binoculars with 10x magnification will be beneficial if you generally watch birds from a fixed position or what you are after is a model that provides greater detail. The downside of having high magnification for bird watching is that it provides a narrower field of view which isn't so great for observing flying birds.
Best Binoculars for Bird Watching
Stargazing
Binoculars make perfect tools for stargazing in place of telescopes. They require no set up and come in handy when you need to enjoy the views of the deep sky at night when you are outdoors camping or on the move.
On average, a binocular with 10x and 12x will provide excellent views of the lunar and star clusters. For beginners, this magnification will be sufficient.
On the other hand, many seasoned astronomers will need higher magnification of at least 15x. The higher magnification will help you observe more celestial objects. However, the higher the magnification, the more difficult it will be to stabilize the image views. Here you will need a tripod.  Alternatively, you can get image stabilized binoculars for astronomy and stargazing that offer stable views of images at high magnification without the need to use a tripod.
Best Binoculars for Stargazing
Wildlife Observation
8x and 10x are the most popular magnifications for wildlife observation. Between the two, the major difference is the field of view and the cost. 8x binoculars offer a wider field of view and they also tend to be more cost-effective.
For this particular activity, the other important factor you should consider is the size of the objective lens. Whether you are a beginner or a seasoned user, get a pair with 40mm to 50mm aperture. It will offer optimal image brightness and ensure that you observe the targets in rich detail.
Best Binoculars for Wildlife Observation
Boating
For boating, 7x is the standard magnification. It is powerful enough to let you acquire targets at distant ranges while being steady to use hand-held. With a 50mm aperture, the binoculars will perform in any time of the day, even at dusk and dawn.
Nevertheless, you can opt for a higher magnification power is 7x won't be enough. Here you can either choose an image stabilized binocular or invest in a tripod separately to keep the image views steady.
Best Binoculars for Boating
Sport Events
If you are a sport events ardent and you are stuck on how to choose the right binoculars magnification, models with lower magnification are the best. A model with 6x to 10x magnification will be ideal. With low magnification comes user comfort, wide field of view and excellent image stability which are all essential when watching football, cricket and other sports.
Best Binoculars for Sports
Hiking and Camping
The best binocular magnification for hiking and camping is similar to that of wildlife observation or birding. A binocular with between 8x and 10x will do.
It will offer the compactness you need to carry it comfortably, a wider field of view and higher brightness as well.
Best Binoculars for Camping and Hiking
Whale Watching
Magnification for whale watching is similar to that of boating particularly if you watch whales when you are on a water vessel. Here a model with 7x to 8x will be easy enough to hold steady even in harsh waves.
However, you will need a binocular with more than 12x for watching whales off the shore. Higher magnification will let you get richer details of the whales even when they are far away from you.
Best Binoculars for Whale Watching
Read Also
Conclusion
We hope that you have found our post of how to choose the right binoculars magnification insightful. Determining what is the right binoculars magnification can be difficult given the plethora of units to choose from. There are numerous factors to consider that define which magnification is ideal for you.
Generally, models with 8x or 10x zoom power are suitable for multiple applications and they are the most common on the market today. Factor in the activity you intend to use the binoculars for then find the magnification that is perfect for that activity.