Binoculars are valuable sighting tools that people invest in and it is important to protect them so you can get many years out of them. Once you get your binoculars out of the box and use them outdoors, they are prone to getting dirty. So, having the best lens cleaning kits for binoculars is important to cleaning both the lenses and the body.
A binoculars lens cleaning kit is a must-have item for keeping your binoculars clean. Binoculars lenses are very delicate and rubbing them with a piece of tissue or wet cloth is never an option as you can damage the coatings. So, its good to invest in a proper cleaning kit particularly if you are always on the move and you always carry your binoculars with you.
If you having a difficult time trying to find the best lens cleaning kits for binoculars, you have come to the right place. In this post, we will take you through some of the cleaning kits that do a tremendous job in keeping binoculars clean and clear. Without wasting any more time, let's take a look.
Best Lens Cleaning Kits for Binoculars
1) Gobe Glass Cleaning Kit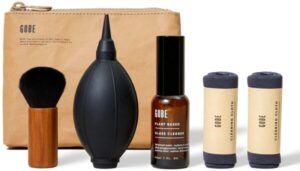 The Gobe Glass Cleaning Kit is one of the best cleaning kits for binoculars available on the market. This professional-grade kit is specially made for premium coated optical glass and comes with everything you need to keep your binocular's lens clean and crisp as crystal. It doesn't contain any alcohol, ammonia or harsh chemicals, so its safe for lens with delicate Nano-coatings.
This kit comes with two reusable and washable cleaning cloths. This means that you can use one while you wash the other. The bamboo brush included comes with ultra-fine bristles which are safe to use with your glass. Moreover, the silicone blower is not only lightweight, but also ergonomically designed for precision and power. With just a gentle squeeze, you get a powerful blow that dislodges all dust and banishes the small particles.
Another impressive thing about this cleaning kit is that it's suitable for deep clean and broad use. You can use it clean cameras, smartphones, computer screens, eyeglasses and tablets not just binoculars. To top it all, each kit comes in a travel-ready pouch for easy transportation.
Features
Bamboo brush with ultrafine bristles
Lightweight and ergonomic blower
Broad use
Two reusable and washable microfiber cleaning cloths
Travel-ready and durable pouch
Leak-proof glass cleaner bottle
Streak-free clean
Chemical and alcohol-free solution
2) Vortex Optics Fog-Free Lens Cleaning Field Kit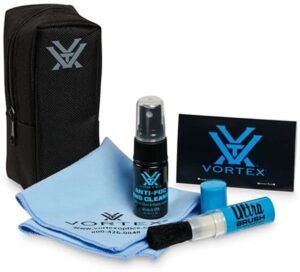 The Vortex Optics Fog-Free Lens Cleaning Field Kit is a comprehensive cleaning kit suitable for everyone who owns a pair of binoculars and is fond of outdoors. It removes all particles, dirt and fingerprints to leave your binocular's lens clear and crystal clear. It also provides anti-fog protection which prevent fog build up in cold weather conditions.
This lightweight kit has everything you need to keep your favorite pair of binoculars in the best shape. For starters, it comes with an Ultra brush with soft bristles for removing dirt and dust particles off the lens. Secondly, it comes with a VorTek microfiber cloth which cleans off the fingerprints and any other smudge off the binocular's lens and body. To top it all, this cleaning kit comes with a lens cleaner for cleaning the delicate lens.
Features
Ultra-brush with soft bristles
Anti-fog protection
VorTek microfiber cloth
Lightweight kit
Highly effective lens cleaner
Best cleaning kit for people living in cold regions
3) Altura Photo Professional Cleaning Kit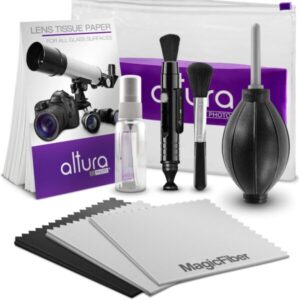 The Altura Photo Professional Cleaning Kit is a multi-purpose cleaning kit that offers great lens cleaning solutions. It allows you to clean the lenses of your binoculars without leaving any residue behind. It comes in a great ergonomic bottle which you can carry everywhere you go and clean your binoculars when need arises.
The lens cleaning solution included in this cleaning kit is free of alcohol, ammonia and odor. This makes it safe for use on optics with delicate coatings. Moreover, the extremely fine microfiber is safe for all lenses and surfaces. It cleans dirt and fingerprints thoroughly without causing any scratches, streaks or marks.
This cleaning kit also comes with a soft brush for dusting off any dust and debris. The brush retracts into a brush for safe and secure storage. The air blower blows away dust, dirt and specks from the lenses, while the professional cleaning brush is suitable for removing any dust and smudges on the binoculars body. Lastly, this cleaning kit comes with 50 sheets of cleaning tissue. Each tissue paper is neatly packed in a polyurethane plastic bag for long term safe storage.
Features
50 sheets of cleaning tissue
Lens cleaning pen
Air blower
Professional cleaning brush
Tight threading that prevents leakage
Durable material for long term use
Ammonia and alcohol-free cleaning solution
3pc microfiber cleaning cloths
4) Nikon 7072 Lens Pen Cleaning System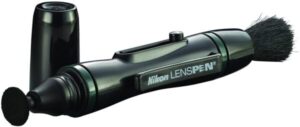 This pen cleaning system from Nikon is another excellent lens cleaning kit for binoculars. If you are always on the move, this pen cleaning system is your ideal companion. It has a non-liquid compound at the tip which cleans dirt, fingerprint and other unwanted substances off the binocular's lens.
This kit is not just easy to carry, but also easy to use. The small size makes it very easy to handle while the extremely lightweight design makes it easy to carry. Additionally, this multi-purpose lens cleaner is pretty durable. The retractable nature keeps the soft bristles clean and well-protected when not in use. This will ensure that it lasts long so you get full value for your hard-earned money. Above all, this pen cleaner works well with a wide range of cameras, telescopes and other optical products, not just binoculars.
Features
Small, pen-style design
Retractable nature to keep the brush clean
Durable construction
Multipurpose application
Uses a non-liquid cleaning compound
Lightweight and flexible design
Removes all dirt, dust and fingerprints
5) Zeiss Pre-Moistened Lens Cleaning Wipes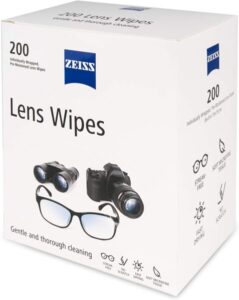 Next on our list is the Zeiss pre-moistened wipes. They are specially made to clean dust particles, fingerprints and any other dirt off your binocular's lenses. They provide a gentle and thorough cleaning without damaging the delicate coatings found on your binocular's lenses.
These wipes are ideal for both home and on-the-go use. They are individually wrapped so you can carry them wherever you go. They also have an ultra-soft microfine tissue that leaves no scratch behind and is safe to use on top-tier anti-reflective lens coatings.
Another good thing about these wipes is that they are ammonium and fragrance-free. They have a long shelf life of about 3 years from the manufacturing date, so they will last long. Better yet, these wipes are amazingly easy to use and highly efficient as well. Whenever you use them to clean your binoculars, the lenses will stay clean for longer and be resistant to static. Lastly, they work well on all lens surfaces.
Features
Scratch-free
Safe to use on anti-reflective lens coatings
Easy to use and highly effective
Long shelf life
Ammonia and fragrance-free
Works well on all lens surfaces
Gentle but thorough cleaning
Individually wrapped pre-moistened wipes
Anti-static
6) MagicFiber Microfiber Cleaning Cloths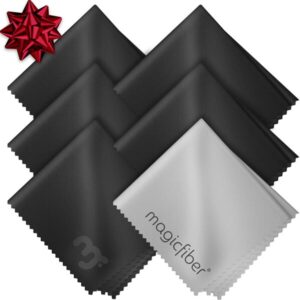 If you are looking for washable and reusable lens cleaning clothes, look no further than the MagicFiber Microfiber Cleaning Cloths. These cleaning cloths are designed to be washed and reused 500 times or more. They are lint proof, durable and safe for delicate lens coatings.
These cleaning clothes have ultra-fine fibers which absorb all dust and dirt and leave the lenses clean and static-free. The ultra-soft nature makes them safe to use on delicate lens coatings and leaves behind no scratches or marks. Each cloth comes with a saw-tooth pattern and fused edges that help prevent swayed edges and loose strings.
Featuring a large 6"x7" size, these cleaning cloths are easy to grip and use. They effectively remove trapped dirt, grease and grime without using any chemicals. Above all, they are available in different packs so you can choose a pack that works best for your needs. You can choose a 2 pack, 6 pack, 13 pack, 30 pack or the extra-large pack.
Features
Washable and reusable
Lint-proof and scratch free
Multiple packs to meet the needs of different users
Long lasting
Chemical-free
Large size for easy grip and use
Safe on delicate lens coatings
Saw-tooth pattern and fused edges
Ultra-fine fibers
Compact size for easy carrying
7) Celestron Lens Pen- Optics Cleaning Tool

Last but certainly not least is the Celestron Lens Pen- Optics Cleaning Tool. It's perfect for cleaning smudges, fingerprints, pollen and other sticky substances on your binocular's optical surface.
This is a dual function cleaning tool. At one end it has a soft brush that removes dust and other loose particles, while the opposite end is a smudge tool which handles the smudges and spots that can be removed by the brush. The special cleaning tip works without the need for liquids, so you don't have to worry about it running out. When not in use, the brush retracts safely inside the lens pen, while the smudge tool is kept clean and protected by a cap.
Since this cleaning tool is small and lightweight, you can carry it with you every time you embark on your outdoor expedition. You can stash it in your binoculars carrying case or simply slide it in your pockets so it will always be easily available when you need it.
Features
Retractable soft brush
Smudge removal tool
Small, lightweight and portable
Great cleaning tool for all optical equipment
Dual function
Easy to use
See Also
How to Choose the Best Lens Cleaning Kits for Binoculars
Versatility
The best lens cleaning kits for binoculars are versatile. They are designed to work well with a wide range of optical surfaces. Look for a cleaning kit that you can use to clean your binocular's lenses and other glass as well. The cleaning solution included should be safe to use on the optical coatings found in modern binoculars. This way, it won't damage the lens coatings or leave behind scratches and marks.
Portability
If you are always on the move and you always carry your binoculars with you, a portable lens cleaning kit is handy companion. You'll never know what you might encounter in the field, so it's always important that you stay prepared all the time. Modern cleaning kits have a lens pen which has a special retractable brush to flick away dust and loose dirt particles. These lens pens are small, lightweight and portable. You can easily put it inside your binoculars carrying case or simply slide it in your pockets so it will always be easily available when you need it.
Cost
The best lens cleaning kits for binoculars aren't always costly. In the field of optics, any chance to save some few bucks is worth taking, particularly if you are a beginner. Typically, the cost of the cleaning kit will largely depend on the contents inside. Thankfully, most lens cleaning kits are decently affordable yet quality. So don't be afraid of spending a small amount of money on a simple cleaning kit if it provides the cleaning solution that you need.
FAQs
What's the best way to clean binoculars lenses?
To clean your binocular's lenses, start by blowing away any loose dirt. You can either use a brush with ultra-soft bristles or compressed air. Then spray the cleaning solution on the lens cloth and gently wipe the lenses to remove the dirt. Do not spray the cleaning solution directly on the lenses as this can damage the delicate coatings.
Are lens cleaning kits for binoculars necessary?
Yes, they are. Whenever you are outdoors, your binoculars will accumulate dust and dirt. When the lenses are dirty, you'll have a hard time seeing your targets clearly. Besides, accumulated dirt, grime and loose particles can scratch your binocular's lens. So having a cleaning kit is essential in keeping the lenses clean and in good shape all through.
How do you get sand out of binoculars?
Start by holding the binoculars upside down so any loose sand and dust particles falls. Then, use a soft brush to loosen any sand that's stuck to the lenses. If the sand has been loosened by the brush and you can remove it, use a blower and blow it out.
Conclusion
It's my hope that you have found this post helpful. One of the best ways to keep your binoculars functional and their lenses clean is to have a lens cleaning kit. All the kits listed above serve the same purpose, but they execute their functions differently. We highly recommend them for you if you want to keep your binoculars in the best shape possible.
Read Also