When it comes to using a scope choosing the rings and mounts is very important. Irrespective of whether you have a high-end scope or a basic one, it will be of no help to you if its not mounted properly. Often overlooked, the right set of the best Leupold scope rings and mounts is vital to finding and staying on target. They hold the scope in place in all conditions to ensure rock-solid performance .
That said, Leupold makes some of the best quality scope rings and mounts. These rifle scope accessories come in all types of shapes and sizes which makes them ideal for use with different scopes as well as firearms.
In this post, we will take you through the best Leupold scope rings and mounts suitable for use with various Leupold scopes and scopes from other brands. We have also created a detailed buyer's guide to help ensure that you make the right selection. Without wasting any more time, let's jump right in.
7 Best Leupold Scope Rings and Mounts
1) Leupold Mark 4 Mounting Rings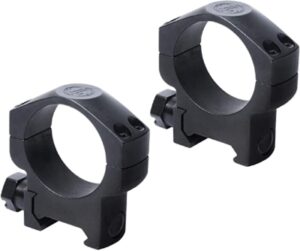 First up, we have the Leupold Mark 4 Mounting Rings. These rings are designed to fit any Picatinny rail and virtually all rifle scopes with 1-inch main tube diameter. They are also compatible with all Leupold PRW bases.
Leupold built these mounts to offer superior integrity even in the most unforgiving shooting environments. This is thanks to the cross-slot design that optimizes precision tolerance. Furthermore, they have a rugged and dependable steel construction which is guaranteed to hold up to a lifetime of abuse.
These Leupold Mark 4 Mounting Rings also boast a matte finish that keep you inconspicuous by minimizing reflection during the day. They are also very easy to install and detach for added convenience and ultra light to ensure that they do not add any weight on your firearm.
Features
1-inch medium rings
Machined from solid steel
Matte finish
Cross-slot design
Compatible with any Picatinny style mount rails
Pros
Good fit and finish
Lightweight
Solid construction
Easy to install
Hold zero well
Cons
2) Leupold Quick Release Rifle Scope Rings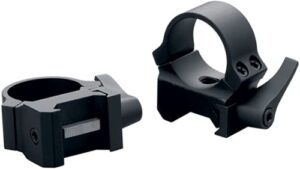 When it comes to versatility, the Leupold Quick Release Rifle Scope Rings are hard to beat. If you own a collection of scopes or rifles, this rings are your ideal option. They are compatible with a wide range of rifles as well as scopes from different brands.
The feature that distinguishes these quick release scope rings from the rest is how easy they are to mount a scope on. You can attach the scope on the rifle, remove it and reattach it again without the loss of zero. This helps provide rapid target acquisition and unmatched accuracy in all situations.
Like any other Leupold product, these rifle scope rings are well-built to handle anything you subject them to. They have a sturdy steel construction which guarantees longevity and durability. Besides, when they are installed properly they provide a tight fit to ensure that the scope stays in place under any recoil.
Features
Quick release cross-slot design
Steel construction
Dovetail attachment
Pros
Tight and secure fit
Easy to install
Holds zero well
Top-notch quality
Cons
The height of the base that is used with these rings is not given
3) Leupold Quick Release Weaver Style QRW2 Rings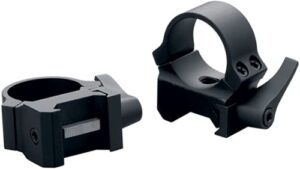 Next up is the Leupold Quick Release Weaver Style QRW2 Rings. These weaver style rings are available in a variety of heights and diameters where they provide a reliable mounting system on nearly all rifles.
Featuring a sturdy steel construction, these rings provide a structure that is tough as nail. You can subject them to the fiercest recoil and the most unforgiving outdoor conditions and they will still perform. Besides, they are designed to match up with cross-slot bases to provide enhanced stability which is vital for any scope set up in terms of accuracy.
Above all, the rings are lightweight so they will not add additional weight on the rifle and very easy to install and simple to detach as well.
Features
Durable steel construction
Cross-slot design
Available in different heights and diameters
Gloss finish
Pros
Stable and durable design
Simple setup process
Lightweight
The fit and finish is admirable
Cons
The levers are a little sharp
4) Leupold Backcountry Cross-Slot Rings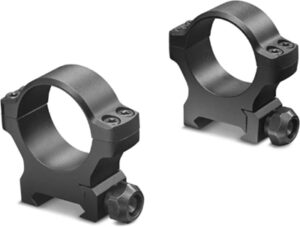 If you need a set of scope rings that can handle heavy recoil from the fiercest recoiling rifles as well as the rough handling that comes with hunting, the Leupold Backcountry Cross-Slot Rings are your ideal option. The rings are machined from aircraft-grade aluminum, a rugged material that is known for its durability. They also possess a non-reflective matte finish to camouflage your position when hunting in broad daylight.
To complement the robust construction, these rings also feature an updated cross slot ring design that provides more contact with the base. With this unique feature you are guaranteed of greater scope stability. Additionally, they are easy to install and designed to be compatible with any Picatinny or Weaver style mounting rails.
Features
1-inch height
Matte finish
Cross slot ring design
Available with zero elevation or 20-MOA for shooting at extended ranges
Durable aircraft-grade aluminum housing
Pros
Lightweight design
Excellent craftmanship
Great durability
Rugged and reliable performance
Cons
5) Leupold Backcountry Cross-Slot Picatinny Rail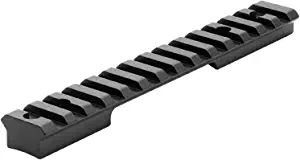 As one of the best Leupold scope rings and mounts, the Backcountry Cross-Slot Picatinny Rail makes mounting a scope or any other tactical accessory on your rifle a breeze. It fits both Weaver and Picatinny-style rings to provide additional utility to your firearm.
This Backcountry Cross-Slot Picatinny Rail is built to last. It is machined from 7075-T6 aircraft quality aluminum to offer unmatched strength and durability. It is also coated with a matte finish to prevent glare.
Furthermore, it has a simple setup process which all users, even beginners will find easy to use. To top it all off, the rail has a lightweight design to ensure that it does not add any extra and unnecessary weight on your firearm.
Features
Matte finish
Aircraft grade aluminum construction
Picatinny mount type
Compatible with both Weaver and Picatinny-style rings
Pros
Good quality base
Simple to set up
Plenty of room for placing the scope
Superb fit and finish
Lightweight
Cons
Not suitable for heavy recoiling rifles
6) Leupold 177094 Mark AR Integral Mounting System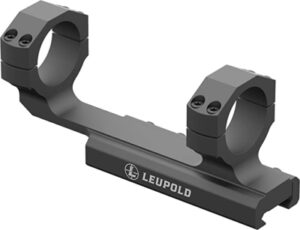 Next on our list of the best Leupold scope rings and mounts is the Mark AR Integral Mounting System 1-Pc Base & 30mm Ring Combo. If you have an AR-style rifle, this is arguably the best scope ring money can get you.
It is designed to provide additional contact with any Picatinny rail and offer more a secure and exact fit. When mounted properly, the ring offers the right scope height and eye relief. This helps with rapid target acquisition and comfortable shooting as well.
When it comes to construction, the rings are built to offer long-term durability. They are constructed from rugged aluminum which is not just durable, but also lightweight. In addition, this ring combo is rigid enough to hold the scope steady through rough and repetitive recoil that is often associated with AR rifles.
This mounting system also brings to the table a 5-bolt design which guarantees secure mounting of your scope on the rifle.
Features
Rugged aluminum design
Matte finish
5-bolt design
Stanag fit
Compatible with 30mm tube scopes
Pros
Robust construction
Easy mounting process
All mounting hardware provided
Excellent fit and finish
Cons
Not suitable for scopes with large objective lenses
7) Leupold Ruger Rifle Scope Mount Rings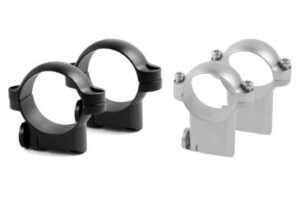 The last scope rings recommendation on this list is the Leupold Ruger Rifle Scope Mount Rings. These scope rings are built to fit firearms that have unique integral mounting systems, among them the Ruger 77, #1 and 77/11 models.
For added convenience, these rings are offered in both 1" and 30mm diameter models. This way, you can find select the model that suits you depending on the size of the scope that you have.
Regarding construction, the rings are crafted from forged and machined steel. This robust construction provides greater reliability and high tolerance irrespective of the handling it encounters.
In addition to everything else, the Leupold Ruger Rifle Scope Mount Rings have a quick and straightforward setup process and an ultra-lightweight design that disperses recoil more effectively.
Features
Forged and machined steel construction
Torx-head cap screws
Picatinny attachment
Offered in both 1" and 30mm diameter models
Pros
Versatility
Durable and reliable construction
Good finish
Cons
Read Also
How to Choose the Best Leupold Scope Rings and Mounts
Whether you are buying the first set of Leupold scope rings and mounts, or you are looking to add another set in your collection, explained below are the important factors you should consider when making your selection.
Intended Usage
If you have a multitude of scopes in different sizes and lengths, and you are looking to use them in different rifles you should get an individual set of rings for each scope. Independently mounted rings give you the freedom to install the scope along any Picatinny rail.
However, if you have two or more scopes of a similar size, it is best to get a versatile set of rings that works on all the scopes. This will give you flexibility to change from one scope to the other based on the shooting activity you will be engaging in.
Scope Size
The size of your scope dictates the scope rings and mounts that you get. There are three scope tube sizes available on the market today: 1-inch, 30mm and 34mm. The larger the scope tube, the better the build quality. Besides, scopes with 30mm or 34mm tubes are the best for  hunting and shooting activities as they offer more room for windage and elevation.
The diameter of your scope should be of the same size as the scope rings. Know the size of your scope and then find the ideal scope rings.
Height
The height of scope rings and mounts varies from one product to the other. Generally, the best scope mount is one that is high enough to prevent your optic from coming into contact with the firearm. When the rings are mounted, they should leave enough clearance where the covers of the scope lens can be fitted.
Attachment Method
The other important thing to consider is the attachment method of the scope rings and mounts. There are different ways you can mount the scope rings on your rifle and they aren't interchangeable.
Before you pick a set of rings, ensure that you know if you are going to be attaching them on to a Picatinny rail, dovetail slots, Weaver mount or directly in a drilled and tapped receiver. This way, you are able to find a set of rings whose attachment method is compatible with your scope's mount type.
Weight
The best Leupold scope mounts and rings are lightweight to ensure that there is no extra weight added on the firearm. Besides, a set of rings that is lightweight will be easy to install compared to a heavy on. It is also going to distribute the force of recoil in a more effective manner so the scope holds zero even when you are firing a heavy caliber round.
Build Quality
Go for scope rings that are built from sturdy materials preferably aircraft grade aluminum. Such scope rings and mounts are robust and sturdy enough to handle any rigid environment they are subjected to.
Additionally, the scope rings should be recoil resistant. This way, they will be able to keep the scope in place under any recoil. They should also have a matte finish to ensure that they don't reflect light.
Price
After you have identified the important features you need in the best scope mounts and rings, consider the price. Whether you are an ardent hunter or shooting enthusiast, you will want to invest in a pair of scope rings and mounts that lasts long.
Like any other product, the quality of scope rings and mounts comes with a cost. Look at the quality of the scopes and identify the features that you need them to have then pick a solid product that will help you get the job done efficiently.
Best Leupold Scope Rings and Mounts FAQs
Do scope rings affect accuracy?
Yes, scope rings go a long way to determine the accuracy of a rifle. If the rings are not installed and mounted properly, the scope will move around and fail to hold zero consistently. This will affect its accuracy. Additionally, if the scope rings fail to match, the overall alignment of the scope will be off and this will interfere with the accuracy.
Does the height of the scope rings matter?
Absolutely. The right scope ring mount is important in ensuring that there is a correct clearance between the scope's bell and barrel. With the right height, everything will be in level and you will be able to shoot accurately.
Are Leupold scope rings any good?
Yes. Leupold offers a multitude of high-quality scope rings suitable for use in a wide range of firearms. All Leupold scopes are made of strong and rigid materials to weather rough handling, shock and all impacts.
Final Thoughts
We do hope that this post has given you some insights on the best Leupold scope rings and mounts, and you are now able to make an informed buying decision. All the scope rings and mounts we have mentioned are sturdy and durable, reliable and easy to install. Put into consideration the type of scope and rifle that you have, then use this guide to find a set of rings and mounts that once mounted will accommodate your shooting habits and needs.