If you are a hunting enthusiast who likes to explore different terrains looking for game to hunt, a powerful and good-quality scope is an important piece of gear to have. When you are armed with the right optic, you will be able to not only spot the game with ease, but also plan the shot without having any trouble. A scope will also help you see the game clearly even at long distances and keep track of them after you take the shot.
But finding the best hunting scope is not the most pleasant task particularly when you are brand specific. In this post, we have made a list of the best Leupold hunting scopes currently present on the market to help make your selection process less daunting. We will also share a buyer's guide to help you select a model that is best for your hunting style and needs. But before we do that, let's us first look at the key features that make a great Leupold hunting scope.
Features of a Great Leupold Hunting Scope
A great Leupold hunting scope is made of several attributes. Firstly, it has a broad magnification which gives you the flexibility to hunt at varying ranges and in in different environments. Other vital features that the scope should have are:
A durable housing to withstand rough handling, shock and vibrations from heavy recoiling calibers.
To optimize transmission of light, which is vital when hunting in low light situations such as dawn and dusk, the scope should have fully multi-coated lenses and a large objective lens.
The best Leupold hunting scope is also weather resistant for use in inclement weather and ensure unimpeded field use in all conditions.
Lastly, a great scope for hunting should also be easy to use and light enough to be easy to carry around and not interfere with accuracy of your hunting firearm,
6 Best Leupold Hunting Scope – Our Top Picks
Leupold makes a wide selection of rifle scopes and here are some of the best models that are ideal for hunting. Let's have a look.
1) Leupold VX-3i 3.5-10x40mm Rifle Scope

The VX-3i 3.5-10x40mm Rifle Scope is one of the most popular models for hunting from the Leupold brand. It has maintained this popularity for decades thanks to its solid built and rugged performance.
This scope is a favorite amongst many hunters largely because it works well in virtually any hunting environment. With the large 40mm objective lens and the extremely versatile 3.5-10x zoom range, you get to use it in any hunting environment, even in critically low light settings. Plus, it provides admirably bright sight pictures across the entire zoom for greater shooting accuracy.
Furthermore, the VX-3i offer an ample amount of eye relief to ensure that your eye is kept safe from heavy recoiling rifles. Construction-wise, it is built with aerospace quality aluminum and punisher tested to over a lifetime of reliable recoil and shock resistance. It is also waterproof and fog resistant.
The other notable features the scope boasts are a Duplex reticle, matte finish, lightweight construction and Twilight Max Light Management System.
Features
Fully waterproof, fog resistant and shockproof
Precision 0.25 MOA finger click adjustments
Duplex reticle
Diamondcoat 2 ion-assist lens coating
Aircraft grade aluminum body
Versatile 3.5-10x magnification
Twilight Max Light Management System
Pros
Excellent craftsmanship
Super clarity even in low light situation
Generous amount of eye relief
Admirably lightweight
Large field of view
Great value for money
Cons
Turrets lack zero and are no zero resettable
2) Leupold VX-5HD 3-15x44mm Side Focus Riflescope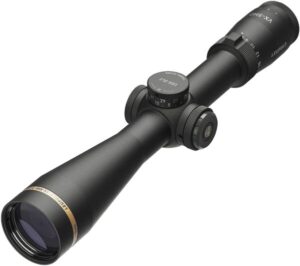 The VX-5HD 3-15x44mm is your best option when it comes to deer hunting. It brings to the table nearly every feature you require to make the most out of your hunting expedition.
Firstly, it has a powerful magnification that gives you the versatility you require to dominate the hunting field. At close quarters, the scope provides a massive viewing angle to let you scan and track fast moving game easily. When you ratchet the magnification up to 15x, you get rapid target acquisition for targets at extended ranges.
Another remarkable feature that makes the scope ideal for hunting is the unprecedented low light performance. Firstly, it boasts blackened lens edges that offer better contrast as well as superb optical performance. Better yet, it has Lead free glass lenses which provide superior image clarity full of color contrast. The scope also has Twilight Max Light Management System that gives you better low light performance and an illuminated reticle for accurate aiming even in low light situations.
Moreover, this rifle scope is ruggedly built to handle anything nature throws at it. It is fully waterproof and fog proof to let you hunt with confidence in any weather. It also has a robust aluminum housing that maximizes its durability.
Features
Extreme fast focus eyepiece
Lead free glass lenses
Waterproof and fog proof
Guard-Ion rain shedding
Side focus
Twilight Max Light Management System
Twin bias spring erector system
Pros
Lifetime warranty
Unparalleled low light performance
Light weight
Excellent magnification range
Excellent clarity and contrast
Cons
3) Leupold VX-Freedom 3-9x40mm Riflescope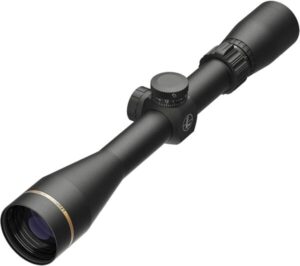 Make your hunting trip more rewarding this season using the VX-Freedom 3-9x40mm Riflescope. It is designed to offer excellent image clarity, resolution and accuracy that every hunter demand.
This scope is made with simplicity in mind. It is not only easy to mount, but simpler to use as well. Even better, it has a feather-light design for easy maneuverability and a traditional eyepiece lock ring which you can use to lock in a focus setting that is most comfortable for your eye.
Like any other Leupold optic, this VX-freedom scope is built to last. It has an aluminum housing that provides outstanding durability and ruggedness to endure rough handling. It is also 100% waterproof, fog proof and shock resistant, and guaranteed to perform for life.
Furthermore, this rifle scope is built around Leupold's Advanced Optical System which ensures true light transmission, glare reduction in addition to increased resolution and clarity even in critically low light settings. To top it all, it boasts a Custom Dial System (CDS) which gives you the flexibility to customize the turret to suit your exact ballistics and environmental conditions as well.
Features
Versatile 3:1 zoom
Traditional eyepiece lock ring
Leupold's Advanced Optical System
Fully waterproof, fog proof and shock resistant
Rugged aluminum housing
Custom Dial System
Pros
Compact and light design
Best in class optics
American quality
Budget-conscious
Cons
Mounting it on some rifles can be difficult
4) Leupold Mark 5HD 5-25x56mm Riflescope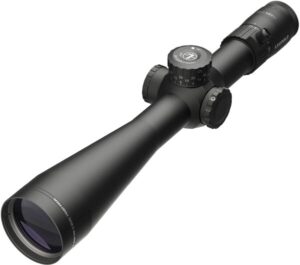 It is hard to beat the Mark 5HD 5-25x56mm Riflescope when it comes to long range hunting. It has an ultralight design that gives you an added advantage in the hunting field and a variable 5-25x magnification that helps you dominate medium range shots, while still having the versatility to engage targets at long distances.
This rifle scope is well built to provide long-term durability. It is designed with advanced sealing methods to offer reliable performance in any weather condition. On top of that, it is tested to perform from -40°F to 160°F so it is ideal for use even in winter. It is also punisher tested and verified to provide unmatched performance wherever you take it.
The reticle on the scope is placed on the first focal plane. This means that it magnifies along with the image, allowing you to estimate the range at every magnification setting. Other than that, it features a Twilight Max HD Light Management system that doesn't just add 30 minutes of shooting light in twilight conditions, but also delivers edge to edge HD image clarity even in low light situations.
Features
Rugged aluminum housing
Front focal plane CCH reticle
M5C3 low profile turrets
100% waterproof, fog proof and shock proof
Matte finish
Twilight Max HD Light Management system
Pros
Backed by Leupold's lifetime warranty
Great long range accuracy
Robust yet light weight
Fast and simple parallax adjustment
Clear and crisp glass
Cons
5) Leupold VX-1 3-9x40mm Compact Waterproof Fog Proof Riflescope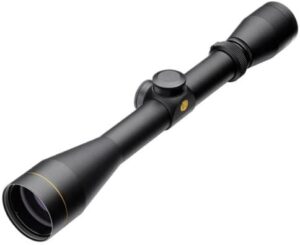 The VX-1 3-9x40mm rifle scope is another best Leupold scope for hunting on our list. It has virtually everything you need for a variable zoon hunting scope. It is also highly user-friendly and an excellent choice for hunting beginners.
With this scope, you get a variable magnification range that spans from 3x to 9x. This zoom range is ideal for close to medium range hunting from thickly wooden environments to large, open plains. To complement this zoom range, the scope also comes with a large 40mm objective that offers a wide viewing angle as well as brighter image views even at the highest magnification setting.
Leupold made this rifle scope ready for hunting. It features the legendary Leupold ruggedness to withstand anything you subject it to and it is also light in weight for easy carrying in the field. It also boasts multi-coated lens system which offers bright sight pictures from sunrise till sunset.
The rifle scope also has a durable and compact, 1-inch main tube that is works well with a wide range of platforms. Above all, this optic is fully waterproof and fog proof to provide a lifetime of reliable performance in the field, in all weather conditions.
Features
Rugged and ultra-sturdy housing
Versatile 3:1 zoom ratio
1/4 MOA precision finger click adjustments
Fully waterproof and fog proof
1-inch main tube
Multicoat 4 lens system
Ballistic aiming system
Pros
Affordable
Compact, light and portable
Easy to use
Admirable clear optics
User-friendly precision adjustments
Cons
Lacks a complex ballistic reticle
6) Leupold VX-2 4-12x40mm Compact Waterproof Fogproof Riflescope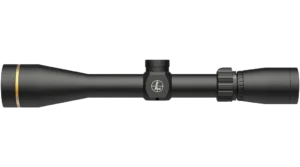 Last but not least we have the VX-2 4-12x40mm rifle scope. This top notch rifle scope offers quality and hunter-friendly features that make it ideal for various hunting applications. Plus, it has a variable 4-12x magnification that delivers great performance at both close and long ranges.
With this scope, you get outstanding optical performance to take your hunting skills a notch higher. It boasts high-end optics and multi-coated lens system which delivers the brightness, vividness and contrast you need to hunt game in any lighting and weather condition. It also comes with an adjustable objective that aids in quick and simple parallax adjustment and image focusing in addition to range estimation.
This rifle scope is made to last. In addition to having the rugged American construction that all Leupold optics boast, it is sturdy and tough enough to endure rough handling as well any punishment you subject it to. Moreover, it is fully waterproof and fog resistant for use in any weather condition.
Above all, it also comes with a Custom Dial System that allows for simple adjustments in the field and 1/4 MOA precision finger click adjustment for both windage and elevation.
Features
100% waterproof and fog proof
Versatile 4-12x magnification range
Adjustable objective
1-inch tube
Custom Dial System elevation dials
Finger-adjustable click windage and elevation dials
Rugged construction
Pros
Crisp clear glass
Compact and lightweight construction
Quality craftmanship
Affordable yet quality
Comfortable eye relief
Quick and easy parallax adjustment
Cons
Lacks reticle illumination
Read Also
Factors to Consider When Choosing the Best Leupold Scope for Hunting
Light Transmission
When hunting, light transmission is vital especially when you are hunting in low light situations like dawn, dusk and cloudy weather. For optimal light transmission to occur, the scope must have a large objective lens, premium glass and quality lens coatings.
The best Leupold scope for hunting has an objective lens of at least 40mm. It also has its lenses either multi-coated or fully coated with anti-reflective coatings.
Weight
To make your hunting expedition rewarding and more fun, look for a scope that is built lightweight. It will be easy to maneuver with in the field as you look for game. A scope that is light in weight is also easy to install and more accurate considering that it won't interfere with the precision of the rifle.
Magnification
Magnification is an important feature in a hunting scope. Generally, your ideal scope magnification relies on the distance of your game and hunting environment.
For most hunting applications, a variable scope with a minimum 3x and a maximum magnification of 9x will be sufficient. With this range, you will be able to hit targets as far as 500 yards at maximum zoom power and as close as 20 yards when you zoom back in. Another good thing about this range is that it gives you the versatility to hunt game in open plains as well as bushy and forested environments.
However, if you are looking to hunt at extremely long range, you are going to need a scope with a maximum magnification that is at least 10x.
Eye Relief
Next you should consider the eye relief. This is the distance between the eyepiece of your scope and your eye. Generally, the longer the eye relief a scope has, the better whether you put on eyeglasses or not. It will let you use the scope comfortably, keep your eye protected from high recoiling weapons and alleviate eye strain as well as fatigue when you are hunting for a long period of time.
Price
Price is the other important feature that you should put into consideration when choosing the best Leupold scope for hunting. The price of Leupold scopes varies greatly to meet the budget needs of different users. Prior to settling on a specific scope, make sure that you first come into terms with how much you intend to spend and how much value you will be getting for that price.
We have outlined scopes with different budgets, to help you find a model that suits your budget needs best.
Reticle
Don't forget to check the type of reticle the scope has and where it is located. Majorly, your ideal reticle type will depend on both your hunting skills and preference. If you are a seasoned hunter, you can go for a complex reticle that will help take your hunting skills a notch higher. If your are looking to horn your skills at long distances, consider getting a first focal plane reticle.
Another thing to consider is whether or not the reticle is illuminated. For easy aiming and more accurate shooting in low light situations, it is best to get a scope with an illuminated reticle. But if you will be hunting mainly during the day, a model without illumination will suffice.
Best Leupold Scope for Hunting FAQs
What scope is better than Leupold?
Leupold scopes speak for themselves in terms of durability, reliability and low light performance. But when it comes to cost, Vortex outshines Leupold. Vortex scopes offers virtually similar features as Leupold, but at a lower cost.
Are Leupold scopes good for hunting?
Absolutely. Optically, Leupold scopes offer remarkable performance even in low light settings and this is what most hunters are after in a scope. Additionally, Leupold hunting scopes are durably crafted to stand up to any abuse and they are also waterproof and fog free for use under any weather condition, season after season.
What magnification scope is best for hunting?
It depends on several things such as hunting distance, individual preference and hunting environment among others. For close and medium quarters excursions during the day, a basic model with 3x to 9x magnification will be more than enough. But for long range hunting, a model with at least 10x will be best.
Conclusion
Hunting is a challenging but rewarding and enjoyable task. It is even more thrilling when you use a quality optic. As you can see, Leupold offers multiple hunting scopes all of which are reliable, functional and of great quality. Consider your preference, needs and hunting style then settle on a model that is convenient for you.