Trying to find the best red dots for Glock 17, but having a hard time? We are here to help. There are plenty of models to choose from and in this post, we shed a light on everything you need to know to find the right model for your shooting needs.
Glock 17 is a highly reliable carry gun that is widely used by the military and law enforcement officers. Though it was initially designed for professionals, its popularity has really grown among civilian shooters. This is largely attributed to the versatility, solid build and the high magazine capacity considering its size.
When looking to buy a red dot for this pistol, there are two main factors to consider, size and intended usage. But with the saturated market, knowing which product is right for you becomes a little overwhelming. We have scoured the market and put together a list of red dots that are compatible with the Glock 17 to help you make an informed buying decision.
However, prior to taking a look at each red dot in detail, let's begin by looking at the attributes that make a great red dot for Glock 17.
Attributes of a Great Red Dot for Glock 17
A great red dot for Glock 17 is made of several attributes that work together to ensure reliable performance. The first thing that the red dot should have is a crisp dot with multiple brightness settings. With several adjustable brightness settings, the sight becomes operable in a wide range of lighting conditions.
Moreover, the red dot should have a strong battery life with thousands of hours of run time. With long runtime, the sight is reliable during lengthy shooting sessions and economical to maintain. Over and above that, the battery compartment should be conveniently placed to ensure ease of battery change when need arises.
Another facet that the best red dots for Glock 17 should boast is premium build. With solid construction, the sight will not only be sturdy enough to take in any abuse, but also last for a long period of time.
Last but not least, a great red dot for Glock 17 should be compact and ultra-light. This pistol is designed for concealed carry so you need a red dot that is small enough to be easy to conceal together with the pistol.
Best Red Dots for Glock 17
Having a hard time knowing which red dot sight is right for your Glock 17? Here is a breakdown of top models from the most reputable brands that you can choose from. Let's have a look.
1) Leupold DeltaPoint Pro Red Dot Sight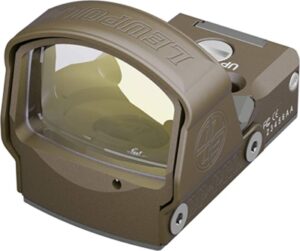 Leupold DeltaPoint Pro is by far the best red dot for Glock 17. It is built compact, rugged and with ultra-clear glass to enhance the shooting ability of every user out there.
This optic is built with multifunctionality in mind. It is good for a wide range of hunting and tactical situations. Furthermore, it is ideal for shooting in virtually all lighting conditions. This is thanks to the 8 brightness settings that keep the reticle visible even in low light environments.
The durability of this red dot sight is unmatched. It is crafted with lightweight aluminum and shrouded by spring steel. This guarantees great durability and longevity. Furthermore, the optic is shockproof, fog proof and water resistant to 33ft for use in any kind of weather condition.
With a weight of 1.95oz, this sighting equipment is so light to add any extra weight on the pistol. It also boasts a tool-less spring actuated battery compartment that makes changing the battery quick and simple.
Features
Diamond Coat optical coating
Waterproof, fog proof and shockproof
Unlimited eye relief
8 brightness settings
Rugged aluminum housing
2.5 MOA dot
Motion sensor technology
Shrouded in spring steel
Pros
Lightweight construction
Sturdy and well built
Good quality glass with crisp dot
Large window
Easy to shoot with both eyes open
Cons
2) Vortex Optics Venom Red Dot Sight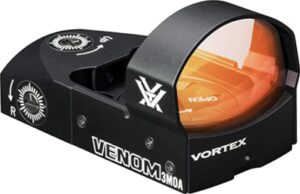 To get an upper hand in close quarter combat, you require a quality red dot sight like the Vortex Optics Venom Red Dot Sight. This compact and ultra-lightweight red dot provides a 3 MOA red dot reticle which ensure sharp precision in all shooting activities. It is simple to use and ideal for every activity that requires rapid target acquisition.
The 3MOA reticle has 10 adjustable brightness settings which deliver the ideal illumination in virtually all lighting conditions. To further help the reticle achieve its purpose, the sight features fully multi-coated lens that provide a spacious field of view with stunning edge-to-edge image clarity. It also has Armortek coating that protect the lens from scratches, abrasions, dust and oil stains.
Another thing that makes this optic one of the best red dots for Glock 17 is solid construction. The housing is compact and ultralight but optimized for durability. It is crafted from high-strength aluminum and coated with a Type III hard anodized finish that is scratch proof and rust resistant.
Moreover, the optic is built waterproof and fog proof for operability even in adverse weather conditions. It also features an auto shut-off to save on battery and make the red dot sight economical to maintain.
Features
Unlimited eye relief
3 MOA red dot reticle
Type III hard anodized aluminum housing
Variable illumination
Auto-shutdown function
Fully multi-coated optics
1 MOA impact point correction
Waterproof and shock resistant
Pros
Easy to use controls
Multi-platform friendly
Bright and clear glass
Lightweight and well-constructed
Cons
Narrow viewing window
The crispness of the dot could be better
3) Trijicon RMR Type 2 6.5 MOA LED Red Dot Sight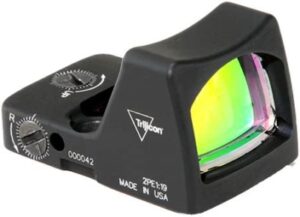 Trijicon name is synonymous with optical quality. Optical devices from this brand are known to be of high-quality and the RMR Type 2 6.5 MOA LED Red Dot Sight is not any different. It is packed with a multitude of features and advanced technology that make it a reliable sighting tool for a wide range of shooting applications.
The selling point of this optic is multi-platform compatibility. It pairs well with the Glock 17 and other firearms including shotguns and rifles. Over and above that, the sight is built to offer unmatched durability. Both the 7075-T7 aluminum body and the glass window are impact resistant to endure any abuse you subject it to.
Furthermore, the sight is waterproof and submersible to 66' to withstand the rigors of combat training. When it comes to the optical features, the True-Color multi-coatings maximize light transmission from dawn till dusk. This ensures that the sight pictures generated are exactly as they appear, without any color distortions. Besides, the optic provides windage and elevation range with 1.0 MOA clicks for quick target acquisition beyond close quarters combat.
The other noteworthy features included are parallax-free optics and an easy to spot 6.5 MOA red dot reticle with adjustable LED illumination.
Features
True-color multi-coated glass
Tempered glass window
5 MOA red dot reticle
Waterproof and submersible to 66'
Ruggedized electronics
7075-T6 forged aluminum housing
1 MOA impact point correction
Pros
Ultra-lightweight construction
Multi-platform friendly
Quality construction
Easy to use and make adjustments
Cons
4) AT3 Tactical ARO Micro Red Dot Reflex Sight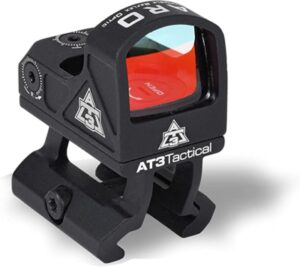 As one of the best red dots for Glock 17, the AT3 Tactical ARO Micro Red Dot Reflex Sight offers a great balance between value and performance. It is available at a reasonably low price but it doesn't compromise on quality or performance.
A defining facet of this red dot is the crisp 3 MOA red dot that allows for accurate target acquisition with both eyes open. It provides the ultimate balance of speed and precision, and has 6 adjustable brightness levels for use in a variety of lighting conditions.
Not only is this optic accurate, but also built with durability in mind. It has a shockproof circuity to resist damage, even when you subject it to rough, unforgiving environments. Furthermore, the entire optic is waterproofed to ensure that you are able to stay on target even in unfavorable weather conditions.
Another highlight of this optic is the multi-coated lenses that limit glare and internal light reflection. This ensures high levels of light transfer for excellent image clarity. The sight also has unlimited eye relief to enhance comfort during use.
Features
Multi-coated lenses
3 MOA red dot reticle
Aircraft grade aluminum housing
Waterproof and shockproof
6 brightness levels
Picatinny mount type
Anodized finish
Pros
Battery included
Budget-friendly
Compact and ultralightweight design
Large viewing window
Cons
Cheap quality
Not bright in direct sunlight
5) Holosun HS507C-X2 Reflex Red Dot Sight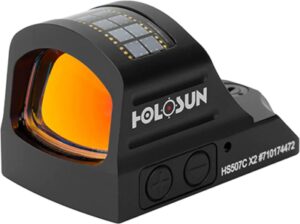 Holosun has built a name in the field of red dot sights thanks to the wide range of high-quality sights it makes. Mounting the HS507C-X2 Reflex Red Dot Sight on your Glock 17 pistol will boost your precision and ensure rapid target acquisition in close to mid-range engagements.
This open reflex weapon sight has 2 reticle modes, a red dot reticle and 10 MOA center Chevron. This makes it more versatile than counterparts with one reticle mode only. Furthermore, the sight gives users access to 12 brightness settings, 2 of which are compatible with night vision sighting tools. It is also built with unlimited eye relief to maximize comfort during use.
In terms of construction, the optic is crafted from 7075-T6 aluminum which guarantees great durability. In addition to that, it has a black hard coat anodized finish that is scratch proof and rust proof for extra protection.
The ergonomics of this sighting tool are fabulous as well. The windage and elevation adjusters are simple to adjust with no tools needed. Additionally, the battery tray is accessible with ease and you don't have to dismount the optic from the pistol to change the battery.
In addition to everything else, the sight is IP67 rated against moisture and dust, and built to be usable in temperatures ranging from -30 to 60°C.
Features
10 brightness settings
Multi-coated lenses
IP67 water resistance level
Unlimited eye relief
Shake Awake technology
Black hard coat anodized finish
2 reticle modes
Pros
Convenient battery tray
Outstanding durability
Excellent value
Cons
6) Burris FastFire III 3 MOA Reflex Red Dot Sight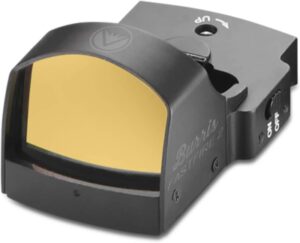 Lastly on our list of the best red dots for Glock 17 is the Burris FastFire III 3 MOA Reflex Red Dot Sight. This optic is built with beginners in mind. It has a simple installation and an intuitive design that makes it simple to operate.
Unlike other red dot sights that have a short battery life, this tool features a long battery life for extended use on and off the field. This is thanks to the 8-hour automatic time-out feature that helps conserve the battery life up to 5 years depending on how often you use the sight.
Furthermore, the optic is compact, but tough and reliable. As such, it performs in a reliable manner in all outdoor environments. In addition to that, the weather resistant optical tube makes the sight safe to use in adverse conditions and in temperatures ranging from -10 to 130°F.
What's more is the FastFire III Reflex Red Dot Sight has a 3 MOA red dot reticle that maintains great accuracy across different ranges. Better yet, the brightness of the reticle is adjustable into 3 different settings to match different lighting conditions.
The sight also features a battery access that is put at the top for quick and easy battery change when need for replacement arises.
Features
Unlimited eye relief
3 manual brightness settings
Weather resistant construction
Aluminum housing
Picatinny/Weaver mount
Automatic brightness sensor
3 MOA red dot reticle
Pros
Good battery life
Clear glass
Durable build
Easy to mount and use
Cons
Read Also
What MOA is Best for Glock 17 Red Dot Sight?
MOA, an abbreviation of Minute of Angle is a measure of reticle size in red dot sights and it varies in size from one device to the other.
Bigger reticles of 4 MOA and above are ideal for seniors with aging eyes or users with poor eyesight. The large size makes them simple to spot and ideal for close range shooting applications only. However, big red dot reticles have a main downside of lack of precision. They often end up covering up the target which affects precision.
Smaller dots on the other hand are the best in terms of accuracy. A red dot sight with not more than 3 MOA reticle size will help you take precision shots of targets at a distance. If the dot's visibility is low, you only need to dial up the brightness and you are good to go.
Things to Look for in the Best Red Dots for Glock 17
Build Quality
Quality construction is very important in a red dot for Glock 17. When making your selection, go for a product that is built with either magnesium alloy or a solid block of aircraft grade aluminum. Such materials offer unmatched durability without adding any bulk.
Furthermore, the best red dots for Glock 17 are shockproof and impact resistant to withstand recoil and unforgiving shooting environments. It is also important to get a device that is weatherproofed for use under all kinds of weather conditions.
Battery
All red dots for Glock 17 are powered by battery. The stronger the battery is, the better. You will be able to concentrate more on your shooting rather than worrying about the battery getting depleted in the middle of use.
It is also important to check the battery compartment. Models with a side or top battery compartment provide easy battery change when need for a replacement arises.
Brightness Settings
The best red dot for Glock 17 should be designed to perform well in all lighting conditions. To achieve this, it should be equipped with multiple brightness settings that are day and night time visible. Multiple brightness settings are also beneficial in that they let the use tailor the red dot based on their specific shooting needs.
Ease of Use
Simplicity is another feature that the best red dots for Glock 17 should have. From brightness adjustment to mounting and battery change, the red dot should be simple to use. This way, you are able to spend more time shooting and not trying to figure out how to operate the optic.
Size and Weight
It is important to get a red dot that is ultra-light and compact in size. Any product that is big in size and heavy will not only be hard to use with this pistol, but it will also affect its balance and precision. Compact red dots are also beneficial as they are easy to conceal.
Pros of Red Dots for Glock 17
Quick target acquisition. Mounting a red dot onto a Glock 17 will boost your speed of target acquisition in all scenarios
Low light visibility. Red dot sights are ideal for use even in low light environments where other sighting tools would be impractical to use
Threat focusing. In case of an attack, a red dot sight simplifies the point of aim so you are able to focus better on the threat. In real life, it is quite hard to aim properly when an attacker is threatening you
Ability to shoot on the move. It is much easier to shoot on the move when you have a red dot sight mounted on your handgun compared to when you are using the handgun without a sight
Cons of Red Dots for Glock 17
Requires training prior to use. You need to practice how to shoot with the red dot, especially if you are not a professional
Not suitable for unforgiving shooting environments as they tend to not hold zero in rugged conditions
Battery failure possibility. All red dots run on batteries and any device that is powered by battery in prone to failure
Conclusion
Investing in quality red dot is key to making the most out of your Glock 17. It will help you focus on a threat properly in critical situations such as self-defense and acquire targets accurately. Before you settle on any specific product, take into account the kind of application you will be using the sight for and then focus on finding a model that works best for your needs.