Red dot sights are built for speed. This makes them one of the best optics to pair with the AR-15. With the best red dot sights for AR-15, you will be able to enhance your long range target precision and acquire targets easily in any situation. An AR-15 red dot sight will also help you handle the close-range targets easily in situations where a traditional scope would be impractical to use.
However, with the plethora of red dot sights available out there, it becomes a daunting task to find the right product for your rifle. You will need an optic that is extremely effective for targets at close quarters, and reliable at medium and longer ranges as well. The sight should also be as versatile as your AR-15 rifle if your goal is to transform it into a more functional shooting solution.
In this post, we have done our research and put up a list of red dot sights that make a perfect addition to the AR-15. These sighting devices are highly versatile, well made to last long and be ideal for use in different lighting and terrain conditions. Let's have a look.
8 Best  Red Dot Sights for AR-15
1) Trijicon MRO 2.0 MOA Green Dot Reflex Sight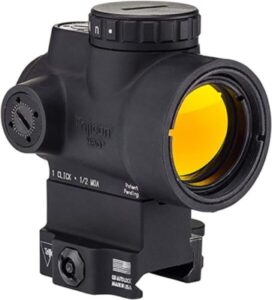 First up, we have the Trijicon MRO Green Dot Reflex Sight. This is compact and high-performing reflex sight that offers great contrast against forests and grassland environments. This and other impressive features it boats make it one of the best red dot sights for AR-15 for hunting.
The aiming point of this reflex sight is a 2.0 MOA green dot with adjustable brightness intensities. The human eye is more sensitive to this color and with the multiple brightness settings, you get to tailor the reticle brightness based on your preference and the ambient light conditions.
Moreover, the optic has an ultra-wide field of view that allows for rapid target acquisition, especially from non-standard shooting positions. To maximize your shooting accuracy, the optic has advanced lens coatings that produce a crisp green dot in all environments and bright image views.
Construction-wise, the optic is made to offer outstanding durability. It has a 7075-T6 aluminum alloy housing which is waterproof, fog proof and submersible for added protection. It also features fully protected adjusters that hold zero consistently even during rigorous handling.
Features
2 MOA green dot reticle
Low distortion, multi-coated optics
7075-T6 aluminum alloy housing
Waterproof and nitrogen filled
8 reticle brightness levels
Tapered light path
Advanced electronics
Pros
Easily adjustable brightness settings
Great quality and durability
Versatility
Crisp clear green dot
Cons
2) Bushnell Trophy TRS-25 Red Dot Sight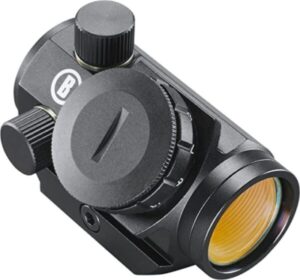 Bushnell, a reputable sports optic brand makes high-quality and top-performing optics and the Trophy TRS-25 Red Dot Sight is not any different. This multifunctional sighting tool pairs perfectly with the AR-15 to boost your shooting confidence and fine tune your accuracy.
The optic is built ready for use in any environment. It has a shockproof construction to weather bumps, drops, bangs and whatever punishment you take it through. Even better, it has a waterproof construction that is also nitrogen purged to prevent fog build up on the inside part of the optics.
With 11 adjustable brightness settings, the sight provides a clear point of aim in virtually all lighting conditions. It also features a crisp clear 3 MOA dot reticle that offers a great balance between precision and speed even in the most challenging shooting and hunting environments.
Above all, this compact and lightweight red dot sight offers a wide, unobstructed field of view to enhance enjoyment for every outdoor pursuit.
Features
3 MOA dot reticle
Shockproof construction
Waterproof and nitrogen field
11 adjustable brightness settings
1x magnification
Pros
Ease of use
Great battery life
Bright and clear red dot
Fair price
Sights in quickly and accurately
Cons
3) Vortex Optics Strikefire II Red Dot Sight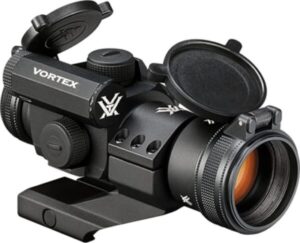 Vortex is known for its quality yet cost-effective optics and this reputation is well maintained by the Strikefire II Red Dot Sight. This feature-rich red dot sight is a great option for anyone who want a versatile and reliable sighting tool to add on their AR-15.
It employs a 4 MOA red/green dot that is ideal for shooting applications that demand speedy transitions and clinical precision. You also get to tailor the brightness into ten different settings with two of the lowest settings being night vision compatible.
More importantly, Vortex built this optic to be virtually shatterproof. It has a 30mm aluminum alloy chassis that is rigid enough to withstand rigorous use and rough handling. The entire body is also waterproof and fog proof for usability in all types of weather.
What's more is that the sight features fully multi-coated lenses that provide a clean, unobstructed field of view in all lighting conditions. It boasts an unlimited eye relief for rapid target acquisition and comfortable glassing with or without glasses. An offset cantilever mount is also provided to allow the sight to be used together with a magnifier and a backup iron sight all in the same rail.
Features
Fully multi-coated lenses
4 MOA red/green dot
Unlimited eye relief
Waterproof and fog proof
Single piece aluminum alloy chassis
10 adjustable brightness settings
Pros
Versatile and reliable
Night vision compatible
Inexpensive
Easy to install and operate
Outstanding battery life
Cons
The mount could be better
4) Sig Sauer Romeo5 Red Dot Sight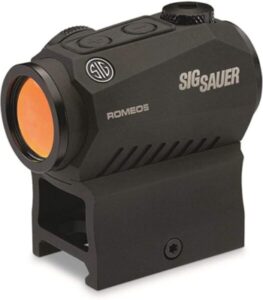 The Sig Sauer Romeo5 Red Dot Sight is a multi-platform friendly optic that is designed to provide peak performance for whatever application you use it for and many years of service. It is simple to install and very easy to operate for all users, including beginners.
This compact and rugged red dot sight has a robust 1x aiming solution that makes it ideal for any kind of shooting. The unlimited eye relief aids in rapid target acquisition irrespective of the position your eye is behind the sight and makes glassing comfortable even during long sessions. Besides, the optic has ultra-low parallax to fine tune your shooting accuracy.
Another highlight of the red dot sight is the great battery life. It is powered by the readily available CR2032 battery which provides over 50,000 hours of non-stop usage. Even better, the battery loading compartment is put on the side for easy and quick replacement.
Moreover, the optic uses a 2 MOA red dot reticle with 10 illumination settings. It is fog proof and waterproof to ensure unimpeded field use, and has a Motion Activation Illumination that saves the batter life by powering the illumination only when it senses motion.
Features
Integrated M1913 picatinny interface
IPX-7 water resistant
Fog proof and shockproof
2 MOA red dot reticle
Unlimited eye relief
Motion Activation Illumination
10 brightness settings
Ultra-low parallax
Pros
Long battery life
Compatible with night vision gear
Easy to install
Bright and crisp dot in every setting
Battery included
Cons
Works great for a while only
5) Burris FastFire II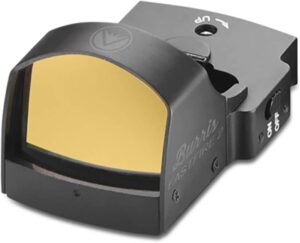 As one of the best red dot sights for AR-15, the Burris FastFire II offers greater accuracy and rapid acquisition of targets in any situation. It also boasts a ton of great features that you will need to make the most out of your rifle with simple handling and mounting.
The sight has a waterproof roof to keep the glass clean and offer reliable performance in all kinds of weather. Construction-wise, it is made from metal for strength and durability. Besides, the lenses are precision ground and polished to exact ballistics to give you clear sight pictures in virtually all lighting conditions.
This red dot sight provides parallax-free 1x magnification that enhances awareness in the field by allowing both eyes open shooting. The aiming point is a 4-MOA bright red dot for hasty target acquisition, and the brightness sensor is automatic for added convenience.
To top it all off, the Burris FastFire II has a compact and lightweight design for easy maneuverability in the field, and windage and elevation adjustments to fine tube you accuracy when hunting or shooting.
Features
4 MOA red dot reticle
Waterproof roof
Windage and elevation adjustment
Automatic brightness sensor
All-metal construction
Parallax-free 1x magnification
Pros
Multi-platform friendly
Easy to mount and operate
Compact and lightweight design
Great low light visibility
Low power consumption
Cons
6) Sightmark Ultra Shot M-Spec Reflex Sight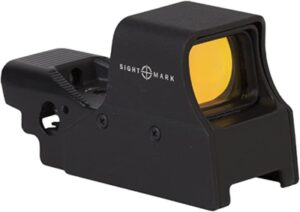 Next up, we have the Sightmark Ultra Shot M-Spec Reflex Sight. This optic is built for use during the day and at night as well. It has a digital switch control with 6 variable brightness levels for use during daytime and 6 other settings in night vision mode.
If you find yourself shooting in different environments regularly, this sight is your perfect companion. It is built with a robust aluminum alloy housing that is tough enough to adapt to any environment and withstand the rough handling that comes with hunting game in less familiar terrains. Besides, it offers a battery life of at least 1,000 hours for superior functionality.
For added protection from impacts and elements, this reflex sight comes with a sturdy protective hood. It also boasts a shockproof frame to handle recoil and is fully submersible so when use it in harsh weather conditions the optics won't get damaged.
Moreover, the optic features dual-plane glass and parallax-correct lens system that yield crisp views of the target in any lighting condition. Other essential features included are unlimited eye relief, interlock internal locking system and an adjustable quick detach weaver mount.
Features
Digital switch controls
Variable reticle brightness with night vision modes
Parallax-free lens system
Cast magnesium alloy housing
IP68 waterproof rating
Unlimited eye relief
Pros
Multi-reticle system
Long battery life
Stunning brightness and clarity
Great accuracy
Night vision compatible
Cons
7) Vortex Optics SPARC Red Dot Sight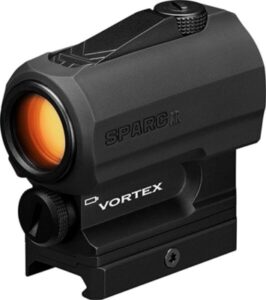 When it comes to versatility and dependable performance, the Vortex Optics SPARC Red Dot Sight is hard to beat. It brings to the table loads of highly-functional and user-friendly features to help you get the most out of your hunting and shooting expeditions.
The sight is built ready to handle whatever environment you subject it to. It features a tough construction with a compact form and lightweight design. Furthermore, it is O-ring sealed to prevent moisture, dust, dirt and any other debris from entering and damaging the optics.
Complementing the robust construction is a highly durable hard-coat anodized finish that provides a low-glare matte surface and camouflages your position when you are shooting in broad daylight. It also boasts unlimited eye relief for quick target acquisition and a crisp 2 MOA that offers pin-point accuracy at extended ranges.
To increase light transmission, the sight has multiple anti-reflective coatings on every air-to-glass surface. It also features 12 illumination settings that you use to adjust the brightness intensity of the dot to match the situation at hand.
Features
2 MOA dot
Rugged construction
Hard-coat anodized finish
Waterproof and dust proof
12 illumination settings
Unlimited eye relief
Pros
Night vision compatibility
Easy to install
Crisp clear red dot
Easy to control the brightness settings
Cons
8) Aimpoint CompM4 Red Dot Reflex Sight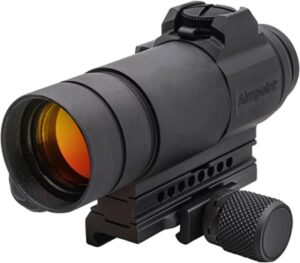 Last but not least, we have the Aimpoint CompM4 Red Dot Reflex Sight. This multifunctional red dot optic is designed for any hunter or gun enthusiast looking for a solid sighting tool that will boost their performance in the hunting field or shooting range.
It boasts a high strength aluminum alloy housing that guarantees great strength and durability. The body is sealed against elements and is submersible to 150 feet for added protection. Better yet, it has a non-reflective hard-anodized finish that offers extra shield from scratches, rust as well as corrosion.
With this red dot sight, you get a 2 MOA red dot reticle that will not just enhance your speed on target acquisition but also increase your odds of making a clean shot on the first hit. It is also built with advanced lens system that yields unmatched optical clarity and an operationally parallax-free design to fine tune your accuracy.
Moreover, the sight is electronically regulated so you can use any AA size battery to run it. It also has a low power consumption that provides over 8 years of continuous operation on a single AA battery.
Features
2 MOA red dot
Advanced lens system
High strength aluminum alloy housing
Scratch proof hard-anodized finish
Waterproof and submersible to 150 feet
Parallax free
Pros
Professional quality components
Solid construction
Great battery life
Simple to use and reliable
Why a Red Dot Sight for AR-15
The AR-15 is a powerful and multifunctional rifle that is used by both the military and civilian gun enthusiasts. Apart from being one of the most versatile rifles available out there, it is also much easier to accessorize and make the most out of it. One of the easiest ways to accessorize this rifle is to use a red dot sight.
Having the best red dot sights for AR-15 will increase your reaction time when hunting or shooting at the range. You will also be able to aim more accurately in different lighting conditions and increase your speed of target acquisition. With all these benefits, you will be able to enhance your experience with your firearm and become a better shooter/hunter.
Read Also
How to Choose a Red Dot for AR-15
Getting a red dot sight for your AR-15 is not something that you do on a whip. Whether you are buying your first red dot sight or you are looking for a newer model, here are the key factors to consider before you settle on any specific product.
Reticle Size
The reticle size in red dot sights is measured in MOA. It varies from one device to the other for you to pick one that is best for your individual needs.
Typically, small red dot reticles offer incredible accuracy, especially at longer ranges. A red dot sight with a reticle that is not more than 3 MOA will also provide the best balance of speed and performance.
Larger reticles on the other hand are the best for seniors with aging eyes and those with eyesight problems. They are simpler to spot but are less accurate at longer distances as they might obstruct the target.
Brightness Levels
The next thing to consider is the brightness levels the optic has. Most hunters and shooter prefer to use a red dot in low light settings as it provides a more precise point of aim. Look for a device that offers at least 8 levels of adjustable brightness intensities. It is also wise to get a red dot that is night vision compatible if you intend to use it with night vision devices.
Battery Life
A red dot sight's battery life can make or break your experience shooting or hunting with it. All red dot sights use batteries to illuminate the reticle and the longer the battery life, the better. It will reduce the risk of failing in between use and keep the red dot illuminated optimally.
Moreover, consider the placement of the battery. The best red dot sights for AR-15 come with either a side or top loading battery compartment to make battery change easy and less time consuming when need arises.
Durability
Look for a red dot sight that is built to take in the beating. Irrespective of the environment you use it at, a tough optic will weather the rough handling and perform when you need it the most. The device you get should also be shockproof to withstand recoil, and scratch resistant for added protection.
Weatherproof Construction
You will not be using the red dot sight in favorable weather conditions all the times. It is therefore important to get a device that is built to be operable in all kinds of good and harsh weather conditions. A tip is to look for a red dot sight that is O-ring sealed and filled with nitrogen gas. Such optics are waterproof, dust proof and fog proof.
Final Thoughts
Hopefully, you have found this post on the best red dot sights for AR-15 to be of great help. When making your selection, factor in your shooting habits and the kind of shooting you will be using the red dot sight for.
All the red dot sights we have put in this list are lightweight, simple to operate and made with all the basic facets that are expected of red dot sights. Look at the individual features that make each product stand out then pick the model that is best for your needs.