CZ 455 is a magazine-fed bolt-action rimfire rifle ideal for close to mid-range shooting. It is available in three versions CZ 455 Standard, CZ 455 Varmint and CZ 455 American all of which have an effective shooting range out to 200 yards. In this post, we are going to walk you through the best scope for CZ 455 available on the market today.
As a bolt-action rimfire rifle, the CZ 455 allows for easy barrels change so one is able to use 22lr and 17hmr in the same rifle. The interchangeable barrel system makes it one of the most versatile rimfire rifles ever produced.
If you are a rimfire enthusiast, getting the best scope for CZ 455 will help you make the most out of this rifle. The rifle itself is easy to shoot, but adding a scope will go a long way to make every shooting expedition more fun. Fortunately, there are plenty of CZ 455 rifle scopes available on the market today.
Some scopes are better in quality and more purpose-built for this rimfire rifle than others. For this reason, we have done our homework and put together a comprehensive list of the best scopes for CZ 455 available on the market. Let's take a look.
1) Leupold VX-Freedom Rimfire 2-7x33mm Rifle Scope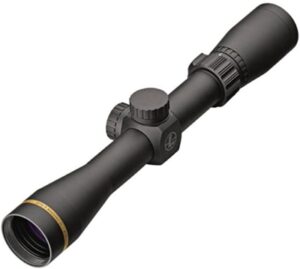 Leupold is a big brand in the optics industry. It is known to make top-tier sighting equipment with quality glass and this is clear in the VX-Freedom Rimfire 2-7x33mm Rifle Scope. It is rugged, versatile and very easy to shoot with.
Featuring a variable 2-7x magnification range, the scope provides outstanding views of targets at close to medium ranges. At each zoom setting, it maintains a wide field of view that is essential for rapid target finding. Additionally, it provides the best clarity and brightness for accurate target identification.
Solid construction is the other facet that makes it the best scope for CZ 455. The 1-inch body tube is crafted from 6061-T6 aluminum which makes it sturdy enough to withstand abuse and rough handling. Better yet, the scope is shockproof, waterproof and fog proof.
Another remarkable thing about the scope is ease of use. It weighs 11.1oz only for easy portability. Additionally, it has a long eye relief and 1/4 MOA finger click for easy windage and elevation adjustment.
Features
Versatile 2-7x magnification
1/4 MOA finger click
Shockproof, waterproof and fog proof
1-inch tube chassis
Twilight Light Management System
Scratch resistant lenses
Second focal plane reticle
Pros
Excellent value
Easy to use
Great quality
Lightweight and portable
Good eye relief
Cons
2) Vortex Diamondback Rimfire 2-7x35mm Rifle Scope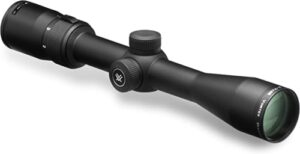 Vortex has been giving other optics brands a run for their money with the high-quality yet cost-effective optics it makes. The Diamondback Rimfire 2-7x35mm Rifle Scope is versatile, accurate at close to mid-ranges and very easy to use, even for the beginners.
The outstanding thing about this scope is its built to last. It has a 1-inch tube chassis made from aircraft grade aluminum. With the robust construction, it is able to withstand wear and tear from impacts, rough use and repetitive recoil. Additionally, it is anodized against scratches and rust to maximize durability.
Weighing just 14.2oz, this rimfire rifle scope is so light that it won't add any unnecessary weight on your firearm. Other than that, it is built with fully multi-coated lenses to prevent glare and limit internal light reflection. This enhances low light performance by ensuring high levels of light transmission.
Moreover, the scope has an accurate and easy-to-use reticle put on the rear focal plane. It also engineered for use in all kinds of weather conditions as it is fully waterproof and fog proof.
Features
Aircraft grade aluminum housing
Fully multi-coated optics
Rugged and shockproof construction
100 MOA adjustment range
Second focal plane reticle
1-inch body tube
Hard anodized finish
Waterproof and fog proof
Pros
Lightweight
Durable construction
Bright and clear optics
Cons
Poor eye relief
The finish scratches too easily
3) Athlon Optics Neos 3-9×40 Rifle Scope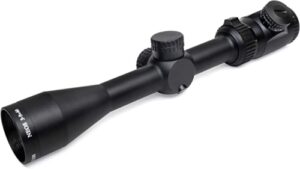 Athlon Optics Neos 3-9×40 is the best scope for CZ 455 for budget buyers. It is perfect for virtually all hunting adventures where it aids in accurate target identification and speedy acquisition.
The scope is optimized for durability. It is made from aircraft grade aluminum which provides unmatched strength and rigidity. Additionally, the single-piece 1-inch tube is heat treated to provide extra strength. It also has fog proof and waterproof protection for all weather use.
To complement the ruggedized construction, the scope boasts an illuminated reticle which provides great visibility in low light environment. The reticle is put on the rear focal plane and is glass etched to provide higher shock and recoil resistance.
Not only that, this rifle scope has a lightweight construction of 17oz only to guarantee ease of maneuverability. It also brings to the table fully multi-coated optics that are responsible for ensuring high levels of light transmission.
Features
1-inch heat treated single-piece tube
Glass-etched BDC 22 rimfire reticle
IPX-7 water resistant level
Fully multi-coated optics
Fixed parallax
Shockproof and fog proof
Aircraft grade aluminum construction
Pros
Exceptional clarity
Large field of view
Easy on the wallet
Ease of adjustment
Cons
4) Bushnell Engage 4-16x44mm Rifle Scope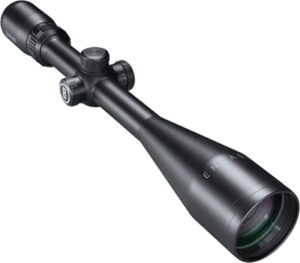 Bushnell Engage 4-16x44mm Rifle Scope is a multifunctional optic that strikes the best balance between value and performance. It comes with a ton of quality and reliable features that you require to make the most out of your shooting/hunting expeditions.
The optical performance of the scope is superb. It employs high performance glass that maximizes resolution and color. Additionally, the optics are fully multi-coated to allow for bright and more vivid visibility in low light environments.
With the second focal plane Deploy MOA reticle, the scope aids in quick target acquisition in all environments. The reticle in non-illuminated but the thick crosshairs stay visible even in low light conditions. Besides, the crosshairs are easy to see without obstruction the target in any way.
For all weather use, the scope has an IPX-7 rating against moisture, dust and debris. Additionally, it boasts an EXO barrier lens coating that repels water, oil, fog and dust, in addition to snow, fingerprints and oil stains.
Features
Side parallax adjustment
Fully multi-coated optics
IPX-7 water resistance level
EXO barrier lens coating
Versatile Deploy MOA reticle
30mm tube diameter
1/4 MOA adjustment click value
Pros
Versatile
Good eye relief
Lightweight and durable
Crisp clicks
Cons
The reticle is very small at min magnification
5) NightForce 3.5-15×50 NXS Tactical Rifle Scope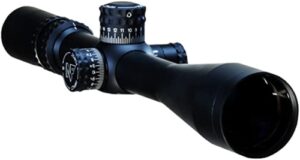 Next on our list of the best scope for CZ 455 is the NightForce 3.5-15×50. This NXS tactical rifle scope combines performance and innovation without cutting corners on craftmanship and dependability.
A defining facet of the scope is outstanding low light performance. This is thanks to the 50mm aperture that draws in more volume of light inside the optics. The scope also employs high-quality glass elements and premium lens coatings to enhance the brightness and clarity of targets.
Not only is the rifle scope ideal for low light conditions, but also all environments. It is completely waterproof and weather resistant for use in all kinds of weather conditions. Furthermore, it is rigorously tested for perfection and composed of aircraft grade aluminum to enhance durability.
The other essential features included are unmatched 110 MOA of internal adjustment and a ZeroStop that allows for ability to easily return your scope to initial zero irrespective of what number of elevations you have made.
Features
LED illumination
Fully waterproof and weather resistant
ZeroStop technology
6061-T6 aircraft grade aluminum housing
110 MOA of internal adjustment
Second focal plane reticle
30mm body tube
Pros
Great eye relief
Illuminated reticle
Good build quality
Bright and crisp clear glass
Cons
Slightly heavy
High price
6) Simmons 22 MAG 3-9x32mm Rimfire Rifle Scope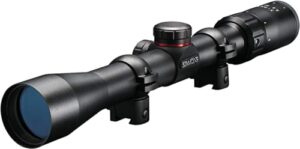 Simmons 22 MAG 3-9x32mm is another budget-friendly rimfire rifle scope that pairs well with the CZ 455. Though inexpensive, it harbors a ton of great features that deliver unmatched performance in all situations.
The scope is designed around Simmons new TrueZero adjustment system. The system is attached solidly to the scope's body to deliver unmatched stability. It is also essential in that it makes it easy for the user to get back to initial zero, no matter the number of elevation adjustments made.
Optically, this rimfire rifle scope has fully coated optics that work in tandem with the high-quality glass elements to yield bright and crisp clear image views. A HydroShield lens coating is also applied on the exterior part of the lenses to maintain clear sight pictures in all weather conditions.
Moreover, the scope boasts a long 4-inch eye relief which is vital for comfortable glassing and quick target acquisition. Over and above that, it comes with a QTA fast focus eyepiece for quick and easy reticle focusing.
Features
Second focal plane reticle
Fully coated optics
1-inch tube diameter
Water, fog and shock proof
QTA fast focus eyepiece
HydroShield lens coating
High-quality optical glass
TrueZero Flex erector system
Pros
Generous eye relief
Inexpensive
Clear glass
Simple to operate
Cons
7) Burris Fullfield II 4.5-14x42mm Rifle Scope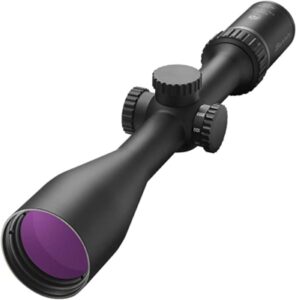 Our last scope recommendation for the CZ 455 is the Fullfield II 4.5-14×42 mm. This is another top-performing scope that is built with budget buyers in mind.
The scope is cost effective but rich in features that make it the best for mid to long-range hunting and shooting. This is made possible by the variable 4.5-14x zoom range. To complement this versatile magnification power, the scope also features a large 42mm ocular lens that maximizes low light performance.
Furthermore, this optic is made to be virtually indestructible. It has one-piece body tube crafted from aerospace quality aluminum. On top of that, the body is built with steel-on-steel adjustment system which provides added shield from impacts. The entire optical tube is also fully waterproof and fog proof.
For added convenience, this optic comes with European style adjustable eyepiece that aids in quick reticle focusing. Besides that, it has a lightweight construction to not add any extra bulk on your firearm.
Features
HiLume multi-coatings
Relocated adjustment system
European style adjustable eyepiece
Ballistic plex reticle
5-14x magnification range
1-inch body tube
Waterproof, fog proof and shock proof
Adjustable parallax
Pros
Lightweight design
Inexpensive
Clear glass
Cons
Poor eye relief at max power
Read Also
What Makes a Great Scope for CZ 455?
If you are buying a CZ 455 scope for the first time, you are probably wondering what features make one the ideal choice. A great scope for CZ 455 is made of not one but several features that work together to ensure reliable performance in the field.
For one, you need a scope that is built with durability in mind. Quality construction is very important as it makes the scope dependable in all environments.  The scope should also be fully waterproof, fog proof and dustproof to adapt to wide range of weather conditions.
Over and above that, a great scope for CZ 455 should be built with high-quality glass and solid lens coatings. When you have to use the scope in low light settings, quality lens coatings are essential in ensuring high levels of light transmission.
Last but not least, the best scope for CZ 455 is built with ease of use in mind. It should be easy to mount and lightweight to ensure convenient portability. The scope should also be easy to make adjustments during use and have a sufficient amount of eye relief.
Factors to Consider when Buying a Scope for CZ 455
Magnification
Magnification power is the first thing to consider. In most cases, the type of shooting you will be doing will determine the zoom power that you get. Since the CZ 455 is a versatile rimfire rifle, we recommend that you get a variable power scope with broad zoom range. That way, you will have the ability to use it in all distances from close to long range.
Adjustable Parallax
Parallax in a scope ensures that the target and the reticle are on the same focal plane within the tube's scope. It is important to get a scope that has adjustable parallax down to at least 25 yards. Such scopes guarantee great precision across vast ranges.
Build Quality
The next thing to consider is the construction quality of the scope. You should opt for a scope that is built using aircraft grade aluminum, magnesium alloy or any other premium grade material.
Such scopes are able to deal with rough terrain, repetitive recoil and rough handling more effectively compared to the cheaply built counterparts. The best scope for CZ 455 should also be fog proofed and sealed against moisture and dust.
Reticle
If you are a beginner in shooting/hunting, go for a reticle that is not just accurate, but also simple to use. The last thing you would want it to get a scope that has a reticle system that is complex to use.
If you are a seasoned shooter, BDC style reticle is your best choice if you will shooting slower rimfire rounds like the .22LR. On the other hand, we recommend MOA or MIL style reticles for both competition and target shooting.
Eye Relief
Don't forget to check the volume of eye relief the scope is built with. With the best scope for CZ 455, we suggest that you get a product that has at least 3.5 inches eye relief. The more accommodating the eye relief is, the more comfortable your glassing will be irrespective of whether you wear eye glasses or not.
FAQs
What size scope is best for CZ 455?
The best scope size for CZ 455 largely depends on what you will be using the scope for and how far you will be shooting. For close to mid-range hunting and shooting where this rifle excels at, you will be better off with a variable power scope with up to 10x zoom power.
What is the CZ 455 good for?
The CZ 455 is rifle that is very fun to shoot with and easy to use even for the beginners and the youths. It operates smoothly and in a reliable manner in virtually all environments. This makes it an ideal choice for hunting, recreational shooting as well as target shooting.
What do numbers in a scope represent?
The magnification/zoom range and the size of the objective lens respectively. So, in a 4.5-14×42 mm rifle scope for example, 4.5-14x is the magnification range and 42mm is the size of the objective diameter.
Conclusion
Getting a scope that is well made and equally versatile as the CZ 455 is vital if you want to push the boundaries of what this rimfire rifle is designed for. All the scopes listed above have all the basic features you require to do that and better your performance in the hunting field or shooting range. So, look at the features and specs that make each rifle scope stand out and use our buying guide to find a model that blends best with your individual needs.