Are you in the market for the best scope for Howa 1500? You have come to the right place. This post sheds a light on the top-performing scopes that are ideal for use with the famous Howa 1500 rifle.
Since its introduction in 1979, Howa 1500 rifle has grown to be the go-to rifle for most hunters. It is compatible with a wide range of hunting cartridges and good for hunting different type of game. Besides hunting, Howa 1500 rifles are also used by the law enforcement and military as sniper rifles.
When using the Howa 1500 for whatever hunting or shooting application, it is important to pair it with the right scope. Mounting a quality scope will get you on targets quickly and help you push this rifle to its full potential. Scopes are also essential for accurate target acquisition at long ranges.
What Makes a Great Scope for Howa 1500?
A great scope for Howa 1500 is made of a wide range of features and the first one is broad magnification power. This rifle is used for a wide range of applications and it is important to get a scope whose zoom power is wide enough to meet your shooting needs and cover all the distances you will be shooting at.
Secondly, the rifle scope must be durable enough to stand up to rough use and maintain zero during extended shooting sessions. With solid build, the scope will also offer reliable performance even when you are hunting in less familiar and unforgiving terrains.
The other essential features that the best scope for Howa 1500 should have include:
A generous eye relief to ensure snug glassing with or without eye wear
Large field of view which is important for rapid target acquisition
High quality lens coatings to maximize light transmission
A housing that is fully waterproof, fog proof and shockproof
Lightweight construction for ease of portability
7 Best Scopes for Howa 1500
When shopping for the best scope for Howa 1500, you will find that the market is flooded with so many models from different brands. This makes the selection process a daunting task especially if you are a first-time buyer.
We have done the hard work for you and complied a list of the very best models to choose from. So, without any further delays, let's have a look at the best scopes for Howa 1500 that are available out there.
1) Vortex Optics Razor HD Gen II 3-18×50 EBR-7C MOA Riflescope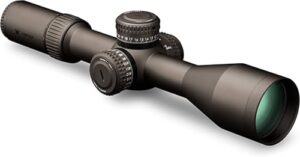 Vortex Razor HD Gen II 3-18×50 is our best overall scope for the Howa 1500. It is designed and engineered for use across different ranges from close to long-ranges where it simplifies the aiming point and aids in rapid target finding.
The scope is built on a 34mm main tube which provides adequate room for adjustments. The tube is crafted from a single-piece of aircraft grade aluminum to enhance durability and longevity. It is also shockproof to endure the highest levels of impact and weatherproofed for use even in adverse weather conditions.
Another feature that makes it the best scope for Howa 1500 is the optical performance. It boasts an APO optical system that delivers stunning image quality through the entire spectrum. All the lenses also feature XR plus anti-reflective coatings to enhance the volume of light transmitted.
Moreover, the scope comes with a fast focus eyepiece for easy reticle adjustments. It is also built with a side parallax adjustment and visual rotation indicator that is essential for keeping track of revolution on the turret.
Features
L-TEC turret system
Versatile 6x zoom
APO optical system
Fully multi-coated lenses
Waterproof and fog proof construction
Aircraft grade aluminum body
34mm main tube
Pros
Ease of use
Crisp clear glass
High build quality
Cons
2) NIGHTFORCE ATACR 5-25x56mm F1 Hunting Scope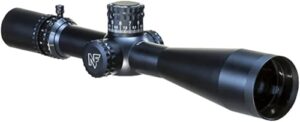 NightForce has built a name in the industry of optics thanks to the high-quality optics is makes. The ATACR 5-25x56mm F1 Hunting Scope suits you if you are an avid hunter looking to take your hunting skills a notch higher.
A remarkable feature of this scope is its optimized for hunting and built to be nearly indestructible. The main tube is machined from a solid block of 6061-T6 aircraft grade aluminum alloy to enhance durability. With the quality construction, the scope maintains consistent zero and provides a virtually impervious shield for the precision optics inside.
Furthermore, all air-to-glass surfaces have broadband multi-coatings that are applied to exceed the toughest Mil-Spec abrasion test. These coatings limit glare and enhance low light performance by ensuring high levels of light transmission.
The other noteworthy features included are ZeroStop technology, extensive elevation travel and a first focal plane reticle.
Features
ED glass
6061-T6 aircraft grade aluminum alloy construction
First focal plane reticle
ZeroStop technology
34mm main tube
Fully multi-coated lenses
Integrated throw lever
Pros
Illuminated reticle
Sturdy and durable construction
Easy to operate
Great glass quality
Cons
3) Leupold VX-5HD 3-15x44mm Rifle Scope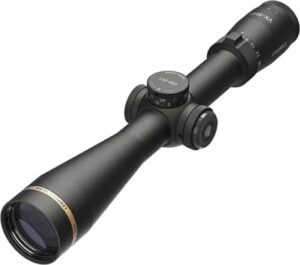 Leupold VX-5HD 3-15x44mm Rifle Scope is another premium-quality scope that is built with hunters in mind. It brings to the table an array of impressive features that are ideal for hunting game at close to long ranges.
A defining feature of this rifle scope is the Twilight Max Light Management system. The system gives hunters a distinct advantage at dawn and dusk by offering sharpened clarity and superior low light performance. Besides that, the scope has a High Definition optical system that yields bright and clear image views.
Another facet the makes the scope stand out is solid construction. It is built with the legendary Leupold ruggedness to offer many years of service. Additionally, the optical tube is sealed using advanced sealing methods so it is fully waterproof, dust proof and fog proof.
For parallax correction, the scope has a side focus adjustment that is easily accessible from any shooting position. Over and above that, it is built with a custom dial system that gives users the ability to customize their turrets to their exact ballistics and environmental conditions.
Features
Second focal plane reticle
ZeroStop system with zero lock dial
Guard-ion hydrophobic lens coating
Water, fog and shock proof
Side focus adjustment
Professional grade optical system
30mm main tube
Pros
Generous eye relief
Lightweight and durable construction
Great low light visibility
Easy to install and use
Excellent magnification range
4) Bushnell Elite Tactical 3.5-21x50mm DMR3 Riflescope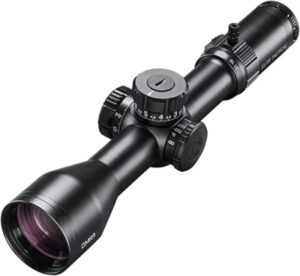 Fourthly on our list of the best scope for Howa 1500 is the Bushnell Elite Tactical 3.5-21x50mm DMR3 Riflescope. This rifle scope is built with highly advanced features that make it an invaluable addition to every hunter's toolkit.
The selling point of this scope is the excellent 3.5-21x magnification range that makes it an ideal choice for shooting across different distances. Furthermore, the large 50mm aperture draws in more light into the optics to make the zoom setting useful at each setting. The scope also boasts a multi-position throw hammer for easy magnification adjustment.
Optically, this rifle scope employs high quality ED prime glass with premium-quality coatings to deliver enhanced image resolution. It also boasts an ultra-generous eye relief that is essential for ensuring eye safety from the recoil heavy-recoiling calibers generate.
In addition to everything else, the scope has a robust aircraft grade aluminum body that is IP67 rated against dust, moisture and debris.
Features
Extra-low dispersion glass
Aircraft grade aluminum construction
34mm main tube
Fog proof and IP67 water resistant
Exposed locking turrets
EXO barrier lens protection
Multi-position throw hammer
Pros
Sharp images across the entire magnification range
Easy to set and use
Solid build
Ultra-forgiving eye box
Holds zero perfectly
Cons
5) Athlon Optics Argos BTR Gen II 6-24X50mm APMR Rifle Scope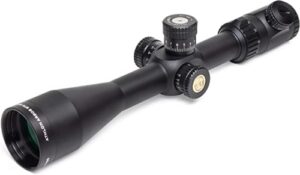 Next up we have the Argos BTR Gen II 6-24X50mm APMR Rifle Scope from Athlon Optics. This top-rated riflescope is built with versatility in mind. It pairs well with the Howa 1500 and makes a handy companion for hunting, PRS and other long range shooting disciplines.
The scope features an APMR reticle that is put on the first focal plane. It stays true at every magnification setting and is illuminated to ensure optimal visibility in the low light settings. Further, the scope has adjustable parallax from 10 yards to infinity to ensure accurate target acquisition at long ranges. It also boasts a precision zero stop system that allows for simple return to zero no matter the number of elevation adjustments made.
And that's not all. The rifle scope is built with advanced fully multi-coated lenses which provide better light transmission and optimal image brightness across the entire spectrum. It is also equipped with an XPL lens coating that shields the lenses from dirt, oil and scratches.
Above all, the Argos BTR Gen II 6-24X50mm APMR Rifle Scope is fully waterproof, fog proof and shockproof to guarantee unimpeded field use.
Features
Precision zero stop system
XPL lens coating
Advanced fully multi-coated lenses
Waterproof and fog proof
30mm body tube
First focal plane reticle
6061-T6 aluminum housing
Pros
Great value for money
Extremely clear and clean glass
Solid and audible turrets
Built to last
Cons
6) Burris Xtreme Tactical XTR II 4-20x50mm Precision Rifle Scope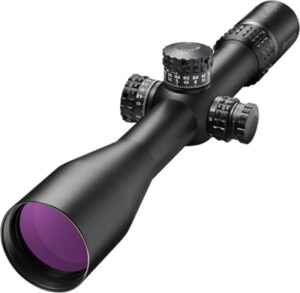 Another best scope for Howa 1500 on our list is the Burris Xtreme Tactical XTR II 4-20x50mm Precision Rifle Scope. It is designed for pinpoint accuracy at extended ranges and works well with a wide range of calibers, even those with the fiercest recoil.
Built with a versatile 5x zoom system, the scope allows for a broad field of view at close ranges and better target acquisition at long ranges. Other than that, the scope has an ergonomic side focus adjustment knob included for easy parallax adjustment and advanced windage and elevation adjustment to ensure accurate and repeatable reticle adjustments.
When it comes to construction, the scope has a sturdy and durable housing that is waterproofed and nitrogen filled for all weather reliability. On top of that, it has triple spring-tension system that holds zero consistently through shock, recoil and vibrations.
Another impressive feature of this optic is the high-grade optical glass incorporated to provide excellent image brightness and clarity with long lasting durability. The scope also has a long eye relief that makes it eyeglass friendly.
Features
Versatile 5x zoom
Zero click stop adjustments
Front focal plane reticle design
Advanced windage and elevation adjustments
Waterproof and nitrogen filled
Triple internal spring tension system
High-grade optical glass
Pros
Generous eye relief
Great parallax adjustment
Clear glass
Good value for the cost
Cons
7) Steiner T5Xi Tactical Rifle Scope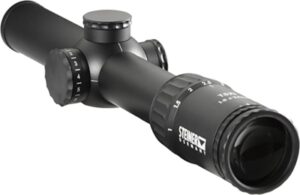 Our last scope recommendation for the HOWA 1500 is the Steiner T5Xi Tactical Rifle Scope. The scope is designed to bring unmatched clarity and accuracy to any situation, from hunting to competition shooting. It is also very simple to operate for all users, even the beginners.
This rifle scope is built on a 34mm body tube. Its reticle is etched in glass to offer outstanding durability and reliability. Additionally, it is illuminated to enhance contrast between the reticle and the target in low light environments.
Steiner optics are known for their optical finesse and this rifle scope is not built any different. It has world-class optical systems which provide unparalleled clarity and edge-to-edge sharpness. Furthermore, the lenses feature premium multi-layer coatings that provide more image contrast and brighter detail in low light conditions.
For added convenience, the scope is built light so it is easy to carry around. Over and above that, the lightweight design disperses recoil effectively to maximize durability. The scope also comes with low-profile and resettable turrets with hard stops at zero for accurate dialing of elevation and windage.
Features
34mm body tube
5-25x magnification range
Built-in throw lever
First focal plane reticle
1/10-mil ranging brackets
Low profile, resettable turrets
Premium multi-layer lens coating
Waterproof and submersible to 33ft
Pros
Stunning optics clarity
Excellent fit and finish
Crystal clear reticle
Outstanding value
Read Also
What Magnification Do You Need?
The Howa 1500 is a powerhouse that is ideal for shooting across vast ranges. It is known for its multifunctionality and unmatched accuracy at extended ranges.
When getting a scope for this rifle, you need to consider how far you will be shooting and then get a model that has the ideal magnification power. For long range hunting and shooting applications above 350 yards, we suggest that you get a scope with at least 10x magnification. The higher the magnification, the further you will be able to shoot.
On the other hand, a moderately powered rifle scope with up to 10x magnification will be sufficient for close to medium range shooting up to 350 yards.
How to Choose the Best Scope for Howa 1500
Whether you are looking to buy your first Howa 1500 scope or you are in the market for an upgrade, listed below are the important factors to take into account before settling on any model.
Optical Features
First, consider the type of glass the scope uses and the quality of coatings applied on the lenses. For a scope to be ideal for Howa 1500, it should have premium quality glass such as ED, HD or fluorite glass. Such glasses guarantee unmatched resolution and color contrast.
The other important thing that the scope should have is premium lens coatings. With proper lens coatings, the optics limit internal light reflection and limits glare. As a result, more light is transmitted for production of bright and clear images.
Build Quality
The build quality of rifle scopes varies from one model to the other. It is important to invest in a scope that is made using high-quality materials like magnesium alloy or aircraft quality aluminum. With solid build, the scope will not just be reliable, but also durable enough to offer many years of use.
The best scope for Howa 1500 should also be operable in all kinds of weather conditions. The optical tube should be filled with inert gas to be fully fog proof. Additionally, it should be sealed against dust, debris and moisture.
Objective Lens
In rifle scopes, the objective lens is a part that is responsible for collecting light inside the optics. It is measured as a diameter in millimeters. The larger the diameter is, the more the light is collected. A tip is to get a scope with an objective diameter that is larger than 40mm.
Eye Relief
When using a scope, there is a distance that your eye has to be from the scope's eyepiece. This distance is called eye relief and it is measured in inches/mm. The best scope for Howa 1500 should have a long eye relief of 3.5mm and above to ensure snug glassing all through. A long eye relief is also important as it keeps the shooter's eye safe from the heavy recoiling calibers.
Weight
Regardless of the shooting activity you will be using the scope for, invest in a model that is lighter than 2 pounds. With lightweight construction, it will be easy for you to carry the scope wherever you go. Light scopes also have the additional advantage of being more effective at dispersing heavy recoil hence enhancing durability.
Final Thoughts
Investing in the right scope for Howa 1500 is vital if you want to push this rifle to its full potential. Keep in mind that the kind of application you plan to use the scope for will play a big role in determining the model that you get.
Choosing the best scope for Howa 1500 requires one to do some homework, but no matter what your needs or budget is, there is a scope out there for everyone.