Hogs provide remarkable hunting opportunities. To have a rewarding hog hunting expedition, it is important to have the correct hunting gear. When it comes to actual hunting, a scope is one of the most important tools a hog hunter should have. A premium scope will change the way you hunt hogs for the better as it improves your vision and aids in quick target acquisition.
However, the market today offers so many scopes that it becomes challenging to find the best scopes for hog hunting. If you are in the hunt for quality scope for hog hunting, you have come to the right place. We have taken out time and compiled a list of 7 best scopes for hog hunting available in the market today. These scopes are designed to help improve your hog hunting capabilities so you hunting expedition will more enjoyable and rewarding. Without wasting any more time, let's take a look.
Our Best Scopes for Hog Hunting at a Glance
Best Scopes for Hog Hunting
#1) Vortex Optics Crossfire II 3-12×56 Adjustable Objective Hog Hunter Riflescope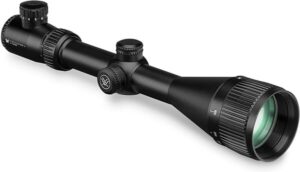 The Crossfire II Hog Hunter Rifle scope is one of the best scopes for hog hunting out there. The scope has virtually everything you need for hog hunting. It also designed to offer excellent performance when hunting in any light settings, from sunrise to sunset.
Featuring a variable 3x to 12x magnification, the scope provides tremendous short and long-range performance. You can use 3x for close-range hunting and then ramp to 12x whenever you need to engage targets at longer ranges. To add on that, it provides clear sight pictures at every magnification and a wide field of view that makes it easy for you to locate your targets.
The scope is built ready for hunting. It has an aircraft grade aluminum housing which guarantees great strength and shockproof performance. It is also sealed with solid O-rings to prevent entry of dirt, dust and moisture and nitrogen purged to deliver reliable fog proof performance.
For added convenience, the scope has a V-Brite illuminated MOA reticle for precise and easy aiming under low-light settings. And that's not all. It also brings to the table a fast focus eyepiece for simple reticle focusing, finger adjustable capped reset turrets and an adjustable objective for image focusing and parallax removal. To top it all, all Vortex Hog Hunter riflescopes have a long eye relief for comfortable glassing and they are also light as feather for easy portability.
Features
Capped reset turrets
Fast focus eyepiece
V-Brite illuminated MOA reticle
Long eye relief
Durable aircraft grade aluminum construction
Waterproof and fog proof
Adjustable objective
Anti-reflective fully multi-coated lenses
Lightweight design
#2) ATN X-Sight 4K Pro Edition 5-20x Smart Day/Night Rifle Scope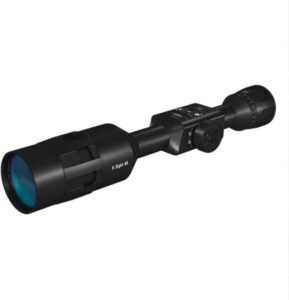 If you are looking for a reliable night vision scope for hog hunting, look no further than the ATN X-Sight 4K Pro Edition 5-20x Smart Day/Night Rifle Scope. The scope has both day and night capabilities so you can use it to hunt in all lighting conditions.
It features a built-in IR illuminator which helps broaden your vision when hunting hogs at night. The ultra-sensitive 4K ultra-HD sensor allows for easy target location and with the dual core processor, you will be able to record and stream videos of your hunting trip simultaneously. Furthermore, the scope comes with a ballistic calculator to help you hunt responsibly and smart range finder that shows you the size and distance of your targets so you can plan your shots.
Weighing just 2.2lbs, the scope has a manageable weight for convenient carrying in the field. It has a One Shot Zero function that makes sighting the scope easy and an ultra-low power profile which provides up to 18 hours of non-stop runtime. In terms of construction, it is built from aluminum which maximizes its durability and it is fully weatherproof for confident hunting even in harsh environments.
Overall, it is a great hog hunting scope that provides reliable performance both day and night.
Features
Recoil resistant
Durable aluminum construction
Lightweight design
Recoil activated video
Smart rangefinder
Ballistic calculator
Built-in IR illuminator
One Shot Zero function
Ultra-low power consumption
Ultra-HD 4K sensor
#3) Burris 2-7×32 Scout Scope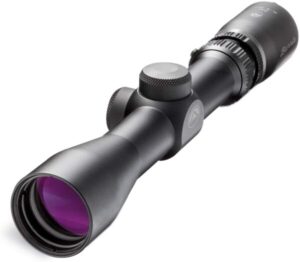 Next on our list is the Burris 2-7×32 Scout Scope. The scope offers a wide array of high-quality features at a remarkably affordable price. In addition to being budget-friendly, it is user-friendly and a great choice for beginners.
It features a Ballistic Plex reticle that is not just simple to use, but also highly accurate at longer distances. It offers a long eye relief for quick target acquisition and a forward mounting design that allows for both-eyes open shooting. Furthermore, it boasts multi-coated lenses which maximize light transmission and attenuate light loss through reflection. This gives you brighter, crisp and color accurate images from sunrise to sunset.
Another strength about the scope is the durable construction. It is shockproof to stand rough hunting environments and 100% waterproof and fog proof for use even in harsh weather conditions. To top it all, it is lightweight and compact in size for easy carrying in the field.
Features
Generous eye relief
Ultra-fast target acquisition
Compact and lightweight design
Durable, shockproof construction
Waterproof and fog resistant
Ballistic Plex reticle
Multi-coated lenses
Finger-adjustable, low-profile turrets
Variable 2-7x magnification power
#4) Leupold VX-R Hog 1.25-4x20mm Riflescope

Another best scope for hog hunting in our list is the Leupold VX-R Hog 1.25-4x20mm Riflescope. It features a variable 1.25-4x zoom which provides you with the versatility that you need to hunt hogs in different hunting scenarios.
This Leupold scope boasts the legendary Leupold ruggedness. It is well-made with high-quality materials so it will give you many seasons of field use. Moreover, it sealed with O-rings for total waterproof integrity. This way, you will be able to use it even in the rainy seasons.
The scope is designed to offer optimal clarity throughout the field of view from dawn till dusk. It has optical surfaces which are coated to provide authentic color transmission and reduce glare when hunting under direct sunlight. The result is vivid and high-contrast pictures even in poor light settings. It also features an illuminated reticle for easy shooting in low light environments.
Features
Compact and lightweight design
Waterproof and fog proof
Illuminated FireDot Ballistic reticle
30mm main tube
Wide field of view
Long eye relief
Durable and shockproof construction
Tactile repeatable finger click for intuitive adjustment
#5) Bushnell Trophy TRS-25 Red Dot Sight Riflescope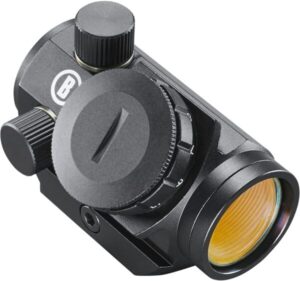 As one of the best scopes for hog hunting, the TRS-25 Red Dot Sight provides brilliant and high-quality sight pictures for top performance even in low light settings. It has an adjustable brightness from 1 to 11 for better target acquisition in different environments and an illuminated 3 MOA reticle for accurate and easy aiming in low light settings.
This compact rifle scope is toughly built to offer unbeatable durability.  It has a shockproof construction to withstand bumps, bands and drops for maximum durability. It is also purged with nitrogen so the internal lenses won't fog up due to rapid humidity or temperature change. To top it all, the optics in this scope are O-ring sealed to lock out dirt, dust, moisture and any other debris
Features
Compact in size and ultralight
Shockproof construction
3 MOA dot illuminated reticle
Waterproof and fog proof
Compatible with a wide range of firearms
Unlimited eye relief
#6) Nikon P-Tactical 300BLK 2-7×32 Matte BDC Supersub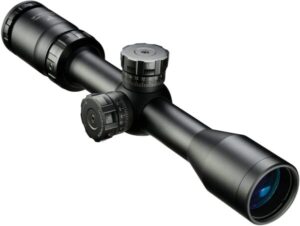 Nikon has an outstanding reputation of making excellent-quality optics and the P-Tactical 300BLK is no exception. This rifle scope brings to the table a wide array of features that you need to maximize your hog hunting experience regardless of the platform you mount it on.
First, it features fully multi-coated optics which optimize light transmission and reduce glare in bright light settings. This gives you brighter and clear image views even in dismal environments. It also features a versatile 2-7x magnification which provides a large field of view at the low end and excellent image with richness of every detail at the high magnification.
Built from aircraft grade aluminum, the scope is durable enough to stand rough handling. It is O-ring sealed to lock out moisture and nitrogen purged to provide total reliability against thermal shock. It is also shockproof to shrug off hard recoil and rugged use. Other notable features found in the scope are a generous eye relief, 1-inch body tube and precise, ergonomic windage and elevation turrets.
Features
Waterproof and fog proof
Precise, ergonomic turrets
Shockproof design
Versatile 2-7x magnification
Bright, fully multi-coated optics
Aircraft-grade aluminum construction
Spring-loaded instant zero reset turrets
BDC SuperSub reticle
Lightweight design
#7) Trijicon ACOG 3.5×35 Riflescope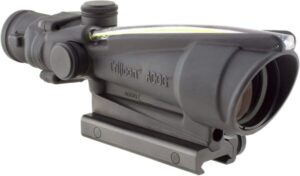 Trijicon makes high-quality scopes with brilliant aiming solutions and this quality is maintained in the ACOG 3.5×35 Riflescope. It features advanced fiber-optics which provide superior optical performance from dawn till when the sun sets in a compact, portable size.
The scope utilizes the Bindon Aiming Concept which allows for easy sighting and both eyes open shooting. It also boasts a tritium/fiber optic illuminated retile which allows for easy aiming in low light settings. Besides, this illumination is designed to its brightness based on the amount of light available. Even better, the scope offers a wide field of view which is essential for quick and easy target location.
Weighing just 0.88 pounds, this scope is one of the lightest models on this list. You will have an easy time maneuvering around in the field as you look for hogs. When it comes to construction, it features a rugged air-craft grade aluminum alloy housing which makes it virtually indestructible. It is also fully waterproof and fog proof for use in any weather condition and shockproof to stand rough field conditions.
Features
Battery free reticle illumination
Waterproof and fog proof
Military grade aluminum alloy housing
Broad band anti-reflective coated lenses
Longer eye relief
Bindon Aiming Concept
Trijicon fiber optics
Black matte finish
Lightweight construction
See Also
Factors to Consider when Choosing the Best Scopes for Hog Hunting
Whether you are buying your first scope for hog hunting or looking for an upgrade, here are some of the factors that are important to take into consideration.
Magnification
Magnification is the primary factor you should consider when looking for the best scopes for hog hunting. A scope with the right magnification will bring distant hogs closer and increase your odds of taking an accurate shot. Since hog hunting takes place in close and mid-ranges, it is best to get a scope with a moderate magnification power.
You can either choose a variable power scope or a fixed one depending on your preference. With a fixed power scope, a model with 3x magnification will suffice. On the other hand, a variable power scope with not more than 10x will be an ideal choice as too much magnification can be an overkill.
Night Vision Capabilities
Hogs are mainly active at night. Thus, having a scope with night vision capabilities will be an added advantage. It will help you locate the hogs with ease even when you can see an inch in front of you. A scope with low light visibility will also enhance your safety when hunting at night by keeping you safe from predators.
Lens
The other important factor that you should put into consideration is the quality of the lens. When choosing the best scopes for hog hunting, go for a model that is made with high-quality glass preferably extra-low dispersion glass. It will provide high-resolution and top-quality images full of color contrast. Also make sure that you choose a scope that has proper lens coatings. High-quality lens coatings will prevent flare and maximum light transmission. This will result to production of bright and crisp sight pictures even in low light settings.
Reticle
Look for a scope that has a reticle that is accurate and easy to use. It should be clear enough to be easy to aim even in poor light settings. For hog hunting, it is also best to get a scope with an illuminated reticle. This way, you will be able to aim and shoot easily even in low light settings. A simple red dot or Duplex crosshair reticle is often sufficient for hog hunting.
Durability
For a scope to last long, it should be crafted with durable and high-quality materials. Since a scope that is well-crafted is also more reliable, go for  a scope that is made from high-quality materials preferably aircraft grade aluminum or aluminum/magnesium alloy. The scope should also be shockproof to stand rough and unforgiving hunting conditions. It is also best to get a scope that is waterproof and fog proof so you will be able to use it in all seasons, year in year out.
FAQs
What magnification do you need?
Your ideal magnification will depend on your intended hunting range. Since most hog hunting takes place from as close as 10 yards to as far as 150 yards, a variable power scope with not more than 9x magnification will suffice.
What is a good scope for hog hunting?
A good scope for hog hunting is one that aligns with your individual hunting needs. It should have adequate zoom power, high-quality lenses and durable make. It should also be lightweight for convenient carrying in the field and weatherproof for use even in rainy and wet conditions.
Is thermal or night vision better for hog hunting?
Both thermal and night vision scopes are ideal for hog hunting. A thermal scope can be use in virtually any condition as it offers good detection. On the other hand, a night vision scope will provide better images at night which is when most hogs are active.
Conclusion
Hopefully, you have found this detailed review of the best scopes for hog hunting valuable and you are now able to make an informed buying decision. As you can see, there are many options that you can choose from. Look at the features that each scope presents then focus on getting a model that works best for your hog hunting needs.