Angled Vs Straight Spotting Scope: Which to Choose?
When it comes to optical instruments, every person has a specific gear preference. A spotting scope is a valuable optic that is highly versatile and best for long-range observation. It serves multiple purposes which makes it ideal for virtually any outdoor activity. You can use it for hunting, bird watching, wildlife viewing and ocean viewing among others.
Unlike other optics, spotting scopes are quite expensive. So, its best to select the best of the best spotting scope the first time. However, with so many options to choose from, finding the right model can be overwhelming. Besides, having to choose between an angled or straight spotting scope can be a difficult call to make.
In this post, we are going to break down the differences between an angled and a straight spotting scope as we try to enlighten you more on these two spotting scope types. We have also listed down the pros and cons of each, their applications as well as which situations are best for either one of them. Without wasting any more time, let's get started.
Angled Vs Straight Spotting Scope: Which to Choose?
Angled Spotting Scope Overview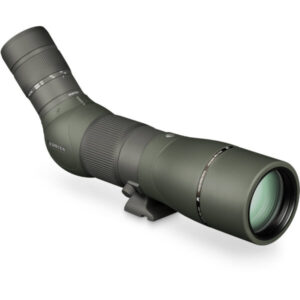 An angled spotting scope has an eyepiece that is curved to an angle. In most cases, the eyepiece is usually curved to a 45-degree angle. However, some scopes are flexible in that you can change the angle to the most comfortable viewing position.
Angled spotting scopes provide the most comfortable views when viewing a target that is either uphill or downhill. For example, you will have an easy time viewing up a hill or a mountain even in a sitting position. Similarly, you can easily turn the scope and adjust the angle to look at an object that is downhill.
Lens
What sets spotting scope apart from other optics such as monocular, binoculars and rifle scopes is the large objective lens. Generally, they have objective lenses that fall between 45 and 80mm. The large objective lens is what makes them ideal for long-range applications.
There is no big difference in lenses when it comes to choosing an angled vs straight spotting scope. Actually, many models that come in a straight or angled option have the same objective lens size. This means that they provide the same image brightness and clarity, and the only difference is the level of comfortability.
Magnification
While spotting scope have big objective lens that gather lots of light to form clear images, it is the magnification that brings the far-off targets closer. The magnification power of spotting scopes is also higher than that of monocular, binocular and rifle scopes. Majority of the spotting scopes have a magnification that falls between 10x and 60x. Angled scopes have similar levels of magnification too.
Field of View
Magnification and field of view are inversely related. Generally, the higher magnification a spotting scope has, the smaller the field of view becomes. If you are looking to use the scope for hunting, you will want a model that has a wider field of view for easy target tracking. You should therefore go for a model with a smaller magnification. For birding and wildlife viewing, you will be more interested in viewing the objects in detail. That calls for a spotting scope with a high magnification.
Angled Spotting Scopes Applications
Angled spotting scopes are all-purpose scope ideal for all outdoor activities. With the high magnification that these scopes present, you can use them for bird watching, hunting, tactical shooting, surveillance, wildlife watching, ocean viewing and so on.
Pros and Cons of Angled Spotting Scopes
Pros
Easier on the neck. You can easily change the angle of the eyepiece to a position that is most comfortable for you
Better for glassing on targets that are either uphill or downhill
Ideal for group viewing. It is easier for people of different heights to share an angled spotting scope
Versatile glassing position. It is easier to glass while standing or sitting
Supports Digiscoping
Cons
Less comfortable to use when laying down
Larger in size. This makes them less packable
Can collect water or snow when glassing in extreme weather condition
Straight Spotting Scope Overview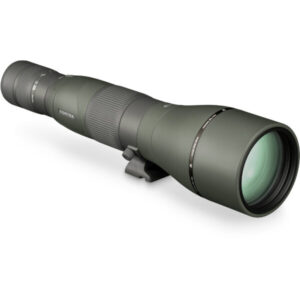 A straight spotting scope has a straight eyepiece design. It is the best for viewing targets on a straight terrain. Also, it comes in handy when you need to view targets while you are on the move.
With a straight spotting scope, you have to raise the tripod to hold the whole scope at viewing height. This raises your profile and can make you visible to your targets particularly when hunting. In general, these scopes are more comfortable to use when in a prone position where you won't have to raise or lower your head to view the targets properly.
Lens
Generally, straight spotting scopes have the same lens size as angled spotting scopes. They could be as big as 80mm or as small as 45mm. This makes them ideal for viewing distant targets even in low light settings.
Magnification
Angled and straight spotting scopes also tend to have similar magnification power. However, the magnification varies largely from scope to scope. They range from 15x up to 60x. Since spotting scopes are variable powered scopes, it's best to choose a scope with a magnification that matches your needs depending on which activity you will be using it for.
Field of View
While magnification determines the field of view that a scope has, spotting scopes with a straight eyepiece design have an advantage here. You can easily switch the spotting scope for a pair of binoculars on the same tripod position. This way, you are able to keep the binoculars focused when you want to have a wider field of view. This will help you reacquire your target quickly and with ease.
Angled Spotting Scopes Applications
You can use a spotting scope for any activity that requires you to lay down. They are often the best when you need quick target acquisition. Moreover, their ability to let you switch your set of binoculars to the tripod without having to adjust its height makes them ideal for hunting and bird watching.
Pros and Cons of Angled Spotting Scopes
Pros
Faster target acquisition
Simpler to glass from a car window mount
Ideal for viewing targets at extreme downhill angles
Compact in size. This enhances their portability and packability
Best for beginners as they are simpler to use
Ideal for glassing in extreme weather conditions
Cons
Neck discomfort during extended viewing session
Hard to glass targets that are on extreme uphill angles
Tripod level has to be tall for effective glassing. This raises your profile and can make you visible to your targets
When to Use an Angled Spotting Scope
It is best to get an angled spotting scope if you intend to use it for lengthy viewing sessions. It will be easier to glass and more comfortable on your neck. You should also get an angled scope if you are going out with a group of friends and you will all be sharing the same scope. It will be easier to set one tripod height for multiple users.
When to Use a Straight Spotting Scope
If rapid target acquisition is your most important concern, you should get a straight spotting scope. Also, you should get a spotting scope with a straight eyepiece design if you like to glass when lying down.
See
Final Thoughts
We do hope that you have found this article insightful. In the end, choosing between an angled or a straight spotting scope trickles down to personal preference. What works for your neighbor might not work for you as well. So, make sure that you get the spotting scope that works best for your individual needs.