There is no better way to get the most out of your safari and wildlife viewing excursion than to use a pair of quality binoculars. When you get yourself a pair of the best Nikon binoculars for wildlife viewing, you will be able to get the best possible views of different wildlife in different habitats including game parks and reserves.
In the field of optics, Nikon is a household name that continues to manufacture high-quality optical devices including binoculars. They offer a ton of reliable and multifunctional binoculars for just about every user's needs and budget. Besides, each set of binoculars from Nikon is simple to use even for beginners and comes with high-performing features to offer nothing but the best for your outdoor applications.
What Makes a Great Binoculars for Wildlife Viewing
A great pair of Nikon binoculars comes with a multitude of features that work together to give you the best of the outdoor world. Firstly, the binoculars should be engineered to provide sharp, brilliant and clear images in all lighting and weather conditions. This is achieved by quality glass and solid lens coatings that enhance the transmission of light.
Furthermore, the binocular should be built ready for use in any environment. It should have a body that is weatherproofed to withstand anything Mother Nature has in store for your safari. The chassis should be tough enough to withstand rough handling and have a shock absorbing rubber armor that provides as secure, slip-resistant grip.
The best Nikon binoculars for wildlife viewing should be built light for easy carrying. Furthermore, it needs to have a compact size that makes it easy to hold and use. To ensure comfortable glassing even with your sunglasses or spectacles on, the binocular has to have a long eye relief and eyecups that twist up and down for you to customize all your glassing sessions.
A good pair of binoculars for wildlife viewing should also have a wide field of view. Having a spacious viewing angle is essential as it makes scanning for wildlife and following the fast-moving ones effortless.
8 Best Nikon Binoculars for Wildlife Viewing
With the plethora of Nikon binoculars available on the market, it becomes an exhausting task to find the right pair for wildlife viewing. We have done the legwork and put up a detailed review of the top 8 models that are made with wildlife viewers in mind.
Without much ado, let's take a look.
1) Nikon Monarch M5 10×42 Binocular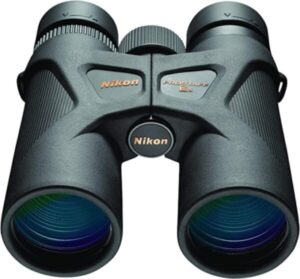 The Monarch M5 10×42 Binocular is built with every feature that you require to have a memorable and fun filled wildlife viewing experience. It is built to perform in all lighting conditions, including dawn and dusk when most wild animals are active.
With an outstandingly large field of view of up to 293 feet at 1000 yards, this pair of binoculars will help you find the animals with ease across vast environments. You will also get to see more detail of the animals and a large area of the scene without moving the binocular around.
Optically, the binocular employs a roof prism that is phase-coated to maximize resolution and color richness. It also boasts premium ED glass that eliminate common distortion, chromatic aberrations and color fringing from the sight pictures.
Furthermore, this pair of binoculars has a comfortable high-eyepoint design that makes it comfortable to use and eyeglass-friendly. It also features a compact and lightweight design of 22.6 ounces only so you will have an easy time carrying it around.
Features
10x magnification power
Adjustable eyecups
Roof prism design
ED glass
Water resistant construction
Nikon's high-eyepoint design
Large 42mm objective lens
Pros
Numerous accessories included
Lightweight and compact
Decent price
Wide field of view
Crystal clear optics
Cons
2) Nikon PROSTAFF 3S 10×42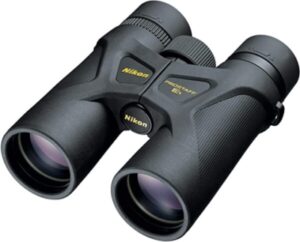 The PROSTAFF 3S 10×42 binoculars offer the best balance between quality and affordability. They are extremely compact and lightweight for ease of use and convenient to carry from one point to the other.
Built with a powerful 10x magnification power, these binoculars make finding objects much simpler across vast ranges. The long eye relief makes observation comfortable with or without eyewear and reduces eye fatigue when you are using the binoculars for long. The binocular  is also engineered to give you a wide field of view which is vital when glassing fast moving game.
By being waterproof and fog-free, this compact pair of binoculars is suitable for use in all kinds of weather. Besides, it has a high-reflectivity prism coating and multi-layer coated lenses that yield bright and sharp sight pictures, even in critically low light settings.
Regarding construction, the binocular is built to last. It has a robust chassis that is rubber armored to be shock resistant. It also has a slim body design with a comfortable, anti-slip grip to ensure easy handling even with one hand.
Features
High reflectivity prism coating
Waterproof and fog free
Multi-layer coated lenses
Shock absorbing rubber armor
Eco-glass optics
Turn and slide rubber eye cups
Pros
Compact and lightweight
Inexpensive
Easy to use
Stunning brightness and clarity
Cons
3) Nikon Aculon A211 8×42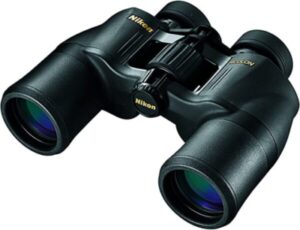 The Aculon A211 8×42 is one of the best Nikon binoculars for wildlife viewing for the budget-conscious buyers. This multifunctional sighting tool is also a perfect choice for a variety of outdoor pursuits, not just wildlife viewing.
A triad of optical technology is used in the manufacturing process to offer stunning optical performance. Firstly, the binocular boasts aspherical eyepiece lenses that deliver a flat field of view. Furthermore, it employs Eco-glass lenses that deliver admirable clarity by cutting any chromatic aberration. It also has multi-coated lenses that enhance image brightness by ensuring effective light transmission.
To facilitate comfortable glassing, the binocular has turn-and-slide rubber eyecups that alleviate eye strain during lengthy periods of use. The body design is also lightweight to ensure steady and comfortable viewing all through.
This pair of binoculars is compact but built like a tank. It features a durable, rubber armored body for added protection from shock and impact. The armoring also provides a sure, non-slip grip even in wet conditions.
Above all, the binocular is made with a central focus knob that makes it easy to operate and simple to focus.
Features
8x magnification power
Turn and slide rubber eyecups
Rubber armored coating
Aspherical multi-coated eco-glass lenses
Smooth central focus knob
Pros
Ergonomic, lightweight design
Ease of use
Solid build quality
Stunning low light visibility
Cons
4) Nikon Monarch HG 8×42 Binocular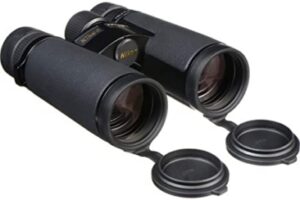 Next on our list we have the Nikon Monarch HG 8×42 Binocular. This set of binoculars is designed to offer extraordinary performance in the field and make every moment you spend outdoors memorable.
Nikon has made the body of this binocular with die-cast magnesium alloy. The quality construction provides great strength and impact resiliency without being heavy. Moreover, the lightweight and slip body profile is further enhanced with rubberized panels to give you sure, anti-slip grip in any condition.
Another outstanding feature of this binocular is the optical acuity. It boasts dielectric high reflective multilayer prism coatings and fully multi-coated lenses to enhance light transmission in low light settings. This plus the ED glass lenses maximize both resolution and color richness, and yield brilliantly clear image views. It also features scratch resistant lens coatings for added protection in the field.
Above all, the binocular is nitrogen filled to prevent fog building up in the internal lenses. It is also waterproofed to offer a lifetime of reliable use in any environment.
Features
Magnesium alloy body
Waterproof and fog proof construction
Fully multi-coated lenses
Rubber armored body
ED glass lenses
Turn and slide eyecups
Locking diopter
Pros
Wide field of view
Long eye relief
Outstanding durability
Sharp and clear views
Cons
5) Nikon 7573 PROSTAFF 5 12X50 Binocular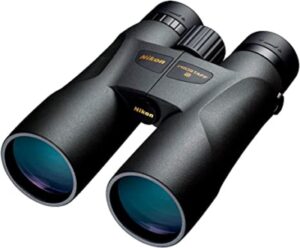 As one of the best Nikon binoculars for wildlife viewing, the PROSTAFF 5 12X50 is respected for its long-range performance. It has a high 12x zoom power that brings the distant target closer and keeps you completely aware of your surroundings.
With a weight of 27.9oz only, the binocular has is fairly lightweight and easy to use. The oversized 50mm aperture yields quality sight pictures and provides a wide field of view that is important for easy target location. Better yet, the optics have multi-layer coatings that enhance light transmission and make the binocular ideal for use in low light settings.
When it comes to construction, the binocular has a roof prism design and a body made from fiberglass-reinforced polycarbonate resin. This construction is durable enough to weather roughs handling and whatever nature throws at it. The binocular is also waterproof to ensure unimpeded field use.
Features
BaK4 roof prism
Waterproof construction
Multi-layer coated lenses
Center focus system
Turn and slide eyecups
Large 50mm objective lens
Pros
Light and simple to use
Compact and bright
Large field of view
Cons
It is not tripod adaptable
6) Nikon Travelite Binocular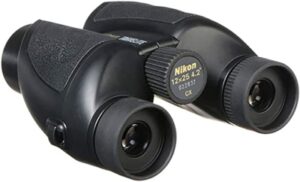 Nikon brings the outdoor world closer to you with the Travelite binocular. This compact pair of binoculars is easy to use, even for beginners. It is also easy to carry for every adventure as you can put it in your pocket, backpack or car and carry it everywhere you go.
To eliminate all distortions, the binocular has aspherical lenses that also ensure that the images generated are of great clarity. The lenses are multi-coated to increase light transmission and reduce glare as well as internal light loss. This gives you sight pictures that are bright and rich in detail in virtually all lighting conditions.
Complementing the impressive optical performance is a rugged housing that guarantees durability and many years of use. Besides, this tool has a special rubber armor for shock resistance and a secure, comfortable grip. It also brings to the table a click-type diopter adjustment ring that prevents unwitting rotation.
The other essential features included are a central focus system and a close focus distance of 13.1ft.
Features
Multi-coated eco glass lenses
BaK4 high index prisms
Rubber armored body
Aspherical lens design
Central focus system
Click-type diopter adjustment ring
Pros
Compact and ultralight
Easy to use
Versatility
Consistent center-to-edge sharpness
Cons
No tolerance to any kind of moisture
7) Nikon PROSTAFF 7S 10X42 TRUETIMBER KANATI CAMO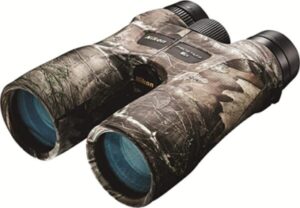 Our next Nikon binocular recommendation for wildlife viewing is the PROSTAFF 7S 10X42 TRUETIMBER KANATI CAMO. This pair of binoculars uses Nikon's advanced optical system to provide high resolution images with stunningly accurate color reproduction.
The high 10x magnification power maximizes its versatility and makes it ideal for viewing wildlife at longer distances. The focus knob is centrally placed for easy access and is intuitive and very easy to use. Moreover, the binocular has an ergonomic, lightweight design for easy handling.
Another highlight of this binocular is that it is built to handle any environment. It has a rubber armored body to withstand extreme use and ensure comfortable handling. It is also filled with nitrogen and O-ring sealed to provide total waterproof and fog proof performance.
Features
Fully multi-coated lenses
Turn and slide rubber eyecups
Rubber armored body
Waterproof and nitrogen filled
Central focus knob
Phase correction coated roof prisms
Pros
Generous eye relief
Excellent picture quality
Lightweight and durable
Easy to use
Cons
8) Nikon PROSTAFF 3S 8×42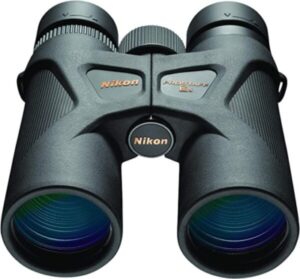 If you are going for your first safari trip and you are a beginner in wildlife viewing, the PROSTAFF 3S 8×42 is your best option. It harbors an array of great features all at a remarkably inexpensive price. It is also simple to use and very easy to focus.
Built with a long eye relief, the binocular allows for comfortable glassing with or without eye wear. With the wide field of view and the 8x zoom power, you will have an easy time finding the wildlife in different habitats. Besides, the lightweight construction makes this rugged and portable optic worthy of every adventure.
In this set of binoculars, the optics have multi-layer coatings to maximize light transmission and limit the loss of light through reflection. This gives you vivid and crystal clear sight picture rich in color contrast. The binocular also features a shock absorbing rubber armor that shields the optics from elements and provides a non-slip grip, even in the wettest conditions.
Above all, this pair of binoculars is waterproof and fog proof to be operable in light showers, misty conditions and any other weather.
Features
Turn and slide rubber eyecups
Multi-layer coated lenses
Waterproof and fog resistant
Lead-arsenic free eco glass
Rugger rubber armor
8x magnification power
42mm objective lens
Pros
Long eye relief
Lightweight design
Easy to use
Outstanding durability
Inexpensive
Cons
Read Also
How to Choose Binoculars for Wildlife Viewing
Finding the best Nikon binoculars for wildlife viewing can be a daunting task given the many models available out there. Explained below are the factors you should take into account when looking to buy one.
Magnification
Magnification is a critical aspect of every pair of binoculars. Your ideal magnification will depend on the environment you will be using the binoculars for and the distance you will be observing the wildlife.
For close range wildlife viewing, a model with 8x magnification is the best. It will get you the best sight pictures and ensure that you get the most detail of the game you are watching.
On the other hand, you will need a powerful binocular with at least 10x zoom power for long range wildlife viewing in large, open savannas.
Weight
Weight is the next important thing to consider. In most cases, you will be using the binoculars handheld when viewing wildlife. If the binocular is heavy, it will strain your wrist and make the long glassing sessions less comfortable.
To avoid such, get the lightest pair of binoculars possible. Anything under 30 ounces will do. It will be comfortable to use and easy to carry from one point to the other. If you opt for a heavier model, invest in a tripod or any other accessory to take the weight off your hands.
Lens Diameter
The objective lens in binoculars is an important part that collects light into the optics. This, in turn determines how bright the images will appear and how much information they will carry.
Typically, a set of binoculars with a lens diameter of between 30mm and 50mm will do. Larger lens sizes gather more light and enhance the optical performance in low light settings. For wildlife viewing, a binocular with a large lens diameter will also offer a wide field of view than the smaller counterparts and be more ideal for viewing the wildlife late in the evening or early in the morning when the lighting condition is poor.
Weatherproof
Look for a pair of binoculars that is built for use in any environment. The best Nikon binoculars for wildlife viewing are O-ring sealed to prevent dirt, moisture and any other debris from getting inside the optics. Furthermore, the optical tubes should be filled with an inert gas like argon or nitrogen to prevent fog build up when you move the binoculars between two environments with a significant temperature gradient.
Eye Relief
Finally, consider the eye relief the binoculars have. This is important as it determines how comfortable your observation will be. If you wear eye glasses or not, ensure that the binocular you get offers ample eye relief of at least 15mm.
FAQs
Are Nikon binoculars any good?
Yes. Globally, Nikon binoculars stand out among the rest from other brands. They pride themselves in using high-quality optics which most outdoor enthusiast look for in binoculars. Nikon binoculars are also durable, user-friendly and great for multiple applications both indoors and outdoors.
Which is better: Nikon Prostaff or Monarch?
Both the Prostaff and Monarch line of Nikon binoculars are great for several outdoor adventure applications. But the Prostaff models are more affordable. For a beginner, you can start with a Prostaff model because of the lower price and later on advance to a Monarch when you want a higher end model.
What are the best Nikon binoculars for wildlife viewing?
The best set of Nikon binoculars for wildlife viewing is one that has all the features you will need for your expeditions. It should be easy to use, durable and usable in low light conditions as well as adverse weather conditions.
Final Thoughts
Finding the best pair of Nikon binoculars for wildlife viewing doesn't have to be a hard task. This a reputable brand in the field of optics and buying one of their binoculars is a guarantee that you will get a really good binocular for your outdoor wildlife viewing needs. Whatever your needs are, there is a pair of binoculars out there for you.