Binoculars are optical devices that magnify the scene ahead of you and bring you closer to the distant targets. They are a handy tool for a wide range of activities including travel, birding, hunting, wildlife viewing, astronomy and marine use. Binoculars, like any other optical tool also come in different shapes and sizes, and in this post, we are going to take you through the best compact binoculars.
Built to offer unmatched portability, compact binoculars are a perfect companion for outdoor enthusiasts who are always on the go. Thanks to the compact form, you can put them in your pocket, backpack or in your car and carry them everywhere you go. Besides, they are lightweight, easy to use and suitable for a wide range of both indoor and outdoor applications.
What Makes a Great Pair of Compact Binoculars
If you are buying your first set of binoculars, you are probably wondering what makes a compact pair great. Firstly, a great pair of compact binoculars has to have a solid build quality to withstand rigorous use and rough handling. The housing should also be waterproof, fog proof, and dustproof to offer complete reliability in all kinds of weather conditions.
For a binocular to serve its purpose, it should be made with top-tier glass and have its lenses coated to increase light transmission and provide spectacular picture quality. On the exterior surface, the body should be rust proof and scratch resistant. The exterior lenses should also have a protective coating that offer additional protection from dirt, oil stains, fingerprints and scratches.
The other essential features that a great pair of compact binoculars should have include:
An eye relief that is long enough to ensure comfortable observation with or without eyewear
A focus system that is simple and smooth to operate
Moderate magnification power of not more than 12x
A grip that is non-slip even when you are wearing gloves or using the binoculars in wet conditions
A wide field of view that gives you wide shot panoramas and helps you identify flying birds or fast-moving targets easily
8 Best Compact Binoculars
The market is saturated with binoculars from different brands, but not all are compact. In our post today, we have done our research and out up a comprehensive review of the best compact binoculars available on the market currently. Let's have a look.
1) Leica Ultravid BR 10×25 Compact Binocular
First up, we have the Leica Ultravid BR 10×25 Compact Binocular. This set of binoculars is bright, sharp and more compact than any other binocular in this lens diameter. It is simple to operate and great for a ton of applications both indoors and outdoors.
Built with premium quality glass lenses, the binocular offers stunning resolution and color richness. This way, you will be able to enjoy a wide, detailed view that is free of any color fringing. Besides, it offers outstanding suppression of stray light so you will be able to detect even the faintest objects in virtually any lighting condition.
Another detail that makes it shine is its lightweight yet durable construction. It is made from high-strength aluminum to keep the weight down without compromising on durability. Further, it boasts a rugged rubber armor that provides a comfortable, non-slip grip. The armoring also makes it resistant to elements and reliable to use in all kinds of weather conditions.
Above all, this compact pair of binoculars is waterproof to 16.5 feet and it offers a long eye relief of 15mm to ensure comfortable use with or without eyeglasses.
Features
10x magnification
Waterproof to 5m/ 16.5ft
Robust aluminum construction
Unique single knob diopter correction
Rubberized coating
Pros
Small, lightweight design
Bright and clear optics
Solid construction
Easy to operate
Cons
Only useful in bright light
2) Steiner Safari UltraSharp Binoculars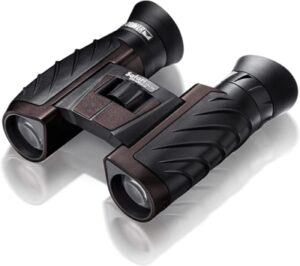 The Steiner Safari UltraSharp Binoculars offer the best combination of portability, performance and value. It is with this compact set of binoculars where German precision meets American agility.
Steiner built this binocular to be ready for use in any environment. It has a durable Makrolon housing with an NBR LongLife rubber armoring. The armoring shields it from shock and elements, and also gives you a sure grasp even in situations when you have gloves on or your hands are sweaty.
Furthermore, the binocular is waterproof and fog resistant so it will hold up to the harshest weather conditions and deliver flawless performance. The fast-close-focus allows quick focusing which is essential when tracking moving subjects and with the large field of view, target finding becomes easy and more fun.
This compact binocular has a mere weight of 10,5oz only. The ultralight design makes it easy to carry and more comfortable to hold for long hours without experiencing any hand fatigue. It also allows for convenient one hand operation.
Features
Makrolon housing
10x magnification
Water and fog resistant
Fast close focus
NBR LongLife rubber armoring
Foldable eyecups
Pros
Ultralightweight design
Wide field of view
Easy to use
Inexpensive
Cons
3) Zeiss Terra ED Binoculars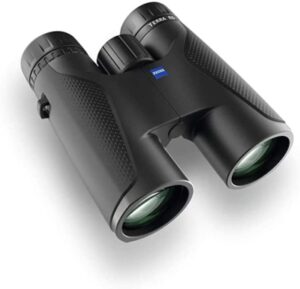 The Terra ED 10×32 Binoculars are the best compact binoculars for beginners. They are simple to use, comfortable to hold steady and a perfect companion for the great adventures in nature.
This binocular has a sleek design that is not just lightweight, but also comfortably small. The large, smooth and easy-to-grip focus wheel makes it easy to focus and bring the target into sharp focus instantly. It also allows for convenient one hand operation.
When it comes to construction, the binocular features a robust housing that is waterproof and fog proof to ensure unhindered performance in harsh weather conditions. Complementing the robust housing is a hydrophobic lens coating that provides a clean, unobstructed field of view by repelling moisture, oil stains and dirt.
Best of all, the lenses in this pair of binoculars are multi-coated to increase the volume of light transferred and ensure that the images you get are not just bright, but also rich in clarity and color accuracy.
Features
Large and easy to grip focus wheel
Hydrophobic lens coating
Weatherproof construction
10x magnification
Multi-coated lenses
Pros
Outstanding durability
Functional handling
Compact and lightweight
Spectacular picture quality
Cons
4) Celestron -TrailSeeker 10×32 Binocular
Celestron prides itself in making quality, cost-effective and multifunctional binoculars and the TrailSeeker 10×32 Binocular is not any different. This mid-size binocular is lightweight, easy to carry and perfect for birding and a multitude of outdoor adventure activities.
Optically, the binocular features fully broadband multi-coated lenses that provide high levels of optimally managed light. The coatings are reduce glare and provide additional shield from scratches. Besides, the BaK4 prisms are phase and dielectric coated to provide true color and brilliant sight pictures, even in critically low light settings.
For all weather reliability, this binocular has a waterproof body that is nitrogen filled to keep both the internal and exterior optics free of fog. In terms of construction, it is made with a magnesium alloy which is more rugged than aluminum, but lighter in weight. It also boasts eyecups that twist up to provide a customizable eye relief and ensure comfortable viewing with or without eyeglasses.
Above all, you can use a Celestron tripod adapter to mount the binocular on either a monopod or tripod for hands-free viewing.
Features
Metal multi-stop twist-up eyecups
Waterproof and fog proof
Premium prism coatings
10x magnification
Fully broadband multi-coated lenses
Durable magnesium alloy frame
Center focus system
Pros
Lightweight and durable
Wide field of view
Tripod adaptable
Stunning picture quality
Cons
The warranty could be better
5) Nikon 10×25 Trailblazer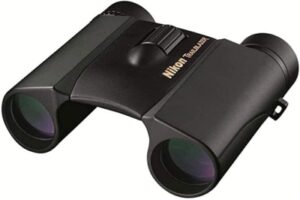 With the 10×25 Trailblazer binoculars, Nikon raises the bar for optical engineering to ensure that you enjoy the great wonders of the outdoors and get closer to nature. This compact binocular is made with quality materials and superior lens technology to offer you the best of the best.
Furthermore, it is incredibly lightweight yet durable to be easy to carry around and to ensure that you get to use it for many years. For added protection, the binocular is completely waterproof and fog proof. It also boasts a rugged and protective rubber armored coating that provides a sure and non-slip grip, and provides additional protection from shock and impacts.
Another highlight of the binoculars is that it is made with ease of use in mind. The smooth central focus knob ensures fast range of focus and quick viewing, while the lightweight design makes it simple to use and comfortable to hold even for lengthy hours. The binocular is also equipped with BaK-4 high index prisms and multi-coated optics that work together to provide sight pictures that have excellent brightness, clarity and color richness.
Features
Smooth central focus knob
High-index BaK4 prism
Durable rubber armored coating
Waterproof and nitrogen field
Bright multi-coated optics
10x magnification
Pros
Inexpensive
Bright and clear optics
Lightweight and easy to use
Large field of view
Cons
6) Vortex Optics Diamondback HD Binoculars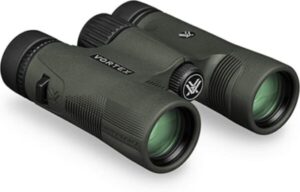 The Diamondback HD 10x28mm Binoculars are the best compact binoculars for the budget-conscious buyers. These binoculars are inexpensive but they don't cut any corners on durability or quality. Instead, they deliver a rock-sold optic that excels above its class.
Built with adjustable eyecups, these binoculars allow for comfortable viewing even with eyeglasses on. The center focus wheel is designed to adjust for both binocular barrels simultaneously, while the right eye diopter adjusts for the differences in your eyes.
When it comes to construction, the binocular has a rugged construction to withstand rigorous and rough use. It has a shock-absorbing rubber armor that gives you a secure, slip-resistant even when your hands are wet. It is also argon purged and O-ring sealed to be fog proof, dust proof and waterproof.
This compact pair of binoculars is optimized with selected glass to provide stunning resolution in nearly all lighting and weather conditions. The lenses are also fully multi-coated to cut on light reflection and ensure that the images produced are bright and rich in detail.
Features
10x magnification
Fully multi-coated lenses
Adjustable eyecups
Rugged rubber armor
Center focus wheel
Right eyepiece diopter
Waterproof and argon purged
Pros
Rugged construction
Easy to operate
Great value
Bright and stunning picture quality
Cons
Poor low light visibility
7) Hawke Nature-Trek Binoculars 8×32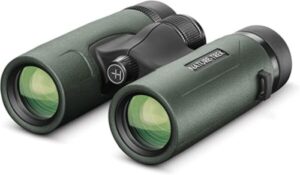 Next up, we have the Hawke Nature-Trek Binoculars. Wherever you go, this compact pair of binoculars will give you amazing views of the objects you view and make your expeditions more enjoyable.
The lightweight design makes this binocular comfortable to use, while the compact size makes it a perfect companion during travel. It is also design with stay-on lens covers that shield it from damage in the field and multi-coated lenses that offer excellent light transmission, resolution and contrast.
If you wear eyeglasses, you will find this binocular comfortable to use with your glasses on. It has twist up eyecups that give you the flexibility to customize your eye relief to a position that is most comfortable for you. Moreover, it offers a wide field of view and a close focus from 2m/6.6ft to ensure that nothing is left undiscovered.
Construction-wise, this optic is built with premium quality materials that guarantee many years of use. It has a high grip rubber armor that offers added protection from impacts and a weatherproofed body for operability in all kinds of weather.
Features
Fully multi-coated optics
Durable rubber coated chassis
Twist-up eyecups
High resolution BaK4 roof prisms
Compact top hinge design
Pros
Outstanding durability
Lightweight and great for travel
Simple to operate
Fair price
8) Occer 12×25 Compact Binoculars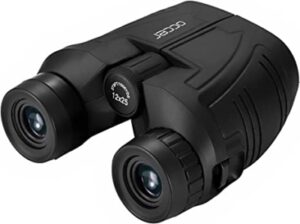 If you are looking for the best compact binoculars for family use, you have found it in the Occer 12×25 Compact Binoculars. This ultra-small pair of binoculars is inexpensive, simple to use and perfect for both adults and kids.
The binocular provides a wide and spectacular view of targets in different environments. This is thanks to the premium BaK4 prisms and the FMC broadband coatings that enhance light transmission and offer real color reproduction.
Furthermore, the binocular is ultra-compact but built like a tank. It has a tough construction that maximizes its durability and performance no matter what nature throws at it. For operability in all kinds of environments, the binocular has a waterproof body and a rubber armor that offers you a secure grip in the wet environments.
Features
Clear weak light vision
FMC multilayer broadband green film
Waterproof construction
Center and right eye focus system
High-quality BaK4 prisms
Adjustable eyecups
Pros
Easy to use
Ideal for both adults and kids
Inexpensive
Multifunctionality
Cons
Might be too small for some adults
Best Compact Binoculars Buyer's Guide
Here is an in-depth guide on the important factors you need to consider before buying a pair of compact binoculars.
Intended Usage
The first thing that you need to take into account is the kind of activity you will be using the binoculars for. Is it for birding, travel, safari, hiking or other indoor and outdoor activities?. When you are activity specific, it will be much simpler for you to find the right binocular for your needs.
Magnification Power
Most compact binoculars have moderate magnification power up to 10x. With that zoom power, the binoculars are not only simple to use, but easy to hold stable and have consistent image views without the need to use a tripod.
For viewing targets in densely forested areas, a model with 8x magnification will suffice. It will bring you closer to the targets and give you a wide field of view. On the other hand, a pair of binoculars with 10x or 12x magnification will bring you closer to the action even if the subjects you are watching are far away.
Lens Coating
Lens coatings and the quality of glass used in binoculars determine the clarity and quality of sight pictures that you will get. The best compact binoculars are made with extra-low dispersion glass, high-density glass or any other high quality glass. Such binoculars provide stunning resolution and sight pictures that are rich in color fidelity.
For the coatings, it is best to get a binocular that has fully-coated or multi-coated lenses. The more the lens coatings, the more light will be transmitted. Another benefit of lens coatings is that they guard the optics from scratches.
Build Quality
Look for compact binoculars that are built to last. With solid construction, the binoculars will not only last long, but also give you excellent performance and many years of reliable use.
When making your selection, look at the quality of the chassis and ensure that it is toughly built. A good binocular will also have a rubber armoring that makes it non-slip and provides extra protection from shock.
Eye Relief
To get the most out of binoculars, you must have a comfortable time using them. Binoculars with a generous eye relief of above 15mm ensure snug observation and reduce eye strain and fatigue during lengthy glassing periods. If you wear eyeglasses, go for a pair that has a longer eye relief of at least 18mm.
Weatherproof
No matter what application you use the binoculars for, you are bound to find yourself in bad weather condition at some point in time. It is therefore wise to get a pair that is built to be usable in all kinds of weather conditions.
The best compact binoculars have a water resistance rating that is IPX4 and above. This will shield them from damage by water, dust and any other debris. For added weather protection, the binoculars you get should be filled with argon or dry nitrogen to keep both the interior and exterior lenses free of fog. Fog proofing also ensures that the binoculars provide a clean field of view in cold and misty environments.
Read Also
Advantages of Compact Binoculars
Unmatched Portability. All compact binoculars have a lightweight design that makes them easy to carry and perfect for travel
Ease of Use. The design of most compact binoculars is intuitive and user-friendly. It is for this reason that most people, kids and beginners included find them simple to operate
Multifunctionality. Most compact binoculars are built for use in a wide range of both indoor and outdoor applications
Affordability. While most compact binoculars offer nearly equal optical performance as the full-size binoculars, they have the added benefit of being more affordable
Disadvantages of Compact Binoculars
Less limited to daylight use only. The small objective lens in compact binoculars makes them less ideal for use in low light settings.
FAQs
What is a good magnification for compact binoculars?
8x or 10x. Generally, compact binoculars are widely used for bird watching, hiking, camping, nature viewing and travel. In all these activities, a moderate magnification power of 8x or 10x is enough to bring you closer to the action, offer a wide field of view and still remain easy to hold steady without the need to use a tripod or monopod.
What do the numbers in binoculars represent?
The two numbers in every binocular configuration represent the magnification power and the size of the objective lens. So, in a 10×32 binocular for instance 10x is the magnification power and 32 is the diameter of the objective lens in millimeters.
Conclusion
For bird watching and other outdoor activities when you are on the go, compact binoculars are the way to go. They are lightweight, ergonomic, simple to use and most importantly versatile. All the compact binoculars we have listed above are reliable and capable of giving you excellent and reliable performance in any situation. Whatever selection you make, it is our hope that this post has steered you to the right direction.