Whether you use your pair of binoculars for birding, star gazing, hunting or exploring the wonders of the great outdoors, a tripod is a handy accessory to have. There are so many tripods for binoculars available on the market and in our post today, our focus will be on the best lightweight tripods for binoculars.
Tripods complement binoculars in so many ways. They help keep them stable at the highest magnification and eliminate shakiness. With your binoculars attached on the tripod, the weight is taken off your hands so you are guaranteed of great glassing comfort. A tripod also makes scanning fast and smooth in all situations.
The best lightweight tripods for binoculars are stable, sturdy and well-balanced just like the standard-size tripods, only that they are considerably lightweight and portable. This makes them perfect for on the go use. In this product round up, we will show you the design features of a good tripod for binoculars and then take you through the most lightweight models available on the market.
Attributes of a Good Tripod for Binoculars
A good tripod for binoculars balances several features to enhance functionality during use. These features include:
Stability
First and foremost, a good tripod for binoculars should be stable to eliminate any movement during use.
Sure Footing
Furthermore, the binocular should have non-slip feet to ensure sure footing on all surfaces.
Adjustable Height
Another attribute of a great tripod for binoculars is adjustable height. All the legs and the central column should be adjustable for you to set it to a height that is most comfortable.
Leg Locks
The best lightweight tripods for binoculars should also have leg locks to keep the legs in place once you have set it to your desired height.
Quick Release Plate
Last but not least, a good tripod for binoculars should have a quick release plate to help you mount and detach the binocular quickly and with ease.
Best Lightweight Tripods for Binoculars
1) Bushnell Advanced Tripod for Binoculars
First up, we have the Bushnell Advanced Tripod for Binoculars. This is a full-featured, stand-up tripod with three-position leg angle adjustment and three-way pan head. It is works well with virtually all types of binoculars where it provides an ideal viewing from a platform, road side or deck.
The tripod is lightweight but extremely sturdy and durable. It has high-quality aluminum legs which you can easily adjust the height from 18.3" up to 61". Besides that, the tripod has non-slip feet which provide secure footing and reliable support on any terrain.
Another thing that makes it one of the best lightweight tripods for binoculars is ease of setup. The adjustable legs and the center column make it very easy to set up in any environment. Moreover, the 3-way pain head with quick release plate make it easy attach and detach the binocular after use.
Over and above that, the tripod has a weight capacity of 11 pounds. As such, it is an ideal accessory for spotting scopes and cameras, not just binoculars. It also has padded foam leg cushions that ensure optimal carrying comfort in extreme hot and cold conditions.
Features
Smooth 3-way pan head
Sliding center column
61-inches maximum height
Non-slip rubber feet
Wing leg lock type
Durable aluminum legs
Quick release plate
11 pounds maximum weight capacity
3 padded foam leg cushions
Pros
Easy to set up
Versatile height and capacity
Great value for money
Durable and reliable
Cons
2) Benro Rhino Series FRHN14C Carbon Fibre Tripod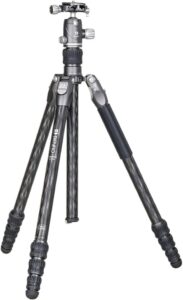 Designed for performance and value, the Benro Rhino Series FRHN14C Carbon Fibre Tripod is extremely portable and easy to use. It is well suited for studio and outdoor use in virtually all environments.
The selling point of this tripod is carbon fibre design. It minimizes the weight for easy portability without sacrificing strength and durability. Other than that, it has a reverse folding design which makes it extremely portable.
For added convenience, this tripod has automatic leg angle adjustment that allows you to change the leg angle and height with a simple push of the button. After use, you can easily convert the tripod into a monopod by combining the designated leg and center column. A dual panning ball head is also included for smooth panning.
Features
Reverse foldable design
Automatic leg angle adjustment
Dual panning ball head
Three accessory mounts
Quick release plate
Spiked feet
Pros
Stable and reliable
Easy to use
Smooth turning ball head
Good height for tall users
Sturdy and durable
Cons
3) Vanguard VEO 3GO 204CB Travel Tripod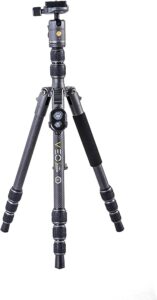 Crafted with portability in mind, the Vanguard VEO 3GO 204CB Travel Tripod is the best binocular tripod for people who are always on the go. It is not just lightweight, but easy to pack and travel friendly.
This full-size tripod works with nearly all types of binoculars. Furthermore, it is designed with adjustability in mind to fit users of different heights. It extends to a height of 51.6" and folds down into a small size of 13.6" only for convenient packability.
Another impressive thing about the tripod is quality construction. It is made with the most hard-wearing materials to withstand wear, tear and highest levels of abrasion. Moreover, it provides a secure footing in different surfaces and has a retractable hook to add weight and provide extra stability in windy environments.
Features
Foldable design
131cm maximum height
Aluminum legs
Arca Swiss compatible VEO T-45 ball head
Reversible center column
Retractable hook
Rubber feet
1 spirit bubble level
Reversible thread
Pros
Easy to set up and clean
Tripod bag included
Compact and portable
Excellent build quality
Smooth operating ball head
Cons
4) Celestron Ultima Pan Tilt Head Tripod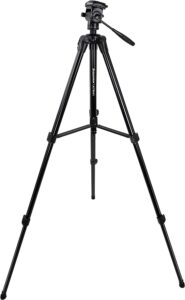 Celestron Ultima Pan Tilt Head Tripod is an excellent option for anyone looking for a lightweight yet stable binocular tripod. It is reasonably affordable yet rugged and durable to ensure that you get many years of use.
The binocular is ideal for use in nearly any terrain outdoors. With three leg sections and an adjustable center column, you get to set it in multiple configurations depending on your needs. Besides, the smooth panning head and handle make it easy for you to move the binoculars into different positions and angles during use.
As one of the best lightweight tripods for binoculars, this tripod comes with an extendable center column which provides more height when need arises. When fully extended, the maximum height is about 67.7" after which it folds into a small size for easy transportation and convenient storage.
In addition to everything else, the Celestron Ultima Pan Tilt Head Tripod has a quick release mounting plate with a safety mechanism that prevents it from sliding.
Features
7" maximum height
Extendable center column
Three adjustable leg sections with flip latch hooks
Quick release mounting plate
Aluminum construction
8 pounds payload capacity
Pan-tilt head
Integrated bullseye bubble level
Pros
Inexpensive
Stable and durable
Versatile
Easy to use
Cons
5) Vortex Optics Ridgeview Carbon Tripod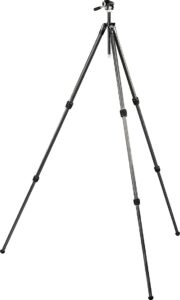 Vortex makes a wide variety of premium-quality optics and optics accessories and the Ridgeview Carbon Tripod is not any different. It is lightweight, portable and easy to fold for easy packing and transportation.
When fully extended, the Ridgeview Carbon Tripod has a maximum working height of more than 6feet. This makes it ideal for use by people of all heights. Furthermore, it has a payload capacity of 22 pounds for use with heavy binoculars, spotting scopes and any other similar gear.
Construction-wise, the tripod is made with carbon fiber legs which reduce the overall weight without sacrificing on strength or stability. Each leg has three adjustment sections for use on even and uneven ground, and adjustable angles as well for extra value.
To complement the quality construction, this tripod has rubber feet that ensure solid and sure footing on every surface. It also comes with a removable counterweight hook where you can mount a weight to add stability and limit vibrations.
Features
2-way pan head
Acra-type compatible quick release plate
22-pound payload capacity
Adjustable height from 8.3" to 73.8"
Strong carbon fiber legs
1/4"-20 mounting stud
Rubber strap
Three leg adjustment sections and angles
Rubber feet
Removable counterweight hook
Pros
High-quality and well made
Easy to set up
Portable and packable
Sturdy and stable for the size
Cons
The panning is not that smooth
6) Gosky Tripod -Travel Portable Tripod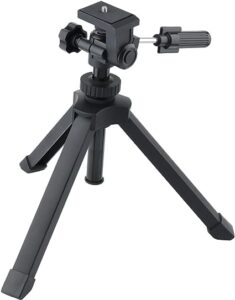 As one of the best lightweight tripods for binoculars, the Gosky Tripod offers the ultimate balance of portability, value and functionality. It is compatible with a wide range of optics including spotting scopes, camcorders and DSLR cameras, not just binoculars.
Though lightweight, the tripod is crafted with durability in mind. It has sturdy aluminum legs that are anodized to be scratch proof and rust proof. This guarantees greater longevity even with repeated use. Other than that, the legs are tipped with non-slip rubber feet to create a stable mounting platform on nearly any surface.
Another impressive thing about this tripod is its designed to be comfortable to use and simple to carry. It has three padded foam leg cushions to not only add comfort, but also ensure snug handling in extreme hot and cold conditions. On top of that, a quality carrying case is included for convenient transportation.
During use, you can easily adjust the height of the legs from 18.3 to 61-inches. The adjustment is quick and smooth for added convenience. Other than that, the tripod has a three-way pan head with incredibly smooth adjustments either vertically or horizontally.
Features
Sturdy aluminum construction
Anodized finish
Slicing center column with tension control
Three padded foam leg cushions
3 to 61-inches height adjustment
Three-way pan head
Non-slip rubber feet
Removable weight hook
11 pounds load capacity
Independent leg spread
Pros
Ergonomic pan handle
Sturdy and stable
Easy to use
Good pan and tilt
Simple to make quick adjustments
Cons
7) Manfrotto 055 Aluminum 3-Section Tripod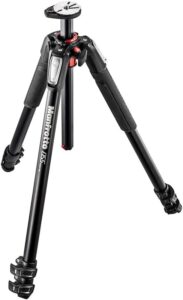 When it comes to durability, portability and functionality, it is hard to go wrong with the Manfrotto 055 Aluminum 3-Section Tripod. It is sturdy, adjustable in height and capable of accommodating a wide range of binoculars from different brands.
The premium 3-section aluminum legs deliver unmatched level stability on any surface. This keeps the binoculars stable for comfortable glassing all through. Furthermore, the height adjustment is smooth from 3.35" to 71.46".
Unprecedented stiffness is another highlight of this tripod. It has quick power locks with high locking power to ensure optimal binoculars stability. Other than that, the 4 leg angles give you the flexibility to set the tripod into different positions depending on your glassing comfort needs.
What's more, the Manfrotto 055 Aluminum tripod has a 90-degree column which you can extend seamless either vertically or horizontally. Switching from vertical to horizontal column orientation or vice versa requires no disassembly and you can do it even with the binoculars attached.
All these features coupled with the easy link connection for adding accessories together with the lightweight yet quality construction make the Manfrotto 055 Aluminum tripod a must-have accessory for your binoculars.
Features
Built-in bubble level
Quick power lock levers
90° column
3 leg sections
Easy link connection
Sturdy and durable aluminum legs
Versatile ball head
140cm maximum height
9kg safety load
Pros
Unmatched value for money
Easy to set up and make adjustments
Sturdy, stable and durable
Cons
Read Also
Things to Look for in the Best Lightweight Tripods for Binoculars
When looking to buy a tripod for binoculars, consider the following things before you settle on any specific product.
Binocular Compatibility
First and foremost, check if the tripod is compatible with the binoculars that you anticipate to use it with. Most tripods available on the market today are compatible with a wide range of optics as they accept a standard tripod adapter.
Height
The next important thing to look at is the height of the tripod. Your height plays a big role in determining the right tripod height. So, take that into account and look for the ideal tripod for your needs.
Maximum Load Capacity
The maximum load capacity of tripods determines how much weight it can carry without wobbling. It varies from one tripod to the other depending on the stability and construction quality.
The best lightweight tripods for binoculars have a high payload capacity to fit binoculars of any weight and any other optics you might be using, such as spotting scopes or camera.
Leg Design and Adjustability
It is also important to consider leg design and adjustability when looking to buy a tripod for binoculars. Tripods with more leg sections are the best in terms of functionality and portability. They fold into a more compact body for easy packability and transportation. However, models with fewer leg sections tend to be more stable.
Stability
Stability is an integral part of every tripod. If the tripod is not stable, then its functionality decreases. For the best lightweight tripods for binoculars, features such as leg locks and non-sleep rubber feet are essential to enhance stability. Moreover, it is vital for the tripod to have a  well-designed column to alleviate movement and maximize stability.
Quick Release Mechanism
Another important feature that a binocular tripod should have is quick release mechanism. With such a feature, you will have an easy time mounting and detaching the binocular from the tripod after use.
FAQs
Do you need a tripod for binoculars?
It depends. A tripod is an important accessory for binoculars, but it is not a must-have especially when your binocular is compact and easy to hold steady with your hands only. However, when using high powered and heavy binoculars, a tripod is necessarily to stabilize the views at high magnification and take the weight off your hands.
What height tripod is best for binoculars?
The ideal tripod height depends on how tall you are and how you plan to use it. On average, we recommend getting a product that is 6 inches taller than you are when it is fully extended. Any tripod shorter than that might be less comfortable to use, especially during lengthy glassing sessions.
What size binoculars need a tripod?
Binoculars with a high magnification above 12x are the ones that require the use of a tripod. The higher the magnification, the more difficult binoculars become to hold steadily. So, you need a tripod to stabilize it and ensure that you get sharp and shake-free views of the objects you are viewing.
Final Thoughts
Mounting a binocular on a tripod enhances your overall observation by providing clear and shake-free views. All the tripods we have mentioned in this guide are lightweight but durable, stable and functional. Take a look at the specs and attributes that make each model a good purchase and choose accordingly.