In this day and age, image stabilized binoculars are the go-to optics for boating. Whether you row or sail in boats as a sport or for recreation, you should invest in the best image stabilized binoculars.
Built with image stabilization technology, these binoculars will get rid of any shakiness and vibrations, and ensure that images generated are not just steady, but also consistent. This translates to better image views even in the roughest conditions compared to when you use standard binoculars. Image stabilized binoculars also allows boaters and sailors to opt for higher magnification without the need of using a tripod.
In this post, we are going to walk you though the best image stabilized binoculars for boating available on the market currently. We have also put a comprehensive buyer's guide that has all the information you need to make an informed buying decision. However, let's start by looking at how image stabilized binoculars work.
How do Image Stabilized Binoculars Work?
Image stabilized binoculars work by manipulating the optics to continuously compensate for any movement in the binoculars. To achieve this, the binoculars either use an internal gyroscope or electronic sensors which adjust for any motion, vibration and shakiness instantly.
When the motion and shakiness is adjusted, the images you see through the binoculars stay still in the whole field of view. This gives you better views of the target irrespective of the application.
6 Best Image Stabilized Binoculars for Boating
Whether you are new in boating or a seasoned boater, here are top-rated image stabilized binoculars that make a handy companion when you are out on the waters. Let's take a look.
1) Canon 10×42 L Image Stabilization Waterproof Binoculars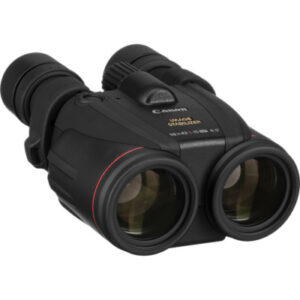 First up on our list is the Canon 10×42 L Image Stabilization Waterproof Binoculars. This pair of binoculars harbors a wide range of high-end and user-friendly features that make it ideal for activities like marine use, boating and wildlife observation just to name a few.
Featuring a waterproof housing, this binocular is safe to use even in the wettest environments. It also incorporates Canon's exclusive image stabilization technology that provides steady, consistent and shake-free views, even when the waves in the sea or ocean are overwhelming.
Furthermore, the binocular features a unique, easy grip design to ensure secure and comfortable handling. It also has a powerful 10x magnification to ensure that you observe targets in rich detail even at a distance, and a wide angle rating for effortless observation and quick target finding.
This model also brings to the table high performance ultra-low dispersion lenses that provide admirable image brightness even in low light settings.
Features
Double field flattener lenses
Waterproof construction
10x magnification
One touch IS usage
2mm exit pupil
Metallic coating that prevents fogging
Ultra-low dispersion glass elements
Pros
Easy grip design
The image stabilization works well
Bright and wide field of view
Multiple accessories included
Decent battery life
Cons
Heavy and cumbersome to carry for a prolonged period of time
2) Fujinon Techno Stabi TS1440-14×40 Image Stabilization Binocular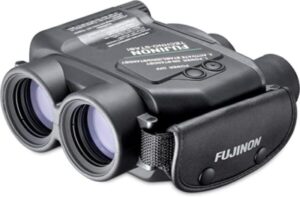 Boating and other marine activities are more enjoyable to partake when you have the high quality Fujinon Techno Stabi TS1440-14×40 Image Stabilization Binocular as your companion. This model offers outstanding performance when viewing mobile and stationary objects, both on land and on the waters.
It is phase coated to maximize the transmission of light and minimize reflection that causes light loss. This ensures that the images generated are outstandingly bright and clear irrespective of the lighting condition. Besides, the 5-degree high stabilization freedom ensures that you get shake-free images of every object in the field of view.
In terms of construction, the body of this high-end binocular is made of fiberglass-reinforced, hard-wearing plastic. It also has a non-slip rubber armoring that shields it from shock and impacts.
Best of all, this image stabilized binocular is waterproof and fog proof to survive any weather condition.
Features
Rubber armored body
High 14x magnification
5-degree stabilization freedom
Waterproof and fog proof
Phase coated prism
Center focus
Pros
Quality construction
Ideal for multiple applications
100% waterproof
Admirable picture clarity
Cons
3) Sig Sauer ZULU6 16x42mm Schmidt-Pechan Prism Binoculars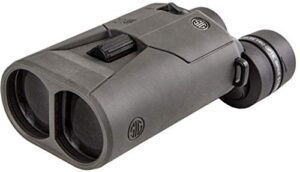 As one of the best image stabilized binoculars for boating, the Sig Sauer ZULU6 16x42mm binoculars is a great tool for getting a close and detailed look at targets even at extended ranges. This is thanks to the high 16x optical power and the close focus. It is also ideal for viewing objects both on land and on water.
This pair of binoculars employs an optical image stabilization to stabilize the image views. It has an electronically stabilized 2-axis gimbal system that cancels any motion and vibration to ensure that the images generated are still and consistent. In addition to that, it has an advanced optical system that yields bright and tack- sharp image views in any lighting condition.
Furthermore, it has an IPX4 waterproof rating for added protection from dust and moisture damage. To top it all off, they have a lightweight design to ensure comfortable handling.
Features
Optical image stabilization
Advanced optical system
Motion activated illumination
IPX4 waterproof rating
16x magnification
Lensarmor coatings
Pros
Tripod adaptable
Manageable weight
Great ergonomics
The image stabilization works great
Cons
4) Zeiss T S Image Stabilization 20x60mm Porro Prism Binocular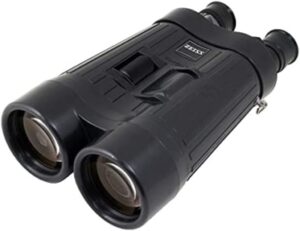 Zeiss makes a plethora of premium quality optics and this is clear in the Zeiss T S Image Stabilization 20x60mm Porro Prism Binocular. This is a powerful image stabilizer binocular ideal for a wide range of outdoor recreational and professional applications, not just boating.
This model utilizes mechanical image stabilization to counter any shakiness and vibrations that can affect the steadiness of the images. Even with the high 20x magnification, it generates still image views without the need to use a tripod. Besides, the image stabilization works admirably well with a simple press of the button.
More importantly, this high-end image stabilization binocular is built to be nearly indestructible. It has a high-quality all-metal construction that maximizes durability. Even better, it has black rubber armoring that shields the internal optics from shock, accidental impacts and elements of weather.
This binocular also features a massive 60mm aperture to ensure that the images produced are bright and rich in detail even in low light conditions.
Features
Rubber eyecups
20x magnification
Mechanical image stabilization
Rubber armoring
High twilight performance
Waterproof and fog resistant construction
Robust metal body
Pros
Battery-free operation
Excellent image quality
High twilight performance
Solid construction
Cons
5) Steiner 7×50 M750rc Commander Military Binoculars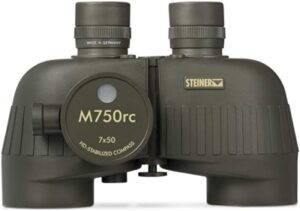 Next up is the Steiner 7×50 M750rc Commander Military Binoculars. Built with military standards, this set of binoculars harbors everything you need to make your boating expeditions more memorable.
While this binocular doesn't have an image stabilization technology, it comes with an illuminated HD-stabilized compass to help with navigation. It also features a range finding reticle that comes in handy when you need to calculate how far a target is from your water vessel.
Another superb facet about this set of binoculars is the outstanding optical clarity it offers. It has fully multi-coated optics that ensure optimal light transmission takes place for bright and vivid image production. It also has a large 50mm objective lens that enhances low light performance, while ensuring that the field of view is wide enough to let you find targets with ease.
These high-end binoculars are also waterproof, fog proof and ideal for use in nearly all types of environments.
Features
7x magnification
Fog resistant and waterproof
NBR long life rubber armoring
Floating prism system
Comfortable cylindrical eyecups
Ranging reticle
Illuminated HD-stabilized compass
Durable polycarbonate Makrolon housing
Multi-coated optics
Pros
Auto-focus system
Bright and crisp image views
Good low light visibility
Excellent image sharpness
Cons
6) Canon 18×50 Image Stabilization All-Weather Binoculars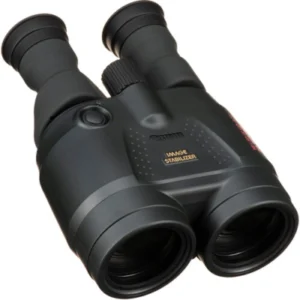 Lastly, we have the Canon 18×50 Image Stabilization All-Weather Binoculars. This pair of binoculars has a high 18x magnification suitable for viewing targets at any distance and a wide viewing angle to ensure that you find the targets effortlessly irrespective of how far they might be.
These all-weather binoculars have an image stabilization that works like a charm. They incorporate an optical image stabilizer that yields stable images views all through. It also provides a long eye relief for added comfort, especially when you are glassing for long sessions.
To complement the water resistant design, the binocular  also is built to last. It has shock proof rubber coatings which provides greater durability and a non-slip grip. Furthermore, the binocular provides clear views irrespective of the weather condition thanks to the fog proof design.
This model also comes with a central focusing control knob that is easily accessible by both hands.
Features
Super spectra coat lens coating
18x magnification
Waterproof and fog resistant
Shock absorbing rubber armor
Built-in optical image stabilization
Battery powered system
Wide 50mm objective lens
Pros
Generous and ultra-bright field of view
Manageable weight
Comfortable eye relief
Great build quality
Effective image stabilization
Cons
The eyecups could be better
Read Also
Best Image Stabilized Binoculars for Boating Buying Guide
When shopping for an image stabilized binoculars for boating, below are the important factors to consider.
Magnification
The magnification in image stabilizes binoculars varies from one model to the other. If what you are looking for comfort and a decent field of view, a model with not more than 10x magnification is the best. On the other hand, get a model with more than 10x magnification if you want you are after is rich detail at extended ranges.
Weatherproof
The best image stabilized binoculars for boating should be waterproof. This guarantees interior optics safety when the weather conditions are unfavorable. In addition to that, it will be an added advantage if  get a model that is designed to float on water. In an event where it falls off the boat accidentally, it won't sink and get lost.
Weight
While image stabilized binoculars tend to weigh more than traditional binoculars, the weight varies from one model to the other. Some models are so heavy that you must use a tripod to take the weight off your hands.
On the other hand, there IS binoculars that are lightweight and comfortable to carry and use without the need to use a tripod. Such models are the best for boating and any other marine application.
Durability
Image stabilized binoculars are not cheap. Therefore, you will want to invest in a well-made unit that gives you great value for money by giving you many years of use.
Go for a model that is made using high-quality materials. Also ensure that the model you pick comes with a rugged rubber armoring. It will shield the optics from shock and impacts, in addition to any other item nature throws at it.
Lens Coatings
You will want a pair of image binoculars that also generates bright and clear image views in addition to stable and consistent image views. This way, you are able to observe the objects in rich detail.
To achieve this, the binoculars should have quality lens coatings and excellent glass quality. Good glass guarantees greater resolution and color accuracy. Lens coatings on the other hand maximize light transmission which is needed for bright and clear image views
Price
After you have identified all the facets you need the binoculars to have, you can them move forward to finding the binocular that suits your budget needs.
Since image stabilized binoculars use high end technology, be prepared to pay more than what you would pay for most standard binoculars.
FAQs
What is the difference between image stabilized binoculars and regular binoculars?
Image stabilized binoculars have image stabilization technology which counters any shakiness and vibrations. This generates still and consistent image views. On the other hand, regular binoculars have no image stabilization technology and you have to depend on your hands to hold it steady.
Are image stabilized binoculars any good?
Yes, they are. If you are passionate about the great outdoors, investing in an image stabilized binocular will step up your views irrespective of the activity you will be engaging in. Whether its boating, hunting, astronomy or bird watching, these binoculars offer the best quality views in any situation.
What do the numbers on binoculars mean?
The numbers in binoculars represent the magnification power and the size of the objective lens. In a 18×50 model for example, it has a high magnification of 18x and a 50mm objective lens diameter.
Final Thoughts
Knowing what features you need in an image stabilized binoculars for boating will help you find the right unit for your needs easily. All the binoculars in this guide offer the handy facets you need as a boater or sailor.
Making the right selection calls for some research, however, irrespective of what your budget or individual needs are, there is an option out there waiting for you.