When it comes to buying the best red dot for Sig P320, there is a large number of models to choose from. Different manufacturers have come up with their own red dots to meet the ever-surging demand among pistol owners. We have put together a comprehensive guide on the top 7 red dots for this popular handgun to help you find the right model for your needs.
The Sig P320 is a modular semi-automatic pistol that is widely used in the military and by civilian shooters for home defense and other applications. Its ability to use interchangeable modules is what makes it stand out among other handguns. Besides, it has a small form that makes it an ideal choice for concealed carry, self-defense and daily use.
In the last couple of years, the trend of mounting red dot sights on Sig P320 has been on the rise. This can be attributed to the multiple benefits these handy sighting tools offer.  But with the sea of options on the market today, it is hard to know which model is best for your shooting needs. Luckily, we are here to help.
We have scoured the market and compiled a list of the top-rated red dot sights for the Sig P320. On top of that, we have included a buying guide with all the key things you should take into account making your selection.
Let's take a look.
Best Red Dots for Sig P320
1) Trijicon RMR Type 2 RM01 LED 3.25 MOA Red Dot Sight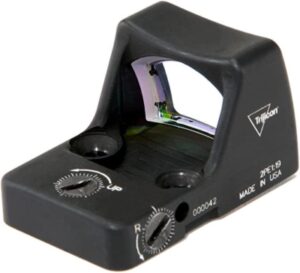 The Trijicon RMR Type 2 RM01 is by far the best red dot for Sig P320 available out there. It is designed with modern technology and a variety of high-end features to enhance precision and accuracy with your handgun.
This optic has a small footprint and an extremely lightweight design to ensure that it does not add any unnecessary weight and affect the accuracy of your pistol. In terms of construction, it has a durable and sturdy housing to stand up to the rigors of outdoor use. It is also designed to be waterproof up to 20m/66ft to handle all elements.
To complement the robust construction, this optic has True-color multi-coated lens that enhances light transmission for minimal change in target area color. It also boasts dual illumination for the 3.25 MOA reticle to enhance contrast between the reticle and the target in different lighting environments.
For added convenience, the windage and elevation is easy to adjust with no special tools needed. On top of that, the sight has an automatic sensor that adjusts the brightness of the reticle automatically depending on the ambient lighting conditions.
Features
Ruggedized battery contacts and electronics
Battery conservation mode
1 MOA impact point correction
25 MOA reticle size
Waterproof and submersible to 66ft
True-color multi-coated lens
Unlimited eye relief
Forged aluminum housing
Pros
Solid and sturdy build
Good battery life
Lightweight design
Small footprint
Brilliant red dot reticle
Cons
2) Sig Sauer SOR1P100 Romeo1Pro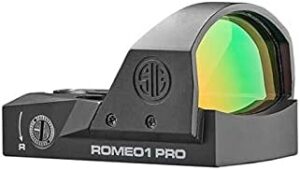 Sig Sauer SOR1P100 Romeo1Pro red dot sight is a highly versatile optic compatible with a wide range of handguns including Sig P320. It strikes the perfect balance between value and functionality to make it a handy sighting tool for all shooting applications.
The selling point of this compact red dot sight is optical performance. It is built with molded glass aspheric lens with top-notch coatings. The coatings offer unmatched light transmission for bright and crisp image views without any distortion. In addition to that, the sight has 12 brightness settings that are responsible for speedy target engagement under a wide range of lighting conditions.
Construction-wise, the sight has a robust housing and a steel shroud that shields it from impact and hard use. Additionally, it designed with a TruHold lockless zeroing system that uses twin adjustment springs. This maximizes the optics ability to endure repetitive recoil and return to zero after every shot.
Moreover, the Sig Sauer SOR1P100 Romeo1Pro has a lightweight construction and a compact size to not interfere with the pistols' ease of concealment. Over and above that, it has Motion activated illumination system that powers the illumination only when it senses motion. As a result, it stays ready for deployment while conserving the battery.
Features
TruHold lockless zeroing system
3 MOA reticle
10 daytime and 2 NV brightness settings
Molded glass aspheric lens
Motion activated illumination system
Point-source emitter
Pros
Ease of use
Lightweight and compact design
Night vision compatible
Accurate and easy to use
Cons
3) Leupold DeltaPoint Pro Red Dot Sight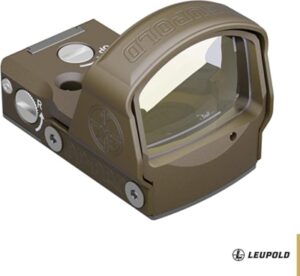 Third on our list of the best red dot for Sig P320 is the Leupold DeltaPoint Pro Red Dot. Leupold is known to manufacture ruggedized and versatile sighting tools with top-tier glass quality and the DeltaPoint Pro Red Dot Sight is not any different.
A defining feature of this optic is the robust construction. It is made from aircraft grade aluminum which is durable yet lightweight. The ruggedized construction coupled with the weatherproof design makes the sight ready for use in all outdoor environments.
Another remarkable facet of this device is Motion Activated Illumination (MOTAC). This system turns the sight on when it senses motion and automatically turns it off when not in use. Other than that, the sight has a crisp 2.5 MOA dot reticle and 8 different brightness settings for you to tailor the brightness of the reticle depending on the lighting condition.
What's more is that this compact red dot sight has Diamond Coat lens coating to ensure high levels of light transfer. It is also built with a tool-less, spring actuated battery compartment that makes battery change a breeze without having to remove the optic from the firearm.
Features
5 MOA dot reticle
Diamond Coat lens coating
Motion Activated Illumination
Waterproof, fog proof and shock proof
Locking adjustment system
Robust aluminum construction
Unlimited eye relief
8 brightness settings
Pros
Easy to mount and zero
Sturdy and durable
Easy battery access
Large glassing window
Cons
Doesn't have an auto-brightness setting
4) Holosun HE508T-RD X2 Red Dot Sight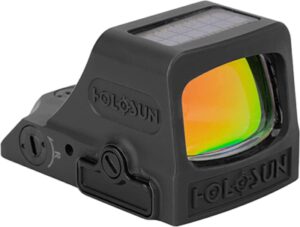 Next up, we have the Holosun HE508T-RD X2 Red Dot Sight. This optic is loaded with a multitude of highly functional features at a price that is hard to beat. It is simple to use and a great sighting for a wide range of applications.
The sight is built with durability in mind. It has an extremely rugged Titanium housing that is outstanding both in durability and longevity. In addition to that, the housing is impact resistant to add on durability and waterproofed for unimpeded field use.
Reticle-wise, the sight has a multi-reticle system that includes 2 MOA dot and 32 MOA circle. You can either use the two individually or together depending on your shooting needs. Besides, you are guaranteed of an ultra-long battery life of up to 50,000 that keeps each reticle optimally illuminated.
The other noteworthy features included are top loading battery access, Solar Failsafe technology and unlimited eye relief.
Features
2 MOA dot and 32 MOA circle
IP67 water resistance rating
12 brightness settings
Unlimited eye relief
Solar Failsafe technology
Rugged titanium housing
Shake Awake feature
Pros
Great battery life
Bright and crisp
Accurate
Easy to use
Cons
5) Crimson Trace RAD Open Reflex Pistol Sight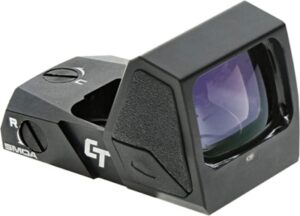 Crimson Trace RAD Open Reflex Pistol Sight is another feature-packed optic built with the budget conscious buyers in mind. This rapid aiming red dot sight is compact, lightweight and ideal for use with a wide range of full-size pistols.
Built with a 3 MOA red dot, this optic is your ideal choice if you are looking to boost your shooting accuracy and reduce the time it takes to acquire targets. The brightness of the reticle is adjustable into several settings and with the highly efficient LED emitter, you are guaranteed of clear aiming in all lighting environments.
When it comes to construction, the Crimson Trace RAD Open Reflex Pistol Sight is made with aerospace aluminum. The quality construction is a guarantee that the optic will withstand the repetitive recoil pistols emit and last for long. On top of that, the sight has textured sides that allow for a secure grip when you are racking the slide.
Complementing the rugged construction is a large glassing window that aids in quick target finding. The sight also boasts fully multi-coated lens to reduce glare and ensure high levels of light transmission.
Features
7075 aerospace grade aluminum housing
IPX waterproof
Recessed optic lens
Top accessible battery compartment
Auto shutoff
Manual on and off
3 MOA red dot reticle
Textured sides
CT ambient light sensor
Pros
Easy to use
Well made
Great sight picture
Reasonably affordable
Cons
The reticle is not bright in low light
6) Holosun HS507C X2 Red Dot Sight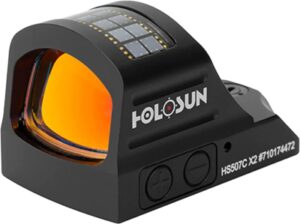 Another best red dot for Sig P320 in our list is the Holosun HS507C X2. The sight is rapidly becoming the go-to handgun optic and it is for a good reason. It is remarkably inexpensive, yet rich in features that every pistol owner needs to better their shooting precision.
This sighting tool has a multi-reticle system that makes it an ideal choice for a wide range of shooting applications. During use, you can either use the 2 MOA dot, 32 MOA circle or both. Besides, there are 12 brightness settings that you use to tailor the brightness based on the ambient lighting conditions.
Solid and sturdy construction is another feature that makes the sight stand out. It is constructed from 7075-T6 aluminum which makes it a rugged and reliable optic. In addition to that, it is IP67 waterproof and submersible to 1m for added protection from weather elements.
And that's not all. The Holosun HS507C X2 red dot sight has top-tier multi-coatings that are responsible for maximizing light transfer. Moreover, it is designed with a side-loading battery tray which allows for speedy and simple battery changes while it is still mounted on the firearm.
Features
12 brightness settings
2 MOA dot and 32 MOA circle
Multi-coated lenses
IP67 waterproof level
Side loading battery compartment
Parallax-free optical design
Unlimited eye relief
Pros
Decent battery life
Inexpensive
Holds zero well
Well made to last long
Easy-to-operate buttons
Cons
7) EOTech EFLX Mini Reflex Red Dot Sight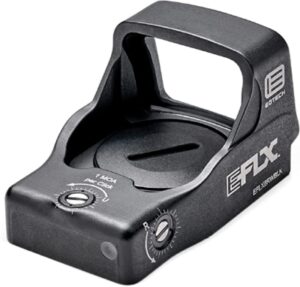 Our last but not least red dot recommendation for the Sig M18 is the EOTech EFLX Mini Reflex Red Dot Sight. Designed for pistol use, this multi-functional red dot sight is ideal for professional use, home defense, tactical shooting and more.
The EFLX is ideal for use in all kinds of weather conditions. This is thanks to the waterproof and fog proof construction. Besides, it has a heavy-duty aluminum housing that offers unmatched durability and longevity even when subjected to the toughest and unforgiving outdoor environments.
The aiming point of this red dot sight is a 3 MOA reticle. It is easy and quick to pick, even in the less favorable lighting conditions. Besides, there are 7 daytime and 1 night time brightness settings to choose from depending on your preference and ambient lighting conditions.
Another impressive facet of this optic is lightweight and compact design. It weighs 1.4oz only so it will not add any unnecessary weight on your pistol. The optic also brings to the table 1 MOA adjustment value and a broad windage and elevation range to fine tune your accuracy in all terrains.
Features
Unlimited eye relief
1 MOA adjustment click value
8 brightness settings
3 MOA red dot aiming point
Sturdy aluminum housing
Push button switch
Pros
Heavy-duty construction
Night vision compatible
Crisp clear reticle
Cons
Read Also
What MOA do you Need for Sig P320?
The aiming point/reticle in red dot sight is measured in MOA (Minute of Angle) and it varies in size from one model to the other. Generally, the size varies from 1 MOA to 6 MOA for most pistol red dot sights.
With the best red dot for Sig P320, we recommend that you pick a reticle depending on the kind of shooting you will be doing and the strength of your eyesight strength as well.
For the seniors with aging eyes, it best to get an optic with 6 MOA reticle. Such a large reticle is very easy to spot even with your poor eyesight. On the other hand, we recommend that you get a small reticle of up to 3 MOA if you what you are looking for is an optic that will not just enhance your speed of target acquisition, but also boost your accuracy at all ranges.
How to Choose a Red Dot for Sig P320
Irrespective of the kind of shooting that you use your Sig P320, investing in the right red dot is key to making the most out of this pistol. When shopping for the best red dot for Sig P320, take into account these important factors.
Compatibility
Sig P320 is an optic ready pistol ideal for a wide range of shooting applications. While it is one of the most-versatile optic-ready pistols available on the market today, it is not compatible with all red dot sights. So, ensure that the optic you choose to settle for is compatible.
Durability
Durability is an important feature that every optic should have and red dots for Sig P320 are not any different. Take a look at the type of materials used to make the optic as that is what determines the overall durability. A tip is to get an optic that is crafted with either aluminum or magnesium alloy.
Size and Weight
The Sig P320 is a compact pistol ideal for concealed carry. It weighs about 880g with magazine included. With such a lightweight design, you will be required to get a red dot that is equally lightweight. Anything heavy will not just affect the pistols balance, but also interfere with precision. Additionally, the red dot sight should have a small footprint so as not to get in your way of shooting.
Battery
The next important thing to consider is battery. Go for a red dot sight that is powered by a long-lasting battery. That way, you are guaranteed that it will not fail in the middle of use. Additionally, the best red dot for Sig P320 should have a number of battery conservation features to preserve the battery. It should also have a battery compartment that is put either on the side or at the top for easy access when the need for a replacement arises.
Benefits of Red Dots for Sig P320
Adding a red dot sight on your Sig P320 will let you:
Acquire targets quickly. This is essential for shooting activities where you need to react quickly to acquire the target. Such activities include hunting and home defense
Better precision. The red dot aiming point in red dot sights helps one to shoot better from a distance
Shoot better at night. Red dot sights have multiple brightness settings to help you shoot better in all lighting conditions, including typical nighttime environments
FAQs
Yes. The Sig P320 is a compact, versatile and premium-quality pistol that is optic-ready. As such, it is compatible with a wide range of red dot sights designed for pistol use.
How long does a red dot sight last?
It depends. In terms of battery life, most red dot sights have a battery life of 10,000-20,000 hours with the best models having a long battery life up to 50,000 hours. When it comes to the overall lifespan, a typical red dot sight lasts for several years depending on the brand and how well you take good care of it.
Conclusion
Finding the best red dot Sig P320 is easy when you are fully aware of the features that you need the optic to have. With the sight at your disposal, you will be able to fine tune your shooting skills, acquire targets faster and threat-focus better. Hopefully, this article has steered you in the correct direction and you are now able to find a red dot that is blends perfectly with all your shooting needs.