Red dot sights are incredible, but the lack of magnification limits them to close and medium range use only. If you want to extend the range at which you can shoot with your red dot sight, it is time to get a magnifier. The right combination will help you get the most out of your shooting excursions and we are here to shed a light on the best red dot magnifiers.
Using a magnifier together with a red dot sight will increase your shooting range and help you switch from close to medium to long range shooting with ease. During use, the magnifier is put behind the red dot sight where it provides the magnification you need to pursue targets at longer ranges.
Each magnifier brings to the table a unique set of features and varying zoom power for you to pick the right model based on your needs. In this product round up, we will take you through a number of the best red dot magnifiers available on the market, giving insights on their key features, pros and cons. But first, let's have a look at the benefits that come with investing in the best red dot magnifiers.
Benefits of Using Red Dot Magnifiers
Red dot magnifiers are an important accessory for every firearm enthusiast out there. Here are some key benefits that come with pairing a quality model together with your favorite red dot sight.
Extended Shooting Range
This is the primary benefit of using the best red dot magnifiers. You will be able to shoot and acquire targets at close to long range easily and with stunning accuracy as well.
Improved Target Identification
With the higher magnification factor, a red dot magnifier helps shooters identify and acquire targets with more clarity. This is irrespective of how far the targets are or how small they are.
Improved Accuracy
Using a red dot magnifier for shooting goes a long way to enhance your overall shooting accuracy. This is irrespective of whether it is for hunting, target shooting or self-defense.
Greater Glassing Comfort
Using a red dot magnifier reduces eye strain and fatigue particularly during lengthy glassing sessions. This translates to a comfortable and improved shooting experience.
Skill Development
Red dot magnifiers are vital tools for training and skill development. With the right model at your disposal, you will be able to practice and hone your shooting skills across different shooting environments.
Best Red Dot Magnifiers
1) Vortex VMX-3T Magnifier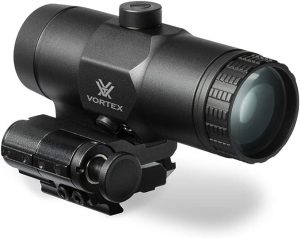 Our first pick of the best red dot magnifiers is Vortex VMX-3T Magnifier. This tool makes a handy addition for every avid shooter thanks to its versatility. You can use it to magnify the image transmitted by an unmagnified red dot sight or as a secondary optic with a weapon's primary optic.
It features a broad windage and elevation correction for maximum total travel. The broad adjustment range is also complemented by 3x magnification power which is enough to get you closer to the faraway targets and fine tune your overall shooting precision.
Moreover, the magnifier is crafted with durability in mind. It boasts machined aluminum construction and an anodized hard coat which is scratch proof and corrosion resistant. On top of that, it is fully waterproof and nitrogen filled to prevent fog build up in the cold and rainy weather conditions.
To complement the robust construction, this magnifier comes with fully multi-coated optics that allow maximum transmission of available light. It also has a lightweight construction of 11.90z only so it will not add any extra and unnecessary bulk on your firearm.
Features
Manual focus objective lens
Integrated quick release mount
Fully multi-coated optics
3x magnification
Windage and elevation adjustments
Anodized finish
Aluminum construction
Waterproof and nitrogen filled
Pros
Lightweight
Quick to install
Easy to use
Well made
Cons
2) Holosun HM3X 3x Red Dot Magnifier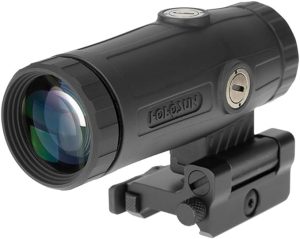 Holosun prides itself in making high-quality red dots and red dot accessories like the HM3X 3x Red Dot Magnifier. This magnifier comes with all the essential features you need to push the performance of your red dot sight to full potential.
It is designed with 3x magnification that allows the operator to seamlessly transition from unmagnified to 3x. Furthermore, it is designed to provide a large field of view which is essential for rapid target finding.
When it comes to construction, the magnifier is made from high-quality aluminum which guarantees many years of field use. It is rigid enough to withstand abuse and superlight to scatter recoil effectively.
Furthermore, this tool is IP67 certified to be waterproof, dust proof and usable in temperatures ranging from -22 to 140℉. It also comes with high quality optical glass which provides bright and clear views of targets even in the low light settings. A QD mount is also included for easy installation.
Features
Aluminum housing
IP67 water resistant rating
3x magnification
Optical glass
QD mount and spacer included
Flip to the side design
Ambidextrous picatinny rail mount
Pros
Rugged and reliable construction
Reasonably affordable
Great glass clarity
Easy to use
Cons
The adjustment slots are too small
3) Bushnell AR Optics 3x Magnifier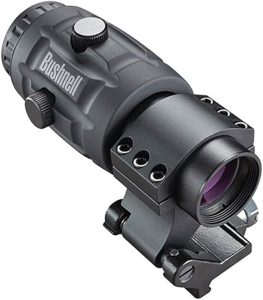 Coming third in our list of the best red dot magnifiers is Bushnell AR Optics 3x Magnifier. It is packed with an array of premium quality features to ramp up the magnifying power of your red dot sight and extend your shooting range.
A defining feature of this magnifier is optical system. It employs bright and clear fully multi-coated elements that ensure precise aiming in all light settings. Additionally, it has vertical and horizontal alignment adjusters for proper alignment of the red dot sight's reticle.
Bushnell makes rugged and reliable optics and this 3x magnifier is not any different. It is crafted out of aluminum alloy to withstand the challenging conditions and environments. On top of that, it is fully waterproof, fog proof and dust proof.
Other essential features included are a fast focus eyepiece, unlimited eye relief and ambidextrous design.
Features
3x magnification
Aluminum housing
Fast focus eyepiece
Vertical and horizontal alignment
Fully multi-coated optics
Unlimited eye relief
Ambidextrous flip mount
Pros
Unlimited field of view
Compatible with a wide range of red dot sights
Ease of use
Great value for the price
Cons
4) EOTech G-Series G33 3x Magnifier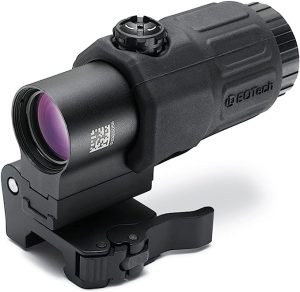 When it comes to value and performance, it is hard to beat the EOTech G-Series G33 3x Magnifier. It has a compact footprint for easy installation, and user-friendly design to accommodate all users including beginners.
This magnifier has 3x zoom power that allows the shooter to switch from magnified to unmagnified viewing by a simple push on the side. It also brings to the table a large 7.5° field of view which is essential for easy target identification and acquisition.
Furthermore, the build quality of this magnifier is incredible. It is built using the most hard-wearing materials to withstand abuse and any form of rough handling. Additionally, the body is coated with a non-reflective black finish which is also scratch proof.
For all, weather use, the magnifier is fully waterproof, fog proof and shockproof. In addition to everything else, the EOTech G-Series G33 3x Magnifier comes with a STS quick-release dovetail mount for straightforward installation.
Features
Waterproof and fog proof construction
3x magnification
Tool-less windage and elevation adjustment
Non-reflective black finish
5° field of view
Quick-release dovetail mount
Pros
Sturdy and durable construction
Lightweight
Clear and quality glass
Easy to install and use
Cons
5) Sig Sauer Juliet 4 Magnifier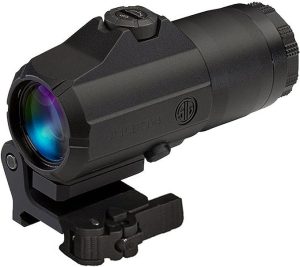 As one of the best red dot magnifiers, Sig Sauer Juliet 4 Magnifier comes with all the modern features you would expect. It is a 4x red dot magnifier that covers close and medium range targets and works with virtually all red dot sights, not just models from Sig Sauer.
This red dot magnifier is made with user convenience in mind. It has a quick release mount for easy installation and removal from the firearm. Moreover, its height is adjustable using the included spacers to accommodate users of different height. It also features a compact and lightweight design to ensure that it doesn't add any extra bulk on the firearm.
Solid construction is another facet that makes this product stand out. It has aircraft grade CNC aluminum housing to ensure a lifetime of reliable service. The housing is shock proof and IPX-8 rated to be waterproof and submersible in 20m for up to 1 hour.
Over and above that, all Sig Sauer Juliet 4 Magnifiers are built with dielectric coated prisms which provide clear views in all light settings. A PowerCam 90 degrees mount is also included for pivoting the magnifier on the side when not needed.
Features
Aircraft grade aluminum housing
IPX-8 waterproof rating
Dielectric coated prism
Front thread-in lens protector
Quick release mount
PowerCam 90 degrees mount
Adjustable height
4x magnification
Pros
Rugged construction
Clear glass
Adjustable height
Large field of view
Cons
6) Leapers UTG 3x Magnifier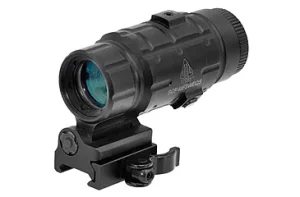 Leapers UTG 3x Magnifier is the best red dot magnifier for budget buyers. It is a low-budget red dot sight magnifier that is designed with modern features to complement your red dot sight and increase your success in the shooting range.
This magnifier offers a flip to side mechanism that allows you to transition between 1x and 3x magnification with ease. It provides a significantly large field of view for easy target finding, monitoring and acquisition. Moreover, it is built with multi-coated lenses which provide a stellar point of aim in any background.
Weighing a mere 11.8oz, this red dot magnifier is lightweight, portable and easy to mount and dismount. It has windage and elevation adjustability for optimal view centering and an adjustable eyepiece that enables fast and easy dioptric correction.
And that's not all. The Leapers UTG 3x Magnifier is precision machined and anodized for maximum strength and wear resistance respectively. It is also fully sealed and nitrogen filled to provide a lifetime of reliable waterproof and fog proof protection.
Features
Broadband multi-coated lens
Adjustable eyepiece
Fully waterproof and fog proof
Wide field of view
Adjustable windage and elevation
Flip to side mechanism
Anodized finish
Quick detach lever lock mounting base
Robust aluminum construction
Pros
Lightweight
Budget friendly
Excellent fit and finish
Simple installation
Cons
7) SightMark T-5 Magnifier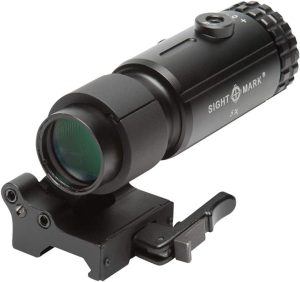 SightMark T-5 Magnifier, marks our seventh and last pick of the best red dot sight magnifiers. It is built for shooting versatility and comes with all the features you need to boost your speed of target acquisition and fine-tune shooting precision.
The selling point of this red dot magnifier is durability. It has a shockproof aluminum construction that is able to hold up to any abuse. Additionally, it has IP55 water resistant protection for unimpeded field use.
As outstanding as the build quality is, so is the optical features. Brightness, clarity and resolution are improved by the fully multi-coated optics which fight glare and enhance light transmission. Other than that, this optic has 5x magnification to increase engagement range out to 200 yards.
When it comes to setup, the magnifier comes with a locking, quick detach mount. It makes the installation and removal process quick and straightforward as well. Besides, the magnifier is also outfitted with external windage and elevation adjustment for reticle alignment.
Features
IP55 water resistance level
Absolute co-witness
Fully multi-coated lens
5x magnification
Flip to side quick detach mount
Aluminum housing
Matte finish
Pros
Inexpensive
Clear, quality glass
Easy to install
Good build quality
Cons
Slightly heavy
Short eye relief
Read Also
How to Choose a Red Dot Magnifier – Buying Guide
Choosing a red dot magnifier is not something you do in a whip. Here are the most important factors you should consider when making your selection.
Compatibility
This is the first thing to take into account. Ensure that the model you choose is compatible with your existing red dot sight. Check for features such as mounting system, overall design and tube diameter when making your selection.
Build Quality
The next important thing to consider is the build quality of the red dot magnifier. Models made from high-grade and hard-wearing materials are preferable as they offer longer lasting durability. These materials include magnesium alloy and aircraft quality aluminum. The best red dot magnifiers should also be waterproof, fog proof and shock proof.
Field of View
In red dot sight magnifiers, the field of view varies from one product to the other. Evaluate the total field of view that each magnifier presents and opt for a model with the largest field of view possible. It will help you find targets with ease and maximize your overall glassing comfort.
Magnification
It is also important to consider the magnification level the magnifier provides. Generally, red dot sights magnifiers offer 2x, 3x, 4x and 5x magnification. Take into consideration your shooting requirements as well as the preferred shooting range and settle for a model with the ideal magnification power.
Optical Quality
The best red dot magnifiers employ high-quality glass elements such as ED and UHD. With such glass, the magnifier provides stunning resolution and superior color accuracy. It also important for the magnifier to have multi-coated or fully-coated optics to fight glare and enhance light transmission.
FAQs
Can I use a red dot magnifier in low light?
Yes. Red dot magnifiers can be used in various lighting conditions, including low level light settings. However, in dismal environments, the effectiveness of the magnifier will depend on the quality and performance of the red dot sight itself.
Are red dot magnifiers worth it?
Absolutely. Using a red dot sight together with a magnifier is key to extending your shooting range and maximizing your overall shooting performance. A magnifier is also essential for accurate target identification as it increase the contrast between targets and the background.
Conclusion
Finding a quality, versatile and reliable red dot magnifier is easy when you are well informed of the features that you should be looking for. Each magnifier we have mentioned in our post above is rich in features that you need to optimize your red dot shooting performance. Whichever model you end up buying, we are hopeful that you have found this article to be insightful.