If you are an ardent hunter, having a quality pair of hunting gloves is important. When you are out in the hunting field, keeping your hands dry, warm depending on the hunting season and protected from thorns and tree branches that cause cuts and bruises is important to having a more rewarding hunting trip.
Today, hunting gloves are arguably the most necessary accessory for hunters regardless of the gender and the type of game that you hunt. However, choosing the right pair is easier said than done. That's because the market is flooded with so many hunting gloves that choosing the right pair for your needs can be daunting and time-consuming.
If you have been searching for the best hunting gloves to no avail, we are here to help. In this post, we are going to take you through the best hunting gloves available on the market today. We also have a detailed buying guide on how to choose the right pair of hunting gloves to help ensure that you make an informed buying decision.
With all that said, let's get started.
8 Best Hunting Gloves – Our Top Picks
1) North Mountain Gear Lightweight Touchscreen Camouflage Hunting Gloves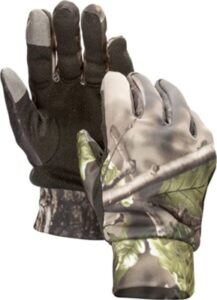 The North Mountain Gear Lightweight Touchscreen Camouflage Hunting Gloves are by far the best hunting gloves available on the market currently. Designed for performance, these gloves will help you hunt like a pro in any environment.
The gloves use Sure Grip textured palms which ensure that you keep a firm grip on your bow or hunting firearm even in the thick of it. It also has a photo realistic camouflage pattern that helps keep you inconspicuous when hunting in thick woodlands. Furthermore, the glove is water resistant to keep your hands dry all the time.
Another feature that makes this pair of hunting gloves to stand out is the one size fits most design. They are made from 94% polyester and 6% spandex which promotes comfortable and secure fit around the palms, wrist and fingers for nearly all users. Additionally, there is a soft lining that adds on comfort and with the lightweight design, you can wear them comfortably all day long.
Best of all, the glove's thumb and index finger tips are designed to be smartphone touchscreen compatible.
Features
Water resistant
Photo realistic camo
Sure Grip palm
Light padding for added comfort
Soft lining
Smart touch thumb and index finger tip
Ambidextrous hand orientation
Pros
Easy on the wallet
Lightweight design
One size fits most
Good grip
Smooth seams on fingers
Cons
The wrist is a little loose
2) EAmber Camouflage Hunting Gloves Full Finger/Fingerless Gloves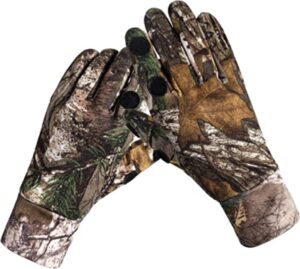 This camo glove is made for nearly any hunting application. When you put it on, it feels ultra-soft and light thanks to the soft and breathable material it is made with. Besides, you can pick a pair that comes with a fleece lining to help keep your hands warm when hunting in cold seasons or one without fleece for autumn and spring hunting seasons.
The glove has an elastic wrist made of stretch polyester. This makes it easy to put on and take off. It will also provide a more secure fit even in the most rigorous hunting expeditions. Furthermore, the glove has a fingerless design for thumb and index finger. This design gives you the flexibility to use your phone and any other device without taking the gloves off.
To top it all, the glove has an anti-slip palm mesh design that makes the grip firmer and simpler.
Features
Unique fingerless design
Ultra-elastic soft polyester fabric
Anti-slip palm and finger design
Ambidextrous hand orientation
Two sizes to pick from
Elastic wrist
Pros
Lightweight and easy on and off
Soft, breathable and ultra-cozy
Ideal for multiple application not just hunting
Affordable
Great texture
Cons
3) SEALSKINZ Unisex Waterproof All Weather Hunting Glove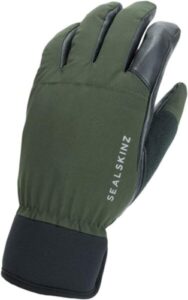 The SEALSKINZ Unisex is a rugged and waterproof hunting glove ideal for use in any environment. It offers the ultimate control with a balance of warmth, comfort and breathability.
Made with all hunters in mind, the glove features a zero liner movement that provides excellent control. Besides, the palm and trigger are made of sheepskin which not only enhances durability, but also enables secure grip for precise control.
The glove also features pre-curved fingers for added control and a CoolMax anti-slip liner for maximum dexterity.
Features
Waterproof construction
CoolMax anti-slip liner
Sheepskin palm and trigger
Pre curved fingers
100% other fibers fabric
Pros
Rugged and durable make
Waterproof
Comfortable and warm
Secure, anti-slip grip
Cons
4) Favuit Camo Hunting Gloves Lightweight Pro Anti-Slip Shooting Gloves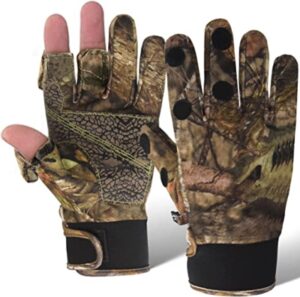 When it comes to versatility, the Favuit Camo Hunting Gloves are hard to beat. They can be used in different scenarios like hunting, shooting and archery among others.
The gloves are made of 100% polyester, a fabric that is ultra-light yet durable and breathable. They also have a tacky rubber coating on the palm that provides an anti-slip grip and a three-finger adjustable design for greater versatility.
Moreover, the glove has a comfortable and stretchy wrist for easy on and off. The wrist has an adjustable strap at the bottom that you can adjust to fit your hand securely and snugly. Additionally, the cuffs are well-stitched so they don't loosen with time for greater durability.
These gloves are also fully waterproof to keep your hands dry and cozy and are suitable for both genders.
Features
Adjustable wrist strap
Waterproof fabric
Mesh interior thumb
Tack rubber coating on palm
Extended adjustable cuff to fit every palm
Three-finger adjustable design
Pros
Lightweight and breathable
Easy on and off
Ideal for both men and women
Suitable for multiple applications
Cons
5) Under Armour Men's Hunt Early Season Fleece Gloves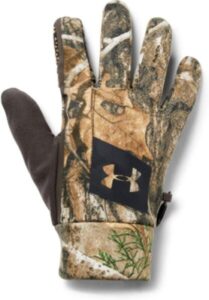 Next up is the Under Armour Men's Hunt Early Season Fleece Gloves. Having this pair of gloves as a hunting accessory will not just keep your hands cozy and warm, but also shield them from thorns, wind and weather elements.
They are ultra-comfortable, durable and perfect for early season deer and turkey hunting. Made from 90% polyester and 10% elastane, the gloves are light as feather, quick drying and comfortably warm. They also posses an UA Storm technology that repels water without sacrificing the durability or breathability.
Furthermore, the gloves have an extra soft Speedwipe fleece put on the back of the index finger and thumb to add on comfort. They are also equipped with a convertible trigger finger and thumb to ensure that you have a better feel and control.
Last but not least, this pair of gloves has a Tech Touch print of the thumb and fingers so you can use a touch screen device without taking it off.
Features
Hydrophobic UA Storm technology
90% polyester and 10% elastane fabric type
Soft Speedwipe fleece
Tech Touch print of the thumb and fingers
Convertible trigger finger and thumb
Pros
Lightweight and breathable
Waterproof
Quick drying
Machine washable
Cons
6) North Mountain Gear Mossy Oak Camouflage Hunting Glove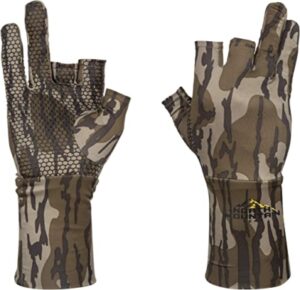 If you are looking for the best turkey hunting gloves, look no further than the North Mountain Gear Mossy Oak Camouflage Hunting Glove. Made with the turkey hunter in mind, the glove is designed to provide a comfortable and secure fit so you don't lose that critical shot.
Featuring Sure Grip textured palms, the glove will provide a firm grasp on your bow or rifle even in the most unfavorable hunting environment. Furthermore, it is designed to keep your palm and fingers cool and cozy in warm temperature seasons and the photo realistic camouflage is perfect for the US woodlands in virtually all seasons.
Though these gloves are one size fits most, they are recommended for a men's medium and up. Construction-wise, they are made of 94% polyester and 6% spandex to enhance a snug fit around the wrist, palm and fingers. These lightweight gloves also have an ultra-soft lining for added comfort and an extended cuff to keep the bugs out.
Features
Sure Grip textured palms
One size fits most
Ultra-soft lining
94% polyester and 6% spandex fabric
Extended cuff
Ambidextrous hand orientation
Pros
Simple and lightweight design
Affordable
Good grip with a natural feel
Great for both bow and gun
Cons
7) HOT SHOT Youth Boy's Camo Defender Glove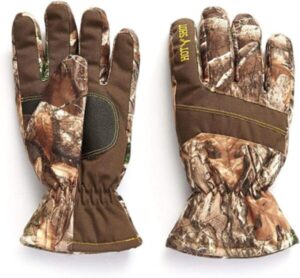 As one of the best hunting gloves, the HOT SHOT Youth Boy's Camo Defender Glove is designed to keep your hands warm and cozy without adding any unnecessary extra weight.
This pair of gloves is a perfect accessory for outdoor enthusiasts who enjoy hunting in any weather condition. It is made of 100% polyester that is durable, breathable and lightweight. It also has a RealTree design that blends perfectly into the hunting surroundings no matter the season to help you stay inconspicuous.
Furthermore, these gloves have an insert that provides added protection from rain, snow and wet weather. This really helps keep your palms and fingers dry in cold winter conditions. It also has an anti-slip grip palm patch to help you hold the hunting gear securely and pre-curved fingers that ensure both your right and left hand stay mobile and comfortable.
Features
Double row elasticized wrist
Non-slip palm patch
100% polyester fabric
Waterproof construction
RealTree design
Insulated to keep your hands warm
Pros
Comfortable and warm
Good texture
Great quality
Easy on and off
Cons
8) DecoyPro Decoy Gloves – Elbow Length Duck Hunting Camo Gloves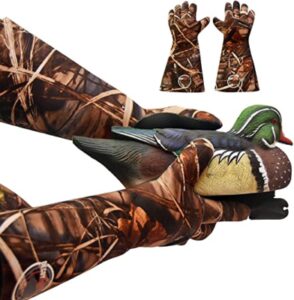 Lastly, we have the DecoyPro Decoy Gloves. These elbow length camo gloves are some of the best duck hunting gloves available on the market today. They are well-built for a fraction of the price without cutting corners on quality and durability.
These decoy gloves have a large cuff opening which makes them easy to put on and remove. The waterproof fabric keeps your hands warm and dry while hunting and with the textured palm design, you can have a secure hold of your hunting gear every time.
More importantly, these duck hunting gloves have a thick 5mm insulated lining to keep your hands cozy and warm. The arm length design is also helpful in that you can fit the gloves over your jacket or any other clothing for an ergonomic and comfortable fit.
Features
Soft insulated lining
Elbow length design
Waterproof fabric
Textured grip surface
Large cuff opening
Camouflage color
Pros
One size fits many
Lightweight
Excellent waterproof capabilities
Easy to put on and take off
Affordable
Cons
Can be slightly large compared with other decoys
Read Also
Factors to Consider when Choosing the Best Hunting Gloves
Gloves can look like a simple hunting accessory, but finding the right pair is important to having a great day in the field. Below are some of the important factors you should consider when making your selection
Intended Usage
Different hunts call for different hunting gloves. The gloves that are ideal for turkey and deer hunting are different from those needed for duck hunting.
Before you settle on a particular pair of hunting gloves, start by identifying the type of hunting expedition you purpose to use it for. This will help you get the most out of your hunting trip.
Comfort and Fit
Ensure that you pick gloves that provide a fit that is not just secure, but also comfortable. If the glovers are uncomfortable and loose fitting, you will keep on adjusting them while you are in the hunting field. This is not just frustrating, but it can also take the attention away from the target and you end up losing it.
Different manufacturers have different sizing for their glovers so you can measure and find the right size for your hands.
Materials
The right glove material largely depends on the intended usage. For duck hunting, the gloves should be made from a material that is fully waterproof to keep your hands dry. On the other hand, turkey, deer and big game hunting calls for a glove that is made from high-quality and breathable material.
Dexterity
If you can't use your fingers in the normal way, you will have a hard time taking down any game be it a deer or elk. Therefore, ensure that the gloves you choose are designed to allow ample movement of your fingers so you can shoot freely.
Breathable
Hunting gloves made with breathable materials are the best. Even if the gloves are waterproof, breathability can help keep the hands cool and comfortable. The last thing you would want is to have clammy and sweaty hands that can lead to placing shots poorly.
Weight
The best hunting gloves are lightweight and comfortable to wear all day long. If the gloves are bulky, they can interfere with both your movement and the way you shoot. So, whether you are a turkey, deer, elk or duck hunter, ensure that the gloves you pick are lightweight. Light gloves also have the added advantage of being easy to put on and remove.
Benefits of Hunting Gloves
Keeps your hands warm. A good pair of hunting gloves will keep your hands warm, dry and snug when hunting in unfavorable weather conditions.
Extra protection from cuts and bruises. Glover can help keep your fingers and palms from thorns and trees that can cause cuts and bruises.
Keeps your hunting firearm steady. Hunting gloves will help you keep your hunting gun steady in any situation. This can help you take shoots more accurately and with greater ease.
Camouflages your shooting position. Gloves can help reduce glare and provide additional camouflage for your hands in hunting environments that have limited visibility.
Best Hunting Gloves FAQs
What are the best gloves for hunting?
The best gloves for hunting are those that meet your needs. There are so many hunting gloves out there that is it hard to say that there is a specific pair that works for every hunter out there.
How tight should hunting gloves be?
You will want them to fit securely like a second skin, however not too tight to be uncomfortable. Your hands should feel relaxed at all parts and there should not be any discomfort or hot spots even when you wear them for a prolonged period of time.
Are hunting gloves necessary?
Absolutely. Gloves are important for every hunting expedition. They can help keep your hands warm during cold hunting seasons without getting in your way. A good pair of hunting gloves will also protect your palm and fingers from bruises and help camouflage your hunting position.
Final Thoughts
Hopefully, this post has given you the information you need about the best hunting gloves. Keep in mind that the intended usage plays a big role in determining the pair of gloves you should select. Use this guide to find a set of hunting gloves that matches your hunting tactics, style and needs, and use them to make your next hunting trip a pleasant and successful one.