Searching for the best thermal scope for AR-15? You are in the right place. In this post, we will cover some of the best thermal imaging rifle scopes suitable for use with the AR-15.
Hunting at night is fun, but it is no mean feat. To improve your poor vision when the sun has set, you should invest in a thermal scope. A thermal imaging scope will help you see targets clearly through the dark, improve your shooting precision and also increase your situational awareness when you are looking for game in bushy and unfamiliar terrain. The right thermal scope will also go a long way to optimize the performance of your AR-15 and open for you a world of opportunities.
However, finding the best thermal scope for your AR-15 is easier said than done. With the modern advancements in the field of optics, the market is now flooded with thermal imaging scopes. This makes it quite overwhelming to make a selection. But we are here to help you out.
We have done our homework and made this list on the best thermal scopes for AR-15 for you to choose from. Without much ado, let's jump right in.
7 Best Thermal Scope for AR-15
1) ATN Thor 4, Thermal Rifle Scope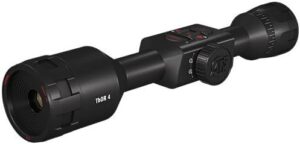 The ATN Thor 4 is a no non-sense thermal imaging rifle scope built to offer consistent and reliable performance in any lighting or weather condition. It also harbors an array of high-quality features that make it the best thermal scope for AR-15.
The scope is made with all hunters in mind, beginners and professionals alike. It is easy to use and quick to learn how to operate for beginners. Furthermore, it is equipped with a ballistic calculator to help you determine the exact ballistics for long range shots, so you are improve your overall shooting precision.
Another feature that makes the thermal scope shine is the ultra-sensitive next gen sensor it employs. This sensor provides improved resolution, higher sensitivity even in cold conditions and smooth gradations in pitch dark conditions. This will help you pick thermal signatures of targets hiding behind thick cover and also ensure fast viewing.
Moreover, the scope looks and feels like a traditional optic. It is easy to mount using standard mounting rings and simple to detach as well. It also features an ultra-low power profile which provides more than 16 hours of non-stop operation when the battery is fully charged.
Features
Ultra-sensitive next gen sensor
Dual stream video recording
Ultra-low power profile
Ballistic calculator
Multiple reticle patterns
Recoil activated video
Bluetooth connectivity
Smart rangefinder
Pros
Good eye relief
Easy to set up and install
Simple to operate
Built to last
Cons
Difficult to zero
Expensive
2) Trijicon Electro Optics IR-HUNTER 2 60mm Thermal Rifle Scope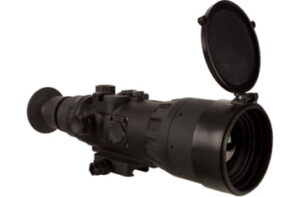 Built with an advanced thermal technology, the IR-HUNTER 2 60mm Thermal Rifle Scope from Trijicon will help you push your AR-15 to its full potential. It is equipped with a powerful 640×480 sensor which produces incredibly pristine images, even in the darkest nights or in cold environments.
The optical performance of the scope is impressive. It features an incredibly efficient 60 Hz refresh rate for fast imaging and a massive 60mm lens which provides a large field of view. It also comes with new and improved rotary knobs to ensure quick response and reduced lag.
When it comes to construction, the scope is built to be virtually indestructible. It is designed, crafted and tested to MIL-STD-810G. This guarantees longevity and durability no matter the field conditions you use it in. It also come with a high-capacity battery which provides up to 10 hours of continuous use when fully charged.
Features
640×480 resolution
Manual focus adjustment
60 Hz frame rate
60mm objective lens
Rechargeable battery
Pros
Pristine thermal images
Solid construction
Great battery life
Cons
3) Burris BTS 50 3.3-13.2x50mm Thermal Rifle Scope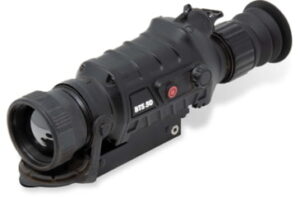 If you are looking for a thermal imaging rifle scope that will put you in control of your hunting, you have found it in the Burris BTS 50 3.3-13.2x50mm thermal scope. The scope mounts easily to any Picatinny and is easy to operate with one hand only.
Built with an integrated stadia metric rangefinder, the scope provides accurate measurements of how far the target is in any environment. This way, you are able to plan the shot and increase your chances of making an ethical kill. The scope also comes with 10 reticle options with 7 color palettes for you to customize your shooting experience and adjust the contrast and brightness depending on the lighting condition.
Another outstanding facet about the scope is the hot track technology. When activated, it moves the tracking box to the area with the highest temperature readings and increase your reaction time in the field.
Lastly, you can use the scope to record your hunting expeditions and later share them with your family and friends, thanks to the built-in video recording.
Features
High resolution screens
Stadia metric rangefinder
Hot track technology.
Adjustable brightness and contrast
Manual focus
Multiple color palettes
10 reticle options
50Hz refresh rate
Pros
Intuitive, one-hand operation
Lighting fast refresh rate
Easy to operate
Stunning image quality
Cons
Short eye relief
Suitable for short and medium range hunting only
4) AGM Rattler TS25-384 Thermal Imaging RifleScope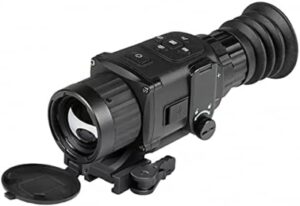 Next on our list of the best thermal scope for AR-15 is the AGM Rattler TS25-384 Thermal Imaging Riflescope. This compact thermal rifle scope is you ideal option if you are looking for a model that is designed for 24 hours operation under any weather condition.
It is equipped with a 384×288 thermal detector ideal for short range hunting and medium range missions as well. It also comes with a 50Hz refresh rate for speedy imaging and a 1024×768 OLED monitor which provides crisp clear images in harsh environments and obstacles such as smoke, dust, snow and camouflage.
With a weight of 0.91lb/0.41kg only, the scope is light enough to disperse heavy recoil effectively and be easy to carry around. It is also designed to support 1x, 2x, 4x and 8x digital zoom to ensure swift target finding.
Above all, you can use it as thermal rifle scope on your AR-15 when hunting or as handheld monocular during surveillance and patrols.
Features
8x digital zoom
384×288 thermal resolution, high sensitivity detector
Image processing technology
Crisp clear OLED display
Built-in video recording and snapshot
On board Wi-Fi module
Pros
Easy to sight in
Excellent clarity
Lightweight design
Batteries included
Cons
5) ATN Thor LT Thermal Rifle Scope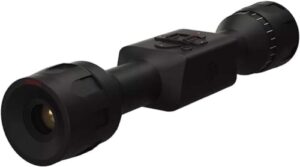 The ATN Thor LT Thermal Rifle Scope is your ideal option if you are on a budget. Unlike other thermal scopes that come with hefty price tags, this model is different. It is reasonably affordable, yet quality and durable.
With a mere weight of 1.4lbs, the scope is lighter than most of the average scopes.  The light design will help keep the rifle balanced and make your hunting expedition less cumbersome. Besides, it employs One Shot Zero which makes sighting it in a walk in the park. It is also easy to attach to any rifle using 30mm rings.
The scope is designed to help you see your targets clearly in pitch-black darkness or through obstacles such as dense fog, smoke and heavy vegetation. This is thanks to the advanced heat detectors that also work in temperatures ranging from -28°C to 48°C.
Moreover, the scope is built to last. It is made of hardened aluminum alloy which is rigid enough to stand up to recoil, impacts and whatever you subject it to. It is also weather resistant for use in all weather conditions.
Features
One Shot Zero function
Advanced heat detection sensors
Multiple reticle patterns
3D accelerometer
Rechargeable battery
Weather resistant
Robust aluminum housing
Pros
Easy to mount
Lightweight
Long battery life
Generous eye relief
Lighting fast 60Hz sensor
Cons
No video recording
No Wi-Fi/Bluetooth connectivity
6) Pulsar Thermion Thermal Riflescope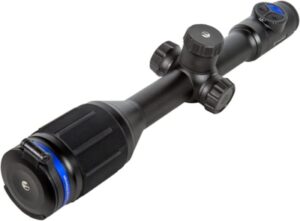 The Thermion XG50 3-14×42 Thermal Riflescope is your go to optic if you are looking to take your hunting skills to the next big level. This high-end optic is built to meet and surpass the needs of every modern hunter out there.
The scope delivers an unmatched 2,400m thermal detection range in a crisp clear 1024×768 AMOLED display. It is also equipped with a powerful 8x digital zoom and Picture-in-Picture which makes it ideal for hunting varmints, hogs and big game in any environment.
If you like to capture and preserve all activities from your hunting trips, this thermal scope has you covered. It has a built-in recording with audio as well. Even better, you can easily share the recordings with your family and friends via Wi-Fi.
Another facet that makes this scope stand out is its durability. It is recoil rated up to 6,000 Joules to ensure flawless performance when you are using high caliber rounds. It also has an IPX7 waterproof rating to ensure unimpeded use in all weather conditions.
Features
Crisp clear 1024×768 AMOLED display
Built-in recording with audio
BAE sensor with multiple color palettes
Customizable reticle options
Picture-in-Picture
Wi-Fi connectivity
IPX7 waterproof rating
8x digital zoom
Pros
All-weather reliability
Large field of view
Three-year warranty
Fast 50Hz refresh rate
Cons
7) Pulsar Trail 2 LRF Thermal Riflescope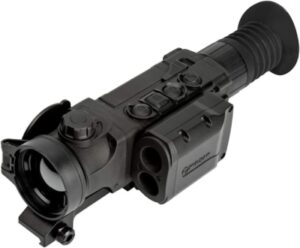 Lastly, we have the Pulsar Trail 2 LRF Thermal Riflescope. If money is not an object for you, go for this thermal scope. It is built with an array top-notch features that deliver superior performance day and night, in any weather condition.
The scope is equipped with a built-in laser rangefinder to help you measure the size and distance to the target. It is able to measure the distance of targets up to 1,000m with ±1 yard accuracy. Besides, this rangefinder is designed to take the measurements in two modes: single time measurement and scanning.
With the 640x 480 sensor, this thermal scope detects heat signatures even when the target is hiding behind cover. Couple this with the variable 2.1-8.4x magnification and you are guaranteed of quick target finding and acquisition, even at extended ranges.
Other essential features included are Picture-in-Picture mode and remote control, in addition to IPX7 waterproof protection and built-in video & sound recording.
Features
50Hz refresh rate
2-16x variable magnification
IPX7 waterproof protection
Highly-sensitive 640 x 480 thermal sensor
Picture-in-Picture mode
Built-in video & sound recording.
Integrated laser rangefinder
Pros
High recoil resistance
Ideal for short to long range hunting
Battery included
Crisp clear image views
Cons
Read Also
Criteria for Choosing the Best Thermal Scope for AR-15
When shopping for the best thermal scope for AR-15, here are the key factors you should take into account before you settle on any product.
Magnification
Just like in traditional rifle scopes, the magnification in thermal rifle scopes varies from one product to the other. Generally, the magnification power ranges from 1x to 16x for you to pick one that is best for your needs.
The magnification that you pick will largely depend on whether you are looking to use the scope for short or long-range applications. The further you plan to shoot, the higher the magnification the scope should have.
However, if you plan to use the scope for short to medium ranges up to 200 yards, go for moderate magnification power as too much magnification will be an overkill.
Resolution
The resolution of a thermal scope can make or break your shooting or hunting trip. When making your selection, consider both the thermal resolution and display resolution of the scope as the two go hand in hand.
Detection Range
The next facet you should take into account is the thermal scope's detection range. This is the maximum distance you can see a target clearly after the scope detects the body heat it produces. Some high-end thermal scope has a long detection range up to 4,000 yards which is more than sufficient for hunting, surveillance and patrol.
Durability
Thermal rifle scopes are not cheap. You will therefore want to spend a big amount of money and get a product that will last for ages. Look at the construction quality of the scope and pick one that is built to last. Also make sure that the scope you get is recoil resistant to withstand the recoil the AR-15 produces.
Refresh Rate
The next thing you should consider is the scope's refresh rate. Refresh rate is very important especially when you are hunting fast-moving game like hogs and foxes. The best thermal scope for AR-15 comes with a refresh rate of 50Hz or more. With such a speedy refresh rate, you will have smooth image views of the target in any situation.
Weight
Try and look for the lightest thermal imaging rifle scope possible. Usually, a heavy scope is cumbersome to carry around, especially when hunting. It can also interfere with the balance of your rifle and affect is accuracy.
Weather Resistance
Lastly, look for a thermal scope that is built to be operable in all weather conditions. The lens of the scope should be protected from dust, moisture and heat to ensure unimpeded field use. Also, the scope has to be fog proof to keep the lenses clear in all environments.
How to Zero a Thermal Scope
Zeroing a thermal imaging rifle scope is almost similar to zeroing a traditional rifle scope, along with adjusting windage and elevation.
When you have bought the thermal scope, you should start to zero it in at closer distances, compared to the distance you zero in a traditional scope. Here are some easy steps to follow.
Place the first shot with the aligned reticle at the middle of the target. Generally, it takes a single shot to align the reticle to a rifle, and the point of impact should be visibly clear.
Adjust the reticle while being careful not to move the rifle until the reticle reaches the tip of the point of impact precisely.
After that, zero it in every 50 yards until you reach an ideal range, then customize the settings to match your preference.
Save the reticle position and take another shot.
If the shot hits a dead center target, you have successfully zeroed your thermal scope.
FAQs
Can you use a thermal scope during the day?
Yes. A thermal scope is safe to use during the day and in the dark as well. Though it can be tricky to use a thermal scope during the day, especially when the temperatures are high, it is still possible to find the target and get a clear shot.
Can you see through fog with a thermal scope?
Yes, you can see through fog with a thermal scope. A thermal scope will also help you see through other obstacles like smoke, rain, mist, snow and dust storms, not just fog.
How far can a thermal scope detect?
It depends on the detection range the scope is built with. For most budget thermal scopes, the detection range varies from 900 to 1,000 yards. On the other hand, the detection range in high-end thermal scope is higher with some models offering a detection range up to 4,000 yards.
Do I need a thermal scope for night hunting?
Yes. Thermal scopes make valuable rifle accessories when it comes to hunting nocturnal game such as coyotes, hogs, foxes and other predators. They provide impeccable target acquisition in the dark and also help increase your situational awareness.
Conclusion
A thermal scope that is well made will help you find and acquire targets with ease in typical nighttime environments. All the scopes we have mentioned above are perfect for use the AR-15 rifles. Examine your hunting habits, needs and your rifle's specifications, then pick the scope that works best for you.