Are you looking for the best tripods for spotting scopes? You have come to the right place. We have put up this tripods buying guide to help you navigate different options when looking to buy one for your spotting scope.
A spotting scope tripod is one of the most important items that make an optics regimen complete. Whether you use your spotting scope for birding, target shooting, hunting, astronomy, wildlife watching or ocean viewing, a tripod is an essential tool to have.
Getting a tripod that is dedicated to your spotting scope will guarantee stable views of targets irrespective of the outdoor activity you are engaged in. A tripod also takes the weight of the spotting scope off your hands to make your observation sessions comfortable and worthwhile.
While some spotting scopes come with tripods, it is best to buy a tripod separately as they are more durable and well built. But with so many tripods out there, the selection process becomes a daunting task. Luckily, we are here to help.
In our post today, we have put up a list of the best tripods for spotting scopes available on the market today. We also have also put up a comprehensive guide on what you should look for when making your selection.
7 Best Tripods for Spotting Scopes
Without wasting any more time, let's get started.
1) Manfrotto MT190CXPRO4 Carbon Fiber 4-Section Tripod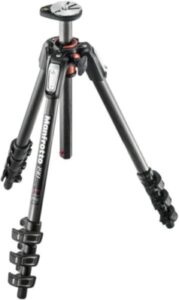 First up, we have the Manfrotto Carbon Fiber 4-Section Tripod. This tripod is constructed with quality materials to last long and harbors a multitude of quality features that make it one of the best tripods for spotting scopes.
It has a load capacity of 15.4lbs and a maximum height of 68.1". With the high weight capacity, the tripod is a good choice for virtually all spotting scopes irrespective of the weight or size. Besides, the adjustable height makes it a good choice for users of different height, while the  4 leg sections with user selection of four angles enhance stability in uneven ground or rough terrain.
Another feature that makes this tripod outstanding is that it is made with ease of use in mind. It has a Quick Power Lock System for speedy setup with just one hand. After use, the tripod is easy to fold down into a compact 20.6" size for easy transportation. It also has an ultra-lightweight design for easy carrying in the field.
Other convenience features included are a bubble level that guides you when you are setting up the tripod and an easy link plug that allows for instant connection between tripod and accessories such as LED lights.
Features
Quick power lock for legs
Individual leg-angle settings
Rotating levelling bubble
Leg angle selectors
Patented 90° column
4lb load capacity
Pros
Unlimited levelling
Expanded possibilities
Lightweight design
Fast to set up
Solid construction
Cons
2) Vortex Optics Ridgeview Carbon Tripod Kit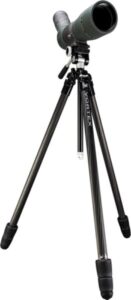 In the field of optics, Vortex is a renowned and highly respected brand. It has a reputation of making premium quality optics and accessories, and the Ridgeview Carbon Tripod is not any different.
This tripod is made to set new standards in stability and ensure that you have a great time using your spotting scope at higher heights. It has a 22-pound load capacity that makes it ideal for use with nearly all spotting scopes as well as other similar gear like binoculars and heavy cameras.
Regarding construction, the tripod is made to last. It has carbon fiber legs which reduce the overall weight without sacrificing on strength and stability. It also boasts rubber feet to ensure solid and secure footing in different surfaces, and a removable counterweight hook where you should mount weights to add stability and reduce vibrations.
Moreover, this tripod has a 2-way pan head which you use to pan and tilt the spotting scope to find and track the targets at all elevations. It also brings to the table an Acra-type compatible quick release plate that makes setup and breakdown a walk in the park.
Features
Three leg section with center column
22lb payload capacity
Strong carbon fiber legs
Pan/tilt head with control handle
3" to 73.8" adjustable height
Removable counterweight hook
Rubber feet
Pros
Lightweight and sturdy construction
Compatible with a wide range of optics
Easy to set up and breakdown
Compact size when folded
Sturdy and stable
3) Carson TriForce Series 3-Way Fluid Panhead Tripod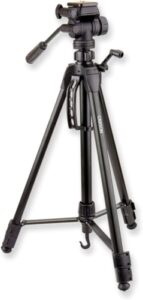 When it comes to versatility, it is hard to go wrong with the Carson TriForce Series 3-Way Fluid Panhead Tripod. It is ideal for use with nearly all kinds of optics as well as video cameras and DSLRs where it provides a portable yet sturdy and stable platform.
With a payload capacity of 6.6 pounds, this tripod is sturdy enough to accommodate even the large sized spotting scopes. It also comes with a quick-release plate that makes setup and breakdown quick and easy, and a 3-way pan/tilt head that rotates all round.
To ensure proper leveling, the tripod is built with two bull-eye bubble levels. Each of the leg's three section is also  independently adjustable using easy snap locks to ensure that you set the height correctly and has non-slip rubber feet to ensure secure footing on virtually all surfaces.
Further, there is a hook on the bottom of the column that you can use to hold your bag off the ground or add weight to reduce vibrations and add stability. It also has a lightweight design for easy portability.
Overall, it makes a great tripod for hunting, birding, photography or Digiscoping.
Features
Geared elevator with weight hook
Two bulls-eye bubble levels
Non-slip rubber feet
Three snap-locking leg sections
360° pan, 165° tilt with lock
6 pounds payload capacity
Quick release plate
Pros
Versatility
Lightweight design
Easy to setup and breakdown
Decently priced
Cons
The rubber feet fall off over time
4) Bushnell Advanced 61 in Tripod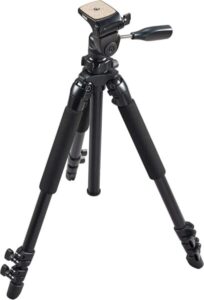 As one of the best tripods for spotting scopes, the Advanced Tripod from Bushnell is all you need to glass comfortably and get the most out of your spotting scope. It has a lightweight design for easy carrying in the field and an adjustable height to accommodate users of different heights.
This full-size tripod features three separately adjustable leg angle settings which allow for expansive height range. Each leg has a rubber foot to provide a sure and secure footing even in uneven terrain. It is also padded with foam to enhance comfort when you are carrying it on your shoulder and ensure easy setup in extremely cold or hot weather conditions.
Furthermore, the tripod is made to offer unmatched durability. All the three legs are made of sturdy aluminum which guarantees longevity and durability. It also comes with a large mounting platform and 3-way pan/tilt head to let you rotate the spotting scope in different angles.
Features
Rubber leg feet
Sliding center column with tension control
Sturdy and durable aluminum legs
Adjustable leg angle settings
3-way pan/tilt head
Pros
Large mounting platform
Locking legs
Heavy duty construction
Lightweight design
Cons
5) Zeiss Professional Tripod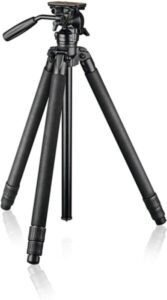 Our next tripod recommendation for spotting scopes is the Zeiss Professional Tripod. This is a variable-height, carbon-fiber tripod designed for use with Zeiss series of binoculars and spotting scopes.
It comes as a full kit that includes a pan and tilt head to ensure smooth movement of the optic when you are tracking objects in different angles. When fully adjusted, the tripod has a maximum height of 72.4" to accommodate users of different heights. You can also change the viewing position and use it when kneeling or seated by lowering the height up to 24.8".
Moreover, this tripod has a 3-section design that makes it compact and portable. With a length of 27.5" and a weight of 5.4lb, it is easy to carry in the field and much more convenient to pack during transportation or during storage when it is not in use.
Another highlight of this tripod is the dual lock design for the pan and tilt head. This gives you the flexibility to control the pan and tilt controls separately and prevent accidental adjustment. Besides, the tripod is very easy to set-up and break down for added convenience.
Above all, each leg features a top section that is wrapped in padding to provide a soft cushion when you are carrying it on your shoulder.
Features
Rapid center column
Padded legs
Pan and tilt head
Twist locks
3-section design
Carbon fiber legs
7lb load capacity
Quick release clamp
Pros
Compact and lightweight
High build quality
Easy to set up and break down
Padded legs
Cons
6) Celestron 82050 TrailSeeker Tripod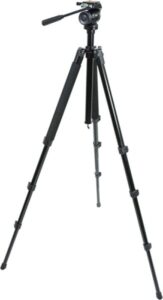 Celestron TrailSeeker tripod is one of the best tripods for spotting scopes for the budget buyers. It has a load capacity of almost 9lbs and it is built to offer the perfect support for spotting scopes, small telescopes, cameras and binoculars.
The tripod has a stable yet lightweight design so it is easy to carry around in the field. The sturdy aluminum legs are fully adjustable in height from 18.9" to 70.5" to accommodate users of different heights. Besides, they have four-section design which can be set to three different angles for optimal stability in different grounds.
With this tripod, the center column does more than just go up and down. It has a retractable balance hook at the bottom where you can hang a weight to add on stability and minimize vibration or hang your bag.
Furthermore, two of the tripod's legs have padded wraps to protect your shoulder when you are carrying it and make adjustments more comfortable when the temperatures are too cold or too hot. All the legs also have rubber feet to keep them from sliding in wet surfaces.
To top it all off, the tripod is equipped with a quick release plate with standard 1/4-20" thread mount for easy optic attachment.
Features
Sturdy aluminum legs
Retractable hook
Extendable center column
Four-section leg design
Two-way fluid pan head
Quick release plate
Rubber feet
Pros
Easy to use
Lightweight design
Decently priced
Perfect support for most optics
Comes with a tripod case and shoulder strap
Cons
The clips are made from cheap plastic
7) Gosky Tripod – Travel Portable Tripod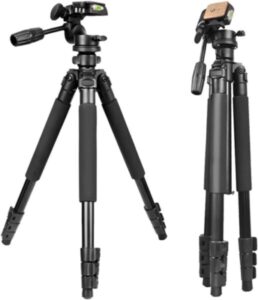 Last but certainly not least, we have the Gosky Tripod. This travel portable full-size tripod provides perfect support for spotting scopes, binoculars, DSLR cameras and camcorders.
It has a lightweight design that makes it easy to carry around and a compact size for easy packability during travel or storage. In terms of construction, the tripod legs are crafted from sturdy, anodized aluminum which guarantees durability and longevity. Even better, all the 3 legs are tipped with non-slip rubber feet to ensure that the tripod provides a stable and sure footing on almost any surface.
Like other tripods we have mentioned above, the height and angles of this tripod are fully adjustable. The height is adjustable from 18.3" to 61" so you can use it when you are standing or in a seated position. It is also equipped with a three-way pan head that allows for smooth vertical and horizontal adjustments.
This Gosky travel portable tripod also brings to the table padded foam legs to enhance comfort when you are carrying it on your shoulder. The padding will also protect your hands when you are setting it up in extremely hot or cold conditions. It also comes with a carrying case for easy portability.
Features
Fully adjustable height and angles
Sturdy aluminum construction
Anodized finish
Non-slip rubber feet
Padded foam leg cushions
Three-way pan head
11 pounds load capacity
Pros
Easy height and angle adjustments
Solid construction
Lightweight and portable
Great value for money
Versatility
Cons
The rubber feet on the legs are not durable
Types of Spotting Scope Tripods
There are three types of spotting scope tripods available out there: table top, full size and compact tripods.
Tabletop Tripod
A tabletop tripod is also known as the shooter's tripod. It is designed to be used on bench or table shooting platforms. Their heights measure between 8" and 18" depending on the model. Furthermore, they don't have telescoping legs, a feature that not only makes them different from other tripods, but also limits their range.
Full Size Tripod
Full-size tripods are the most common spotting scope tripods out there. They come with a platform that supports spotting scopes and other optics like binoculars, camcorders and DSLR cameras. A typical full-size tripod will also have an adjustable height which makes it ideal for use by people of different heights in various positions like standing, kneeling or seated positions.
Compact Tripod
A compact tripod is larger than a tabletop tripod, but unsuitable for use on a table because of its size. The compact design makes them the perfect choice for backpackers and hikers.
Read Also
Criteria for Choosing a Tripod for Spotting Scopes
If you are wondering how to choose the best tripods for spotting scopes, below is a quick rundown of the important features you need to consider when making your selection.
Height
The first thing you need to take into consideration is the height of the tripod. Choosing a height that is right for you based on how tall you are is very important if you want to get the most out of your tripod.
When making your selection, consider the glassing position you are going to be using the tripod and choose accordingly. If you plan to share the tripod with others, ensure that you pick a product whose height is adjustable.
Material
The material used to make a spotting scope tripod determines how durable it will be. Tripods made from carbon fiber are the sturdiest and most durable. They are also low weight for portability convenience. But they have a drawback of being costly.
The other popular material for spotting scope tripods is aluminum. Aluminum is both strong and lightweight. It also has an added advantage of being cheaper than carbon fiber.
Load Capacity
Next, consider the load capacity of the tripod. This is the maximum weight the tripod is designed to support. Look for a tripod that is built to sufficiently accommodate the weight of your spotting scope or any other optic you have. If the tripod fails to support the spotting scope's weight, it will collapse or fall over.
Portability
Whether you plan to use the tripod for hunting, bird watching, ocean viewing, astronomy, wildlife viewing or any other application, ensure that you get a portable product. Consider the size of the tripod when folded and its weight, and get a product that is lightweight, easy to use and portable.
Head
The other thing to consider is the type of head the tripod has. With spotting scope tripods, there are three heads to choose from: ball, pan and fluid.
Ball Head. A ball head tripod is designed to move freely in all directions. Typically, the best spotting scope tripods for wildlife spotting and birding have ball head design.
Pan Head- Pan head tripods allow you to move the scope in two or three directions. They also provide more stability than the ball head counterparts which is essential for steady viewing.
Fluid Head. Fluid head tripods are essentially pan heads but with a unique drag function. With this type of tripod, you will be able to follow your target easily especially when you are Digiscoping.
Essential Features of a Spotting Scope Tripod
For a spotting scope tripod to work effectively, it should have these three essential features:
Quick-release.
Irrespective of the spotting scope tripod you choose to buy, ensure that it is designed to accept a quick-release plate. The purpose of a quick release plate is to let you to attach and detach the scope from the tripod quickly and easily.
Stability
The main purpose of getting a tripod for your spotting scope is make your views steady. If the tripod lacks stability, it will make the scope wobble and affect your viewing. Look for a tripod that is made with high-quality legs. This will maximize both durability and stability. The feet of the legs should also be fitted with rubber to provide a footing that is stable and secure.
Versatility
The best tripods for spotting scopes are built with versatility in mind. Look for a product that is built to support other optics like binoculars and cameras, not just spotting scopes. Another aspect of versatility is adjustable height which gives you the flexibility to use the tripod in different positions.
FAQs
Are spotting scope tripods worth it?
Yes. Mounting a spotting scope on a tripod will make your observations more comfortable by taking the scopes weight off your hands. A tripod will also ensure that you get steady views of the targets you are observing even when you the spotting scope is on the highest zoom power.
How do you store a spotting scope?
A spotting scope is a delicate optic that requires proper storage during transportation and when you are not using it. For both, put it in a protective case and in a moisture free environment.
How tall should a spotting scope tripod be?
This will depend on the type of the tripod as well as your height. If you are over 6" tall, the tripod you get should be tall enough to accommodate your height and ensure comfortable glassing.
Conclusion
With a quality spotting scope tripod, you will have an easy time using the spotting scope comfortably. It will also reduce eye strain and fatigue during lengthy observation sessions. Hopefully, you have found this post to be enlightening and you are now able to find a tripod that works well with your spotting scopes and caters for all of your needs. Whatever your needs are, there is a product out there for you.