If you are in the market for a night vision scope for your AR-15, you have stumbled upon the right place. Today's post sheds light on the best night vision scopes for AR-15 available on the market currently, and lays bare the key factors to take into account when searching for an AR-15 night vision optic.
The AR-15 is one of the most versatile and popular rifles out there. It is suitable for a wide range of shooting and hunting applications. By adding a night vision scope on it, you will be able pursue your targets even when the sun goes down and get the most out of it. Besides, present day night vision scopes have evolved to enhance their performance and add on versatility.
However, with the gradual and steady advancements in technology the market is now flooded with night vision scopes from so many brands. This makes it a common challenge to get confused about which model is right for your AR-15. But we are here to help.
This post aims to clear the doubts and help you make an informed buying decision. With much ado, let's get started.
6 Best Night Vision Scopes for AR-15
1) Pulsar Digisight Ultra N455 Digital Night Vision Rifle Scope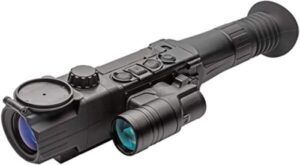 First up is the Digisight Ultra N455 Digital Night Vision Rifle Scope from Pulsar. The scope is built with digital night vision technology which makes it suitable for hunting hogs, varmints and predators during the day and at night as well.
During the night, the scope provides a detection range up to 550 yards which is sufficient for most hunting activities. It employs a highly sensitive CMOS sensor featuring 1280x720HD resolution. This resolution delivers high definition images with stunning detail and clarity.
To complement the versatility of the AR-15, the scope has a variable 4.5-18x magnification. It also boasts a wide field of view for easy target location and a 50Hz refresh rate that guarantees speedy imaging.
Furthermore, you can use the Digisight to record your hunts using the built-in recorder. After that, you will be able to stream the footage recorded on your phone via the Stream Vision App. The scope also boasts a long battery life to keep you in the field for as long as you would want.
Best of all, it is built to withstand recoil up to .375 H&H and is operable in rain, fog, mist and temperatures ranging from -13 to 122℉.
Features
Side incline and elevation angle sensor
Picture in picture digital zoom
Ultra-sensitive CMOS sensor
Digital night vision technology
IPX7 water resistant rating
Detachable long-range IR illuminator
1280x720HD resolution
50Hz refresh rate
Pros
High-quality night time image
Good quality
Easy to operate
High-caliber recoil resistance
Cons
The zoom starts losing resolution with time
2) ATN X-Sight 4K Pro Edition 3-14x50mm Smart HD Day/Night Rifle Scope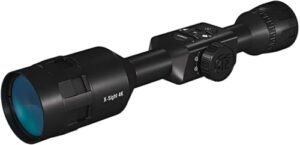 The ATN X-Sight 4K Pro 3-14x50mm Smart HD rifle scope is made for the avid hunter who is looking to take their hunting skills to the next big level. It offer great performance in any environment and has dual functionality so you can go hunting any time of day or night.
To ensure that you hunt game more responsibly, the scope comes with a ballistic calculator. It also has a smart rangefinder that help you estimate the size of the target and how far it is, and an extremely sensitive 4K ultra-HD sensor for speedy target finding
Like any ATN optic, the X-Sight 4K Pro night vision rifle scope is built to offer unbeatable durability. It is made out of hardened aluminum alloy which maximizes durability without adding unnecessary bulk. Additionally, it has impact resistant electronics designed to withstand heavy recoil and any rough handling.
Another impressive facet about this scope is that it is built on a 30mm body tube. This makes it easy to mount on the rifle using standard 30mm rings. It also features a long 18-hour battery life to ensure that concentrate more on your hunt knowing that it will be there for you when you need it the most.
Features
Smart rangefinder
One Shot Zero
Ballistic calculator
Highly sensitive 4K ultra-HD sensor
Recoil activated video
Waterproof, fog proof and shockproof
Impact and recoil resistant electronics
Smart Mil Dot Reticle
Dual stream video
30mm main tube
Pros
Good eye relief
Great battery life
Reasonably affordable
User-friendly
Easy to mount and detach
Great optics
3) AGM Global Vision Wolverine-4 4×108 Night Vision Rifle Scope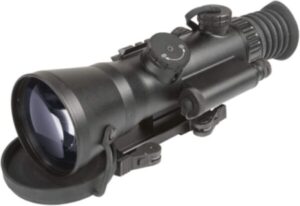 The Wolverine-4 from AGM Global Vision is a premium quality night vision rifle scope that provides outstanding performance at a competitive price. It harbors a plethora of reliable and practical features which make one of the best night vision scopes for AR-15.
This rifle scope employs a high-quality Gen 2+ image intensifier tube to ensure that you see beyond the expected in typical night time conditions. In terms of construction, the body is manufactured using a specially coated aircraft aluminum alloy that is rigid enough to take in the beating and give you many years of use. The scope is also water-resistant for use in any weather condition.
The precision accuracy of this night vision optic is the other thing that makes it stand out. It has a manual precision wheel focus which provides greater accuracy and ergonomics. Besides that, it boasts a double-lever quick-release mount that ensures highly-accurate rail positioning for great user comfort.
Above all, the scope features user-friendly windage and elevation adjustments and an illuminated reticle whose brightness intensity is adjustable to match the situation at hand.
Features
Double-lever quick release mount
Illuminated reticle with brightness adjustment
User-friendly windage and elevation adjustments
Gen 2+ image intensifier tube
Shock protected, all-glass IR transmission multicoated optics
4x magnification
Pros
Generous eye relief
Long battery life
High-quality construction
Easy to use
Cons
Lacks remote control capability
4) SightMark Wraith HD 4-32x50mm Digital Rifle Scope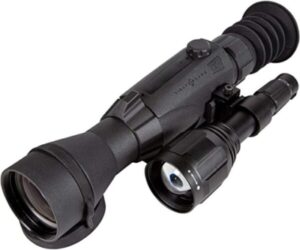 Next we have the SightMark Wraith HD 4-32x50mm Digital Rifle Scope. The scope offer the perfect combination of technology, power and precision. It also utilizes an enhanced ultra-high definition 4000×3000 digital sensor which provides a detection range of up to 300 yards in the dark.
To further enhance the detection range at night, the scope comes with a removable 850nm IR illuminator which also improves your shooting precision. Moreover, it features 4K sharp 1280×720 display resolution that delivers crisp clear imaging, day and night.
For added versatility, this digital night vision rifle scope comes with 10 reticle options. These reticles have 9 different colors for easier aiming in different lighting conditions. The scope also comes with a Weaver rail where you can add any extra accessory of your choice.
Regarding construction, the SightMark Wraith HD is built with high-quality materials to offer long-term durability. It also has an IPX5 water resistant rating which makes it suitable for use in all weather conditions.
Features
Durable aluminum housing
Removable eyecup
10 different reticle options
Removable IR flashlight
8x digital zoom
IPX5 water resistant rating
Built-in UHD 4K video recording
Pros
Long battery life
Easy menu operation
Decent scope for the money
Cons
5) Pulsar Digex N450 Digital Night Vision Riflescope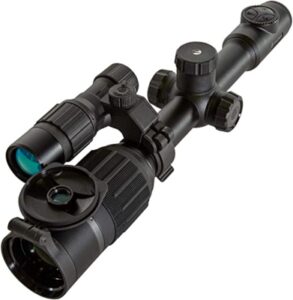 The Pulsar Digex N450 is a full-featured digital night vision rifle scope designed in the shape of a classic day sight. It employs a highly sensitive HD resolution sensor, high-quality optics and enhanced night time sensitivity which make it a perfect tool for  hunting game in any lighting condition.
If you like to record your hunting trips, this rifle scope got you covered. It has a built-in recorder that captures still images and records HD quality videos which you can later stream on your smartphone or tablet via Wi-Fi.
Furthermore, the scope is made to last. It has an all-metal housing which guarantees longevity and durability. Additionally, it has an IPX7 waterproof rating which makes it safe to use in high humidity weather conditions and precipitation of any intensity.
And that's not all. This digital night vision scope is built with a 4-16x variable magnification suitable for pursuing game at different ranges. It is also supplied with detachable high power 850nm IR illuminator to improve your vision and shooting accuracy in dark, moonless nights.
Features
All-metal housing
Highly sensitive HD-sensor
Integrated video and sound recorder
IPX7 waterproof rating
10 reticle shapes in 8 colors
High caliber recoil resistance
Removable high power 850nm IR illuminator
4-16x variable magnification
Pros
Wide field of view
Enhanced nighttime sensitivity
Long detection range
Easy to operate
Cons
6) ATN X-Sight LTV Ultra Light Day & Night Hunting Rifle Scope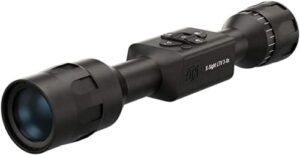 The X-Sight LTV Ultra Light Day & Night Hunting Rifle Scope is one of the best night vision scopes for AR-15 for beginners and budget buyers. It offers outstanding performance day and night, which most hunters have come to depend on.
With this night vision rifle scope, you get to a 10+ hour battery life. This way, you are able to concentrate more on your hunting expedition rather than worrying about whether or not the battery life will get depleted in the middle of the hunt. You also get an accommodating eye relief of 3" for added eye safety when shooting with heavy recoiling rounds.
Another impressive feature about the scope is that it is made with ease of use in mind. First, it boasts a One Shot Zero function that makes sighting it in a breeze. It also boasts a quick detach mount for easy installation and removal, and a classic ergonomic design with an interface that is intuitive and easy to use.
The lightweight design is another facet that hunters like about this scope. It is easy to carry in the field during lengthy hunting sessions. It also enhances durability by dispersing recoil effectively and ensures that the balance and precision of your rifle is not interfered with.
Moreover, this digital scope brings to the table with an IR illuminator to enhance your visuals in the dark. It also comes with a 3D gyroscope which stabilizes the images and a night vision mode that increases your speed of target acquisition in total darkness.
Features
Multiple reticle patterns
3G Gyroscope
QHD+ sensor
Night vision mode
One Shot Zero
Built-in video record
IR illuminator
Quick detach mount
Pros
Lightweight
Wide field of view
Easy to mount on any platform with 30mm rings
The night vision works great
Dual day and night functionality
Cons
Types of Night Vision Generations
There are four night vision generations available on the market today: Gen 1, 2, 3 and 4. Gen 1 is the oldest technology while Gen 4 is the latest and most advanced night vision technology.
Gen 1. Optics with Gen 1 night vision technology employ the basic principles of amplifying light to form an image and they are the cheapest among the 4 generations. They are also ideal for both hunting and shooting in the dark, but have the drawback of producing low quality images.
Gen 2. Gen 2 optics are an improvement of Gen 1 optics. They have a micro-channel plate (MCP) that further amplifies the light collected. The images they generate is therefore brighter and sharper than those formed by Gen 1 optics.
Gen 3. Optics with Gen 3 night vision technology have gallium arsenide added to the photocathode. They also have an iron barrier film included to increase the performance of the scope.
Gen 3 night vision scopes produce brighter and sharper images compared to their Gen 2 and 1 counterparts. However they are expensive and majorly used by the military and law enforcement officers only.
Gen 4. This is most advanced night vision technology available today. Gen 4 night vision scopes produce the most crisp image views even in total darkness. But they are the most expensive of all generations.
Read Also
Criteria for Choosing a Night Vision Scope for AR-15
Here are the important factors you should consider when shopping for the best night vision scopes for AR-15.
Intended Usage
The first thing you should consider is what you intend to use the night vision scope for. Is it for hunting, shooting, law enforcement or military application? By being activity-specific, you will be able to find a scope that works best for your specific needs.
Night Vision Range
Even though night vision scopes alloy you to see the targets clearly in the dark, they will only do that up to a specific distance. This distance  is known as the detection range and it varies from one scope to the other.
The more powerful the infrared emitter and sensor a night vision scope has, the longer the detection range will be. Most of the best night vision scopes for AR-15 have a detection range of about 200 yards in the dark which sufficient for most applications.
Magnification
The magnification power in night vision scopes operates in a similar manner as that of a regular scope. It brings you closer to the distance targets and enlarges the smaller targets. However, night vision scopes have two types of magnification which differ greatly: optical and digital magnification.
Optical magnification is created through the lenses and it offers excellent image clarity even at the highest magnification setting. On the other hand, digital zoom provides digitally enhanced magnification. It allows the scope to provide higher magnification than the optical magnification but the images it produces are less clear.
Battery Life
Next, consider the battery life. All night vision scopes depend on batteries to operate but the capacity of the batteries is different from one product to the other.
A scope with a high-capacity battery will keep the scope running for long hours. This way, you are able to optimize your hunting or shooting expedition. A tip is to look for a vision scope that offers at least 8 hours of continuous operation when the battery is fully charged.
Durability
Night vision scopes are not cheap. You will have to part with hundreds if not thousands of dollars to buy one. When investing such money in a scope, you will want it to be well-built to last long.
Look at the quality of construction of the scope and the quality of materials used. A night vision scope that is made using premium grade materials is a guarantee that it will last long and perform in a reliable manner.
Weatherproof
Another important facet to consider is whether or not the scope is weather resistance. The best night vision scopes for AR-15 are waterproof, dustproof and fog proof for use in all weather conditions. They are also built to be operable in a wide range of temperatures.
Weight
Weight matters a lot when it comes to finding a night vision scope for your AR-15. The AR-15 rifle weighs about 6.55lbs (2.97kg) with 20-round magazine. Adding a heavy scope on it will make it more heavy and cumbersome to carry around.
Furthermore, a heavy scope will come in your way of how you shoot and also affect the rifles balance. To avoid all this, look for a scope that is weighs not more than 2lbs.
FAQs
Which is better night vision or thermal scope?
It depends. At night, a night vision scope will provide higher-resolution images compared to thermal scopes. This is because night vision scopes have an IR illuminator that helps improve your vision in the dark.
On the other hand, a thermal scope will work in any lighting condition, day and night. They also provide a longer detection range than most night vision scopes when you are hunting in the dark.
Can you turn a regular scope into night vision?
Yes. You can easily turn your regular scope into night vision by using a night vision clip-on. A clip-on scope mounts to rail at the front of any aiming device or to the objective bell of a traditional day scope and turns it to a night vision scope.
How far can you shoot with a night vision scope?
It will depend on the device you are using and the night vision generation it has. But on average, you will be able to spot a target and take a clear shot in between 100 and 200 yards in typical nighttime environments.
Which is cheaper night vision or thermal?
Night vision. While thermal scopes are better for detection, the modern and high-end technology they incorporate makes them pricier than night vision. On the other hand, night vision technology has been around for ages and is much more available, not just affordable.
Conclusion
Hopefully, you have found this detailed post to be insightful. All the night vision scopes we have mentioned above pair well with the AR-15 and are suitable for virtually all hunting and shooting applications. They are well made to last long and easy to use even for beginners. Use our guide above to find a scope that will not just change the way you pursue game in the dark, but also how you see at night.