Are you in the market for the best Nikon Binoculars? If so, you have come to the right place. We have created this Nikon binoculars buying guide to walk you through different models when looking to get a new pair of binoculars.
Nikon is a household name in the field of optics. It makes premium-quality binoculars which are suitable for a wide range of outdoor and indoor applications. If you are a dedicated outdoorsy kind of person or an occasional one, investing in one of best Nikon binoculars for your specific outdoor activity is wise thing to do if you want to make the most out of the activity.
Nikon binoculars are designed to provide razor sharp, clear and vibrant sight pictures while maintaining a solid build quality. With the quality construction, these binoculars provide a sighting tool that is sturdy enough to weather all the demands that come with outdoor use. They are also lightweight, easy to use and ideal for a wide range of recreational and professional uses.
What Makes a Great Pair of Nikon Binoculars?
Binoculars from any brand should be made with premium-quality features to provide reliable performance all through. Nikon binoculars are not an exception. Firstly, for a pair of Nikon binoculars to be great, it has to have a zoom power that blends perfectly with your needs. With the right magnification power, you will be able to bring the faraway targets closer, zoom in on the small targets and have a better view of the up-close subjects.
Secondly, the binoculars should have solid lens coatings and premium-quality glass. Lens coatings ensure that adequate amount of light is  transmitted for bright and clear image production. Moreover, a model with top-tier glass will enhance resolution and color richness which is vital when you want to get closer to nature.
A great pair of Nikon binoculars should be made with ease of use in mind. It should have a lightweight design for easy and comfortable carrying. Additionally, the binoculars should have a focus wheel that is easily accessible and a long eye relief to reduce eye strain during lengthy glassing sessions.
What's more, the binoculars should offer a large field of view to help you locate your subjects without breaking a sweat. It should also have a durable chassis that is covered with a rubber armor to provide a secure, anti-slip grip and protect the optics from elements and shock.
Last but not least, the best Nikon binoculars are waterproof, dustproof and fog proof for use in all weather conditions.
8 Best Nikon Binoculars – Our Top Picks
Nikon offers a multitude of binoculars in different configurations for use in a wide range of either indoor or outdoor applications. Whether you are looking to buy your first pair of Nikon binoculars or you are in the market for another model to add in your collection, here are the best models to choose from. Let's take a look.
1) NIKON Monarch M7 10×42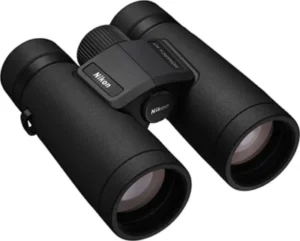 First up we have the Monarch M7 10×42 binoculars. It is crafted with premium-quality materials and equipped with high-end features that make it one of the best Nikon binoculars.
With 10x magnification, this set of binoculars is ideal for viewing targets even at extended ranges. Complementing the high magnification is a large 42mm aperture which takes the performance to a new level by providing a bright and large field of view.
Furthermore, the binocular features ED glass which enhances resolution and color contrast. The lenses are multi-coated to increase light transmission and produce outstanding low-light capabilities. The binocular also has turn and slide eyecups that allow for easy adjustments as well as easy eye-relief customization.
Another highlight of the binocular is the high build quality. It has a rubber armored design which guarantees secure grip and protection of the optics from shock and elements. It is also waterproof, fog proof and coated with an oil and water repellent lens coating to be usable even in adverse weather conditions.
Features
Advanced multi-layer coatings
ED lenses
Waterproof and fog proof
Large, smooth central focus knob
Turn-and-slide rubber eyecups
Rubber armored body
Locking diopter adjustment
Pros
Compact and lightweight
Stunning picture quality
Wide field of view
Smooth and fast focusing
Cons
The eyecup adjustment wears out quickly
2) Nikon PROSTAFF 3S 8×42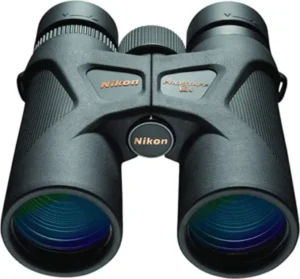 The PROSTAFF 3S 8×42 is designed to brighter views in nearly all lighting conditions. It has an optical system created from lead-and-arsenic-free Eco-Glass which delivers unmatched resolution and color richness. It also boasts multi-layer coatings which enhance light transmission across the whole visible spectrum.
Nikon designed this pair of binoculars with a high-eyepoint design. This design provides a long eye relief without vignetting. It also provides a clear field of view for every user, even when you are wearing eyeglasses. Besides, the eyecups are designed to be adjustable so you are able to tailor the eye relief based on your needs.
When it comes to construction, the PROSTAFF 3S has a rugged rubber armored body which provides a non-slip grip. It is also waterproofed and fog proofed to be operable in rain, mist and any other precipitation.
Features
Multi-layer coated lenses
Turn-and-slide rubber eyecups
Waterproof and fog proof
High reflectivity silver-alloy mirror coatings
Rubber armored body
Lead-and-arsenic-free Eco-Glass
Pros
Bright and crisp image views
Long eye relief
Compact and ultra-light
Budget-friendly
Easy to focus
Cons
Image distortion around the edge
3) Nikon Aculon A211 10-22×50 Zoom Binocular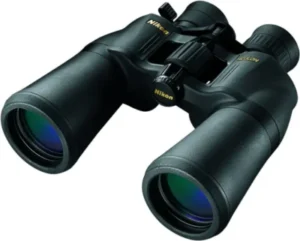 When it comes to versatility, it is hard for you to go wrong with the Aculon A211 10-22×50 Zoom Binocular. It boasts a variable 10-22x zoom power which makes it ideal for viewing targets at vast ranges as well as in different environments.
The detail that makes this set of binoculars stand out is solid build quality. It is built with high-quality materials to maximize performance in a variety of conditions. Besides, it features a durable rubber armor coating which provides a sure, non-slip grip as well as additional protection from elements.
To provide a wide field of view and maximum light transmission in low light settings, the binocular features a large 50mm objective lens. The rubber eyecups are designed to turn and slide. This way, you are able to tailor the eye relief based on your individual needs and maximize on eye comfort during extended period of use.
This pair of zoom binoculars is built with ease of use in mind.  It has a smooth central focus knob which allows for quick viewing and rapid image focusing. It also features multi-coated eco-glass lenses which deliver admirable image clarity and image brightness, even in poor lighting condition.
Features
Adjustable 10-22x magnification power
Lead and arsenic free Eco-glass
Premium BaK-4 Porro prisms
Multi-coated lenses
Central focus knob
Turn-and-slide multi-click rubber eyecups
Rubber armored body
Pros
Excellent picture quality
Wide field of view
Amazing craftmanship
Easy to hold and use
Cons
Poor eye relief
Slightly heavy
4) Nikon Action 10×50 EX Extreme All-Terrain Binocular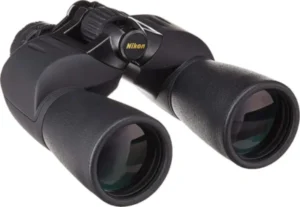 Next up we have the Nikon Action 10×50 EX Extreme All-Terrain Binocular. Adding this Porro prism binocular in your optics collection will better how you view subjects in different environments and make your outdoor adventure activities more enjoyable.
With an eye relief of 17.2mm, the binocular allows for comfortable glassing with or without eyeglasses. In low light settings, the premium quality BaK4 prisms work together with the bright, multi-coated lenses to enhances light transfer and deliver sharp and detailed sight pictures.
Furthermore, the binocular is built with user convenience in mind. It has a lightweight all-metal chassis so you will have an easy time carrying it around. It also features a smooth central focus knob for rapid focusing and quick viewing of the fast moving subjects.
To ensure that the lenses stay fog-free, the binocular's optics are filled with nitrogen which drives out the internal moisture. Moreover, it is O-ring sealed to prevent entry of moisture, dust and dirt inside the optics.
This pair of binoculars also boasts a durable and protective rubber-armored coating which provides a sure, non-slip grip even when your hands are wet.
Features
Central focus knob
Multi-coated lenses
Premium BaK4 high-index prisms
Waterproof and nitrogen filled
Rubber armored coating
All-metal chassis
Pros
Easy to use
Tripod adaptable
Bright and clear optics
Lightweight design
Decent price
5) Nikon LASERFORCE RANGEFINDER Binocular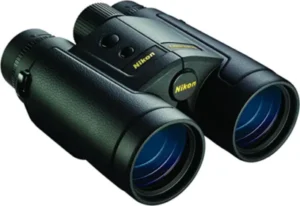 If you are looking for the best Nikon binoculars for hunting, look no further than the LASERFORCE RANGEFINDER Binocular. It harbors a multitude of quality and user-friendly features that make it an ideal sighting tool for all hunters irrespective of their skills or experience.
The binocular is designed to help you spot the game and gets its range quickly. It features a 1900-yard laser rangefinder that will help you determine how far the target is and how big it is. The advanced ID technology incorporated also provides the incline and decline angles to the target so you can plan your shot when you are hunting a target that is either in an elevated or declined angle.
Construction-wise, the binocular features a lightweight and durable aluminum-alloy construction that is rubber armored. The rugged rubber armor offers a sure grip and protects the optics from damage. Better yet, the binocular is O-ring sealed and nitrogen purged to provide a lifetime of waterproof and fog proof protection.
The power and range mode buttons are conveniently placed for easy access. The binocular also features a long battery life to keep you in the field for long and fully multi-coated lenses which provide high-resolution and contrast-rich images, even when you are hunting in low light settings.
Features
Waterproof and fog proof
Fully multi-coated lenses
Aluminum-alloy construction
Tough, rubber armoring
Flip-down objective lens covers
1900-yard laser rangefinder
Pros
High visibility OLED rangefinder display
Lightweight and durable
Easy to use
Longer battery life
Cons
6) Nikon 7×50 OceanPro Binoculars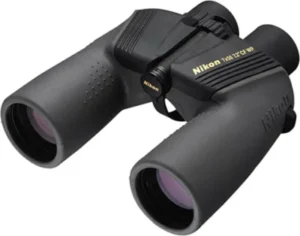 For boating and marine applications, the Nikon 7×50 OceanPro Binoculars are your ideal option. This pair of binoculars is designed with a large 50mm aperture which provides a wide field of view and 7x magnification which is standard for marine use.
It has a central focus for quick and easy focusing. The large 7.1mm exit pupil ensures that you catch the image effortless, even with motion in sea. Furthermore, the binocular has a long eye relief which makes it eyeglass-friendly and comfortable to use for lengthy sessions.
When it comes to construction, the sighting tool is built to last. It has a rubber armored polycarbonate body which is shockproof to weather the rough handling that comes with outdoor use. It is also waterproof and fog proof for safe use in any weather condition.
The Nikon 7×50 OceanPro binoculars also bring to the table BAK4 high-index prisms and multi-coated lenses which provide bright and crisp clear images views irrespective of how bright or dull the lighting condition is.
Features
Quick, easy central focus
Durable rubber armor
Smooth central focus knob
Large exit pupil
Shockproof polycarbonate body
Waterproof and fog proof
Multi-coated lenses
Pros
Lightweight
Good eye relief
Easy to focus
Clear and bright images
Cons
Great for boating and marine applications only
7) Nikon PROSTAFF 5 12X50 Binocular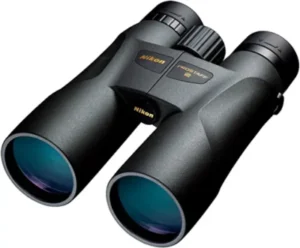 The best Nikon binoculars for long range observation is the PROSTAFF 5 12X50 Binocular. It has a high magnification power of 12x for long range use and a large 50mm aperture to ensure that the images generated are quality. It also has a close focus distance of 16.4feet for added versatility.
Built with premium BaK4 prisms, this binocular has a compact design that is also lightweight and portable. The lenses are fully multi-coated to maximize light transmission and enhance color richness in nearly all lighting conditions. The more the light gets transmitted, the brighter and tack sharp sight pictures you will get.
Furthermore, this set of binoculars has an accommodating eye relief of 15.5mm which ensures comfortable observation, with or without eyewear. The body is fully waterproof and fog proof for all-weather reliability and rubber-armored to provide a secure, anti-slip grip, even when you are wearing gloves.
Features
12x magnification
Multi-layer coated lenses
Premium eco-glass lenses
Waterproof and fog proof
Turn and slide rubber eyecups
Fiberglass-reinforced polycarbonate resin
Pros
Lightweight and durable
Compact and easy to use
Bright and crisp clear optics
Cons
8) Nikon Travelite Binocular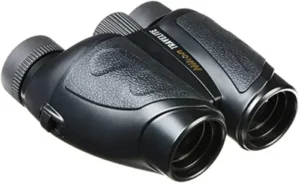 Last but not least, we have the Nikon Travelite Binocular. If you are a dedicated hiker, backpacker or sports enthusiast, this compact and lightweight binocular is made for you.
Though compact, the binocular is built to last. It has a durable housing and protective rubber armored coating which protects the delicate optics from shock and impacts. The rubber armor also provides a secure and comfortable grip in all environments.
Moreover, this set of binoculars employs aspherical lenses which eliminate all distortions. The optics are multi-coated to reduce glare and loss of light through reflection. This results to production of brilliant and sharp sight pictures that are rich in edge to edge clarity, even in dismal lighting conditions.
The high 12x magnification combined with the 13ft close focus distance makes this versatile binocular ideal for any close to long-range glassing task. It also features a central focus system for easy focusing and a waterproof construction for use in any weather condition.
Features
Multi-coated eco-glass optics
Compact 25mm diameter objective lens
Aspherical lens design
Rubber armored coating
Waterproof construction
BaK4 high-index prisms
Pros
Small, lightweight and ergonomic design
Easy to use
Bright, crisp and clear views
Sleek design
Cons
The Nikon Brand
Nikon is one of the oldest optics brands available out there. It has its headquarters in Tokyo, Japan where it was first established way back in 1917. When this brand started, they specialized in manufacturing imaging products and optics. Since then, the company has grown tremendously to become an undisputable leader in the optics industry.
Nikon as a brand is renowned for its premium-quality cameras and optical devices. Their binoculars are unrivaled when it comes to quality, versatility and durability. Besides, Nikon offers a wide range of binoculars at different prices to meet the budget needs of every user out there. They also provide a good 7-year warranty for their binoculars and a range of warranties for the other products.
Read Also
Factors to Consider when Choosing Nikon Binoculars
There are tons of things that you should consider when looking to buy Nikon Binoculars. Explained below are the key points to consider.
Intended Usage
Firstly, you need to consider what application you will be using the binoculars for. Is it for hunting, bird watching, wildlife viewing, marine use or other outdoor adventure activities. Knowing the type of activity you will be using the binoculars for will guide you towards making the right purchase. It will also make your selection process easier.
Magnification
Magnification is a critical aspect of every pair of binoculars. It gives you a better view of the targets you are watching, even if they are far away. It also magnifies the targets that are too small to see clearly with your naked eyes. Generally, the magnification power that is right for you depends on the kind of activity you will be using the binoculars for.
For close and medium range hunting, birding and spectating, a set of binoculars with up to 10x magnification power is sufficient. For long-range observations on the other hand, you will need a higher magnification power of 12x and above.
Lens Size
The objective lens is a crucial part of every binocular as it responsible for collecting light inside. The volume of light it collects determines how bright and clear the images generated will be.
In most cases, binoculars with a lens diameter that falls between 30mm and 50mm will do. The larger the lens diameter is, the more light it collects and vice versa. However, binoculars with a large aperture/objective lens have the drawback of being heavy and costly.
If you are big on portability and easy maneuverability, choose a model whose objective lens is between 32mm and 42mm in size.
Weight
The next thing to consider is weight. Weight in Nikon binoculars varies from one product to the other. In most cases, models with larger objective lens diameters are bigger and heavier than the smaller counterparts.
Generally, any binocular with a weight between 20 to 30 ounces is a suitable choice for most applications. If you choose to get a model that is heavier than that, you should invest in a tripod to assist you with the weight.
Eye Relief
Lastly, consider the eye relief. This is the maximum distance from your eye to the eyepiece of the binocular. It is often overlooked but it is vital as it determines how comfortable your glassing sessions will be.
The best Nikon binoculars are those that offer a long eye relief of 15mm and above. Such binoculars allow you to observe targets comfortably, even with your eyeglasses on. Long eye relief also reduces eye strain and fatigue when you are using the binoculars for prolonged sessions.
FAQs
Are Nikon binoculars any good?
Yes. Nikon is an entity that is globally recognized for its quality imaging products and optics, including binoculars. Outdoor enthusiasts and professional photographers depend on Nikon's binoculars to get quality views of the subjects they are watching, season after season.
Where are Nikon binoculars made?
Nikon, also known as Nikon corporation is a Japanese multinational corporation that has its headquarters in Tokyo, Japan. All the high-end Nikon binoculars are made in Japan and others are made in China and the Philippines.
Conclusion
Investing is quality pair of binoculars guarantees many years of use and unrivaled performance no matter the activity you use them for . If that is what you are looking for in binoculars, Nikon binoculars are the way to go. They offer supreme optical clarity, durability as well as multifunctionality. Hopefully, this article has steered you in the right direction and you are now able to find the right binoculars for your needs.