Binoculars open up the world of outdoorsy people who like to spend time outdoors getting closer to nature. The best Celestron binoculars come in handy in such times by giving you a better view of the objects you are observing. They magnify the tiny objects so you see them in great detail and bring you closer to the faraway objects.
Celestron is a household name in the optics industry. It first began producing optics way back in 1960 and since then, they have grown to become of the leading manufactures of various optics and optics-related accessories including telescopes and binoculars.
Today, Celestron manufactures a wide range of binoculars ranging from entry level to high-level to cater the needs of every user out there. These binoculars incorporate superior optics, modern design and high-end technology to give you unmatched performance in any situation.
The Celestron Binocular Range
Celestron binoculars fall under different ranges and each range is suitable for different applications. Let's now take a look at these ranges in detail.
Celestron TrailSeeker Binoculars
The TrailSeeker binoculars have a moderate magnification power up to 10x. They are available at a decently affordable pricing which makes them ideal for the budget conscious buyers. They are also very simple to use even by beginners.
Nature DX Binoculars
Celestron DX binoculars are the newest series out there. They are low cost roof prism binoculars available on 6 different configurations. These binoculars are simple to use and they pack a multiple of impressive features to ensure that you get the most out of your outdoor expeditions.
Granite Binoculars
Granite is a top of the range series that is available in 8×42 and 10×42 configuration only. These high-quality binoculars have an open-hinge body design which provides excellent ergonomics. They also boast excellent-quality optics to provide stunning optical performance in all situations.
TrailSeeker ED Binoculars
This series of Celestron binoculars is an improvement of the TrailSeeker models. It is equipped with high-quality ED glass which enhances resolution and color fidelity. It is also ultra-versatile and very easy to use.
SkyMaster Binoculars
The SkyMaster Celestron binoculars are a popular choice in the line of astronomy. They offer exceptional performance when viewing celestial objects. They also provide a spectacular view of the land-based objects.
Echelon Binoculars
Another popular Celestron binocular range is the Echelon binoculars which are designed for long range observation and astronomy. They are available in multiple configurations for you to pick one that works best for your needs.
Outland Series Binoculars
The Outland series of Celestron binoculars is made for hunters, but ideal for other sport and nature activities. These roof prism binoculars offer excellent value thanks to the high build quality and premium quality optics.
Upclose Series Binoculars
Lastly, we have the Upclose binoculars. They are designed in a compact size which is small enough to store in your pocket, purse or backpack. Due the compact design, they make a perfect companion for camping and hiking.
8 Best Celestron Binoculars
With so many Celestron binoculars available on the market today, choosing a pair that blends perfectly will all your needs is not that easy. To help you make an informed buying decision, we have put up this list of the top-rated Celestron binoculars available on market today. These binoculars are versatile, built to last and very simple to use.
Without wasting any more time, let's jump right in.
1) Celestron – Nature DX 8×42 Binoculars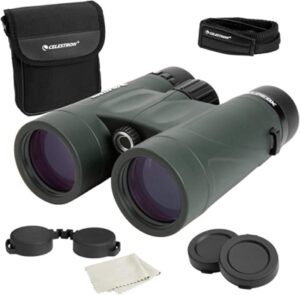 The Nature DX 8×42 binoculars are perfect for every adventure. This pair offers the perfect balance between value and performance. It also harbors a variety of impressive features which make it by far the best Celestron binoculars out there.
Made with high-quality glass optics, this pair of binoculars yields high-quality sight pictures. It also boasts phase-coated BaK-4 prisms and fully multi-coated lenses to provide brighter image views even in low light settings.
With the 8x magnification power, this binocular is ideal for all outdoor applications that require moderate zoom power. It has a close focus of 6.5 foot for viewing objects up close and a wide field of view to make target finding a walk in the park.
Another facet that makes the binocular shine is the solid construction. It has a mid-sized body with an incredibly precise build and design to guarantee many years of use. It also comes with a rubber armoring which provides a sure, non-slip grip and a waterproof and fog proof design to offer protection from outdoor elements.
This pair of binoculars also comes with comfortable twist up eyecups with multi-stop function to ensure correct positioning of your eyes, with or without eyeglasses.
Features
Premium quality glass
Fully multi-coated lenses
Waterproof and fog proof
Twist up eyecups with multi-stop function
Rubber armored polycarbonate housing
Phase-coated BaK-4 prisms
8x magnification
5 foot close focus
Pros
Premium build quality
Versatility
Lightweight and portable
Decently priced
Easy to use
Cons
The accessories included are not durable
2) Celestron Granite 10×50 Binocular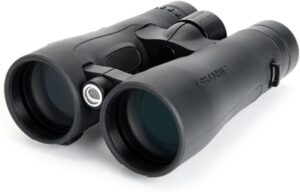 The Granite 10×50 Binocular is one of the most versatile binoculars from Celestron. With the high 10x zoom power and the large 50mm objective lens, it is perfect for birding, hunting, travel, wildlife nature viewing and astronomical viewing among other outdoor adventure activities.
The superb low light performance is one facet that makes this binocular stand out. With the large 50mm aperture, it collects more light to ensure that you pick out the details of subjects in dense brush or low light settings.
Complementing the low light performance is extra low dispersion glass which delivers edge-to-edge clarity as well as excellent color correction. Furthermore, the binoculars boast fully multi-coated lenses which amplify last transmission and deliver crisp and high contrast images without any distortion.
Regarding construction, the Granite 10×50 Binocular's body is made of magnesium alloy which is lightweight and rugged to stand up to any rough handling. It also has twist-up eyecups that are more durable than the rubber counterparts, and a waterproof construction which ensures unimpeded field use in all weather conditions.
Features
High-grade BaK-4 prism glass
Magnesium alloy housing
Extra-low dispersion glass
Waterproof and nitrogen filled
Fully multi-coated optics
Metal twist up eyecups
Harness strap included
10x magnification
Pros
Durable and reliable construction
Eco-friendly – lead and arsenic free
Ideal for multiple applications
Bright and crisp clear optics
Compact, ergonomic size
Cons
3) Celestron – TrailSeeker 8×42 Binoculars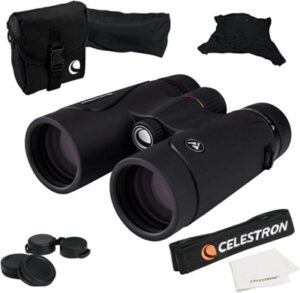 The TrailSeeker 8×42 Binoculars provide superior optical performance in a sleek and lightweight chassis. It is perfect for birding and nature observation where you need a lightweight optic that is easy to carry around and comfortable to hold during extended observation sessions.
This binocular offers the most ideal combination of value and performance. It has 8x magnification power, a close focus distance and a large field of view to ensure that nothing is left undiscovered. It also comes with twist-up eyecups to ensure that you observe targets comfortably even with your glasses on.
To prevent the interior lenses from fogging when you move between two environments with significant temperature differences, this model is nitrogen filled. It is also sealed to prevent entry of dirt and moisture that can damage the optics.
Moreover, it has phase & dielectric phase coated BaK4 prisms which provide brilliant true color and tack sharp images. The lenses are also fully multi-coated to provide high levels of optimally managed light for bright and clear image views.
Features
Magnesium alloy frame
Metal multi-stop twist up eyecups
Premium BaK-4 prisms
Fully multi-coated optics
Waterproof and fog proof
Rugged rubber armoring
5 feet close focus
8x magnification
Pros
Tripod adaptable
Easy to use
Multiple accessories included
Lightweight design
Solid construction
Cons
The objective lens caps are loose
4) Celestron Outland X 10×42 Binoculars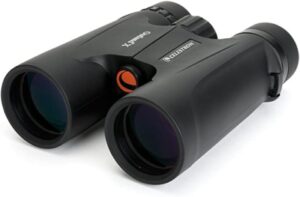 If you are on a budget, the Outland X 10×42 Binoculars is your ideal option. It is reasonably affordable, yet quality. It is designed to meet the needs of all outdoor enthusiast, from hunters and nature lovers to birders and travelers.
Made with fully multi-coated optics, the binocular provides high resolution and richly contrasted image views from dawn till dusk. It also features a large 42mm objective lens to maximize low light performance and BaK-4 glass to provide enhanced color fidelity.
Another highlight of this pair of binoculars is the robust construction. It is rubber covered to withstand any rough and tough handling you subject it to. It is also nitrogen purged for use in all weather conditions and sealed to keep the optics water and dust proof.
To ensure comfortable observation with or without eyeglasses, this binocular has twist-up eyecups which give you the flexibility to customize the eye relief. It also comes with a large center focus knob for quick adjustments even when you are on the go.
All of these practical and essential features come in a lightweight, ergonomic design for easy portability and maximum comfort.
Features
Roof prism
Multi-coated optics
Water resistant and nitrogen filled
Premium BaK-4 glass
Twist-up eyecups
Large center focus knob
Protective rubber armor
10x magnification
Pros
Lightweight ergonomic design
Budget friendly
Wide field of view
Versatility
Durable and reliable construction
Cons
5) Celestron – SkyMaster 15×70 Binocular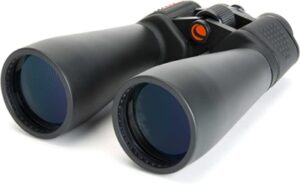 If you are looking for the best Celestron binoculars for astronomy, the SkyMaster 15×70 Binocular is your ideal option. It has a powerful 15x magnification and an ultra-large 70mm aperture which makes it perfect for stargazing and other low light conditions applications.
This binocular has its optics multi-coated to reduce light loss via reflection and optimize light transfer. Additionally, it is built with BaK-4 prisms which deliver quality and rich in contrast sight pictures, even in the low light conditions.
Complementing the superb optical performance is a rugged, armored body which provides unmatched protection as well as a secure griping surface. The exterior of this binocular is also water resistant so the optics will not get damaged when you get caught up in unexpected rainstorm.
If you wear eyeglasses, you will find this pair of binoculars very comfortable to use. It has soft, rubber eyecups that enhance eye comfort and block stray light during use. It is also tripod ready to ensure that you have a snug, hands-free viewing during extended glassing sessions.
Features
Eyeglass friendly
Rugged armored body
Water resistant construction
Multi-coated optics
Rubber eyecups
BaK-4 prisms
Porro prism design
Pros
Multiple accessories included
Tripod adaptable
Reasonably lightweight
Inexpensive
Cons
6) Celestron – Outland X 8×25 Binoculars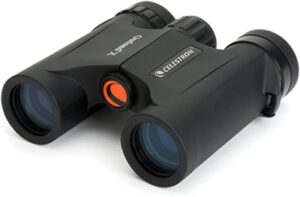 Next up we have the Outland X 8×25 Binoculars. This compact pair of Celestron binocular is perfect for hiking, camping and travel. It is also a great bird watching binocular for beginners and kids.
The binocular is made with user comfort in mind. It has a lightweight, ergonomic form factor which is designed for optimal comfort. Besides, it comes with a wide, comfortable strap for easy ready-to-go use.
When it comes to construction, this pair has a rubber coated exterior which provides additional protection in rough and tough conditions. This coating also provides a secure, anti-slip gripping surface in all weather conditions.
Above all, it boasts Bak-4 glass which provides sharp and quality image views and multi-coated optics to help you obtain the highest resolution and image contrast.
Features
Twist-up eyecups
Multi-coated optics
Waterproof and fog proof
Bak-4 prisms
Rugged armored exterior
Wide and comfortable carrying strap
8x magnification
Pros
Easy on the wallet
Compact and lightweight design
Easy to use
Durable and reliable construction
Cons
7) Celestron – Nature DX ED 12×50 Premium Binoculars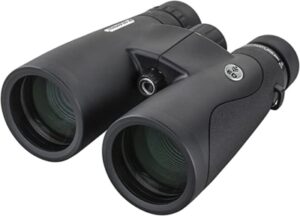 Our next binoculars recommendation from Celestron is the Nature DX ED 12×50 Premium Binoculars. It offers an excellent combination of quality construction, advanced features and value which make it a perfect choice for birding, hunting and outdoor enthusiasts.
This model has a powerful 12x magnification to bring the faraway targets closer. Despite the high zoom power, it offers a spacious field of view and a close focus of 8.2 feet. It also boasts a large 50mm objective lens to enhance performance in low light settings and ensure that you have high-quality images views.
These premium binoculars are comfortable to use and eyeglass-friendly. During lengthy glassing sessions, you can mount them on a monopod or tripod and take the weight off your hands. Apart from that, they have superior quality ED glass and fully multi-coated lenses which provide bright, crisp and color accurate sight pictures.
Construction-wise, this pair of binoculars is built with premium quality materials which guarantee durability as well as longevity. It is also filled with dry nitrogen and sealed to be fully waterproof and fog proof.
Features
High 10x magnification
Superior quality ED glass
Phase-coated BaK4 prisms
Twist-up eyecups
Waterproof and fog proof
Fully multi-coated optics
Rubber armored polycarbonate housing
Pros
Versatility
Crisp clear optics
Solid construction
Lightweight and easy to use
Cons
The adjustment knob is slightly stiff
8) Celestron 71189-A Oceana 7×50 Porro Prism Binoculars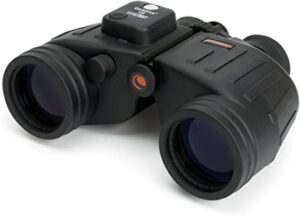 Lastly, we have the Oceana 7×50 Porro Prism Binoculars. If you are looking for the best Celestron binoculars for marine use, either recreationally or professionally, this model suits you.
It features a built-in illuminated compass for direction location on the sea or ocean. The binocular also boasts an individual eyepiece focus which adjusts for the differences in vision between your two eyes and a center focus for speedy and easy focusing.
Another feature that makes the binoculars stand out is the built-in reticle. It has a horizontal and vertical etched reticle to help you determine the relative size of marine objects. Furthermore, it has a waterproof construction to protect the optics from water damage and nitrogen purged optics to prevent fog build up.
Other noteworthy features included are fully multi-coated optics for maximum resolution and high contrast views, and a shock-absorbing rugger rubber cover which provides a secure, non-slip grip.
Features
Completely waterproof and fog proof
Ranging reticle
Fully multi-coated optics
Built-in illuminated compass
Individual eyepiece focus
Center focus
Folding eyecup
7x magnification
Pros
Wide field of view
Tripod adaptable
Lightweight
Accurate
Cons
The design could be better
Read Also
How to Choose Celestron Binoculars
Explained below are the factors you should consider when choosing Celestron binoculars.
Magnification
The first thing to look at is the magnification power the binocular has. Magnification dictates how far you will be able to see the target. It also determines how clear the images will be and how big the field of view will be.
For applications like hunting, birding and wildlife watching, consider a binocular with between 8x and 10x magnification. On the other hand, you will need a powerful magnification of 10x and above for long-range applications like boating and stargazing.
Model
Celestron binoculars come in different models. Irrespective of the application you intend to use the binoculars for, go for the latest models as they are made with advanced technology and high-end features. Also be activity-specific and get the model that is specifically made for that activity.
Lens Diameter
Next, consider the lens diameter of the binoculars. The size of the objective lens determines the amount of light that gets in and how large or small the field of view will be. For general outdoor adventure activities, a good lens diameter is within 40 and 42mm. With this range, the binoculars collect a sufficient volume of light while maintaining a low profile.
For star gazing and astronomical use, you will need wider lenses of about 56mm to optimize light collection.
Weight
The weight of Celestron binoculars differs from one model to the other. For birding, hunting, hiking and travel, a lightweight binocular between 15 and 20 ounces is the best. However, stargazing binoculars are often heavier. If you get a pair that is too heavy to hold and carry, look for a tripod to take the weight off your hands.
Eye Relief
Eye relief is the distance from your eye to the eyepiece of the binoculars. It is an important factor to consider as it determines how comfortable your glassing session will be. The best Celestron binoculars have an eye relief of between 15 and 19mm to ensure comfortable glassing for every user out there, with or without eyeglasses. Also look for a model that comes with twist-up eyecups from which you get the flexibility to customize the eye relief.
Price
Lastly, consider the cost. While the cost of Celestron binoculars varies from one model to the other, most of their models are cost-effective. So, if you are on a budget, it is easy to find a quality product at an affordable price.
Advantages of Celestron Binoculars
Affordable – Celestron offers a wide range of quality and reliable binoculars at a cost that is easy on the wallet.
Versatility – Celestron binoculars are made with versatility in mind to cater for the needs of outdoor enthusiasts.
Easy to use – All models of binoculars from Celestron are very easy to use and beginner-friendly.
Quality – Celestron binoculars are well-made with premium-quality materials to stand up to any rough handling you subject them to and ensure that you get to use them for many years.
Conclusion
Hopefully, you have found this post to be of great help. Celestron is well-known for its high-quality telescopes, but today they have hit a high note with their binoculars. As you can see, there is a multitude of high-quality binoculars to choose from. The binoculars are well made to offer unmatched performance either indoors or outdoors. Whatever you have in plan. there is a pair of binocular out there waiting for you.