Celestron is an optics brand that has a growing range of binoculars, each offering something unique and slightly different. Its binoculars are known to be cost-effective and a handy addition for outdoor enthusiast looking to get closer to nature. One of their stand out binoculars is the Celestron Nature DX 8×42 and in this review, we will show you the features that make it the best entry-level pair of binoculars in its class.
When you are looking to build up your outdoor enthusiasm, expensive price tags for binoculars are often intimidating. However, the Celestron Nature DX 8×42 binocular is worth taking a look. It comes at a price that is incredibly affordable but with an array of highly competitive features.
Built with beginners and intermediate users in mind, this binocular has exceptional clarity and a smooth focus system. It is also constructed with a lightweight, ergonomic design that enables comfortable handling during use.
Why Choose the Celestron Nature DX 8×42 Binoculars?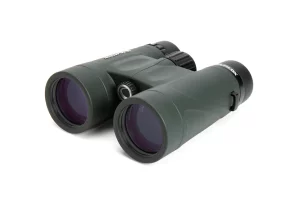 When comparing the Celestron Nature DX 8×42 Binoculars with other entry-level binoculars, you will find that it offers a plethora of benefits for a wide range of activities. Here are some of the benefits to expect.
Compact Frame and Lightweight Design
This is the primary benefit of Celestron Nature DX 8×42 Binoculars. They are built with a roof prism optical path which gives them a compact form. Besides, this pair of binoculars feels really lightweight for convenient portability and comfortable handling.
Large Field of View
In binoculars, field of view and magnification power are inversely proportional. So, with the moderate 8x zoom power, this set of binoculars provide a really spacious field of view which is essential for rapid target identification.
Clear Optics
Another benefit of the Celestron Nature DX 8×42 Binoculars is optics clarity. It employs good quality glass elements with stunning clarity and image resolution. The fully multi-coated optics also guarantee superb image brightness and detail by enhancing light transmission and fighting glare.
Cost Effective
Celestron Nature DX 8×42 Binocular is a great binocular that comes at a price that is really affordable. This makes it an ideal ideal choice for beginners or buyers on a budget.
Ease of Use
In addition to lightweight construction, this pair of binoculars has an intuitive and user-friendly design. As such, it is ideal for users of all levels, including beginners.
Tripod Adaptable
This pair of binoculars is tripod ready. You can therefore mount it on a tripod, take the weight off your hands and enjoy hands-free glassing.
Close Focus
This pair of binoculars comes with a close focus distance of 2m/6.5ft which makes it great for close range use. When you are watching birds or other smaller objects, this feature will help you get the most detail up close.
Celestron Nature DX 8×42 Binoculars: A Look At Its Features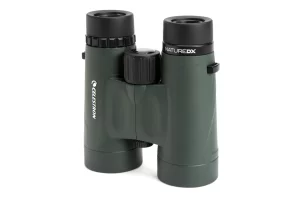 Celestron Nature DX 8×42 binoculars come with an array of modern features packed into a compact and lightweight package. These features include:
High-Quality Glass/Lens
This set of binoculars has fully multi-coated optics which is excellent considering its cost. The coatings are responsible for maximizing light transfer in low light and suppressing glare in bright light.
Moreover, the binocular is built with phase-corrected BaK-4 prisms that amplify image contrast and resolution. This results to sharp and more detailed images, even when you are glassing in the less-than-ideal lighting conditions.
Magnification
In binoculars, magnification is represented by the first number before the "x". So, for this set of binoculars, the magnification factor is 8x.
Being an 8x binocular, you will be able to find and acquire your subjects easily at close and medium ranges. Besides, 8x is a popular magnification for birding, wildlife viewing and hunting. This is thanks to the wide field of view of 388ft at 1000 yards it provides to help you scan the horizon effortlessly and monitor the birds in flight with ease.
Construction Quality
The binocular is specifically designed to endure your travels and any other abuse you throw at it. It is made with a durable polycarbonate housing which protects the internal optics from damage.
Moreover, the entire body is rubber armored. The armoring provides a secure, anti-slip grip during use. It also acts as a shock absorber, ensuring greater durability even with repeated use.
Twist-up Eyecups
The eye relief in binoculars just like any other optical instrument determines the overall glassing comfort. This model features twist-up eyecups that you can use to tailor the eye relief to match your specific glassing needs and ensure great glassing comfort with or without eyeglasses.
Weatherproof Construction
To ensure reliable performance in all weather conditions, this pair of binoculars is sealed to lock out moisture, dust and any other dirt. Furthermore, it is purged with dry nitrogen gas to prevent mist and fog build up on the lenses in wet and rainy conditions.
Close Focus
The close focus distance of Celestron Nature DX 8×42 Binoculars is 6.5'. It therefore allows detailed observation of your subjects in close proximity. It is this close focus distance that also makes the binocular ideal for a wide range of multiple applications including watching birds and insects.
Weight
Another stand out feature of this set of binoculars is lightweight construction. It weighs a mere 24.2oz/687g. This is about 1.5oz/42g lighter than the average weight of binoculars with the 8×42 configuration. With the lightweight construction, the binocular is not just portable, but also functionally comfortable to use especially during the lengthy glassing periods.
Central Focus System
With this set of binoculars, you get a smooth focus wheel that is centrally placed. This focus wheel is easy to use and simple to adjust as well. During use, it offers the right amount of resistance to ensure that unwanted movements don't compromise a precise focus.
Pros of Celestron Nature DX 8×42
Affordability. This binocular is relatively cheap but it doesn't cut corners on quality, value or performance
Stunning Optical Clarity. The image views from the binocular are incredibly bright, clear and color accurate
Smooth Focusing. You get an intuitive and user-friendly focusing knob for precision focusing
Low light performance. Furthermore, Celestron Nature DX 8×42 binoculars perform really well in low light conditions of dawn and dusk
Portability. Another defining facet of this binocular is portability. It is compact and lightweight to ensure functional handling
Long Eye Relief. Moreover, these binoculars are designed for use with or without eyeglasses. They boast a generous eye relief of 17.5mm to ensure great glassing comfort, especially during prolonged hours of use
Tripod Ready. Another advantage of Celestron Nature DX 8×42 binoculars is they are tripod ready. By mounting them on a tripod, you will be able to enjoy snug, hands-free viewing
Cons of Celestron Nature DX 8×42
Durability. This binocular has a polycarbonate chassis. It is good but not as durable as models made with heavy-duty materials like magnesium alloy or aircraft grade aluminum
Thin Rubber Coating. The rubber coating that the binocular is built with is fairly thin, providing little protection from bumps and accidental falls
Read Also
Conclusion
Celestron Nature DX 8×42 is a solid choice binocular for birding, wildlife viewing, hunting and other outdoor adventure applications. Despite being budget-friendly, this compact pair of binoculars has similar capabilities as expensive binoculars. This makes it an ideal option for the budget conscious buyers. Invest in this binocular today and use it to revolutionize how you spend your time outdoors.