---
If you are getting ready for a safari trip and looking to buy the best binoculars for wildlife viewing, you have come to the right place. There are plenty of binoculars available on the market today and in our post today, we will be focusing on the best budget binoculars for wildlife viewing.
In this day and age, binoculars make an invaluable companion for wildlife viewing. Unlike spotting scopes that are often big and cumbersome to carry, binoculars are lightweight, portable and very easy to use. These optics provide an amazing range of magnification, wide field of view and ergonomic design all of which are essential for ensuring comfortable glassing.
As the optics field continues to evolve, there are so many binoculars available on the market today. When making your selection, there are few things that you should keep in mind. First is the type of wildlife you will be viewing. The other important things to consider is your budget and the type of terrain you will be using the binoculars in.
Based on value, performance and price, we have put together a list of the very best budget binoculars for wildlife. These binoculars provide phenomenal features that you will need to make your expeditions more enjoyable. We have also attached a buyer's guide with some of the key factors to consider when making your selection.
So, with all that said and without wasting any more time, let's get started.
Best Budget Binoculars for Wildlife Viewing
1) Nikon Monarch M5 8×42 Binocular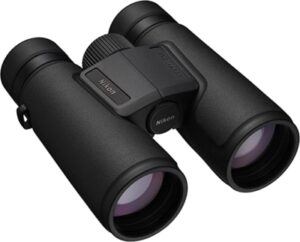 Coming in first is the Nikon Monarch M5 8×42 Binocular. Carrying the well-known and respected Nikon name, this binocular has all the features that you need to enjoy every precious moment you spend outdoors viewing wildlife.
It offers extra ordinary optical performance because it is engineered with a high-end optical system. This system includes extra-low dispersion glass and high-quality multi-coatings that work in tandem to provide bright, high resolution image views. Even better, the objective and eyepiece lenses are protected by scratch resistant coatings to ensure long-term optical acuity.
In terms of construction, the binocular is built to be nearly indestructible. Its body is crafted with A6061-T6 aluminum alloy, a material that provides optimum strength and impact resiliency without being heavy. The slim, compact body is further enhanced by a rubber armor which provides secure grip in any environment.
Nikon built this binocular to be ready for use in all weather conditions. It is filled with nitrogen gas and is fully fog proof and waterproof. Besides that, the binocular comes with turn and slide eyecups for use with or without eyeglasses.
Features
Extra-low dispersion glass
Fully multi-coated optics
Waterproof and nitrogen filled
Phase correction coated prisms
Armor coating on external lenses
Hard anodized aluminum housing
Rugged rubber armor
Pros
Large field of view
Lightweight
Quality construction
Close, smooth focusing
Comfortable and intuitive operation
2) Celestron Nature DX 10×56 Binoculars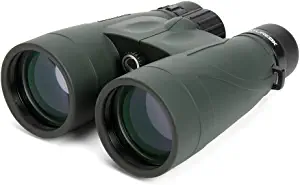 Sitting comfortably in second is Celestron Nature DX 10×56 Binoculars. Optimized for low light use, this pair of binoculars is ideal for viewing wildlife in all light settings including early morning and late evenings.
In addition to having great optical performance, the binocular is built with longevity in mind. It has a lightweight polycarbonate housing that is designed to endure that rough handling that comes with travel. Furthermore, it is 100% waterproof and purged with nitrogen gas to prevent internal fogging.
This binocular is ideal for wildlife viewing at any distance. It is built with a powerful 10x zoom power that makes long range glassing comfortable and a 9.8 close focus distance which is ideal for viewing targets up close.
In addition to everything else, this set of binoculars brings to the table twist-up eyecups that you can position into different positions and optimize your glassing comfort.
Features
Large 56mm objective lens
Waterproof and fog proof
Rubber armored body
Durable polycarbonate housing
8ft close focus distance
10x magnification power
Fully multi-coated optics
Twist up eyecups
Pros
Lightweight
Tripod ready
Great low light performance
Solid and sturdy construction
Cons
Cheap plastic on focus knob
3) Athlon Optics Midas Binoculars for Adults and Kids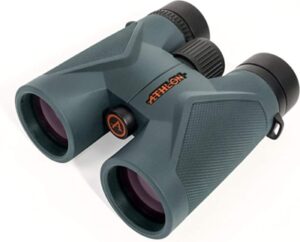 Next on our list of the best budget binoculars for wildlife viewing is Athlon Optics Midas Binoculars. This family friendly pair of binoculars is lightweight, portable and very easy to use.
Athlon made this binocular to last for a long period of time. It boasts a robust magnesium chassis that is not just durable, but rigid enough to weather any abuse. The rugged rubber armor included shields the optics from elements and shock, while ensuring that you have a secure, non-slip grip even when you are wearing gloves.
Furthermore, the binocular is made for use in all kinds of weather conditions. It is argon purged to protect the optics from fog, dust and moisture damage. Optically, it employs ultra-high definition glass elements for optimal brightness and true color representation. The exterior lenses also feature a tough XPL lens coating that is scratch proof and dirt repellent.
The other essential features that make this binocular a good purchase are generous eye relief, 6.5ft close focus and an ultra-spacious 426ft at 1000 yards field of view.
Features
Durable magnesium chassis
Ultra-high definition optics
Tough XPL lens coating
8x magnification power
Waterproof and argon purged
ESP dielectric prism coating
Non-slip rubber armor
Pros
Great value for money
Ideal for family use
Large field of view
Easy to use
Compact and lightweight design
Cons
The focusing knob is not entirely smooth
4) VANGUARD Endeavor ED 10×42 Binocular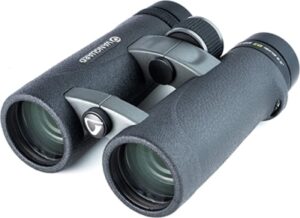 Vanguard is a brand that has built a strong name in the field of optics. It manufactures a wide range of high-quality optical gear and the VANGUARD Endeavor ED 10×42 binoculars are not any different.
A highlight of this binocular is optical clarity. It delivers unmatched image brightness and clarity even in the low level light conditions. This is made possible by the premium BaK4 prisms that work together with anti-reflection lens coatings to boost light transmission.
Even with the high 10x zoom power, this binocular provides a wide field of view of 340ft at 1000 yards. As such, you will have an easy time finding and monitoring the wildlife as they move. It also has a generous eye relief of 16.5mm which guarantees comfortable viewing with or without eye wear.
Features
Phase-coated BaK4 prisms
Extra-low dispersion glass
100% waterproof and fog proof
10x magnification
Three stage twist up eyecups
Open bridge design
Anti-reflection lens coatings
Robust aluminum construction
Pros
Long eye relief
Good picture quality
Easy to hold and use
Wide field of view
Cons
Chromatic aberration
Slightly heavy
5) Vortex Optics Diamondback 10×42 Roof Prism Binoculars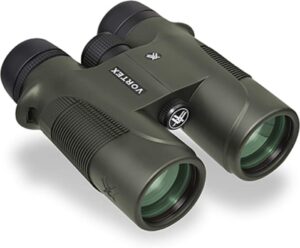 When it comes to value and performance, you can hardly go wrong with the Vortex Optics Diamondback 10×42 Roof Prism Binoculars. It is a highly versatile optical gear that is easy to use and reliable in all kinds of outdoor conditions.
Featuring an astoundingly efficient and high-performing optical system, the binocular serves up stunning views of wildlife in their natural habitats. It works well even in low light settings and provides an ultra-wide field of view so you can effortlessly cover ground and find the game without breaking a sweat.
Not only is the optical performance of this binocular remarkable, but also its construction quality. It has an ultra-sturdy chassis and a rubber armoring that creates a secure, non-slip grip. On top of that, this binocular is fully waterproof and fog proof for use even in extreme weather conditions.
For added convenience, the Vortex Optics Diamondback 10×42 Roof Prism Binocular has a sleek, short hinge design to ensure comfortable and convenient handling. It also has a lightweight design of 1.34 pounds for easy portability.
Features
Fully multi-coated lenses
Rubber armored body
Multi-position eyecups
Waterproof and argon purged
10x magnification
42mm objective lens
Sleek, short hinge design
Pros
Lightweight and easy to hold
Ultra-wide field of view
Phenomenal picture quality
Great value
Solid construction
Cons
Poor quality construction
6) Birds of Prey Optic Eagle Binoculars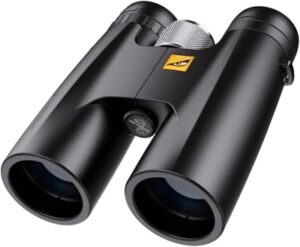 Our next best budget binoculars for wildlife viewing recommendation is 10×42 Birds of Prey Optic Eagle Binoculars. This set of binoculars is perfect for a wide range of outdoor adventure applications including wildlife viewing.
With 10x magnification, the binocular provides beautiful and crisp views of the wildlife in their habitats. The large field of view complements the high zoom and makes it easy for one to scan the wildlife. On top of that, this binocular is built with a fully multi-coated ocular which is responsible for boosting light transmission.
When it comes to construction, Birds of Prey made this binocular with the most durable and high-quality materials to handle whatever you encounter. It also features reliable water, dust and fog protection for uninterrupted performance in the field.
And that's not all. The binocular has multiple flexible functions that include twist-up eyecups, metal focus wheel and right eyepiece focus ring for added convenience. It also comes with a tripod interface for easy mounting on tripods.
Features
Premium BaK4 prisms
Right eyepiece focus wheel
Water, dust and fog proof
Durable rubber armored body
Fully multi-coated objective lens
10x magnification
Metal focus wheel
Pros
Easy to hold and use
Value for money
Lightweight and portable
Well built to last long
Cons
7) Maven C2 10x28mm Compact Binocular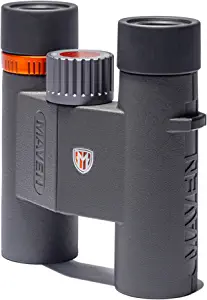 If portability and packability is what you are after, the Maven C2 10x28mm Compact Binocular suits you. Though compact, this binocular does not compromise on quality, durability or functionality.
It utilizes dielectric coated Schmidt-Pechan prism system to produce crisp clear image views rich in contrast. Over and above that, the binocular employs ED glass that works together with the fully multi-coated lenses to amplify light transfer in low light and limit glare in bright light.
Maven binoculars are synonymous with durability and this pair of binoculars is not any different. It has a durable yet lightweight frame which maximizes longevity. Other than that, the exterior lenses have a scratch resistant coating for added protection from scratches.
Features
Waterproof and fog proof
Extra-low dispersion glass
10x magnification
28mm effective lens diameter
Scratch resistant lens coating
Fully multi-coated optics
Schmidt-Pechan prism system
Pros
Versatile
Stunning picture quality
Lightweight, compact and portable
Easy to hold with one hand
Very clear in all light settings
Cons
Has a limited interpupillary distance
8) Burris Optics Signature High Definition 8×42 Binoculars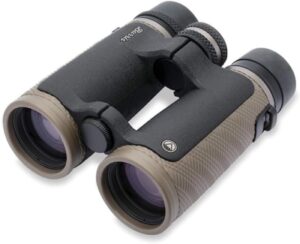 Last but not least, we have the Burris Optics Signature High Definition 8×42 Binoculars. Having this pair of binoculars as you sighting tool will make your safari and wildlife viewing expeditions worthwhile and fun filled.
The optical performance of this optic is a force to reckon with. It employs high performance HD lenses and BaK4 prisms to produce sharp images with edge-to-edge clarity. Furthermore, it has fully multi-coated lenses that ensure high levels of light transmission.
Burris optics are built with durability in mind and this optic is no different. It has a robust aluminum chassis that is rubber armored for protection and non-slip grip. Besides that, the body is nitrogen filled to drive out internal moisture and prevent fog build up internally. The binocular is also sealed against moisture and dust.
With a weight of 23oz only, this roof prism binocular is light and convenient to take along on every adventure. It also comes with adjustable eyecups that you use to customize the eye relief to match your glassing needs.
Features
HD lenses
8x magnification
Premium BaK4 prisms
Multi-coated HD roof prism
Waterproof and fog proof
Rubber armored body
Adjustable aluminum eyecups
Fast focus system
Pros
Lightweight and portable
Easy to use
Good build quality
Smooth and easy focus ability
Cons
Things to Look for in Binoculars for Wildlife Viewing
Now that you are already on a budget, here are the other important things to consider when looking to buy the best budget binoculars for wildlife viewing.
Magnification Power
Magnification power is the first number before the "x" in binoculars configuration. It tells you how many times an object will appear closer to you compared with when you view it with bare eyes.
For wildlife viewing, it is best to get a moderately powered binocular. Models with 8x and 10x are the best. They are simple to use and easier to hold in a steady manner without the need to use a tripod.
Optics Quality
The type of glass a pair of binoculars is made with determines the quality of the images produced. A tip is to get a unit that is made with extra-low dispersion, high transmission HD or fluorite glass. Such high-quality glass elements do not just maximize resolution, but also guarantee brilliant optical clarity.
Lens Coatings
Lens coatings and glass quality go hand in hand. Binoculars that employ multi-coated or fully-coated lenses are the best for viewing wildlife. The more the coatings the lenses have, the better the light transmission especially when you are glassing in low light settings. Lens coatings in binoculars are also important in providing additional protection from scratches and dirt.
Size and Weight
Another important feature to consider is size and weight. The best budget binoculars for wildlife viewing have a lightweight and compact make which makes then not just portable, but also easier to pack with the other gear you will need. Lightweight binoculars also allow for steady and effortless glassing even in long glassing sessions.
Eye Relief
Eye relief in binoculars refers to how far your eyes have to be from the eyepiece to obtain a full field of view. This is an important feature to take into consideration especially if you wear eyeglasses.
Most binoculars have adjustable eyecups for easy eye relief customization. The longer the eye relief you can tailor the binoculars, the more comfortable your glassing sessions will be.
Build Quality
It is also vital to consider the binoculars build quality. Generally, the type of materials used during the construction process determine how durable the binoculars will be.
For the best budget binoculars for wildlife viewing, we do recommend that you opt for a unit that is crafted with the most high-quality materials. In addition to having a robust construction, the binoculars need to have a rubber armoring whose role is to provide a secure grip and additional shield from elements.
Weatherproof Construction
Wildlife viewing is an activity that takes place outdoors. As such, it is important that you settle for a binocular that is built to be operable in all-weather conditions. The optical tubes should have dependable protection from dust, moisture and other elements for uninterrupted field use.
Read Also
FAQs
Is 8x or 10x better for wildlife viewing?
Choosing between an 8x or 10x binoculars for wildlife viewing is largely a matter of personal preference. Both magnification sizes yield a wide field of view that is essential when monitoring moving wildlife. They are also easy to hold steadily with either one or both hands.
How much should I spend on binoculars?
Binoculars are one of the most indispensable gears for outdoor use and how much you spend on one largely depends on your budget. You can expect to pay over $1,000 for the high-end models, between $400 and $1000 for mid-level models and less than $400 for the budget models.
Final Thoughts
We hope that you have found this article on the best budget binoculars for wildlife viewing to be insightful. Wildlife viewing is an activity that is good for people of all ages and having a quality pair of binoculars at hand makes it even more enjoyable. Look at the specs and features that make each binocular a worthy purchase and choose accordingly.