Binoculars are an excellent tool for most outdoor activities. You can use them for astronomy, bird watching, hiking and hunting among many more. To have the best views, you need to hold the binoculars steady. This can be tough especially for the first-time users. Even if your binoculars are ultralight, they will start to feel heavy after holding them for a few minutes.
If you are starting your outdoor hobby, it's simple to assume that binoculars with higher magnification strength are better. This isn't always the case. Typically, binoculars with high magnification are harder to hold steady. You'll find that 8x binoculars are easy to hold steady but when you ramp up to 12x or 15x and more, the binoculars become hard to use without additional support.
How to Hold Binoculars Steady-Tips and Tricks
If you are having a hard time getting clear image views through your binoculars, the problem might be your binoculars aren't being held steadily. Here are some techniques we recommend to help you hold your binoculars steady and see clearly.
Get the Correct Grip on Your Binoculars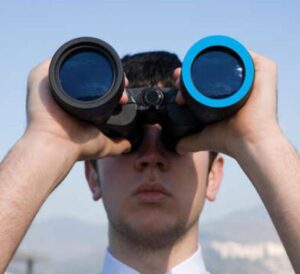 Having the correct grip makes a big difference when it comes to holding the binoculars steady. For bird watching, terrestrial viewing and such, you should hold your binoculars in the center, with one hand on each tube. It makes focusing easy as the focus wheel is right under the fingers.
For added comfort, allow your elbows to rest on your chest and upper belly. When you do so, you'll be able to increase your stability and get much clearer viewing even during long glassing sessions. You can also have your thumbs and fingers rest against your face for added support and helpfully block out any stray light that comes from the sides.
Lean Against a Solid Surface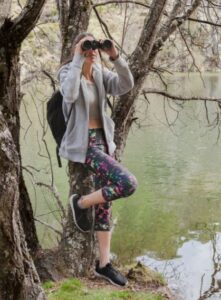 When glassing for a long period of time, every part of your body will get tired. If you have no place to sit, you should look for a solid surface to lean against. This can be a tree, wall, railing, car or a big rock. When you lean against that hard surface, you'll find some support for your body and back, and experience less fatigue. This way, you'll be able to hold your binoculars steadily.
Sit Down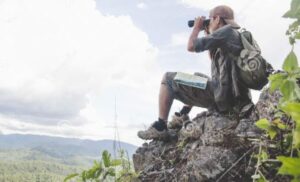 Standing for a long period of time is not only tiring, but also causes discomfort in some of our body parts. When you get tired standing for too long, you should find a solid place to sit if you don't have a chair available. By sitting down, your feet and whole backside will stay supported. That way, your binoculars will be simpler to hold steady. The only drawback here is that the ground may be wet or too cold. However, you can put your jacket or coat and sit on it.
Don't Hold Too Tight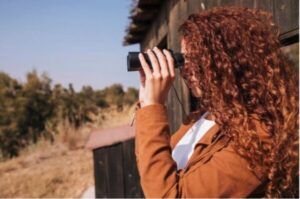 You'll want to hold your binoculars firmly so they don't slip from your hands even in wet conditions. However, you shouldn't grip too hard as it can cause hand movement into your glassing experience.
Instead of using your whole hand to hold the side of the binoculars, try and use your thumb and index fingers, then wrap the remainder of your hand and fingers around the binoculars gently. In the beginning, you will feel like you haven't held the binoculars steadily, but with time it will feel very comfortable for you.
Set the Binoculars on a Stable Surface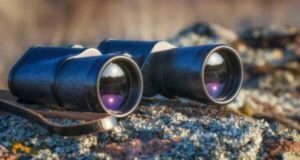 If you don't have a tripod, you can set the binoculars on any hard surface. You can use any solid thing you find such a rock, a tree stump, a picnic table or a rail on your vehicle. Simply set your binoculars on any of these solid surfaces and take the weigh off your hands and shoulders. This technique not only gives stable and clear images, but it also lets you glass for long hours without experiencing hand and eye-fatigue.
See Also 
Alternatives to Holding Binoculars
If none of the techniques listed above works for you or you are using binoculars with high magnification, don't give up yet. There are some tools that are specially designed to help keep your binoculars steady so you can get clear views. Let's take a look.
1)Tripod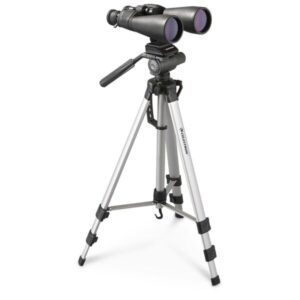 If your binoculars are tripod adaptable, you can get a tripod and use it to hold the binoculars. A tripod has three legs which means that it can hold the binoculars steady, without the need to still hold it. Once you have put the binoculars in focus, you get to enjoy snug, hands-free viewing.
Another good thing about tripods is that most of them have adjustable heights. You can easily adjust the height for any situation and depending on your body height. Their main drawback is they are heavier and difficult to carry in the field.
2)Monopod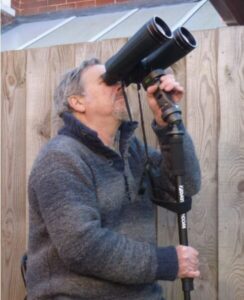 A monopod is a one-legged support for your binoculars. Unlike tripods that are heavy and difficult to carry around, monopods are highly portable. Most of them have adjustable height to suit different users. After use, they collapse into a compact size so they are easy to carry. Besides, they are relatively light, portable and great for travel.
Since a monopod has one leg, it is less stable compared with a tripod. However, it provides a stable support for your optic, so you can get clear images. Plus, you'll have to hold it during use as it won't stand on its own.
3)Straps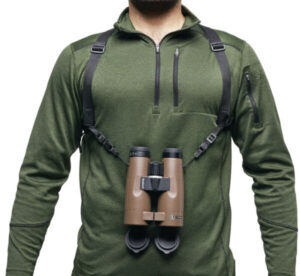 Straps are made to help you carry your binoculars around your neck. They let you carry your binoculars easily and free up your hands. Better yet, straps help you hold your binoculars steady during use by providing additional points of contact.
To achieve steady and clear viewing, you'll need to set the straps to the correct length. Whenever you bring your binoculars to the eyes to view an object, you should be able to push the binoculars out and create tension on the straps. This enhances their steadiness as you now have two straps and two hands holding them.
4)Binopod Chest Harness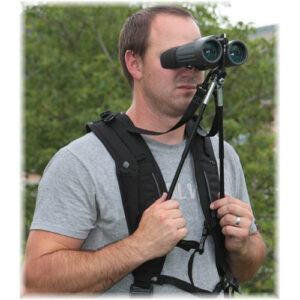 A binopod chest harness combines a chest harness and a mounted stand to create a tool that you can use to mount your binoculars and make them stable. The harness straps to your chest and neck and then holds the binoculars in front of your eyes. They create a steady, hands-free viewing platform. The harness also saves your hands from fatigue particularly during long glassing sessions.
5)Get Binoculars with Lower Magnification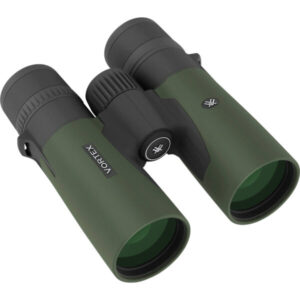 Binoculars with high magnification power are more difficult to hold steady. As the lenses magnify the images, they also magnify your hand movements. So, binoculars with lower optical power will stay less affected when you increase the magnification.
Lower magnification binoculars also provide a wider field of view which is important for snug viewing. You'll hardly get eye fatigue with such binoculars even during long glassing sessions.
6)Use Image Stabilized Binoculars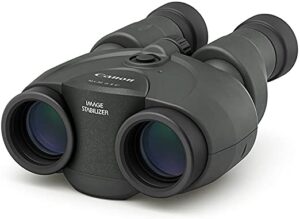 The other way to always ensure that you hold your binoculars steady is by investing in a pair of image stabilized binoculars. Image stabilized binoculars are more expensive than standard binoculars, but if money isn't an object, they are certainly worth the investment. There are so many image-stabilized binoculars available on the market today. These binoculars are designed to compensate for any shakiness or movement to provide steady images. They are versatile and suitable for a wide range of outdoor application such as astronomy, bird watching, hunting and boating.
Conclusion
Hopefully, this post has given you the insight into how to hold binoculars steady. Shaky images are quite frustrating when using binoculars. However, this is something you have to deal with if you have a pair of binoculars. By implementing any of the technique listed above, you should be able to hold your binoculars steadily and drastically minimize image shakiness. You can also invest in a tripod if you are using binoculars with high magnification power.
Read Also