Looking for the best image stabilized for birding? You have come in the right place. We have created a detailed review of the top-performing image stabilized binoculars for birding to help you find a model that fits your needs the best.
When watching birds, being able to get stable image views is key to having a rewarding experience. Image stabilization in binoculars takes out the shake in your views to ensure that you get the best of the best image views. You also get to have high magnification of 10x and above that is actually helpful.
Best Image Stabilized Binoculars for Birding
The best image stabilized binoculars for birding come with sharp focus, all-weather reliability and a robust housing that optimizes durability. Here are some of the highly-rated models available in the market today.
1) Canon 12×36 Image Stabilization III Binoculars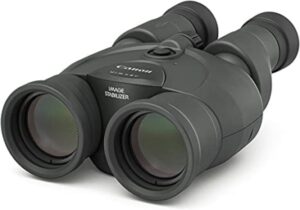 First up on our list is the Canon 12×36 Image Stabilization III Binoculars. Carrying the much-respected and renowned Canon name, this advanced pair of binoculars provides sharp and steady views of birds from any habitat. They are simple to use and suitable for use by every buyer. even beginners.
With the image stabilization technology and high 12x magnification, you are guaranteed of consistent and shake-free image views without the need to use a tripod. Furthermore, the compact design ensures that the binoculars fit perfectly on your hand for comfortable and secure handling. On top of that, this unit has a lightweight design which maximizes mobility.
This set of binoculars delivers outstanding image clarity. It employs doublet field flattener lenses which deliver a sharp and even field of view and multi-coated optics that offer bright and clear sight pictures. For added comfort, they feature an accommodating eye relief that reduces eye strain during lengthy glassing sessions and a large visual field for snug observation even when you are wearing glasses.
More importantly, the Canon 12×36 IS III has a refined, anti-reflective external design which is really helpful when watching birds as it helps you stay inconspicuous. It also has improved power efficiency that preserves the battery life.
Features
12x magnification
Doublet field flattener lens
Multi-coated optics
Low reflective exterior
Environmental-friendly lead-free glass
Porro II prisms
36mm objective lens
Pros
Excellent image stabilization
Large field of view
Compact, lightweight and easy to carry
Sharp and distortion-free image views
Excellent image brightness
Cons
The eye relief is short
Not fully weather resistant
2) Fujinon Techno-Stabi TS12x28 Image Stabilization Binocular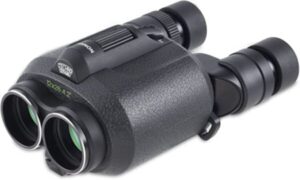 If you are looking for a set of binoculars that offers stable, clear and ultra-sharp views of birds, look no further than the Fujinon Techno-Stabi TS12x28 Image Stabilization Binocular. It offers a unique performance when used on a stationary point or on moving vehicles and vessels at sea.
Featuring 12x magnification, the device delivers great image views of birds even at lengthy distances. To complement the high zoom power, this set of binoculars also features fully multi-coated optics that offer bright and vivid views with high color contrast. The coating of the optics also optimizes low light performance and durability as well.
Another outstanding feature about the binocular the ease of use. It has a lightweight, compact and ergonomic design that optimizes user comfort even during long glassing session. It also features a precise center focus wheel which allows for sharp image focusing with a simple movement of the finger.
Above all, the binocular is powered by a single CR2 lithium battery which provides a long battery life up to 12 hours.
Features
±3 degrees vibration correction
12x magnification
Precise center focus wheel
Fully multi-coated optics
Water resistant housing
Auto off function
Pros
Light and compact design
User-friendly design
Long battery life
Great stabilization
Versatility
Cons
Not fully waterproof
Not ideal for those who wear glasses
3) Canon 10×30 Image Stabilization II Binoculars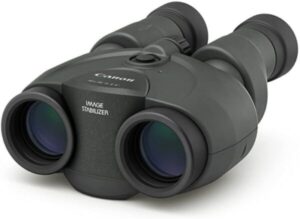 The Canon 10×30 IS II is one of the best image stabilized binoculars for birding for the money. It will bring the action up close and let you enjoy the best bird views at the comfort of your balcony or backyard, or when you are on the go.
With 10x magnification, this set of binoculars provides immaculate sight pictures even at long ranges. The image stabilization technology ensures that images generated are shake-free and with the doublet field flattener lenses in the eyepieces, you get clear and even image views with superior edge-to-edge sharpness.
Moreover, the binoculars are designed to be comfortable to use all day long. The offer a long eye relief that optimizes eye comfort and a generous viewing angle that makes the binoculars comfortable to look through, with or without eye glasses. Even better, the unit is compact, lightweight and easy to carry wherever you go.
For optimal durability, this pair of binocular has a ruggedized housing that stands up to anything you subject it to. It also has a rubberized coating on the focus adjustment ring which enhances control and an anti-reflective exterior design that keeps you inconspicuous.
Features
10x magnification
Porro II prisms
Rubberized coating on the focus adjustment ring
Doublet field-flattener lens
Low reflective exterior
Lead-free glass
Pros
Compact, lightweight and portable design
Great performance in all lighting conditions
Superb image stabilization
Value for money
Ideal for multiple applications
Cons
Not waterproof
The CR2 battery used can be hard to find a replacement
4) Sig Sauer ZULU6 16x42mm Schmidt-Pechan Prism Binoculars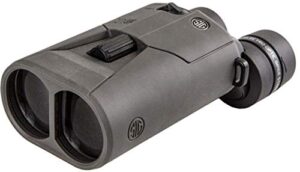 Next up is the Sig Sauer ZULU6 16x42mm Schmidt-Pechan Prism Binoculars. This is an all-round pair of binoculars suitable for a wide range of outdoor applications among them bird watching.
These binoculars are designed with user comfort in mind. They have a lightweight design that maximizes portability and ease of use. Furthermore, you can mount them on a tripod if you are looking for further image stabilization and hands-free viewing.
Featuring 10x magnification, this incredible tool will help you get detailed look of the birds you are watching even when they are far away. The IPX4 waterproof rating makes the binocular operable in wet weather environments and with the Motion Activated Illumination, turning it on and off becomes a breeze.
When it comes to the image stabilization, the binoculars employ an electronically stabilized 2-axis gimbal system which cancels out vibrations from all ends. This generates stable and consistent image views when you are watching birds on the go or from a stationary point.
To top it all, the optic brings to the table a SpectraCoat, lens shield and lens armor coatings that generate crisp and bright image views in all lighting environment.
Features
High 16x magnification
Motion activated illumination
Advanced optical image stabilization technology
IPX4 waterproof rating
42mm objective lens
Eyepiece covers
Pros
Free form chromatic aberration
Lightweight and easy to use
Great image stabilization
Immaculate picture quality
Good value for money
Cons
5) Canon 10×42 L Image Stabilization Waterproof Binoculars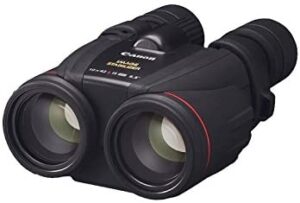 As one of the best image stabilized binoculars for birding, the Canon 10×42 L waterproof binoculars offer excellent image brightness and clarity to make your birding expedition more enjoyable. It is easy to use and ideal for all birders, beginners, professionals and anyone in between.
This pair of binoculars is built to offer unmatched durability. It has a robust housing with a distinctive easy grip design for secure handling. Furthermore, it is fully waterproof for operability in rain and all body components have metallic coating that prevent fogging.
Another feature that makes these IS binoculars stand out is the superb optical clarity. Featuring high performance L lens with dual ultra-low dispersion elements on each side, they offer bright and clear views free of any chromatic aberration. They also boast doublet field flattener lenses which offer edge to edge image sharpness.
Other essential features included are a wide and bright field of view, one touch IS usage and an eyepiece rain guard.
Features
2mm exit pupil diameter
Waterproof and fog resistant design
Large 42mm lens diameter
Two ultra-low dispersion lens elements
Doublet field flattener lenses
Distinctive, easy grip design
Pros
Good battery life
Large and bright field of view
One touch IS usage
Suitable for multiple applications
Ideal for use in virtually all lighting and weather conditions
Cons
6) Fujinon Techno-Stabi 16×28 Binoculars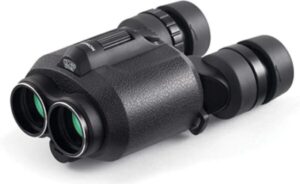 When looking to improve your birding views, you need the best optics possible. This is what you get from the Fujinon Techno-Stabi 16×28 Binoculars. They offer great image stabilization in a compact, lightweight and ergonomic design that is perfect for birding, nature watching, sports and other applications.
Featuring a high 16x magnification, the binoculars provide steady views of objects without the need to use a tripod. The vibration correction range is ±3 degrees to ensure that the images stay steady and consistent which is what you need for birding. Moreover, the binoculars can run for 12 hours continuously even under extremely cold conditions.
Another impressive feature about the device is the optical features. It brings to the table phase-coated Porro prisms which add to the depth and resolution of the images. It also utilizes fully multi-coated optics that generate bright, clear and color accurate image views in virtually all lighting conditions.
Features
16x magnification
Optical stabilization technology
Fully multi-coated optics
Phase corrected Porro prisms
±3 degrees vibration correction
Pros
Compact and lightweight design
Easy to use
Rock steady stabilization
Steady views even when you are on the move
Decent picture quality
Cons
Narrower field of view
Not fully water resistant
7) Canon 18×50 Image Stabilization All-Weather Binoculars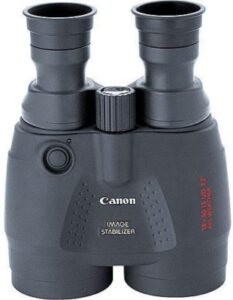 Last but not least we have the Canon 18×50 Image Stabilization All-Weather Binoculars. This unit utilizes optical image stabilization technology which provides shake-free viewing with negligible eye fatigue. You can use it to watch birds in virtually any habitat and for other outdoor applications as well.
This set of binoculars is built to offer exceptional durability. It possesses a robust body that is wrapped with a shock-resistant rubber coating. The rubber coating shields the optics from bumps, impacts and elements of weather and ensures that you get a secure, anti-slip grip even when you are wearing gloves. Additionally, the optic has a water resistant housing for operability in rain, fog and mist conditions.
The binoculars delivers a high 18x magnification and a wide viewing angle that makes target location a breeze. The focusing control is centrally placed for easy access by both hands and with the accommodating eye relief, you are guaranteed of optimal viewing comfort.
In addition to everything else, the Canon 18×50 IS All-Weather Binoculars have multi-coated lenses that maximize light transmission for improved image clarity, brightness and color fidelity.
Features
Shockproof and water resistant
Multi-coated lenses
18x magnification
Built-in optical image stabilization
Large 50mm objective lens
Vari-angle prism
Rugged rubber coating
Pros
Centrally placed focusing controls
Great eye comfort during lengthy glassing sessions
Secure, non-slip grip
Wide, extra-bright field of view
Excellent low light performance
Cons
Read Also
What are Image Stabilized Binoculars?
Image stabilized binoculars are types of binoculars that use unique image stabilization technology to provide shake-free and consistent image views even at high magnification. They have the same features like the ordinary binoculars, but the feature that makes the different is the image stabilization system they are built with.
With the advanced technological system, IS binoculars cancel all the vibrations that can disrupt the steadiness of the sight pictures. The vibrations could be from the movements of your hand or from the vessel shakiness. They also minimize tilt and panning which in turn reduces the blurring and distortion of the images produced.
Criteria for Choosing the Best Image Stabilized Binocular for Birding
Choosing the best image stabilized binoculars for birding is not something that you do on a whip. The are various aspects you should take into account to ensure that you get value for money. Here are the important features you should consider when making your selection.
Aperture
The aperture in binoculars is responsible for collecting light that forms the image. Generally, the larger the aperture the more light is collected and the brighter the images formed appear.
However, the ideal aperture size will depend on your purpose and the lighting environment you will be using the binoculars in. For regular birding during the day, a model with 36mm aperture is good.
On the other hand, if you want the best image detail even in dismal lighting conditions, you need to choose a pair that offers 40mm to 50mm aperture. It will also ensure that you get great image views even for the small sized birds.
Lens Coating
Lens coating is important for minimized glare and loss of light through reflection. It also optimizes light transmission to ensure that the images generated are bright and clear. Go for image stabilized binoculars that boast fully multi-coated lenses.
Eye Relief
The eye relief is the other important factor you should consider. This is the distance of the binocular's eyepiece from your eye. It is important in that it reduces eye strain when you are observing objects for lengthy hours.
Whether you put on eyeglasses or not, ensure that the unit you choose to buy offers a generous eye relief.
Weight
If you like to watch birds when you are on the move, pick a unit that is lightweight and compact. A compact pair will be easy to pack while the lightweight design will optimize user comfort and portability.
On the other hand, weight should not be an issue if you are going to use the binoculars from a stationary point. Some image stabilized binoculars are tripod ready to take the weight off your hands and ensure snug, hands-free observation.
Weatherproof
The best image stabilized binoculars for birding should be weatherproof. This is essential for reliable performance under any weather condition when you are outdoors. As you know, water and other weather elements are major optic enemies. If they get into the binoculars, they can cause permanent damage.
With weatherproof construction, the binoculars will be safe-guarded from all external elements and stay functional for many years. The binoculars should also be fog resistant to provide clear views even when it is foggy and cloudy outside.
Price
The other important factor to consider is the cost of the image stabilized binoculars. Generally, IS binoculars are more expensive compared with traditional binoculars. You can spend hundreds or thousands of dollars on a single unit depending on the brand and the additional features the binoculars have.
Factor in the features you need the binoculars to have then focus on a finding a pair that matches your budget needs.
Best Image Stabilized Binoculars for Birding FAQs
Are image stabilized binoculars necessary?
This depends on the use and individual needs. If you are looking to have better views when watching birds or you suffer from shaky hands, a pair of image stabilized binoculars will be really helpful.
How do you stabilize binoculars?
If you are using traditional binoculars that lack image stabilization, the easiest way to stabilize them is to mount them on a tripod. Holding the binoculars with both hands and resting on a stable surface will also help keep the binoculars steady.
Are image stabilized binoculars good for birding?
Yes. Image stabilized binoculars remain a fine choice for avid birders looking to have steady views either at their homes or while they are on the go. In addition to stabilizing the image views, the also offer finer details of the birds.
Final Thoughts
We do hope that you have found this post enlightening and helpful. Finding the best image stabilized binoculars for birding doesn't have to be a task that is strenuous and time consuming. All the units listed above are built with advanced image stabilization technology and a multitude of other high-end features to offer the best birding experience. Pick any one of them and use it to better your birding views today.