Are you in the hunt for the best 3-9×40 air rifle scope? You have come to the right place. In today's post, we explore the best-rated 3-9×40 scopes that are ideal for use with air rifles.
An air rifle is a fantastic survival gear that is versatile and very easy to shoot with. Modern air rifles are power plants that are more powerful with a wider range of applications and calibers. To maximize the performance of your air rifle and make your shooting expeditions more fun, it is wise to invest in a scope. And not just any scope, but an optic that is tough enough to handle the recoil impulse air rifles generate.
This can be a daunting task especially for the first-time buyers given the plethora of scopes available out there. But we are here to help. We have done our research and put up a list of the best 3-9×40 air rifle scopes to help make your selection process simpler. But first things first, let's have a look at the attributes that make a great air rifle scope.
Attributes of a Great Air Rifle Scope
Air rifles have evolved and so is the air rifle rated scopes. A great air rifle scope is made up of several attributes and the first one is quality construction. A scope that is crafted with premium quality materials with weather the recoil air rifles generate and get you many years of use.
Furthermore, the scope has to have a lightweight design to ensure that it handles the recoil more effectively. A light scope is also beneficial in that it will not add any extra weight on the air rifle and affect its precision considering that most air rifles are lightweight.
To ensure comfortable glassing from any shooting position, the scope has to have a long eye relief that minimizes strain on the eyes during use. Additionally, the scope should have an objective lens that is large enough to gather light efficiently in low light settings and have quality lens coatings that enhance light transmission.
Another important feature that the best air rifle scope should have is a waterproof, fog proof and dust proof construction to deliver reliable performance in favorable and less favorable weather conditions.
Best 3-9×40 Air Rifle Scopes – Top Picks
3-9×40 is the arguably the best size for air rifles considering that most air rifle shooting scenarios take place at close to medium ranges. The variable zoom power is easy to use and gives you the flexibility to take shots at different ranges.
If you are looking for the best 3-9×40 scope for your air rifle, here are the best-performing models to choose from. Let's take a look.
1) Hawke Vantage 3-9×40 AO Riflescope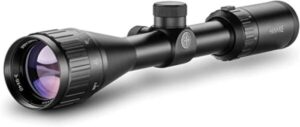 First up, we have the Hawke Vantage 3-9×40 AO Riflescope. This classic riflescope is designed from the ground up for air rifles and is ideal for a wide range of applications including plinking, small game hunting and recreational target shooting.
At closes ranges, the scope provides a spacious field of view to help with quick target finding. The 40mm objective lens which is coated with anti-reflective lens coatings makes the zoom power useful even at the highest levels by maximizing light collection. Furthermore, the scope has a high torque zoom ring for easy magnification adjustment.
Another thing that makes the optic the best 3-9×40 air rifle scope is the quality construction. It has a robust and shockproof housing to weather the recoil air rifles produce. Additionally, the optical tube is waterproofed and fog proofed to be operable in all weather conditions.
What's more is that the scope's objective is adjustable for parallax correction and image focusing. It also has low profile turrets that are capped to provide additional shield from elements and to prevent accidental adjustments when you are in the field.
Features
High-torque zoom ring
Waterproof and fog proof
Mil-dot reticle
Capped low profile turrets
Adjustable objective
11 layer fully multi-coated lenses
Fast focus eye bell
1-inch main tube
Pros
Accurate
Easy to shoot with
Lightweight and durable
Low cost
Cons
2) BSA Optics Outlook 3-9x40mm Air Rifle Scope

The Outlook 3-9x40mm Air Rifle Scope from BSA Optics is built to withstand the fierce reverse recoil found in air rifles. This makes it a suitable companion for all air rifle shooting applications. It also offers a long eye relief at each zoom setting to maximize glassing comfort and keep your eye safe from recoil.
Weighing a mere 17.7oz, this air rifle scope is lightweight, portable and easy to shoot with. It is crafted from aluminum so its durability is guaranteed. Furthermore, it is shockproof, fog proof and waterproof to ensure unimpeded field use.
The picture quality of the scope is incredible in all lighting conditions. This is made possible by the fully multi-coated optics that enhance light transmission by reducing glare and internal light loss. Other than that, the scope has an adjustable objective for parallax correction and a Mil-Dot reticle that provides a clear point of aim in all lighting and weather conditions.
Features
Mil-Dot reticle
Fully multi-coated lenses
Fast focus eyepiece
Waterproof, fog proof and shockproof
Adjustable objective
1-inch tube diameter
Low profile zero-reset turrets
Robust aluminum housing
Pros
Ultra-lightweight design
Decent price
Generous eye relief
Durable construction
Holds zero well on high velocity air guns
Cons
3) Hawke Airmax Airgun Scope 1"

Next on our list is the Hawke Airmax Airgun Scope. This 1-inch tube scope features a wide array of high-quality features that make it ideal for use on nearly all air guns. It is incredibly easy to use and a great choice for the youth and those new in air gun shooting.
The selling point of this air gun scope is the AMX reticle that offers several aim points. This is very important when you are using an air gun with loop trajectories. The reticle is etched on glass to endure heavy recoil and add on durability. It also has a half Mil Dot spacing on the lower post to provide better aim points for the longer shots.
Optically, the scope features 16 layers of coatings on the lenses to maximize light transmission and offer exceptional optical clarity. Complementing the wide view optical system is an adjustable objective for parallax adjustment and a generous eye relief that remains constant at each zoom settings.
Moreover, the scope brings to the table a fast focus eye bell for rapid reticle focusing and a high torque zoom ring for swift magnification adjustment. Construction-wise, it has a shockproof body to enhance longevity by withstanding recoil, impacts and rough use. It is also waterproofed and purged with dry nitrogen to be operable even in harsh weather conditions.
Features
1-inch mono tube chassis
Fast focus eye bell
Waterproof and fog proof construction
16-layer fully multi-coated optics
Threaded objective/ocular
AMX glass etched reticle
1/4 MOA low profile fingertip turrets
Integrated adjustable objective
Pros
Solid construction
Lightweight and easy to use
Sharp and clear optics
Repeatable and consistently holds zero
Cons
Not for high recoiling air rifles
4) Leapers UTG 3-9x40mm Hunter Rifle Scope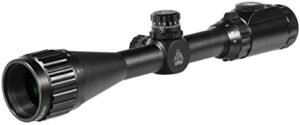 Next on our list of the best 3-9×40 air rifle scope is the Leapers UTG Hunter Rifle Scope. This air rifle is built on true strength platform to stand up to the recoil air rifles are known for and ensure reliable performance in all situations.
The scope has a generous eye relief of 3.9" and 3.2" at lowest and highest zoom power respectively. This ensures comfortable glassing with or without eye wear. It also keeps your eye safe from getting hit by the recoiling scope.
Furthermore, the scope yields a wide field of view to ensure rapid target tracking in all environments. To complement the wide field of view, the scope boasts a Mil-Dot range estimating reticle that provides the most optimal aiming and shooting performance. It also features emerald coated lenses that ensure high levels of light transmission in all lighting environments.
For all-weather reliability, the scope is completely sealed on both ends and filled with dry nitrogen. It also has a rugged 1-inch main tube that is shockproof to withstand the rough usage that comes with air rifle shooting.
Features
Range estimating mil-dot reticle
5 yards to infinity parallax adjustment
Waterproof and nitrogen filled
High-quality flip open lens caps
Premium zero locking and zero resetting turrets
1/4 MOA per click windage and elevation adjustment
Durable and shockproof construction
1-inch main tube
Pros
Wide field of view
Lightweight and durable
Easy to install and use
Inexpensive
Cons
Short eye relief at max power
5) Pinty 3-9×40 Red Green Rangefinder Illuminated Optical Rifle Scope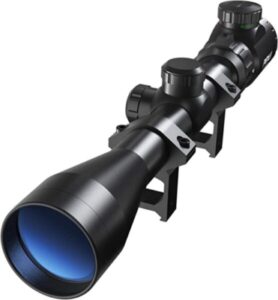 Pinty 3-9×40 Rifle Scope is another great air rifle scope whose versatility is hard to beat. The variable 3-9x zoom range is suitable close to medium range hunting and shooting in all weather and lighting environments.
The scope's optical clarity is outstanding. At each zoom setting, it offers stunning picture quality thanks to the multi-coated objective lens that maximizes light collection. Furthermore, the scope provides a wide field of view through the entire magnification range for quick target finding.
For added convenience, this glassing tool has an eyepiece diopter that adjusts from +3 to -2 to ensure that your view is perfectly clear. On top of that, it features an illuminated rangefinder reticle with 5 different brightness that guarantee optimal visibility in all lighting conditions.
Regarding construction, the scope has 1-inch body tube made with high-quality materials to maximize durability. The tube is O-ring sealed to lock out dust and moisture and prevent then from getting inside the optic. On top of that, the internal optics are nitrogen filled to provide a lifetime of fog proof performance.
Above all, this air rifle scope comes with two 1-inch complementary scope rings for easy mounting onto any Picatinny or Weaver mount rails.
Features
Multi-coated lenses
Illuminated rangefinder reticle
Waterproof and fog proof
1-inch main tube diameter
Intuitive windage and elevation adjustment
Heavy-duty aluminum alloy construction
+3/-2 diopter adjustment
Pros
Superior shock resistance
Illuminated reticle
Wide field of view
Bright and clear optics
Cons
6) Vortex Crossfire II 3-9×40 Riflescope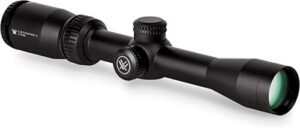 Carrying the highly-respected Vortex name, the Crossfire II 3-9×40 is a multifunctional scope ideal for use with both rifles and air rifles. It offers a perfect balance between price, quality and value where it exceeds the performance of similarly priced optics from other brands.
The scope has a rugged construction to withstand recoil and impact. This maximizes its durability even with everyday air rifle shooting. Besides that, the scope has fully multi-coated lenses to limit glare and offer high levels of light transmission. As a result, it optimizes the clarity and brightness of the sight pictures in nearly all lighting environments.
Another thing that makes the scope ideal for air rifle shooting is the lightweight design. It weighs 1.4 pounds only so it will be more effective at scattering recoil. Furthermore, it has a long eye relief and ultra-forgiving eye box that shields your eye from getting hit by the scope when it recoils and increases the speed of target acquisition.
The other essential features included are a waterproof and fog proof construction, capped reset turrets that are finger adjustable and a fast focus eye piece for quick reticle focusing.
Features
Dead-Hold BDC reticle
Fully multi-coated lenses
Resettable MOA turrets that are capped
Waterproof and fog proof
Aircraft grade aluminum construction
Fast focus eyepiece
1-inch body tube
Pros
Long eye relief
Solid construction
Inexpensive
Bright and clear optics
Cons
Plastic lens caps
No mount included
7) CVLIFE 3-9×40 Optics R4 Reticle Crosshair Scope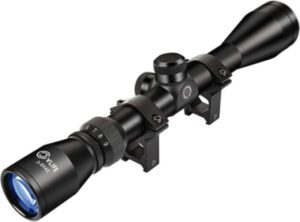 Lastly on our list of the best 3-9×40 air rifle scope is the CVLIFE 3-9×40 Scope. This optic is a great addition to any air rifle as it is engineered with multifunctionality in mind. It is very easy to install and simple to use even for the beginners.
The scope is built to be nearly indestructible. It has a unique inner and outer structure to provide long lasting reliability and durability. The design provides more precise windage and elevation adjustment which is what hunters and shooters look for in a scope. Additionally, it is fully waterproof, fog proof and shockproof to be usable in any weather condition.
To optimize picture quality in all lighting conditions, the scope has fully multi-coated glass which provides over 90% light transmission. On top of that, the exterior of the lenses is coated with scratch resistant coatings for added protection from scratches, dirt and oil stains.
Features
1-inch main tube
Fully waterproof, fog proof and shockproof
Scratch resistant lens coatings
Special inner and outer structure
Fine duplex reticle
Fully multi-coated glass
Pros
Ultra-lightweight construction
Wide field of view
Great low light visibility
Value for money
Beginner-friendly
Cons
Read Also
Air Rifle Scopes Vs Rifle Scopes
Air rifle and rifle scopes come in different sizes and designs, but they serve the same purpose of magnifying the small targets and bringing you closer to the distant targets. The main difference between these two scopes is that air rifle scopes are built more sturdily to withstand the heavy recoil air rifles generate.
Generally, an air rifle scope will experience double the amount of recoil as a rifle scope of the same caliber. As such, a sturdy and robust construction is paramount to ensure that it doesn't get damaged during use.
Secondly, the magnification power between the two scopes varies slightly. Air rifle scopes have a moderate magnification power designed for close to medium range use. Rifle scopes on the other hand have a vast zoom range which makes them ideal for use in virtually all distances.
Things to Consider when Buying an Air Rifle Scope
Other than the magnification power and the objective lens size, here are the other things to consider when shopping for the best 3-9×40 air rifle scope.
Recoil
Air rifles are known to scatter fierce recoil but the recoil is different from one rifle to the other. As such, it is important to understand the amount of recoil your air rifle generates then get a scope that is sturdy enough to weather that recoil.
Lens Coatings
In scopes, lens coatings play a very big role of maximizing light transmission. A scope with fully multi-coated lenses will offer brighter and clearer image views than one with a single layer of lens coating. Lens coatings are also important as they shield the optics from scratches and bruises in the field.
Usage
The next thing you need to consider is the activity you will using the scope for. Is it for small game hunting, pest control, recreational target shooting or any other activity. When you are more specific about the intended usage, it will be easier to find the right scope for your needs.
Build Quality
You will want to pay your hard-earned money on a scope that will last long. When making your selection, look at the quality of glass used and the types of materials used to make the main tube. Air rifle scopes made from magnesium alloy or aircraft quality aluminum are the best in terms of durability and quality. They are also lightweight and more effective at dispersing the back-and-forth recoil.
Eye Relief
Eye relief is a very important feature in air rifle scopes. The more the recoil is generated, the higher the chances of your eye getting hit by the scope. To avoid this, you will need a scope that has a long eye relief of 3.5 inches and above. A long eye relief is also important as it enhances glassing comfort during use.
Weatherproof
Water, dust and debris are the main enemies of any optic. For a scope to be categorizes as the best 3-9×40 air rifle scope, it should be engineered for use in all weather conditions. The optical tube should be filled with a dry inert gas to enhance thermal stability and drive out internal moisture. It should also be sealed to prevent moisture and dust from getting inside the optics.
FAQs
Why do air rifles break scopes?
Air rifles tend to damage cheap and low-quality scopes easily because of the heavy recoil they generate. An air rifle recoils to both the rear and the front which can be too much to handle for a scope that is not rigid.
Can you mount a regular scope on an air rifle?
Yes, you can add a regular scope on an air rifle but only if it is sturdy and rigid enough to withstand the abuse and recoil that comes with air rifle shooting. If its cheaply built, you might end up with a broken scope after the end of your shooting trip.
Final Thoughts
Air rifles break cheaply made scopes easily due to the heavy recoil they generate. It is therefore important to get an air rifle-specific scope that is engineered to withstand such recoil and offer reliable performance all through. Take at a keen look at the features and specs each scope comes with than choose depending on your skills, needs and shooting environment.