Are you in the hunt for the best scope for 6.5 Grendel? If yes, you are in the right place. In this post, we shed light on the best scopes for 6.5 Grendel that are available on the market currently.
When it comes to shooting with the 6.5 Grendel, a quality scope is a true asset. Investing in the right scope will help you find targets swiftly irrespective of how far they are. A good scope will also boost your shooting confidence and ensure that nothing is left undiscovered once you set your feet in the hunting field or shooting range.
However, finding a scope that matches the needs of this power-packed round is no easy feat. Today, the market is flooded with so many scopes which make the selection process a little overwhelming.
To help, we have done our homework and complied a comprehensive review of the best scope for 6.5 Grendel. We also have a detailed buyer's guide that will help you make an informed buying decision.
Before we take a look at these scopes in detail, let's start by looking at the key facets that make a great scope for 6.5 Grendel.
What Makes a Great Scope for 6.5 Grendel?
Generally, there are numerous attributes that make a scope great for 6.5 Grendel. The first one is ample and versatile magnification. The round excels at medium and long ranges out to about 400 yards. So, having a high-powered variable scope will give you the flexibility you need to take the shots at different ranges.
Secondly, the scope should have high-quality optics and proper lens coatings to make the process of target acquisition quick and easy, irrespective of the lighting conditions. In addition, it is essential for the scope to have a user-friendly reticle that will help you optimize its full optical capability.
A great scope for 6.5 Grendel should also has a ruggedized housing to weather anything you subject it to. It is also important that you get a scope that is built to survive in any weather condition.
Last but not least, the scope should be easy to use and have a lightweight design for comfortable carrying in the field.
7 Best Scopes for 6.5 Grendel
Whether you are looking to buy your first 6.5 Grendel scope or you are looking to take your shooting skills a notch higher so you need an upgrade, here are the best scopes you can choose from. Let's take a look.
1) Leupold VX-3i 4.5-14x50mm Riflescope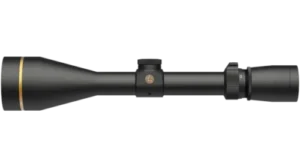 First up is the VX-3i 4.5-14x50mm Riflescope from Leupold. Leupold scopes are known for their relentless performance and this model is not any different. Having it as your hunting companion will help you push the 6.5 Grendel to its full potential and turn your expeditions  into a success.
This scope offers an optical performance that is second to none. It employs a Twilight Max Light Management System that yield maximum image brightness and color accuracy in the whole field of view. It also features a Duplex reticle that stands out, even in low light conditions.
Another facet that makes the scope shine is its durability. You can subject it in the roughest hunting environments and it will still perform. Besides, it is watertight sealed to ensure a lifetime of waterproof and fog proof performance.
The scope also features dual spring precision adjustments that guarantee match grade precision and an ultra-lightweight design so it won't get in your way while on the hunting field.
Features
Vast 4.5-14x magnification
Duplex reticle
1-inch main tube
Twilight Max Light Management System
Dual spring precision adjustments
Easy turn power selector
Waterproof and fog proof construction
Pros
Lightweight design
Accommodating eye relief
Exceptional low light performance
Durable housing
Clear optics
Cons
Costly but worth it
It is a 1-inch tube scope
2) Vortex Optics Viper HS-T Second Focal Plane Rifle Scopes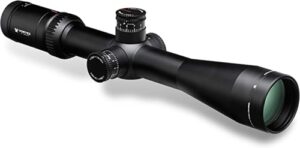 If you need a scope whose versatility matches that of the 6.5 Grendel, look no further than Vortex Viper HS-T 4-16×44. It provides mid to long range versatility for both hunting and tactical shooting.
Unmatched optical finesse awaits you when you get this rifle scope. It incorporates premium, fully multi-coated ED lenses for optimal resolution and color richness. It also features multi-layer coatings which enhance the scope's light transmission capability to yield bright and detailed image views.
When it comes to construction, this versatile scope is made to last. It has a robust 1-piece tube that is O-ring sealed and argon purged to be waterproof and fog proof respectively. It also possesses an Armortek coating that protects the lenses from scratches and dirt.
Moreover, the scope is equipped with a fast focus eyepiece that you can use to adjust the reticle to suit your eye and a lightweight design for mobility convenience. Other essential features included are a CRS Zero Stop, exposed target turrets and a side focus parallax adjuster.
Features
One-piece 30mm main tube
Waterproof and fog proof construction
Fully multi-coated lenses
Exposed, target-style turrets
Premium ED glass
CRS Zero Stop
4-16x magnification range
Pros
Excellent long range accuracy
Durable make
Great versatility
Manageable weight
Cons
The VMR-1 reticle can be difficult to use for some
3) Burris Fullfield II Hunting Scope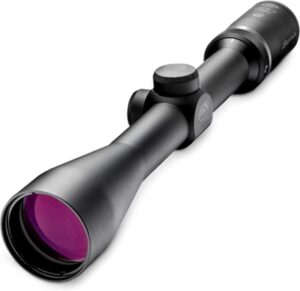 If you are in the market for a powerful and reliable hunting scope for your 6.5 Grendel, you have found it in the Burris Fullfield II Hunting Scope. Made with the avid hunter in mind, the scope provides nearly every feature you need to take your hunting to the next big level.
It is built with high-grade optical glass to ensure that you find your targets with ease even in low light settings. Better yet, the solid 1-piece outer tube stands up to shock, recoil and impacts to offer unbeatable durability.
When it comes to the zoom power, you can ramp up its power 4.5x to 14x based on the game you are hunting and how far it is. At close and medium ranges, you get a wide field of view for effortless target finding. You also get rapid target acquisition at the highest magnification level.
Best of all, you can go look for game even in the most adverse weather conditions thanks to the waterproof and fog proof housing.
Features
Hunter turrets
Hi-Lume Multi-coated lenses
Adjustable objective
1-inch main tube
Water, fog and shockproof
Matte finish
Ballistic plex reticle
Knurled magnification knob
Pros
Cost effective
Lightweight make
Great light collection in low light settings
The housing quality is top notch
Cons
It is a 1-inch tube scope
4) NIGHTFORCE NX8 4-32x50mm F1 Scope

Nightforce is known of its top-notch rifle scopes and the NX8 4-32x50mm F1 Scope delivers on that reputation. This remarkable scope will help better your accuracy when taking shots at intermediate to long ranges and turn your hunting and shooting trips into a success.
It has a variable magnification from 4x up to 32x to help you pursue targets in any distance. Even with the vast magnification range, you will not experience any blur images or distortion. This is thanks to the large 50mm aperture that optimizes light collection and the high-end optics that yield bright and tack-sharp images views.
Furthermore, the scope is built to offer unmatched durability. It is machined from aircraft-quality aluminum alloy that guarantees great sturdiness and durability. Above all, you will enjoy parallax free views from 11 yards to infinity and enhance your shooting accuracy especially at long ranges.
Features
Built-in throw lever
DigIllum illumination
First focal plane reticle
30mm body
Aircraft-quality aluminum alloy housing
Vast 4-32x magnification
Broadband multi-coated lenses
Pros
Stunning low light performance
Built to last
Great glass quality
Easy to install and use
Cons
5) Vortex Optics Diamondback Tactical First Focal Plane Riflescopes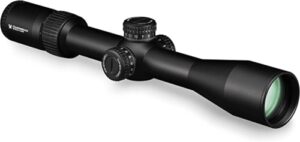 The Diamondback Tactical First Focal Plane 4-16×44 riflescope is the best scope for 6.5 Grendel for the budget buyers. It is built to offer the best combination of performance, precision and dependability at a price that is easy on the wallet.
With the variable 4-16x magnification, this scope is ideal for hunting different game at mid to long ranges. To complement the broad zoom, the also possesses a first focal plane glass-etched reticle that keeps the sub tensions accurate in the whole 4x zoom range and a large 44mm objective to maximize the quality of the images generated.
Like any other Vortex scope, this model is built to survive everyday use. It has a shockproof 30mm tube that is sturdy enough to weather recoil, impacts and any rough handling. Better yet, it is sealed with strong O-rings and nitrogen purged to be fully waterproof and fog proof.
The scope also brings to the table a fast focus eyepiece, a feature that is essential for rapid and simple reticle focusing. To top it all off, it has fully multi-coated lenses that yield crisp, bright and detailed sight pictures, even is dismal environments.
Feature
Precision-glide erector system
Extra-low dispersion glass
Fully multi-coated lenses
30mm main tube
Waterproof and fog proof
Fast focus eyepiece
Exposed tactical turrets
First focal plane reticle
4-16x magnification
Pros
HD image clarity
Adjustable parallax
Lightweight
Clear optics
Excellent build quality
Cons
The reticle is unilluminated and difficult to see in low light
6) Leupold VX-Freedom 3-9x40mm Riflescope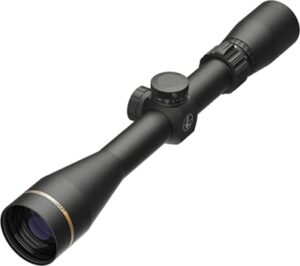 Next up is the Leupold VX-Freedom 3-9x40mm Riflescope. If you intend to use your 6.5 Grendel for close and medium range hunting only, this scope suits you.
At close ranges, the scope offers a large field of view to make tracking of the game easy and ensure that nothing is left undiscovered. You can also dial the power up to 9x for more rapid target acquisition. Furthermore, the 40mm objective optimizes performance in low light settings and ensures that the images generated at every zoom setting are bright and clear as well.
Construction-wise, the scope has an aluminum housing that offers outstanding durability and ruggedness. Furthermore, it has Leupold's Custom Dial System and a traditional eyepiece lock ring that gives you the capability to lock in a focus setting that is most comfortable for your eye.
Above all, the scope has an ergonomic lightweight design which makes it ideal for every hunting expedition.
Features
Versatile 3-9x magnification
Traditional eyepiece lock ring
Ruggedized aluminum housing
Leupold's Custom Dial System
Weather resistant design
40mm objective lens
Pros
Lightweight design
Easy to install
Great low light visibility
Budget-friendly
Good eye relief
Cons
Some users find the reticle to be too fine
7) Primary Arms 4-14x44mm Rifle Scope Mil-Dot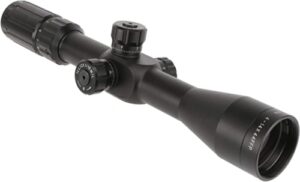 Lastly on our list, we have the Primary Arms 4-14x44mm Rifle Scope. This scope is loaded with a wide range of quality features to help you get the absolute best from your hunting expeditions.
It is built with a traditional MIL-DOT reticle put on the first focal plane. The reticle provides accurate range and holdovers at all ranges to boost your odds of precise shot placements. It also has a fast focus eyepiece which provides a clear view of both the target and reticle for accurate aiming.
Furthermore, the scope has a 30mm main tube that is compatible with most rings and mounts. In terms of construction, it has a rugged aluminum housing that maximizes durability without being bulky. It is also coated with an anodized matte finish which protects it from scratches and rust.
To top it all off, the scope is shockproof to maximize its durability and fully waterproof and fog resistant for use in any weather condition.
Features
First focal plane reticle
Shockproof, waterproof and fog resistant
High-grade glass
Side adjustable parallax
30mm main tube
Exposed tactical turrets
4-14x magnification range
Fast focus eyepiece
Pros
Excellent fit and finish
Great glass clarity
Affordable price
Cons
Non-illuminated
Short eye relief
Read Also
Factors to Consider when Choosing the Best Scope for 6.5 Grendel
Objective Lens Size
A scope with a large objective lens will optimize your shooting accuracy even in low light settings. It will collect the much-needed light which you need to aim quickly and accurately. Besides, a large objective lens provides a wider field of view which is what every hunter needs for rapid target finding.
Magnification
A variable power scope is the best for the 6.5 Grendel. You will have the ability to adjust the zoom power based on the size of game you are hunting and how far it is. A tip is to get a scope which has a vast magnification to make target acquisition simpler.
Lens Coating
Go for a scope that has its lenses fully multi-coated. It will minimize glare and the loss of light through reflection. This will increase the amount of light transmission and ensure that the sight pictures generates are bright, vivid and sharp even in low light conditions.
Durability
The durability of any rifle scope is defined by the material it is made of. With so many options out there, go for a scope that is built with high-grade materials like aircraft quality aluminum alloy. Such scopes are rigid enough to survive everyday use and rough handling that comes with shooting in the range and hunting. It is also important to pick a scope that is waterproof, fog proof and shockproof for all-weather reliability and greater durability as well.
Weight
Given that the 6.5 Grendel is widely used in the hunting fields, it is best to get a scope that is light in weight. You don't want a big and bulky scope that not only interferes with the rifles' accuracy, but also gets in the way as you move from one place to the other.
Instead, you will want a light scope that is portable, simple to set up and easy to shoot with in any situation.
FAQs
What is the 6.5 Grendel good for?
The 6.5 Grendel is good for hunting at close to medium ranges. It is designed to deliver more energy on the target compared to other AR-15 cartridges. With the high power it generates, you will have an easier time making a kill that is ethical irrespective of the game you are hunting.
Is the 6.5 Grendel good enough for deer?
Absolutely.  The 6.5 Grendel is extremely versatile and works for nearly all hunting applications. For deer hunting, it makes an outstanding choice even at long ranges where it delivers stunning accuracy and great hitting power.
What do numbers mean on a rifle scope?
A rifle scope is always represented by two numbers in its configuration. The first number before the "x" is the magnification power while the number after the "x" is the diameter of the objective lens.
Final Thoughts
Hopefully, this post has given you the insight into the best scope for 6.5 Grendel. Generally, the intended usage plays a big role in determining the best scope for your needs. When making your selection, be activity-specific then focus on finding the scope that works best for your personal needs.