Looking for the best scope for 308? You are in the right place. We have put up this scopes guide and reviewed the top-performing .308 scopes to help you find the right model your needs.
One of the most popular cartridges for hunting is the .308 Winchester rifle cartridge. It is more than enough for medium and big game hunting at normal hunting distances. Besides, it has the ballistics, shoot-ability and multifunctionality that most hunters find useful in a wide range of hunting environments.
What Makes a Great 308 Scope
If you are an avid hunter who uses the .308 hunting rifle, a scope is one of the most valuable gear you should have in your hunting tool set. Any not just any scope but one that is designed for use with this kind of hunting rifle.
A great scope for 308 should have a broad zoom power that makes hunting across different ranges easy. It also needs to have a large aperture of 40mm and above to collect as much light as possible inside the optics for bright image views even at the highest magnification power.
The other important things that makes a great .308 scope include:
A body that is waterproof, dust proof and fog proof to ensure unimpeded use in the field in any weather condition
A generous eye relief of 3.5 inches that maximizes comfort during use
Solid construction to withstand regular use and rough handling
Spacious field of view which is vital when hunting fast-moving game
A fast focus eyepiece for rapid reticle focusing
Quality glass and good lens coating to ensure effective transmission of light
8 Best Scopes for .308 – Our Top Picks
Getting a quality scope for your next hunting trip will help you take down game effortlessly and get back home a happy hunter. A good scope will broaden your vision, increase your speed of acquiring the targets and also enhance your situational awareness in the field.
In this post, we have done our research and compiled a list of the best scopes for .308. We have also attached an in-depth buyer's guide with a number of the important features you should look for in a quality 308 rifle scope.
So, without wasting any more time, let us get right into it.
1) Leupold VX-5HD 3-15x44mm Side Focus Riflescope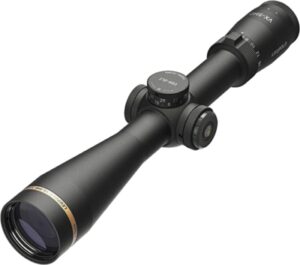 First up, we have the Leupold VX-5HD 3-15x44mm Side Focus Riflescope. This is a feature-rich rifle scope that is built with the versatility you need to dominate all .308 applications. It simple to operate and a guarantee that you will get relentless performance in any environment.
Built with a variable 3-15x magnification power, the scope will help you take full advantage of any situation and take shots at different ranges. The Firedot illumination complements this versatile magnification power by providing a clear point of aim in all lighting conditions including dawn and dusk.
Moreover, the scope is built around Leupold's Professional-Grade Optical System and it offers spectacular picture quality even in low light settings. It also boasts Twilight Max HD Light Management system that adds up to 30 minutes of shooting light and offers superb glare reduction.
To simplify longer shots, the scope has a ZeroLock custom dial system that eliminates the need for ballistic calculations or holdovers. It is also built to last long and with advanced sealing methods that make it waterproof, fog proof and dustproof.
Features
3-15x magnification
30mm main tube
Second focal plane Duplex reticle
ZeroLock custom dial system
Twilight Max HD Light Management
Professional-Grade Optical System
Waterproof and fog proof
Matte finish
Pros
Crystal clear optics
Lightweight design
Outstanding durability
Simple to use
Cons
2) Vortex Optics Razor HD Gen II-E 1-6x24mm Rifle Scope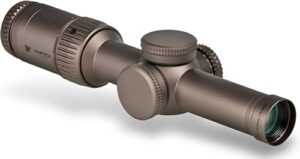 Vortex, a household name in the optics field prides itself in making top-tier optics and the Razor HD Gen II-E 1-6x24mm Rifle Scope is not an exception. Built with every skill level in mind, the scope harbors a ton of impressive features that make it the best scope for 308 for hunting.
The scope has a lightweight design and a compact form for easy carrying in the field. The 1-6x variable magnification makes it a top-tier solution for both close and medium range applications. It also boasts a generous eye relief that aids in quick target acquisition and ensures comfortable observation.
Optically, the scope delivers incredible resolution, color accuracy as well as edge-to-edge image sharpness and clarity. A true, daylight bright illuminated center dot provides the ultimate close range versatility, while the plasma tech process provides unmatched durability for the coating on the lens.
The body of this rifle scope is made from a solid block of aircraft quality aluminum for strength and rigidity. It is coated with a hard anodized finish to prevent glare and make it scratch proof. Besides, the windage and elevation turrets are capped for added shield from bumps and damage.
Above all, the scope is O-ring sealed and argon purged to offer unimpeded reliability in all sorts of weather conditions.
Features
Low profile locking illumination dial
Single-piece 30mm main tube
Water, fog and shockproof
Fast focus eyepiece
Capped, large diameter turrets
Optically indexed lenses
Hard anodized aircraft grade aluminum body
Second focal plane reticle
Pros
Long eye relief
Day bright reticle illumination
Lightweight and durable
Bright and clear optics
Cons
3) Monstrum G2 1-4x24mm Rifle Scope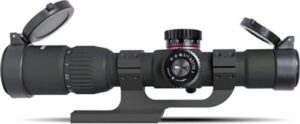 For close and medium range hunting and tactical shooting with the .308, the Monstrum G2 1-4x24mm Rifle scope is your ideal option. The scope is built to fine tune your accuracy and better your performance even in the most challenging environments.
This rifle scope comes equipped with a first focal plane rangefinder reticle for rapid range estimation and quick holdover correction. The reticle is etched in glass to enhance durability and has dual red and green illumination for better visibility in critically low light settings.
Construction-wise, the scope is made from 6061 aircraft quality aluminum to give you many years of use. The entire body is sealed to keep the optics free of moisture, dirt and dust. It is also charged with nitrogen to keep the optical tube resistance to fog that is often caused by rapid temperature and humidity changes.
Furthermore, the scope boasts a built-in honeycomb filter sunshade for minimizing outward glare. It also features multi-layer coated optics that reduce glare and internal reflection. As a result, light is transmitted more effectively for brilliant and clear sight pictures.
Features
First focal plane reticle
30mm body tube
Water and fog resistant
6061 aircraft quality aluminum construction
Multi-layer coated optics
Variable 1-4x magnification
Pros
Long eye relief
Ultra-lightweight design
Inexpensive
Reticle illumination
Clear glass
Cons
Not for long range applications
4) BARSKA Varmint Mil-Dot Riflescope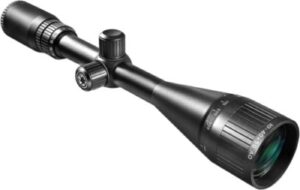 The BARSKA Varmint Mil-Dot Riflescope is the best budget scope for 308. It is a perfect choice for a ton of applications including targeting shooting, long range and precision shooting as well as hunting.
This rifle scope features a variable 4-16x magnification power for use at medium to long ranges. Better yet, a quick access magnification zoom ring is included for quick magnification adjustment. Other than that, the objective of this scope is adjustable to aid in image focusing and allows the shooter to correct parallax according to the distance they are shooting at.
What's more is that the lenses are multi-coated to increase light transmission and provide stunning clarity from sunrise till sunset. For all-weather reliability, the scope is waterproof and fog proof. It is also shockproof to withstand rigorous use and enhance durability.
Features
30/30 crosshair reticle
Multi-coated optics
Waterproof, fog proof and shockproof
1-inch tube diameter
4-16x magnification
1/8 MOA click adjustments
Pros
Lightweight and durable
Cheap
Easy to use
Cons
5) Vortex Diamondback 4-12x40mm Rifle Scope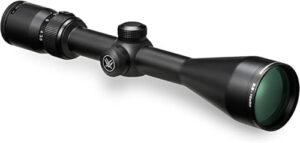 If you are looking for a scope that has the power you require for medium to long range hunting, look no further than the Diamondback 4-12x40mm Rifle Scope. It pairs perfectly with the 308 rifle and guarantees reliable performance in the hunting field.
The scope is built ready for use in any environment. It has a durable 1-inch tube made of 6061-T6 aircraft-grade aluminum. It is also subjected to demanding factory testing under a force of 1000Gs to take in anything you or nature throw at it. Besides, it is waterproof and purged with argon gas to drive out moisture and keep the optics fog free.
With a weight of 14.6oz only, the scope is light and very easy to carry around. For added convenience, it comes with pop-up dials that provide for easy and precise windage and elevation adjustments. It also comes with a second focal place Dead-Hold BDC reticle that comes in handy when you are hunting at varying ranges with estimation holdover issues.
Above all, this rifle scope boasts fully multi-coated optics that deliver spectacular picture quality, even in low light hunting conditions.
Features
1-inch main tube
Waterproof and argon purged
Hard anodized finish
Second focal plane reticle
4-12x magnification power
Fully multi-coated optics
Rugged aircraft-grade aluminum
Pros
Price
Clarity and brightness
Holds zero very well
Durable build
Cons
6) Bushnell Engage 2.5-10x44mm Rifle Scope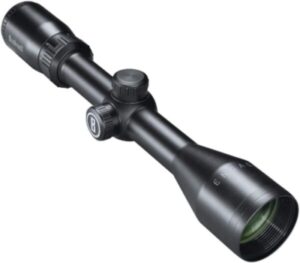 Next on our list of the best scope for 308 is the Bushnell Engage 2.5-10x44mm Rifle Scope. This feature-rich rifle scope has nearly every essential feature that a hunter will need to make their hunting trips more successful.
It employs a Deploy MOA reticle that has value for not just hunters, but also target shooters and the gun enthusiasts looking for flexibility in a rifle scope. The crosshair in this reticle is very easy to see without obstructing the target. Besides, there are harsh marks at every 1MOA for accurate elevation holdover.
To help the reticle serve its purpose, the scope has an EXO barrier lens coating that is hydrophobic. It repels water, oil, dust and fog to provide a clear field of view no matter the weather conditions. Besides, the optics have anti-reflection lens coatings that increase light transmission and deliver bright, high-contrast images.
Features
SFP Deploy MOA reticle
5-10x variable magnification
Fully multi-coated lenses
1-MOA windage and elevation hashmarks
EXO barrier protection
Fog proof and IPX-7 water resistant
Non-reflective matte finish
Pros
Generous eye relied
Lightweight and durable
Good image clarity
Cons
7) Primary Arms SLX 4-16X44mm FFP Rifle Scope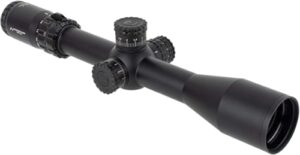 The Primary Arms SLX 4-16X44mm FFP Rifle Scope combines a versatile magnification range with a ton of innovative features to give you stunning performance in any situation. It provides unerring precision across vast ranges and is ideal for both hunting and target shooting.
At close ranges, the scope provides a large field of view for quick target finding. When you ramp up the zoom power to 16x, you will be able to get much closer to the action and acquire the targets quickly. Besides, the scope employs an ACSS HUD DMR 308 reticle that is designed to provide stunning accuracy out to 600 yards.
A fast focus eyepiece works together with the smooth parallax adjustment to bring the reticle into focus and provide crisp image of the target. Furthermore, the scope has a long eye relief to ensure comfortable glassing from any shooting angle, with or without eyeglasses.
Regarding construction, the scope is built on a 30mm main tube that is shock resistant to withstand fierce recoil and rough handling. It is also waterproof and fog resistant to be operable in the rain, cold and mist.
Features
Zero resettable turrets
30mm main tube
Waterproof and fog resistant
ACSS HUD DMR 308 reticle
4-16x magnification
First focal plane reticle
Chevron central aiming point
Pros
Decent price
Long eye relief
Lightweight and easy to use
Illuminated reticle
8) Trijicon VCOG 1-6×24 Rifle Scope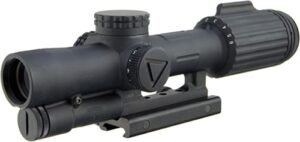 Our last scope recommendation for the .308 is the Trijicon VCOG 1-6×24 Rifle Scope. This variable combat optical gunsight is rugged, reliable and ideal for a wide range of uses including hunting.
It has a variable zoom power that is perfect for taking shots at close and medium ranges. The bullet drop compensating and ranging reticle will help you estimate the range quickly and accurately so you are able to apply the correct hold. Even better, the reticle has 6 adjustable brightness settings to ensure optimal visibility in all lighting conditions.
Durability is the other thing that makes this scope outstanding. It is made from forged aluminum that gives it a housing that is nearly indestructible. The robust construction coupled with the waterproof design guarantees many years of use and makes the scope ideal for use in any environment.
This rifle scope also has full 90 MOA of windage and elevation adjustment, and a quick release mount that makes it easy to install and remove from the firearm.
Features
Forged 7075-T6 aircraft aluminum alloy housing
Waterproof and submersible to 20m/66ft
First focal plane reticle matched with 175-grain .308 loads
Full 90 MOA of windage and elevation adjustment
1-6x magnification
Pros
Reticle illumination
Lightweight design
Premium build quality
Clear glass
Cons
What Magnification Do You Need?
Most 308 cartridges shoot out to 500 yards. Beyond that, you will need a long-range rifle and a bullet that is designed to perform well at such a long distance. With that in mind, the scope magnification you get should be powerful enough to help you cover the 500-yard range with ease.
The ideal magnification power will also depend on the kind of application you will be using the scope for. On average a moderate powered scope with not more than 14x will suffice. Besides, the broader the zoom power the scope has, the better. It will help you place shots easily at different ranges either in large, open fields and dense brush.
Read Also
How to Choose a Scope for .308?
Explained below are the factors you need to consider when shopping for the best scope for 308.
Picture Quality
Picture quality is what makes a scope. Look for a rifle scope that is made with high quality glass like extra-low dispersion glass. Such a scope will not just eliminate chromatic aberration, but also guarantees stunning pictures that are rich is color accuracy.
A good scope for 308 should also have good lens coatings. The more layers of coatings are put on the lenses and all air-to-glass surfaces, the higher levels of light will be transmitted. With that, the scope yields bright and clear image views even when you are using it in poor light settings.
Magnification
Magnification in a scope helps you see a subject more clearly than when you view it with your naked eye. It enlarges the smaller targets and brings the faraway ones closer. Whether you use the .308 for hunting or target shooting, get a scope whose zoom power meets your needs. It is also best to get a variable power scope that gives you the flexibility to pursue targets across different ranges.
Build Quality
The next thing to consider is build quality. There are several types of materials used to make rifle scopes. The quality of construction and the type of materials used determine how durable the scope will be.
It is best to get a scope that is made from either magnesium alloy or aircraft quality aluminum. With such a scope you are guaranteed of unmatched longevity and durability. Also ensure that you get a scope that is fully waterproof, dustproof and fog free for total reliability.
Weight
Weight is another important factor to consider. The last thing you would want is to get a big a bulky scope that is not just difficult to shoot with, but also cumbersome to maneuver around with.
Look for a scope that is durable and whose weight doesn't exceed 2 pounds. The more light the weight is, the more convenient the scope will be to carry together with the .308 rifle. Lightweight scopes are also multiplatform friendly, more accurate to shoot with and better at dispersing heavy recoil.
Eye Relief
Lastly, consider eye relief. This is the distance your eye has to be from the scope's eyepiece to get a full field of view. It is very important for a scope to have a long eye relief to enhance glassing comfort. A long eye relief also guards your eye from getting hit by the scope when the rifle recoils. A tip is to get a scope that has a long eye relief of 3.5 inches if you don't wear spectacles and above 4 inches if you wear eyeglasses.
FAQs
What is the effective range of a .308?
The effective range of the .308 round depends on a number of factors that include the projectile, barrel length, loading and more. All these factors affect how far the round flies. But on average, the effective range of the .308 Winchester is about 500 yards.
What is the best scope for a 308?
The best scope for 308 is one that comes with all the basic features that are expected of a scope while catering for your needs. It should blend well with your shooting or hunting needs, be well-made to last long and offer reliable performance even when shooting in the most challenging conditions.
Conclusion
The .308 is an outstanding and affordable round suitable for a tactical shooting and a wide range of hunting applications. The presence of a quality scope makes it more fun to shoot or hunt with. Hopefully, this post has given you some insights into the best scope for 308 and you are now able to find the right product for your needs. Whatever you have in mind, there is a good scope out there for you.