If you are in the hunt for the best LPVO for AR-15, you have come to the right place. In our post today, we shed light on the best low power variable optics suitable use with the AR-15 rifle.
LPVOs are multifunctional optics that provide great performance in a broad range of shooting and hunting applications. For many, they are the go-to sighting tool because of the way they combine the aspects of a red dot sight and a traditional scope into a single optic. Besides, LPVOs offer great accuracy and are reliable when you need them the most.
The versatility of LPVOs make them a perfect addition to the equally versatile AR-15. With the right optic, you will be able to engage targets across different ranges and most importantly make your hunting or shooting expeditions more competitive.
What Makes a Great LPVO for AR-15
For an LPVO to be great for the AR-15, it must have the attributes that you will need to push this rifle to its full potential. Firstly, the scope has to have a zoom power that caters for your needs and makes it easy for you to pursue targets at different ranges.
Furthermore, the optic should have solid lens coating and high-end glass that enhances resolution. With proper lens coatings, light transmission will be enhanced and result to production of bright, clear and sharp image views.
A great LPVO for AR-15 should have a robust housing that is sturdy enough to last long and give many years of use. Additionally, it should be shockproof to handle the recoil the firearm generates and have a weatherproofed body that is safe to use even in adverse weather conditions.
For comfortable observation and quick target acquisition, the optic has to have a generous eye relief. It should also have a reticle that is less complicated to use, and a lightweight construction for convenient carrying together with the rifle.
8 Best LPVOs for AR-15
The rising demand of LPVO has seen the market now flooded with models from different brands. With so many options to choose from, the task of finding the right scope for your needs becomes more daunting. Here is a detailed review of the best LPVOs for AR-15 available on the market. Let's take a look.
1) Steiner T5Xi Tactical Rifle Scope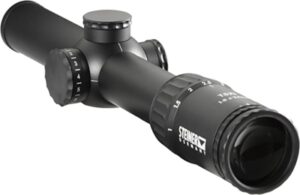 Steiner prides itself in making premium quality optics and the T5Xi Tactical Rifle Scope is not an exception. It brings unmatched clarity and precision in a compact optic that makes it by far the best LPVO for AR-15.
The true 1x magnification setting allows for both eyes open shooting. This increases your situational awareness in close quarters and expedites your speed of target acquisition. You can also ramp up the magnification to 5x for rapid target acquisition at longer ranges.
This LPVO utilizes a 3TR 7.62 illuminated reticle that provides a clear point of aim in any lighting condition. The reticle is calibrated for 7.62mm with stadia lines below the crosshairs. With this design, you will be able to engage your subjects accurately out to 600 yards.
Moreover, it boasts a high-end optical system that provides unmatched clarity and superb light transfer when you are shooting in low light settings. The scope also features low profile turrets that are capped to withstand rough handling and prevent unwanted adjustments in the field.
Features
Premium lens coatings
3TR 7.62 illuminated reticle
Waterproof and submersible to 33ft
30mm body tube
1-5x magnification power
Built-in throw lever
Pros
Outstanding durability
Reticle illumination
Excellent accuracy
Crisp clear glass
Cons
2) Vortex Optics Strike Eagle 1-6×24 Rifle Scope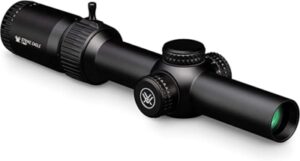 The Strike Eagle 1-6×24 is one of the best budget LPVOs for the AR-15. It offers great speed and accuracy across vast ranges. It also designed to offer unmatched versatility which is what every hunter/shooter wants in a scope.
This rifle scope is built to offer outstanding durability. It has a 30mm tube crafted from aircraft grade aluminum. It is shockproof to stand up to fierce recoil, accidental falls and other impacts. Besides, it is nitrogen purged and sealed with O-rings to be fully waterproof and fog proof.
For added convenience, the scope has a fast focus dial on the eyepiece for rapid and simple reticle focusing. The reticle is illuminated to be visible in low light settings and a thread-in throw lever is included to make magnification adjustments easy.
Optically, the Strike Eagle 1-6×24 rifle scope features anti-reflective coatings on every air-to-glass surfaces. The coatings increase light transmission for greater low-light performance, cut on glare and provide additional shield from scratches when you are out in the fields.
Features
Second focal plane BDC MOA reticle
Waterproof, fog proof and shockproof
Fully multi-coated optics
Fast focus eyepiece
Thread-in throw lever
Aircraft grade aluminum body
30mm main tube
Low capped turrets
Pros
Lightweight and durable
Speed and versatility
Easy to use
Fair price
Cons
Susceptible to heat distortion
3) EOTECH Vudu 1-6x24mm Precision Rifle Scope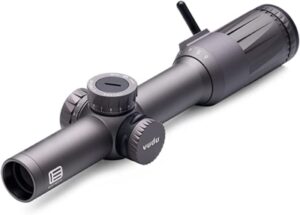 The EOTECH Vudu 1-6x24mm Precision Rifle Scope is where precision, durability and versatility meet. It pairs perfectly with the AR-15 where it becomes a highly valuable addition when hunting or shooting at short to medium ranges.
This rifle scope is fully loaded  with impressive features to offer maximum performance in any situation. It uses an illuminated reticle that offers great precision in low lighting conditions by enhancing its contrast and that of the target. The reticle is put on the first focal plane and has a speed ring included for fast target acquisition.
When it comes to construction, the optic is shock resistant to prevent damage from heavy recoil and regular rough handling. The single-piece main tube is O-ring sealed to prevent moisture and dust from entering the scope. It is also filled with nitrogen gas to drive out internal moisture and ensure that the optics are fog free.
Moreover, the picture quality the scope provides is admirable. It employs XC high-density, low dispersion glass and anti-reflective lenses to offer efficient light transfer and provide bright image views with superb edge-to-edge clarity.
Features
Anti-reflective coated lenses
Water and fog resistant
XC high density glass
First focal plane reticle
1-6x magnification power
Pros
Reticle illumination
Lightweight design
High build quality
Easy to use
Clear and bright optics
Cons
4) Trijicon VCOG VC18 1-8x28mm Rifle Scope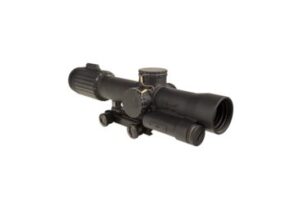 The Trijicon VCOG VC18 1-8x28mm Rifle Scope is designed for CQB and long-range marksmanship. It harbors a multitude of outstanding and user-friendly features that make the best LPVO for AR-15.
Built from forged aircraft quality 7075-T6 aluminum, the scope is virtually indestructible. It will take in rough handling and withstand whatever nature throws at it. Besides, it is waterproof and submersible to 20m/66ft for use in light showers and in any other weather condition.
The superior glass the scope uses provides excellent clarity and color richness without any distortion. Complementing the quality glass is a cross hair dot reticle that is illumination for use even in critically low light settings. A dial fin is also included to ensure effortless rotation through the magnification range.
Features
First focal plane reticle
Waterproof and submersible to 20m
LED reticle illumination
Superior glass quality
Aircraft quality 7075-T6 aluminum housing
Integrated dial fin
Pros
Crisp clear optics
American quality
Reticle illumination
Cons
5) Bushnell AR Optics 1-4×24 Rifle Scope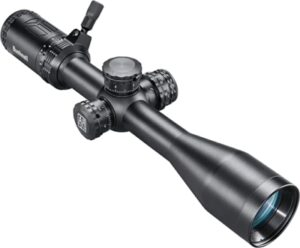 Next up, we have the Bushnell AR Optics 1-4×24 Rifle Scope. Adding this LPVO on your AR-15 will enhance your performance in the range and boost your accuracy even when you are required to take a shot in the most difficult situations.
The Drop Zone 223 Reticle on this scope provides outstanding low light performance and accurate holdover out to 500 yards. It is housed on the second focal plane so it retains a constant size through every magnification and is easy to use, even for beginners.
Moreover, the scope features multi-coated optics that yield bright and quality image views from sunrise till sunset by maximizing light transmission. The fast focus eyepiece included makes reticle focusing an easy task and aids in rapid target acquisition. The scope also boasts exposed finger adjustable high turrets and an IPX-7 water resistance rating for use in all weather conditions.
Features
1-4x magnification
IPX-7 waterproof and dustproof
Fast focus eyepiece
30mm main tube
Second focal plane reticle
Fully multi-coated optics
Exposed finger adjustable high turrets
Pros
Lightweight and durable
Budget-friendly
Clear optics
Generous eye relief
Cons
6) Primary Arms SLX 1-6x24mm FFP Rifle Scope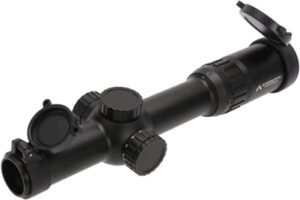 If you want a scope that will take your hunting skills with the AR-15 a notch higher, the Primary Arms SLX 1-6x24mm FFP Rifle Scope is your ideal option. Built with the hunter in mind, the scope provides a ton of reliable features in a compact, lightweight and rugged unit.
The scope has a first focal plane reticle that is calibrated to be true at every zoom setting. It has an automatic ranging out to 600 yards, moving target leads and 11 brightness settings that guarantee visibility in nearly all lighting conditions.
In this rifle scope, all the lenses are fully multi-coated to offer maximum light transmission and reduce internal reflection that results to loss of light. These coatings limit glare so the scope yields bright, crisp clear and rich in detail sight pictures even in critically low light settings. They also provide additional protection from scratches.
Construction-wise, the scope has a rugged body anodized with a Type II matte black finish. It is also waterproof, dust proof and nitrogen purged to give you a lifetime of fog proof performance.
Features
Variable 1-6x magnification
First focal plane reticle
Fully multi-coated lenses
Hard coat anodized finish
Waterproof, fog resistant and dust proof
Rugged 6063 aluminum housing
Pros
Reticle illumination
Durable and scratch proof finish
Great glass quality
Holds zero well
Cons
Fish eye effect at close ranges
7) Vortex Razor HD Gen III 1-10x24mm Rifle Scope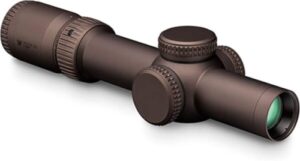 Next on our list of the best LPVO for AR-15 is the Razor HD Gen III 1-10x24mm scope from Vortex. This high-end rifle scope uses the latest generation of glass to give you stunning performance in the shooting range or hunting field.
The scope is built to endure the harshest environments. It has a shockproof, waterproof and fog proof construction so you can use it in the most demanding conditions. The solid build quality also withstands powerful recoil to guarantee many years of use.
Another outstanding facet of the scope is its optical finesse. It has XR fully multi-coated lenses that amplify transmission of light collected by the objective lens. This plus the HD glass creates sight pictures that are bright, vivid and rich is color accuracy across the while visible light spectrum.
Furthermore, the scope is built on a 34mm diameter tube which provides maximized internal adjustment and strength. Also included is a first focal plane reticle that is protected by two layers of glass to offer optimum durability and reliability.
Features
34mm diameter main tube
Waterproof and fog proof
Hard anodized stealth shadow finish
HD optical system
First focal plane glass-etched reticle
Anti-reflective lens coatings
Aircraft grade aluminum housing
Pros
Excellent glass quality
Outstanding durability
Easy to use
Day bright illuminated reticle
Generous eye relief
Cons
8) Monstrum G3 1-6×24 First Focal Plane FFP Rifle Scope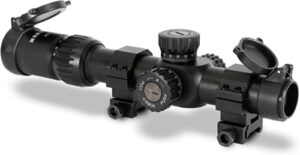 The Monstrum G3 1-6×24 FFP Rifle Scope is a feature-packed LPVO available at a price that is hard to beat. It is simple to use and a great sighting tool for beginners, seasoned shooters and any one in between.
Built with an adjustable 1-6x magnification power, the scope will give you the flexibility to take shots across vast distances as well as in different environments. It has 1/2 MOA windage and elevation adjustment with a zero setting to fine tune your accuracy, and an etched Type-C reticle with red illumination to be provide you with a precise point of aim no matter the lighting condition.
When it comes to construction, this LPVO is manufactured from aircraft grade 6061 aluminum which is tough but lightweight. Along with the scratch and rust resistant hard anodized finish, the scope is weatherproofed to stay ready in any environment. It also features all brass mechanics to add on durability, and locking turrets to prevent accidental adjustments.
Features
Fully multi-coated lenses
FFP Type-C reticle
Waterproof and nitrogen purged
Type III hard anodized finish
1-6x magnification
Brass internals
Locking turrets
Pros
Lightweight design
Illuminated reticle
Long eye relief
Inexpensive
Cons
Read Also
Criteria for Choosing the Best LPVO for AR-15
Explained below are the key factors you should take into consideration when shopping for the best LPVO for your AR-15.
Usage
The versatility of the AR-15 rifle is hard to beat. When getting the best LPVO for AR-15, consider the kind of application you will be using it for. Is it for hunting, shooting, home defense or other applications? When you are specific about the application, you will have an easy time finding a scope that blends perfectly with your needs.
Glass Quality
The type of glass a scope is made with will either make or break your shooting/hunting trip. A scope with clear, distortion-free glass is key to having quality views of your subjects even in critically low light settings. And with quality sight pictures, you will be able to make a clean shot.
A great place to start with is to get a scope that is from a renowned manufacturer. The household names in the field of optics use quality glass like ED or HD on their scopes. The scope lenses should also have good lens coatings to enhance light transmission especially in low light settings.
Eye Relief
The best LPVO for AR-15 has a long eye relief of at least 3.5 inches. Such a scope will be more comfortable to shoot with even with eyeglasses on. A long eye relief will also shield your eye from getting hit when the rifle generates fierce recoil, and help you take clean shots from different shooting positions.
Build Quality
Both hunting and shooting at the range can be extremely hard on the scope. You will be maneuvering it through difficult spaces and in such situations, the scope gets bumped on something or something brushes against it.
If the scope is cheaply built, it will not last you long. It will break down and you will find yourself back in the market to buy another one. To avoid all that, get a scope that is built to last. Shock and impact resistance are key if you want to use the scope for long.
In addition, the best LPVO for AR-15 should have scratch resistant lenses for added protection in the field. It should also be filled with an inert gas to prevent fogging and be waterproof for all weather reliability.
Weight
Next, consider the weight of the scope. We always recommend that you get the lightest scope possible. A light scope will not add any extra bulk on your rifle or affect its accuracy. Another benefit of getting a light LPVO is that it will be easy to maneuver with in the field. The lightweight construction will also disperse recoil in a more effective manner to add on durability.
Price
Last but not least, consider the price. LPVO scopes are available at different price tags depending on the features the scope has, the brand and the quality of construction. Take a look at the build quality and the other features each scope offers, then select the model that fits your budget.
FAQs
What scope magnification is considered LPVO?
1-6x is the general LPVO magnification. However, LPVOs also exist in 1-4x, 1-8x and 1-10x magnifications. The important thing is that the scope has a true 1x for the lowest zoom settings and not more than 10x for the highest setting.
The durability of any LPVO depends on several factors including the build quality, the material used to manufacture it and how well you take care of it. Most LPVOs have high build quality as regular scopes to last long and give your reliable performance irrespective of the punishment you subject them to.
Which is better, a red dot sight or an LPVO?
It depends. If you plan on taking shots at close ranges only and you are also after precision and quick target acquisition, it is best to get a red dot sight. An LPVO on the other hand is the best choice for taking shots at vast ranges and in different environments where a red dot won't be practical.
Conclusion
We hope that this post on the best LPVO for AR-15 has been of great help to you. All the scopes we have mentioned above are durable and ultra-versatile to match the versatility of this popular rifle. They are simple to use and a handy companion for either hunting or shooting applications. Consider the activity you plan to use the LPVO for, then focus on finding the unit that blends perfectly with your needs.