Are you looking for the best image stabilized binoculars? If your answer is yes, you have come to the right place. Image stabilized binoculars are important tools for a host of outdoor applications. They provide high-quality image views that are stable, consistent and clear. They are designed to compensate for any motion inside the optics to alleviate image wobbling in hand held applications.
Image stabilized binoculars save you the hassle of having to use a tripod to stabilize your views. They are ideal for use in a wide range of applications among them bird watching, boating and marine applications in addition to hunting, wildlife observation and stargazing among others.
How Does Image Stabilization Work in Binoculars?
Image stabilized binoculars come with either an active or passive image stabilization system which stabilizes the images generated.
In a model that uses active image stabilization system, the sensors detect any motion or movement, then adjust some of the parts of the image to correct or conceal the disruption. Typically, they do this by changing either the angle of the prism or lens's position.
On the other hand, a unit that uses passive image stabilization system generates the stabilization effect at all times. It has built-in gyroscopes that are responsible for stabilizing the images generated and maintaining unwavering configuration all the time. Some image stabilization binoculars with passive image stabilization system have the prism separated from the binoculars body so any movement effect is annulled.
What Makes a Great Image Stabilization Binocular?
There are several attributes that make image stabilization binoculars great and the first feature is image stabilization technology. The IS technology the binoculars use should offer effective image stabilization whether you are viewing the objects from a stationary point or when you are in motion.
Secondly, the binoculars should offer a large field of view so you can see a wider area at once. Furthermore, great image stabilization binoculars have high-quality optics that deliver excellent image clarity. They binoculars should have a higher magnification to help you find and identify targets at longer distances with ease, and a generous eye relief to ensure comfortable glassing.
Lastly, the binoculars should have a rugged housing that optimizes durability and be fully waterproof and fog proof for use even in harsh weather conditions.
7 Best Image Stabilized Binoculars
Choosing the best image stabilized binoculars is not an easy task. Today, the are so many models out there and it can be overwhelming to find the right pair for your needs. To help make you buying process less taxing, here are some of the best image stabilized binoculars that offer optical perfection and outstanding performance for a host outdoor applications. Let's have a look.
1) Canon 18×50 Image Stabilization All Weather Binoculars
Carrying the well-respected Canon name, the 18×50 IS binoculars offer excellent image stabilization. They use an optical image stabilizer which not only stabilizes the image views, but also ensure that you get optimal eye comfort particularly during extended observation sessions. These binoculars are easy to use and ideal for a wide range of applications, both outdoors and indoors.
This set of binoculars provides a massive magnification up to 18x. With the high magnification, it will be easier to observe targets in rich detail even at far away distances. It is also equipped with a large 50mm objective lens which complements the high magnification by providing bright and vivid images, with admirable color reproduction.
The binoculars are built ready for outdoor use. They possess a durable rubber armoring which provides a firm, non-slip grip and also makes it shock proof. Additionally, they are weather resistant so you can enjoy the clear and quality views under any weather.
To add on everything else, these all-weather binoculars feature multi-coated lenses which maximize image contrast and crispness from sunrise till sunset for bright, vivid and edge-to-edge image sharpness.
Features
Built-in optical stabilization
Shockproof rubber armoring
All-weather design
High 18x magnification
Multi-coated lenses
Wide 50mm objective lens
Pros
Batteries included
Wide and bright field of view
Non-slip grip
Ideal for a wide range of applications
Cons
Can be bulky for some
High cost
2) Fujinon 14×40 TSX1440 Techno-Stabi Image-Stabilized Binoculars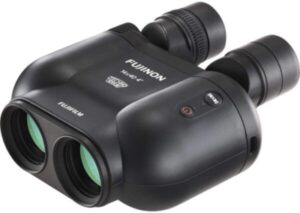 If you are looking for the best image stabilized binoculars for boating, this is it. It uses gyro sensors to counter any motion or vibration. It  offers an image stabilization of ±6° which guarantees shake-free images even in the roughest sea and ocean waves.
With a large 40mm objective lens, the TS-X 1440 offers an advanced level of light collection power. It also features EBC multi-coatings that enhance light transmission for clear and bright observation even in low light conditions. Further, this unit is designed to deliver edge-to-edge sharpness with zero chromatic aberration.
To save you the hassle of carrying extra batteries everywhere you go, the binoculars are powered by 4 AA batteries which provide many hours of continuous runtime. Construction-wise, the unit has a robust housing that optimizes reliability and durability, and a rubber armoring which adds a layer of protection to the optics. The rubber armoring also provides a firm grip even in wet conditions or when you are wearing gloves.
Above all, this set of binoculars is O-ring sealed and nitrogen purged so it is fully waterproof and fog proof.
Features
14x magnification
Waterproof and fog proof construction
Rubber armored body
Gyro sensors that stabilize the image
40mm objective lens
EBC multi-coatings on the optics
Pros
Compact design
Bright, clear and sharp image views
Stylish, easy-to-hold design
Long battery life
Cons
3) Canon 10×42 L Image Stabilization Waterproof Binoculars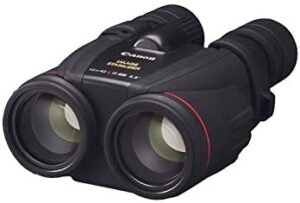 When it comes to versatility, it is hard to go wrong with the Canon 10×42 L Image Stabilization Waterproof Binoculars. This set of binoculars is designed to offer excellent waterproof capabilities which makes it ideal for various activities such as birding, marine use and wildlife observation among others.
With the image stabilization technology, this unit delivers steady, shake-free viewing under any environment. The premium-quality L series optics provide excellent image clarity and with the ultra-low dispersion lens elements, you get high-quality sight pictures free from any distortion and chromatic aberration.
Furthermore, the binoculars offer tremendous low light performance thanks to the large 42mm objective lens and 4.2mm exit pupil. The metallic coating on the body prevents fogging to ensure that you clear views even in rainy and cloudy environments. This unit also provides a distinctive, firm grip design for comfortable handling and a wide angle field of view for quick target finding.
Features
Fully waterproof and fog proof
One touch IS usage
Doublet field flattener lenses
Ultra-low dispersion lens elements
10x magnification
2mm exit pupil
Metallic coating that prevents fogging
Pros
Wide angle rating
Sharp and distortion-free images
Suitable for a wide range of activities
Long eye relief
Numerous accessories included
Cons
Heavy to hold for long periods
4) Canon 12×36 Image Stabilization III Binoculars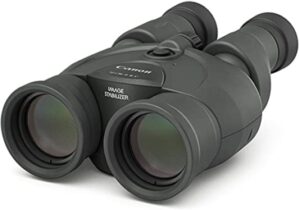 For sharp and steady views of the active world, the Canon 12×36 Image Stabilization III Binoculars are the perfect pair. They have a compact size that fits perfectly on the palm of your hand for comfortable and secure handling and a lightweight design for added comfort.
Whether you are a hunter scouting game, a birder looking for your favorite finch or a sport ardent enjoying your favorite match, the binoculars will provide with  exceptional image clarity and speedy operation. The image stabilizer technology included guarantees steady images even when you are hands are shaking. So, if you are a senior who suffers from shaky hands, you will find the binoculars really helpful.
The best part about these binoculars is that they are made with extended use in mind. They boast a generous eye relief that optimizes eye comfort during long glassing sessions. They also posses a center focus system for simple, one-handed operation.
Furthermore, this unit runs on batteries and it features an enhanced power-saving mode which provides up to 12 hours of continuous battery life. The water-resistant rubber coating included provides a secure, non-slip grip in a wide range of environments and with the anti-reflective external design, you can use the binoculars in broad daylight and remain inconspicuous.
Features
12x magnification
Low reflective exterior design
Water resistant construction
Environmentally-friendly lead-free glass
Rugger rubber coating
Doublet field flattener lens
Premium Porro II prisms
Pros
Effective image stabilization
Compact in size and highly portable
Generous field of view
Long battery life
Comfortable for longer periods of use
Cons
5) Sig Sauer ZULU6 16x42mm Schmidt-Pechan Prism Binoculars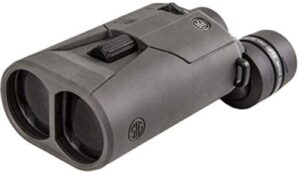 Next on our list is the Sig Sauer ZULU6 16x42mm Schmidt-Pechan Prism Binoculars. This pair of binoculars features an optical image stabilization technology which counters vibrations and any motion caused by wind, heavy breathing, shaky hands and other vibrations, to provide steady and consistent views of targets.
This unit is designed to ideal for numerous applications. You can use it when hunting, hiking or bird watching among others. It is operable under different temperatures and also features an IPX4 waterproof rating for use in wet weather environments. It is also equipped with SpectraCoat, lens shield and lens armor coatings which work together to deliver outstanding image brightness, clarity and sharpness from edge to edge.
With a weight of 20oz, this set of binoculars is most lightweight unit on this list. The light design maximize both mobility and ease of use.  You can use it for lengthy glassing sessions and it will be comfortable on both your eyes and hands. Yo can as well mount it on a tripod if you want further image stability and hands-free viewing.
Features
Motion activated illumination, MOTAC
IPX4 waterproof rating
Advanced lens coatings
High 16x magnification
High end Schmidt-Pechan Prism
42mm objective lens
Pros
Lightweight design
Tripod mountable
Amazing image stabilization
Great ergonomics
Cons
6) Canon 15×50 Image Stabilization All Weather Binoculars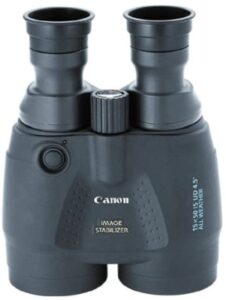 Next up is the Canon 15×50 Image Stabilization All Weather Binoculars. This set of binoculars is designed to provide exceptional image brightness, clarity and steadiness regardless of the activity you use it for.
The binocular incorporates optical image stabilizer technology which compensates for hand shaking and any other vibrations. Even with the high 15x magnification, you are guaranteed of shake-free and consistent views all though. Plus, it features a wide 50mm objective lens which makes it ideal for use in low light situations.
Another good thing about this pair of binoculars is the all-weather design. You can use it for any outdoor application under any weather condition and not worry about water entry that can damage the optics. Furthermore, it features multi-coated ultra-low dispersion objective elements that add on contrast, clarity and color fidelity so you get the best image views possible.
Overall, it is a versatile and dependable image stabilized binocular that is easy to use and comfortable to carry and use all day long.
Features
All-weather construction
Ultra-low dispersion objective elements
High 15x magnification
Rugged rubber body
Optical image stabilizer technology
Super spectra coating
Large 50mm aperture
Pros
Ergonomic, slip-free grip
Powerful enough for long range viewing
Sharp and clear views
Well built
Easy to use
Cons
Shorter eye relief
Expensive
7) Zeiss Image Stabilization 20×60 T S Binoculars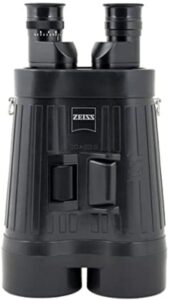 Lastly on our list is the Zeiss Image Stabilization 20×60 T S Binoculars. If you are looking for the best performance in both magnification and low light resolution, this unit suits you. It boasts a powerful 20x zoom power which is complemented by an ultra-wide 60mm aperture which provides outstanding resolution and low light performance.
The binoculars utilize a mechanical image stabilization which generates steady images by compensating for any shakes and vibrations of the hands. This image stabilization system is battery-free and you simply turn it on by pressing a button and it will work noiselessly.
Zeiss built these binoculars to offer a lifetime of reliable performance. They feature a premium-quality all-metal housing which is rigid enough to stands up to any mishandling. To complement the robust housing, it also possesses a black rubber armoring which optimize durability by being shockproof while ensuring that you get a positive grasp.
Furthermore, you can use the binoculars even in wet weather as they are fully waterproof. For added convenience, two rubber eyepieces are included and attached to the body for snug observation, with or without glasses. With all these features, you can rest assured that this powerful set of binoculars will give stable views and excellent performance in any weather and lighting condition.
Features
Premium BaK-4 prism
Individual focus eyepiece
Waterproof and fog resistant construction
Rugged all-metal housing
Black rubber armoring
Mechanical image stabilization
High 20x magnification
Pros
Excellent twilight performance
Battery-free
Superb image quality and crispness
Comfortable rubber eyecups
Robust and reliable mechanics
Cons
Read Also
Criteria for Choosing Best Image Stabilized Binoculars
When you are shopping for the best image stabilized binoculars, here are the key factors you should take into account.
Field of View
The best image stabilized binoculars offer a field of view that is large enough to let you cover a wide area at once. Whether you will be using the binoculars for birding, boating, hunting, wildlife viewing, stargazing or any other activity, ensure that you pick a unit that offers a decent field of view.
With a wide field of view comes fast target finding and easier tracking of moving objects. Besides, a wide angle of view makes objects appear more clear.
Magnification
Having a decent magnification is key to getting the most out of your binoculars. High magnification binoculars will be significant for activities like stargazing, boating and hunting or any other activity where the target is at a far distance. Pick a pair that offer a magnification power that is most ideal depending on what you intend to use it for.
Lens Coating
Lens coatings play a big role in binoculars. Majority of image stabilized binoculars come with multi-coated lenses for clear viewing in low light settings or in bad weather conditions where the clarity of image views is affected. The coatings enhance light transmission and reduce light reflection and glare for optimum image brightness and clarity.
Construction
When shopping for the best image stabilized binoculars, go for a set that is built to offer unbeatable durability. It should a have a rugged construction that is rigid enough to withstand anything you subject it to. On the exterior, the binoculars should have a rubber armoring that provides added protection and secure, non-slip grip.
Also make sure that you pick a unit that is built to be weather resistant. It should be fully waterproof and fog resistant for reliable use when it is raining or foggy.
Weight
The other important factor you should consider is the weight of the binoculars. While image stabilized binoculars are heavier than standard binoculars, you will still find models that have a manageable weight. Be activity-specific, then choose a pair that will be light and comfortable on your hands even when you have to hold them for long hours.
Price
Lastly, you should consider the price. Generally, image stabilized binoculars are more expensive than most of the standard binoculars. You can find a unit that costs thousands of dollars with the cheapest models costing hundreds of dollars. Compare the pricing of the different units available then pick one that suits your budget best.
Benefits of Image Stabilized Binoculars
Clear and consistent views of targets
Comfortable viewing of targets even during lengthy viewing sessions
Instant image adjustment and auto refocusing
Versatility. Image stabilized binoculars offer unprecedented performance in a wide range of outdoor activities
Best Image Stabilized Binoculars FAQs
Are image stabilized binoculars worth it?
This will depend on what you are looking to use the binoculars for. If money is not an object, image stabilized binoculars are a wise investment for any outdoor enthusiast. They perform better that the standard binoculars and are ideal for a host of activities.
However, if you can't afford an IS binocular, you can get a good quality pair of standard binoculars along with a tripod and still get clearer views of targets.
Do image stabilized binoculars need batteries?
It depends. Most image stabilized binoculars are powered by batteries but there are some few models that are battery-free.
Why are image stabilized binoculars so expensive?
The image stabilization technology, variety of high-end features and the improved construction are some of the reasons why IS binoculars are priced at a much higher cost than most standard binoculars.
Conclusion
Image stabilized binoculars are always a good option if you are looking to get clear and most stable views of different subjects especially if they are at a far away distance. All the binoculars listed above come with high-end optics, rugged construction and modern image stabilization systems. Invest in any one above are get consistent and shake-free image views of your targets.