If you are in the market for the best compact binoculars for birding, you have come to the right place. We have put together this compact binocular's buying guide to help you find a pair that will have a handy companion for all your bird watching escapades.
There are a multitude of applications that binoculars are used for and one of the main ones is bird watching. If birdwatching is your hobby, investing is the right pair of binoculars will get you the best views of the birds compared to when you watch the birds with your naked eyes. Additionally, binoculars provide an up-close view of the birds at different distances and ensure that you get the best views possible.
With bird watching, there are certain features that the binoculars should have to provide precise benefits to the birders. Compactness and low weight are key in this case. We have done our research and put up a comprehensive guide on compact binoculars that are ideal for bird watching. But before we have a look at these binoculars in details, let's start by looking at the attributes that make a good binocular for bird watching.
What Makes a Good Binocular for Birding?
A good pair of binoculars for birding is made of several features and the first one is quality optics. Binoculars designed with high-end glass elements and proper lens coatings yield spectacular views with excellent color reproduction.
Furthermore, the binoculars should have a large field of view which is important for quick finding and easy monitoring of the birds. On top of that, the binocular should have a long eye relief that ensures snug use with or without eyeglasses.
The best compact binoculars for birding should also have a robust construction to withstand rough use and harsh impact in an event where you drop them accidentally. Anti-slip grip is also crucial, especially when you are using the binoculars in wet environments.
A pair of binoculars that is waterproofed and fog proofed will also come in handy when you are birding in light showers or any other less favorable weather condition.
Last but not least, a good pair of birding binoculars should have a focusing system that is smooth and simple to use.
Best Compact Binoculars for Birding – Top Picks
Shopping for compact binoculars for birding isn't always a walk in the park. If you are having a difficult time finding a pair that matches your needs, here are the very best compact models to choose from. Let's take a look.
1) Leica Ultravid BR 10×25 Compact Binocular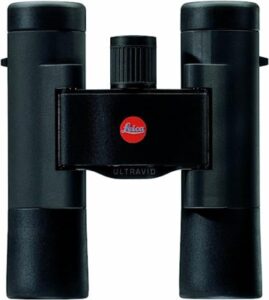 First on our list is the Leica Ultravid BR 10×25 Compact Binocular. This binocular is compact but rich in features. It harbors a ton of great features to ensure that you get the best bird watching views in different environments. It is also lightweight for comfortable handling during use.
The optical performance of this pair of binoculars is a force to reckon with. It is made with high-end optics that offer outstanding suppression of stray light. This maximizes light transfer to offer crisp clear image views in all lighting conditions. The bright and crisp images the binocular yields also make it possible for birders to detect even the faintest details of the birds.
Another remarkable thing that makes this optic the best compact binoculars for birding is premium build quality. It has a lightweight but durable aluminum housing to ensure many years of use. The entire body is also rubber coated to provide a secure, anti-slip grip and enhance protection from elements. Additionally, the binocular has a top hinge design that is foldable for easy transportation and compact storage.
The other essential features of this binocular include a high 10x magnification power, an easy to adjust diopter and a long eye relief of 15mm that makes it eyeglass friendly.
Features
Waterproof and submersible to 5m/16.5ft
Rubber armored aluminum body
10x magnification power
Single knob diopter correction
Eyeglass friendly eyepieces
Foldable design
Sharp resolution
Pros
Excellent optics quality
Lightweight and easy to use
Sturdy and durable construction
Clear focus
Cons
2) Zeiss Terra ED Pocket Binoculars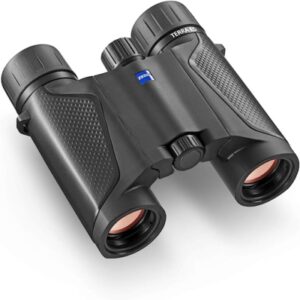 Zeiss is a household name in the field of optics. It is synonymous with top-notch and versatile optics and the Terra ED Pocket Binoculars are not built any different. These compact binoculars are simple to use and perfect for a ton of outdoor adventure activities including birding.
A defining feature of these pocket binoculars is the comfortable, fast focusing. Each pair is made with a large and easy to grip focus wheel for smooth focusing. Besides that, the binoculars have a ruggedized construction to ensure long term durability. They are also waterproofed to be usable even in cold conditions or light showers.
Optically, this set of binoculars utilizes Schmidt-Pechan prism that provides stunning resolution and image quality. Additionally, the lenses have a water and dirt repellent coating to ensure that you enjoy a clear field of view in whatever weather condition. The lenses also boast an anti-reflective coating to boost light transmission and produce bright and high-contrast images.
Features
10x magnification power
Hydrophobic lens coating
Waterproof and weather resistant construction
Multilayer anti-reflective lens coating
16mm eye relief
Large focus wheel
Pros
Extremely compact, lightweight and foldable design
Outstanding image brightness and clarity
Functional handling
Robust construction
Cons
3) Celestron – Nature DX 8×32 Binoculars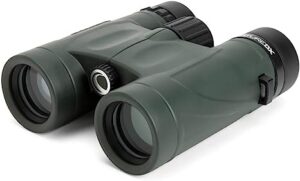 When it comes to birding watching, it is hard to go wrong with Celestron binoculars. This brand specializes in making premium quality binoculars for birding and the Nature DX 8×32 Binoculars are not an exception.
This set of binoculars has a moderate 8x magnification that provides better views of targets without compromising on the field of view. Moreover, it boasts Phase-coated BaK-4 prisms to boost image contrast and resolution. It also comes with fully multi-coated optics to maximize light transmission in low lighting environments.
For all-weather performance, this pair of binoculars is 100% waterproof and fog proof. Besides that, it has a compact body that is built like a tank. It is made from polycarbonate and has the entire body rubber armored. The armoring shields the binocular from shock and provides a secure grip in all weather conditions.
Above all, the Nature DX 8×32 Binocular is built with twist-up eyecups that are comfortable to use with or without eyewear.
Features
Waterproof and nitrogen filled
Fully multi-coated optics
8x magnification power
Phase-coated BaK-4 prism
Easy to position twist-up eyecups
5ft close focus
Pros
Budget friendly
Easy to hold and use
Stunning picture quality
High build quality
Cons
Slight chromatic aberration
4) Maven C2 10X28mm Compact Binocular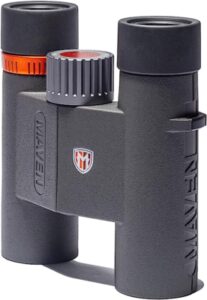 As one of the best compact binoculars for birding, the Maven C2 10X28mm is workhorse that delivers when needed the most. It comes with virtually every feature you need to get the best views of birds in different habitats, and a solid construction to guarantee longevity.
This dynamic compact binocular has a 10x magnification power and a close focus of 3m/10ft for both close and long distance viewing. On top of that, it boasts premium ED glass elements that optimize resolution and color reproduction to ensure that you get the best views of the birds. The lenses are also multi-coated to increase light transmission and limit glare.
Another remarkable thing about the binocular is that it is designed for use in all weather conditions. The optical tubes are sealed against moisture and dirt, and filled with a dry inert gas to drive out internal moisture and ensure thermal stability. Besides that, the entire body is scratch resistant for unimpeded field use.
Features
10x magnification power
Extra-low dispersion glass
Waterproof and fog proof
Durable and scratch resistant body
Fully multi-coated lenses
3m/10ft close focus
Dielectric coated Schmidt-Pechan optical path
Pros
Bright, clear and high contrast images
Sturdy and durable construction
Lightweight and great for travel
Modest price
Cons
5) Kowa BD II XD 8 x 32mm Binocular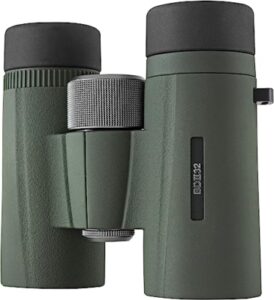 Kowa BD II XD 8 x 32mm Binocular is a multifunctional glassing tool that offers the ultimate balance of performance and value. In spite of having a low price, it is packed with a ton of impressive features that every birding enthusiast will appreciate.
The stand out feature of this binocular is the spacious field of view which makes target finding a breeze. To complement the wide field of view, the binocular features high resolution XD glass that yields sharp image views with virtually zero chromatic aberration. Better yet, the lenses feature a hydrophobic lens coating that repels dirt, stains and moisture.
When it comes to construction, this pair of binoculars is built for long term use. It has a ruggedized magnesium body that guarantees great durability without being heavy. Furthermore, this binocular has rugged rubber armor that shields the optics from shock, and provides a sure, anti-slip grip even when one is wearing gloves.
In addition to everything else, the Kowa BD II XD 8x32mm binocular is fully waterproof and filled with dry nitrogen to defy all elements prevent internal fog build up.
Features
8x magnification
Fully multi-coated optics
Rugged magnesium alloy body
Fully waterproof and fog proof
25ft close focus
High grade ED lenses
Dirt and moisture repellent coating
Pros
Wide field of view
Ultra-lightweight design
Easy to use
Bright, detailed and color rich image views
Solid build
Cons
Lacks edge-to-edge sharpness
6) Nikon Trailblazer 8×25 ATB Binoculars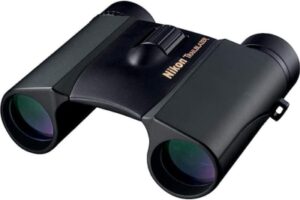 Next on our list of the best compact binoculars for birding is the Nikon Trailblazer 8×25 ATB Binoculars. This compact pair of binoculars is designed to help you get closer to the what brings you alive and ensure that you get the best views of the great outdoors.
The selling point of this binoculars is durability. It has a ruggedized construction that makes it ideal for use in all terrains. Over and above that, the binocular has a protective rubber armoring that provides added shield for shock and impacts as well as a secure, non-slip grip in wet or dry environments.
Optically, the binocular is built with bright multi-coated optics to ensure optimum light transmission. Additionally, it boasts premium BaK4 high index prisms to enhance resolution and color accuracy.
For added convenience, this optic has a lightweight design and a smooth central focus knob for fast focusing. It is also waterproofed and nitrogen filled to provide a lifetime of dependable performance in all weather conditions.
Features
Lead and arsenic-free eco glass
Fully multi-coated optics
Rubber armored body
8x magnification power
Waterproof and fog proof
Central focus system
2ft close focus distance
Pros
Lightweight and foldable design
Great picture quality
Solid build
Portable and versatile
Cons
7) Hawke Endurance ED 8×25 Binocular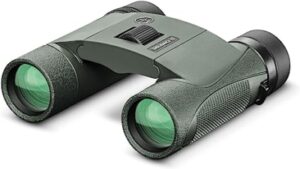 Our last compact binocular recommendation for birding is the Hawke Endurance ED 8×25 Binocular. Optimized for versatility and portability, this binocular makes a handy companion for bird watching expeditions for both adults and kids.
The optical performance of this binocular is impressive. It has a phase-coated BaK4 roof prism that delivers intense color contrast across the whole visible spectrum. Furthermore, the lenses are fully multi-coated to limit glare and minimize internal reflection of light. This maximizes light transmission to yield bright, clear and sharp image views.
In addition to having stellar optical performance, this binocular is built with user comfort in mind. The eyecups are adjustable to provide a customizable eye relief for all users, even those who wear eyeglasses. Other than that, the barrels of this binocular are designed to move smoothly for smooth focusing.
Durability is another feature that makes the optic one of the best compact binoculars for birding. It has a rugged and lightweight rubber armored magnesium body to endure rough use. It also has stay-on lens covers included to shield the lens from scratches, dirt and elements.
Features
Phase-coated BaK4 roof prism
Stay-on lens covers
Extra-low dispersion glass
Compact twin hinge design
6ft/2m close focus
Rubber coated magnesium body
Twist-up eyecups
Fully multi-coated optics
Pros
Solid build
Bright and clear glass
Easy to use
Lightweight and foldable design
Cons
Spherical aberration in the periphery
Why You Need Compact Binoculars for Birding
There are three binoculars sizes available out there: full-sized, mid-sized and compact binoculars. Compact binoculars have a ton of benefits over the mid-sized and full-sized binoculars which include:
Portable and Convenient for Travel. The main benefit of getting compact binoculars for birding is portability. These optics are lightweight and easy to carry wherever you go. Some models are even foldable so you can put them inside your pocket and carry them with ease anywhere you go
Ease of Use. Compact binoculars are very easy to use, even for beginners. The moderate zoom power also makes them easy to hold steady and securely during use
Affordable. When compared to full-size binoculars, most of the compact binoculars are way affordable yet some offer equal optical performance
Multifunctional. The small form of compact binoculars makes them ideal for wide range of indoor and outdoor applications, not just birding
Read Also
How to Choose Compact Binoculars for Birding
Compact binoculars come in different shapes and sizes and here are the key factors you should consider when looking for the best pair for bird watching.
Overall Build Quality
Bird watching can be rough on the binoculars especially when you are using one during travel. It is therefore important to find a pair that is built well with premium quality materials. A compact pair of binoculars that optimized for durability will endure regular use and stand up to shock and impact incase you accidentally drop it.
A durable rubber armor is another important feature the binocular should have. With the armoring, it becomes hard for the binocular to slip during use even when your hands are wet or sweaty.
Portability
Whether you are a birding beginner or a seasoned one, it is best to get a pair of binoculars that is not just compact, but also lightweight and portable. Some of the compact binoculars available in the market today have foldable design for portability convenience. Go for such a pair if you an outdoor enthusiast who is always on the go.
Ease of Use
The next important thing to consider is ease of use. In addition to being lightweight and portable, the best compact binoculars for birding are built with ease of use in mind. They have a focusing system that is smooth to operate and don't require regular adjustments during use.
Optics
The optics a binocular is made with can either make or break your bird watching experience. To have the best views outdoors, go for a binocular that has ED, HD or fluorite glass. Such premium quality glass elements yield spectacular image views that are rich in color accuracy and sharpness. The binocular you choose to get should also have solid lens coatings to alleviate glare that causes image distortion.
How to Care for Your Binoculars
Proper care and maintenance of binoculars goes a long way to ensure that the binoculars last for a long period of time. Luckily, binoculars are cheap to maintain and here are some of the maintenance tips one should practice.
Clean the Binoculars before Storage. When you are not using the binoculars, ensure that you wipe every part clean and dry before storage.
Store the Binoculars in a Case. When you are traveling or stowing the binoculars, make sure that you store them in a case to protect the delicate optics and exterior surface from scratches.
Dry out Moisture as Quickly as Possible. If you are using the binoculars in wet environments, ensure that you wipe them dry as soon as you get home. Any moisture that is left to accumulate on the binoculars can cause irreparable damage to the optics.
FAQs
What is the best binocular magnification for birding?
8x and 10x. The best compact binoculars for birding have a magnification power of either 8x or 10x. Such moderate magnification makes the binoculars easy to hold steadily even with one hand. Besides, binoculars with a moderate zoom power provide a wide field of view which is important for bird watching.
What do numbers in binoculars represent?
The two model numbers in binoculars show the magnification power and objective lens diameter respectively. So, in a 10×32 binocular for instance, 10x is the magnification power and 32mm ins the diameter of the objective lens.
Conclusion
Investing in the right pair of binoculars will make your birding expeditions memorable and fun-filled. As you can see, there are tons of compact models you can pick from based on your needs. So, decide which features you need the binoculars to have then use this guide to find the right pair. Whatever your needs are, there is a compact pair of binoculars out there for you.