Looking for the best binoculars for long range hunting? You came to the right place. This post outlines some of the best-quality binoculars that are made to be a handy companion for hunters pursuing game at long distances.
When hunting game at long distances, it is hard to find the target with your naked eyes only. It is even harder to know where to place the shot so as to make an ethical kill. But with a quality pair of long-range binoculars, you will have an easy time finding and placing the shot at the right place when hunting at extended ranges.
Binoculars for long range hunting have a powerful magnification and oversize objective lens compared to the models for close and medium range hunting It is, however, a difficult task to find a pair that caters for all of your hunting needs as there are so many models to choose from.
What Makes a Great Pair of Binoculars for Long Range Hunting?
When it comes to long range hunting the key facet that the binoculars should have is powerful magnification. With high zoom power, you will be able to find the targets easily irrespective of the hunting distance and environment.
The second feature the binoculars should have, is a large objective lens of at least 42mm. A large lens diameter will collect as much light as possible and ensure that the images you receive are bright and of good quality. A large aperture also provides the much-needed spacious field of view which is vital for speedy target finding and easy target tracking.
The other facets that make a great set of binoculars for long range hunting include:
Waterproof and fog proof construction for operability in all weather conditions
A rugged rubber armor that shields the optics from shock and impacts, while ensuring that you have a sure, anti-slipping grip in all conditions
Lightweight design for easy carrying in the field
High end optics that maximize resolution and color fidelity
Fully multi-coated lenses to enhance light transmission in low light hunting conditions of dawn and dusk
A generous eye relief to ensure comfortable observation with or without eye wear
7 Best Binoculars for Long Range Hunting
Whether you are a seasoned hunter, a beginner who is going to spend their first day in the field this season or anyone in between, here are the best binoculars for long range hunting available on the market today. Let's take a look.
1) Vortex Optics Kaibab HD Binoculars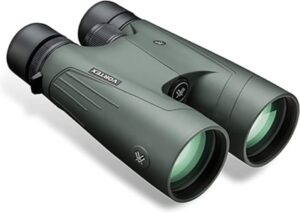 First up we have the Kaibab HD binoculars from Vortex. This pair of high-quality and user-friendly binoculars harbors a wide range of fine and practical features which make it the best binoculars for long range hunting.
Built with a powerful 18x magnification and a massive 56mm objective lens, this binocular will help you locate game effortlessly at any distance. To complement the high magnification, it also comes with premium quality optics which provide clear views of targets in nearly all lighting conditions.
Another outstanding feature of this pair of binoculars is the solid construction. It has a durable, non-slip rubber armor to protect the optics from outdoor elements. It also boasts an ultra-hard Armortek lens coating which provides additional protection from scratches in the most rugged environments.
Furthermore, the Kaibab HD binocular is argon purged and O-ring sealed to ensure that it performs reliably in rain, cold, fog, mist and any other precipitation. It also boats multi-position eyecups that twist up and down to ensure comfortable glassing by giving you the flexibility to to tailor the eye relief based on your personal needs.
To top it all off, the binoculars has fully multi-coated lenses to deliver exceptional light transmission and a lockable right eye diopter that to keep it optimally focused.
Features
Waterproof and fog proof
APO optical system
Right eye locking diopter
Multi-position eyecups
Fully multi-coated lenses
Durable, anti-slip rubber armor
Scratch resistant Armortek lens coating
Powerful 18x magnification
Pros
Bright and clear optics
Easy to operate focus wheel
Adequate eye relief
Versatility
Cons
Heavy
Narrow field of view
2) Swarovski Optik 15×56 SLC Binocular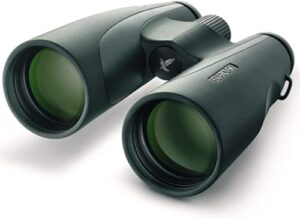 If you are a seasoned hunter looking to take your hunting skills to the next high level, the Swarovski Optik 15×56 SLC Binocular is your ideal option. It is designed to provide you with optimum support in any situation and ensure that you make the most from your hunting trips.
The facet that makes this pair of binoculars stand out is the HD optics which provide impressive edge-to-edge clarity and sharpness, even in twilight conditions. It also brings to the table a high 15x zoom power for glassing over an expansive area and an oversized 56mm objective lens to enhance low light resolution when you are hunting at dawn or dusk.
To enhance viewing comfort, this binocular has a perfectly balanced weight which also makes it easy to carry around. Additionally, it boasts  extended depressions which provide an ergonomic, steady grip and prevent hand fatigue when you are using the binoculars for a prolonged period of time.
In addition to the ergonomic design, this product is designed to be operable in all weather conditions. It has a submersion tightness of 13ft/ 4m and a functional temperature that ranges from -13F to 134F. It is also filled with inert gas to prevent the lenses from fogging when you move to an area that has a significant temperature gradient.
Features
HD optical system
Water proof and inert gas filled
Robust aluminum construction
Fluoride containing glass
62-degree apparent viewing range
15x magnification
56mm objective lens
Pros
Crisp clear optics
Ergonomic, steady grip
Solid construction
Brilliant color and edge-to-edge clarity
Cons
3) Nikon Aculon A211 10-22×50 Zoom Binocular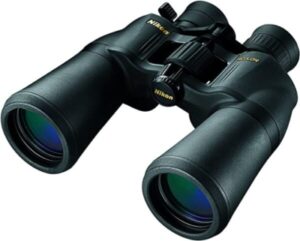 The Aculon A211 is designed to be as light as possible along with super ergonomics which make it a perfect companion for hunting. It is also equipped with a variable 10-22x magnification power which give you the ability to hunt game at varying ranges.
This set of binoculars employs multi-coated glass lenses which provide bright and crisp clear image views, even in the challenging lighting conditions. Furthermore, it provides a wide field of view for quick target finding and has turn and slide rubber eyecups that ensure comfortable observation during lengthy glassing sessions.
Like any other Nikon optic, the binocular is built to last. It has a durable rubber armored coating which shields from impact and guarantees non-slip grip, even when you are hunting in wet weather conditions. It is also built with eco-safe components to ensure that it lasts long and be safe to use even in in the harshest weather conditions.
Features
10-22x zoom eyepiece
Multi-coated eco-glass lenses
Rugged, rubber-armored coating
Smooth central focus knob
Turn and slide rubber eyecups
Easy to reach fingertip zoom control knob
Pros
Wide field of view
Easy to use
Lightweight and portable
Decent pricing
Clear lenses
Cons
4) Bushnell Powerview 16×50 Binoculars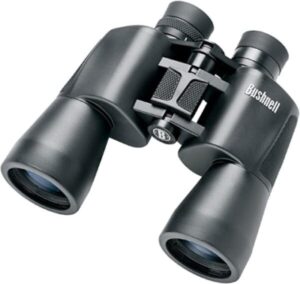 Bushnell is a household name in the optics industry. It makes a wide range of tough and quality binoculars and the Powerview 16×50 Binoculars are not any different. This is a highly versatile binocular that is suitable for long range hunting and other outdoor applications including hiking and wildlife viewing.
It has a powerful 16x magnification which gets you closer to the action and quality optics that yield clear bright images in nearly all viewing situations. Even better, it boasts a 50mm objective lens which provides maximum light gathering ability and a large field of view. It also has coated lenses to reduce glare and light loss due to reflection and ensure that you receive bright, clear and detailed sight pictures.
This pair of binoculars is made with user comfort in mind. It has soft flexible rubber eyecups for snug observation of game with naked eyes. The eyecups also roll down to accommodate eyeglass wearers and reduce eye fatigue when you are hunting for a long period of time.
Another feature in this binocular you will like is the shock-absorbing rubber armor which provides a firm, sure grip. Apart from that, this product boasts a variable diopter setting which compensates for varying eye strength by providing fine focusing.
Features
Magnesium fluoride coated lenses
Soft and flexible rubber eyecups
Fingertip-touch focusing mechanism
Variable diopter setting
Rubber armored body
16x magnification
Pros
Tripod adaptable
Easy to hold and use
Great value for money
Durable build quality
Cons
5) Nikon ACULON A211 16×50 Binocular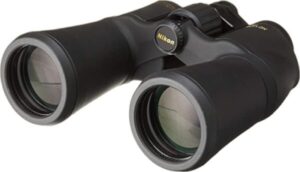 Our next binocular recommendation for long range hunting is the Nikon ACULON A211 16×50. This multipurpose pair of binoculars is designed with 16x magnification to ensure easy target identification at extended ranges no matter the hunting environment.
A triad of optical technology is integrated in this binocular to give you superb optical performance. Firstly, it has aspherical eyepiece lenses which deliver a flat field of view. It also features Nikon eco-glass lenses which deliver astonishing image clarity and premium lens multi-coatings to maximize light transfer and enhance image brightness.
Moreover, the binocular is made with user comfort. It has turn and slide rubber eyecups which facilitate easy position of the eyes at the correct eyepoint. This reduces eye strain and fatigue, and ensures comfortable observation during extended glassing periods. Besides, it has a lightweight design with excellent ergonomics to ensure comfortable and steady glassing.
To give you an experience that is nothing short of incredible, you can easily mount the binocular on a tripod using the free tripod adapter included and enjoy hands-free viewing.
Features
Turn and slide rubber eyecups
Aspherical eco-glass lenses
Smooth central focus knob
Multi-coated optics
Rubber armored coating
16x magnification
Pros
High build quality
Versatility
Cost effective
Easy to use
Crisp clear picture quality
Cons
6) Vortex Diamondback HD 15x56mm Roof Prism Binoculars
Next on our list of the best binoculars for long range hunting is the Diamondback HD 15x56mm Roof Prism Binoculars. Designed with hunters in mind, this pair of binoculars has everything you need to survey your surrounding in complete clarity and make your hunting trips more successful.
The binocular employs a HD optical system that is optimized with select glass elements to deliver stunning resolution and color fidelity. Better yet, it has fully multi-coated lenses to increase light transmission and reduce loss of light due to reflection. The result to production of  bright and crisp sight pictures from sunrise till sunset.
Construction-wise, the binocular has a magnesium chassis that is lighter than aluminum for mobility convenience, but more rugged to withstand harsh impacts and any rough handling. It also has a compact roof prism design that is valued for greater durability and a rubber armor which provides a secure, anti-slip grip.
What's more is that the binocular has eyecups that twist up and down to accommodate all users, even eyeglass wearers. It also features a waterproof and fog proof construction to be operable in a wide range of weather conditions.
Features
Center focus wheel
Scratch resistant Armortek coating
Fully multi-coated lenses
Water, fog and shock proof
Adjustable eyecups
Rugged magnesium chassis
Rubber armor
Roof prism system
Pros
Stunning low light performance
Good price
Easy to use
Bright and clear optics
Cons
7) ZEISS Victory HT 10x54mm Binoculars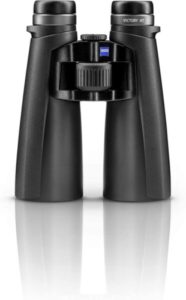 Last but not least, we have the ZEISS Victory HT 10x54mm Binoculars. As one of the best binoculars for long range hunting, it provides a large field of view and brilliant and high-contrast sight pictures, particularly in twilight and adverse light conditions.
At 1,000m, the binocular provides a field of view of 110 m (361ft). This will help you find the game effortlessly and ensure that nothing is left undiscovered. It also boasts a powerful 10x magnification to bring you closer to the action and a 54mm lens diameter which enhances low light resolution.
For added convenience, the binocular has an optimized objective lens diameter which ensures smooth imaging in any situation without adding any bulk. It is also made with a conspicuously large focusing wheel to ensure that you obtain the perfect focus with ease, even when you are wearing gloves.
Above all, it boasts a LotuTec coating on the lenses to shed dirt, water and fingerprint stains. This ensures that you get clear and unhindered views of the target in all weather conditions.
Features
Optimized lens diameter
LotuTec coating
Schott HT lenses
Zeiss T multi-coating
Large focusing wheel
10x magnification
Pros
Relatively huge eye relief
Bright and accurate
Easy focusing
Great protection in adverse weather conditions
Rugged and reliable construction
Cons
Read Also
Criteria for Choosing Binoculars for Long Range Hunting
Whether you are looking to purchase your first long range binoculars for hunting or you are in the hunt for an upgrade, explained below are the factors you should take into consideration when making your selection.
Magnification
The most important feature in binoculars for long range hunting is magnification. If the binocular lacks a high magnification power, it will useless when it come to finding the game at extended ranges.
The best binoculars for long range hunting have a powerful magnification that begins from 10x while others go as high as 15x and above. The higher the magnification the binocular has, the closer to the action it will take you and help you scan for game in an expansive area effortlessly.
Lens Diameter
To complement the high zoom power, binoculars for long range hunting must have a large objective lens diameter. The larger the lens diameter is, the more light it will gather from the surroundings and generate image views that are bright and clear. A tip is to get a binocular that has an objective lens diameter that ranges from 50mm to 60mm to optimize optical performance without adding too much weight.
Lens coatings
Next, consider the quality of lens coatings the binocular has. Cheap-quality binoculars employ a single layer of lens coatings which translates to dull and low quality sight pictures. As the lens coatings quality improves and the binocular becomes more expensive. A model with solid lens coatings will maximize light transfer and ensure that the sight pictures you get are bright, crisp clear and detailed. So, look for a pair that has fully multi-coated lenses as well as the highest glass quality you can afford.
Field of View
When hunting, field of view matters a lot. It is inversely proportional to zoom power. So, a binocular with a higher magnification power will have a narrower field of view and vice versa. Look at the field of view different binoculars provide and decide accordingly.
Eye Relief
The next feature to look at is the eye relief. This is the distance from your eye to the binoculars' eyepiece. Binoculars with a long eye relief are the best for hunting. They allow for comfortable observation with or without eyewear. They also minimize eye fatigue during lengthy glassing sessions.
Durability
Investing in the best binoculars for long range hunting is not something you do on a whip. You will want to get a product that is built with high-quality materials to enhance durability and longevity. The device you choose to buy should also be waterproof, dust proof and fog proof to withstand rain and harsh environmental conditions.
Weight
Weight is the other important factor to consider when buying binoculars for long range hunting. In most cases, you will be carrying other gear when hunting. If the binocular you have is heavy, it will be cumbersome to carry and difficult to hold on your hands during use. So, look for a model that is lightweight, portable and easy to use.
FAQs
What is a high power binocular?
A high power binocular is a binocular with high magnification power which helps you see the targets more clearly over long distances. In addition to having a higher magnification, these binoculars feature much larger objective lenses of 50mm and above.
Are high-powered binoculars good?
Yes. High-powered binoculars offer good performance when glassing objects at long distances. They bring you closer to the action and are suitable for a wide range of both terrestrial and astronomical applications.
Conclusion
The best binoculars for long range hunting will revolutionize how you hunt and make your hunting trips more fun and rewarding. All the binoculars we have mentioned in this guide have the essential features you need to have everything right when you set foot in the hunting field. They are simple to use, versatile and built well to last long. Regardless of the model that you end up choosing, we do hope that you have found this post to be enlightening and useful.