Bow hunting entails a great deal of expertise and patience. The choice of tools that you have will determine whether you have a successful hunting expedition or not. Binoculars are the most valuable accessory you need for bow hunting. Without them, you won't be able to see much action. The best binoculars for bow hunting help bring distant targets closer and provide a wide and clear field of view so you can make an accurate and ethical shot.
Given the wide selection of binoculars available on the market, not every pair is good for bow hunting. It's also hard to find the best pair once you start browsing the hundreds of models present. But we are here to help. We have a detailed review of 7 of the best binoculars for bow hunting suitable for modern bow hunters. These models are rugged, reliable and easy to use.
Without further ado, let's take a look.
Best Binoculars for Bow Hunting
1)Vortex Optics Viper HD Roof Prim Binoculars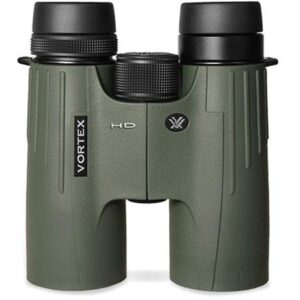 The 10×42 Viper HD roof prism binocular is one of the best binoculars for bow hunting on the market. This is a premium-quality and feature-rich binocular is made with hunters in mind. It's compact, lightweight and very simple to use. It also offers impressive images in all lighting conditions.
Featuring 10x magnification, these binoculars provide clear and detailed images even for targets that are far away. The advanced HD optical system with enhance anti-reflective coating facilitate optimum light transmission for top-tier optical clarity. This is perfect for hunting especially in low light conditions such as dawn or dusk.
These binoculars are toughly built so they are ready for every hunt. They have a heavy-duty rubber armor which ensures that they never slip out of your hands. They are also argon purged to prevent internal fog build up and O-ring sealed to prevent entry of dirt, moisture and dust.
What's more is that these binoculars are eyeglass-friendly. You can smoothly adjust the multi-position eyecups to the most comfortable viewing position with or without your glasses on. A locking right eye diopter is also included so it adjusts for focal differences between your eyes.
Features
Waterproof and fog proof
Rubber-armored chassis
Armortek lens coating
Multi-position eyecups
Locking right eye diopter
Enhanced anti-reflective lens coating
Dielectric, multi-layer prism coatings
Compact, light and portable
User-friendly design
2) Adorrgon 12×42 HD Binoculars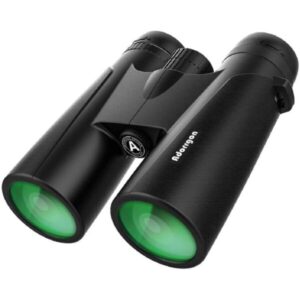 This is a powerful HD binocular suitable for a wide range of outdoor activities among them bow hunting. These binoculars are lightweight and portable. They weigh only 1.1lbs and you can fold them into a palm-size and enjoy one-hand operation. They also have an anti-skid design which ensures that there is no accidental slippage.
The high-definition optics provide high-quality images from dawn till dusk. The full-spectrum reflectance delivers up to 99% light transmission for super bright images. In addition, this product has premium quality BAK4 prisms and advanced fully multi-coated lens from bright, clear and color-accurate images.
With the high 12x magnification, this binocular delivers clear image views from more than 650 feet away. The wide field of view allows you to monitor moving animals with ease, while the large 18.5mm eyepiece reduces eye-fatigue during long hunting sessions. You can also mount it on a tripod and take the weight off your shoulders. More importantly, these binoculars are waterproof and fog proof.
Features
IPS5 waterproof and fog proof
Powerful 12x magnification
Tripod compatible
Lightweight, portable and foldable design
BAK4 prisms and advanced fully multi-coated lens
Large 18.5mm eyepiece
Outstanding low light vision
Wide field of view: 367feet@1000yards
Modern universal phone adapter
Durable and sturdy construction
3) Bushnell H2O Roof Prism Binoculars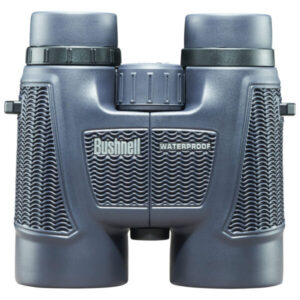 If you are looking for quality yet budget-friendly binoculars for bow hunting, look no further than the Bushnell H2O Roof Prism Binoculars. These binoculars are renowned for their all-weather reliability. They have an IPX construction which makes them 100% waterproof and fog proof.
These binoculars are feature-rich yet very simple to use. The large center focus knob allows for smooth image focusing, while the adjustable eyecups provide comfortable glassing sessions even with your eyeglasses on. They also have a generous 17mm eye relief and a wide field of view which is very essential when hunting.
These binoculars are built to stand harsh hunting conditions. They are crafted from high-quality materials to ensure that you get many years out of them. Moreover, they have a rubber armor that absorbs shock, impacts and falls, and a soft texture grip that's non-slip. Lastly, the top-tier optics deliver excellent HD clarity, while the multi-coated lens facilitates maximum light transmission for bright and crisp images.
Features
Multi-coated optics
Non-slip rubber armor with soft texture grip
100% waterproof and fog proof
Durable construction
8x magnification and 42mm objective lens
Large center focus knob
Twist-up eye cups
Limited lifetime warranty
Quality optics with stunning HD clarity
Premium BaK-4 prisms
4) Vortex Optics Diamondback 10×42 Roof Prism Binoculars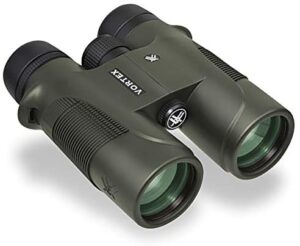 The Diamondback 10×42 Roof Prism Binocular is another excellent pair from Vortex suitable for bow hunting. This pair comes with virtually everything you need to revolutionize your bow hunting performance. It takes pride in its durable, waterproof and fog proof housing which most bow hunters find handy.
This full-size binocular has a versatile 10x magnification which offers bright and clean images regardless of the distance. The 42mm objective lens gathers optimum light needed to detect animals in low light. It also boasts multi-coated optics and phase corrected prisms that deliver bright, clear and razor-sharp images from dawn till dusk. Above all, the binoculars weigh about 1.5 pounds so they are fairly light and easy to maneuver with in the field.
Features
10x magnification and 42mm objective lens
Durable and tough construction
Weatherproof housing
Multi-coated optics
Top-tier phase corrected prisms
Tethered objective lens covers
5-feet close focus
Superior low light performance
Wide field of view: 345 feet at 1000 yards
5) Uplands Optics Perception HD 10x42mm Hunting Binoculars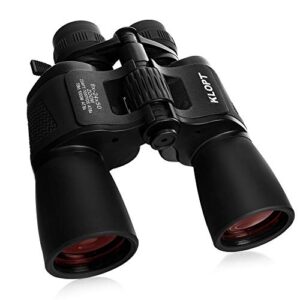 Next on our list is the Perception HD binoculars from Uplands. These binoculars are made to meet the needs of every avid hunter out there. They feature a 10x optical zoom, 42mm objective lens and a wide field of view of 113m at 1000m.
These full-size binoculars weigh 1.14lbs only. This lightweight design makes them easy to carry in the field as you track down your targets. Though lightweight, these binoculars are built tough to handle whatever comes your way. They are also both waterproof and fog proof, so you can use them in any weather conditions.
Another impressive feature about these device is it's excellent optical performance. The ED glass minimized chromatic aberration to deliver exceptional image clarity. To top it all, this hunting binocular comes with a generous 17.2mm eye relief which provides snug viewing positions even with your eyeglasses on.
Features
10x optical zoom and 42mm objective lens
2mm eye relief
ED glass that provides exceptional clarity
Waterproof and fog proof
Durable and sturdy construction
Shock-absorbing rubber body
Lifetime warranty
Neck strap, soft carry case, lens cloth and flip down lens protector
Lightweight and portable
113m at 1000m field of view
6) Steiner Predator Series Hunting Binoculars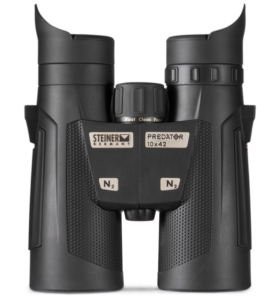 When it comes to versatility and portability, it's hard to go wrong with the Steiner Predator Series Hunting Binoculars. These binoculars are ideal for avid hunters who are always on the move. They are compact, light and easy to carry in the field.
Featuring an advanced optical design, this product delivers outstanding optical performance. The 10x magnification brings distant targets near for accurate and ethical shot placement and a wide field of view which is essential for easy target identification. This binoculars also brings to the table Color Adjusted Transmission (CAT) which lets you see game clearly even when they are hiding in foliage or shade.
The rugged Makrolon body makes these binoculars ready for every hunt, while the open-bridge design makes them easy to grip and comfortable to hold when scouting for game. Besides that, they have a smooth central focusing wheel which helps you bring your targets into fine focus smoothly.
For added convenience, this pair has ergonomic silicone eyecups that accommodate all users with or without eyeglasses. The laser-textured grip makes it extremely hard for slippage to occur, while the waterproof and fog proof construction allows you to use the binoculars in all weather conditions.
Features
Rugged Makrolon housing
Ergonomic silicone straps
Laser-textured, non-slip grip
Military-grade Porro prism design
Open-bridge design
Lightweight and portable
Waterproof and fog proof construction
Fast close focus
Color Adjusted Transmission (CAT) game-sensing lens coatings
Durable and shockproof
Optimized light transmission
7) Nikon 7576 Monarch 5 8×42 Binocular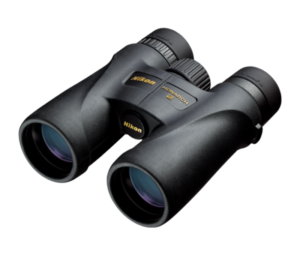 This 8×42 pair from Nikon is another great choice for bow hunting. The 8x optical zoom is powerful enough to spot game in thick cover, yet compact and light enough to carry smoothly in the field. The 42mm objective lens makes it versatile and great for multiple types of hunting.
This Nikon Monarch binoculars is well known for its excellent optical clarity. It's built with extra-low dispersion glass which rectifies chromatic aberrations across the whole visible spectrum. It also features fully multi-coated eco-glass lenses which increase light transmission and reduce light loss through reflection. This gives you bright and crisp images from dawn till dusk.
The easy-to-grip body design makes it convenient for bow hunting. Better yet, this optic is amazingly light and easy to carry around. The high-eyepoint design provides a clear and comfortable field of view and sufficient eye relief to accommodate users who put on eyeglasses.
When it comes to construction, this product is made to handle any environment. It has a rubber-armored coating which stands up to extreme use and provides a secure, non-slip grip when your hands are wet or sweaty. It's also nitrogen filled and O-ring sealed for complete waterproof and fog proof performance.
Features
Durable rubber armored body
Smooth central focus knob
Versatile 8×42 size
Waterproof and fog proof
Turn-and-slide rubber eyecups
Fully multi-coated eco-glass lenses
Nikon's high-eyepoint design
Lightweight and portable
Dielectric high-reflective multilayer prism coatings
Excellent low light performance
See Also
How to Choose the Best Binoculars for Bow Hunting
Quality Build
The quality of binoculars for bow hunting should always come first. When hunting, binoculars will be subjected to bumps, impacts, falls and other conditions. So, you need to invest in the best quality pair possible. Avoid low-tier models as they are often less durable and less resistant to bumps and impacts. Instead, go for a model that's build tough and whose specs show that it's made to provide long-lasting durability.
Magnification
Binoculars are identified according to their model's name and number. The first number represents the magnification strength. If you are new in the market, magnification refers to how close an object will appear through the binocular's lens compared with how you view it with your naked eyes.
Majority of binoculars suitable for bow hunting have 8x or 10x magnification. 8x binoculars provide a wider field of view and brighter images. They are also more compact and lightweight. On the other hand, 10x binoculars provide a closer view of distant targets, but sacrifice on the field of view. Nonetheless, both magnifications are great for bow hunting.
Lens Coating
The other important factor you should consider is the quality of lens coating. It plays a very big role in the quality of images that you'll receive. Top-tier lens coatings facilitate maximum light transmission and reduce glare and light loss due to reflection. Binoculars with anti-reflective coatings are the best for bow hunting. They provide bright and crisp images from dawn till dusk. If you want the best quality images, go for a pair whose lenses are either fully coated or fully multi-coated.
Field of View
Field of view refers to the width of the picture you can see on the lenses without moving the binoculars around. This is an important factor to consider as it determines how comfortable your viewing will be. Go for a model with a wide field of view and you will have an easy time tracking down moving game. A wide field of view also aids in quick target acquisition.
Weight
Full size binoculars tend to weigh more than their small and medium-sized counterparts. Bulky binoculars are not ideal for hunters who travel a lot. They are not only cumbersome to carry, but also difficult to maneuver around with in the field. For bow hunting, look for the lightest pair possible. This way, it will be easy for you to carry them around as you track down your targets.
Waterproof
Different weather conditions can strike you when you are out in the field hunting. The last thing you would want is a pair that can't handle inclement weather. However, if the pair you are using is waterproof, it will be ready to tackle any weather condition. Try to look for a pair that's not only waterproof, but also fog proof. It should also come with a rubber coating which provides additional protection from weather elements while ensuring that you get a secure grip in wet conditions.
FAQs
Which binocular magnification is best for bow hunting?
Since bow hunting takes place in short and medium distances, binoculars with 8x or 10x magnification are sufficient. 10x models will provide better viewing on distant targets in wide open fields while 8x magnification is suitable for close targets in thick bushes and forests.
Are binoculars important in hunting?
Absolutely. Binoculars are valuable tools in all hunting applications. Premium binoculars provide crisp viewing and excellent low light performance. They also provide a wide field of view which makes it easy for the hunter to spot their game and track them as they move.
What do numbers on binoculars mean?
Model numbers in binoculars represent the magnification strength and the size of the objective lens. For example, in 10×42 binoculars, 10 is the magnification power and 42 is the diameter of the objective lens in millimeters.
What's a good objective lens size for hunting binoculars?
It depends. If you are always hunting in low light conditions, a model with a larger objective lens will be necessary. Generally, the bigger the lens, the better the light transmission and the better the quality of images produced. However, large objective lenses make the binoculars weigh more. Typically, binoculars with 40 to 50mm objective lens diameter are sufficient for most hunter's needs.
Conclusion
Hopefully, you have found this detailed buying guide insightful. The best binoculars for bow hunting will change how you hunt and transform your hunting skills for the better. The binoculars listed above are well-made and a great companion to every avid bow hunter out there. Use our guide above and invest in a decent pair that will increase your odds of success this hunting season.