Are you in the hunt for the best scope for 338 Win Mag? You have come to the right place. In this article, we look at the best-rated scopes that are suitable for use with the popular .338 Winchester Magnum.
When it comes to big game hunting, the .338 Winchester Magnum is hard to beat. This rimless, bottlenecked cartridge is quite popular among elk and deer hunters with bullets ranging from 200-225gr being widely used for hunting large class 3 game such as moose.
No matter the kind of game that you hunt using the 338 Win Mag , investing in the right hunting gear is key to having a rewarding hunting trip. A scope is one of the most important items to have. A good scope will not just get you on target quickly, but also fine tune your skills and take your hunting to the next big level.
What Makes a Great Scope for 338 Win Mag
When it comes to hunting, choosing a good scope is very important. A great scope for 338 Win Mag is made of several attributes and the first one is broad and variable magnification. Having a scope with adjustable magnification power gives you the flexibility to hunt game in different environments and across vast ranges.
Secondly, a good scope for 338 Win Mag should feature an objective lens that is large enough to collect more light and maximize low light performance. A large objective lens is also important as it provides a wide field of view.
It is also important to get a scope that is built with longevity in mind. With solid make, the scope will endure all the rough handling you take it through. Quality construction is also a guarantee that the scope will handle recoil effectively.
The best scope for 338 Win Mag should be usable in all weather conditions. It should not start to fog when the temperatures and humidity levels change. It should also be sealed against dust and moisture which are the main enemies of optics.
Last but not least, a good scope should be lightweight, easy to maneuver with in the field and simple to use.
Best Scopes for 338 Win Mag – Our Top Picks
Choosing a good scope for 338 Win Mag calls for some research as there are so many scopes available out there. We have done the hard work for you and here are the best scopes for 338 Win Mag that we recommend. Let's have a look.
1) Vortex Viper HS 4-16x44mm Rifle Scope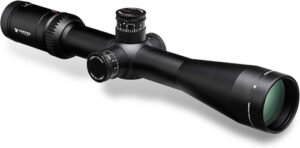 First on our list is the Viper HS 4-16x44mm Rifle Scope from Vortex. The scope features advanced technology and a ton of premium quality features that every hunter needs to acquire targets quickly and make the most out of their hunting expeditions.
Built with a variable 4-16x magnification power, the scope is ideal for hunting game at medium to long ranges. The magnification range is useful at every range thanks to the 44mm objective lens that ensures high volume of light is collected inside the optics. Besides, the scope has a second focal plane reticle that stays constant even with the change in magnification.
Optically, the scope brings to the table XD lens elements that optimize resolution and color fidelity. On top of that, it has XR fully multi-coated lenses which optimize low light performance by ensuring high levels of light transmission.
Another facet that makes this optical equipment the best scope for 338 Win Mag is the long 4" eye relief that makes it eyeglass friendly. Over and above that, it has a single-piece aircraft grade aluminum 30mm body tube that is fully waterproof, fog proof and shockproof.
Features
Precision-glide erector system
Capped reset turrets
Aircraft grade aluminum body
30mm main tube
Waterproof and fog proof
XR fully multi-coated optics
Hard anodized finish
Parallax free from 50 yards to infinity
Pros
Excellent performance in low light
Good quality glass
Long eye relief
Quality construction
Cons
2) Burris Fullfield IV 4-16x50mm Hunting Scope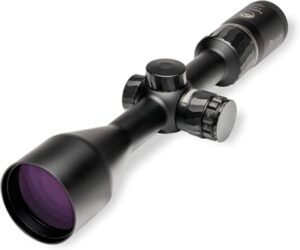 Burris Fullfield IV 4-16x50mm Hunting Scope is built with versatility in mind. It has a wide variety of reticles for both hunting and long-range target shooting, and a ton of other premium quality features with outstanding value.
The optical performance of this hunting scope is what makes it ideal for 338 Win Mag. First, it has high-grade optical glass which provides superb brightness and clarity with long lasting durability. Furthermore, the scope has multi-coated lenses that enhance performance in low light environments.
When it comes to construction, this rifle scope has a 1-inch body tube made with lasting durability. The entire tube is nitrogen filled to prevent fog build up and waterproofed for use even in rainy environments. Other than that, it has a durable, integrated eyepiece design with non-slip grip for quick and straightforward adjustment in the field.
Other noteworthy features included are side parallax adjustment and positive steel-on-steel adjustments that guarantee repeated accuracy.
Features
Versatile 4x zoom
Multi-coated lenses
Side parallax adjustment
1-inch body tube
Positive steel-on-steel adjustments
Waterproof and nitrogen filled
Rugged construction
Pros
Wide selection of reticles
Inexpensive
Great accuracy across vast ranges
Simple to use
3) Bushnell Trophy Rifle Scope with Multi-X Reticle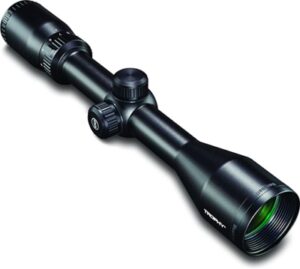 Thirdly on our list of the best scope for 338 Win Mag is the Bushnell Trophy Rifle Scope. Getting this rifle scope for your hunting expeditions will boost your confidence and ensure that you acquire targets quickly in any hunting environment.
The selling point of this scope is low light visibility. It delivers an unmatched combination of edge-to-edge clarity and best-in-class light transmission thanks to the large objective lens and the fully multi-coated optics. Besides, it has Rain Guard HD lens coatings that keep the lens clear in all environments.
Another feature that makes the scope shine is the Multi-X reticle. The reticle is put on the second focal plane so it maintains a constant size through the entire 3-9x magnification. Other than that, the scope has a fast focus eyepiece for quick and easy reticle focusing.
In addition to everything else, this optic has a single-piece body tune that is 100% waterproof and fog proof for use under all weather conditions.
Features
Fully multi-coated optics
1/4 MOA fingertip windage and elevation adjustments
Fast focus eyepiece
Fully waterproof and fog proof
1-inch single-piece tube construction
SFP Multi-X reticle
3-9x magnification
Pros
Great low light performance
Lightweight and durable
Long 4" eye relief
Easy on the wallet
Cons
4) Leupold VX-5HD 3-15x44mm Rifle Scope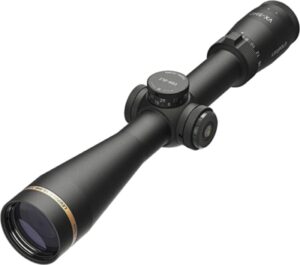 Leupold optical equipment are synonymous with quality and the VX-5HD 3-15x44mm Rifle Scope is not an exception. Built with the avid hunter in mind, this rifle scope pairs well with the 338 Win Mag to optimize performance in the hunting fields.
The scope has a Twilight Max Light Management System that gives hunters a distinct advantage when hunting in the dawn and dusk hours. It increases the amount of glassing light and enhances the image brightness and clarity in such settings.
Furthermore, this rifle scope is built tough to last for ages. It has a 6061-T6 aluminum housing that is impact resistant, shockproof and recoil proof. On top of that, the optical tube is sealed with advanced sealing methods to keep the internal optics waterproof and fog free for life.
Well, that's not all. The VX-5HD 3-15x44mm Rifle Scope has a zero lock system dial that eliminates accidental movement during use. It also has a ZeroStop system that creates a backstop when one is returning the dial back to zero.
Features
Waterproof, fog proof and shockproof
Guard-ion rain shedding coating
Second focal plane reticle
Side focus parallax adjuster
30mm main tube
Custom dial system
6061-T6 aluminum housing
Twilight Max Light Management System
Pros
Lightweight construction
Crisp clear optics
Robust and reliable construction
Easy to mount and use
Cons
5) Primary Arms SLX 4-14x44mm FFP Rifle Scope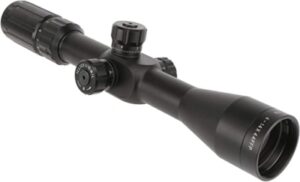 Another best scope for 338 Win Mag on our list is the Primary Arms SLX 4-14x44mm FFP Rifle Scope. This optical equipment is built with beginners in mind. It is remarkably inexpensive and very easy to use.
The ACSS Orion reticle is the selling point of this rifle scope. It is designed with the ability to range a variety of game including white tail deer, mule deer and coyotes. Thanks to the built-in BDC, it eliminates the guesswork on range estimation and allows for fast accurate shots across the entire 4-14x magnification range.
Moreover, the scope is built ready for hunting. It has a durable aluminum body that is shockproof and impact resistant. With the quality make, it stands up to whatever abuse you subject it to. Other than that, it is 100% waterproof, dust proof and nitrogen purged to be ready for anything Mother Nature will have instore for your hunt.
Features
Variable 4-14x magnification
First focal plane ACSS Orion reticle
Waterproof and fog proof
30mm main tube
Quick ranging and wind holds
Shockproof aluminum housing
Side mounted parallax adjustment knob
Pros
Budget-friendly
Easy to use
Lightweight design
Exceptional optical clarity
Cons
6) NightForce 2.5-10x42mm NXS Compact Rifle Scope

When you want to take your hunting to the next big level, you need a scope that is up to task. This is what you get from the NightForce 2.5-10x42mm NXS Compact Rifle Scope. It has plenty of new features and improved technology all of which are essential for hunting.
The scope has an adjustable zoom power from 2.5x to 10x. At close ranges, it provides an extremely spacious field of view for quick target finding. Additionally, the high 10x magnification is ideal for rapid target acquisition at extended ranges.
To ensure great accuracy across all ranges, the scope features adjustable parallax from 25 yards to infinity. Moreover, it is available with multiple reticle options which are illuminated to ensure optimal visibility in low light hunting environments.
This lightweight and compact scope is made with ease of use in mind. It has a power throw lever which allows for instant magnification adjustment from any shooting position. Other than that, it has a generous eye relief that stays constant even with change in magnification.
To top it all off, the scope brings to the table night vision compatible settings for greater versatility.
Features
Side parallax adjustment
5-10x variable magnification
Second focal plane reticle
Power throw lever
Night vision compatible settings
30mm main tube
100 MOA adjustment range
Pros
Stunning picture quality
Precise windage and elevation adjustment
Excellent craftmanship
Unbeatable value
Cons
7) Vortex Diamondback 4-12x40mm Rifle Scope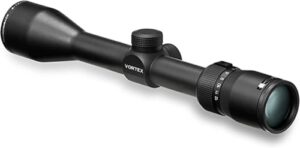 Our last scope recommendation for 338 Win Mag is the Vortex Diamondback 4-12x40mm Rifle Scope. This rifle scope delivers all the power you require for medium to long range hunting across all hunting environments.
The durability of this optic is a force to reckon with. It has an ultra-durable 1" body tube made from 6061-T6 aircraft quality aluminum. The entire body is subjected to demanding factory testing under a force of 1000G's to stand up to any punishment you throw at it.
To complement the solid build, the scope has pop-up dials that provide simple, precise adjustments of both windage and elevation. Other than that, it has fully multi-coated lenses that increase light transfer in low light and limit glare when you are looking for game in broad daylight. The end result is bright and crisp image views from sunrise till sunset.
For all weather use, the scope is waterproofed and fog proofed. It is also built with a hard anodized finish that protects the exterior surface from scratches, corrosion and rust when used in wet environments.
Features
SFP Dead-Hold BDC reticle
Hard anodized finish
Aircraft grade aluminum construction
Fully multi-coated optics
Waterproof, fog proof and shockproof
1-inch main tube
4-12x magnification
Pros
Price
Exceptional image brightness and clarity
Holds zero well
Durable build
Cons
What Magnification Do You Need?
When hunting with the 338 Win Mag, you will need a scope whose magnification power is broad to cover all the distances you will be pursuing the game at. Since this cartridge is able to shoot effectively out to 500 yards, a moderately powered scope will suffice.
For close to medium range hunting up to 300 yards, you will be better off with a scope whose magnification ranges between 3x and 9x. On the other hand, you will need a high-powered scope with 10x to 18x magnification for medium to long range hunting above 500 yards.
Read Also
How to Choose a Scope for 338 Win Mag
Buying the best scope for 338 Win Mag isn't something you do on a whip. Here are the key things to take into account before settling on any specific product.
Durability
For such a big caliber, you need a scope that is built for long term use. Any cheaply built scope will fail to handle the recoil the round generates and end up being damaged after a few sessions of hunting.
To avoid that, go for a scope that is built using high-quality materials like aluminum or magnesium. The scope you get should also be shockproof, impact resistant and rated for recoil resistance.
Lens Coatings
In a scope, lens coatings play a big role of determining the amount of light transmitted. Go for a scope that has several layers of anti-reflection coatings applied on all air-to-glass surfaces. The more layers of lens coatings are applied, the more light will be transmitted and the brighter the images will be.
The best scope for 338 Win Mag should also be made with premium glass elements to enhance resolution and color accuracy.
Objective Lens
Another important thing to consider is the objective lens whose primary role is to collect light inside the optics. The larger the objective diameter is, the more light the scope collects and the wider the field of view it generates. A tip is to get a scope that has a large objective lens of between 40mm and 50mm. Such scopes offer the ultimate balance between weight and light collection.
Weight
When hunting, you need to have lightweight gear that don't weigh you down as you move from one point to the other. Look for a scope that is durable but ultralight for easy carrying in the field. Having a lightweight scope is also beneficial for recoil dispersion.
Eye Relief
Another feature that is also important to factor in is eye relief. This is a measure of how far the scope has to be from your eye and still be able to see a full field of view. It is essential in that it determines how comfortable your glassing will be. We recommend that you get a scope that has an eye relief of 3.5 inches and above.
FAQs
Which is better 300 Win Mag or 338 Win Mag?
It largely depends on what you are searching for. The 338 Win Mag has more stopping power which is why it is good for big game hunting. On the other hand, the 300 Win Mag has less recoil and a trajectory that is flatter.
What is the 338 Win Mag good for?
338 Win Mag is good for hunting. It is an excellent round for deer and elk hunting where is able to deliver a clean, ethical kill on the first shot. The stopping power it packs also makes it an ideal choice for big game hunting.
Final Thoughts
Choosing the best scope for 338 Win Mag is easy when you know what to look for. All the scopes on this list have all the basic features a hunter needs to enhance their odds of success immediately they set foot on the hunting field. So, look at the features and specs that each product boasts and pick the model that will help you focus on targets quickly and accurately.