When it comes to finding the best scope for HFT, you are going to see a lot of models available on the market. Different brands offer a selection of their premium quality models and in our post today, our focus will be on models that are truly a treasure to have for this kind of shooting.
Hunter field target (HFT) is an outdoor shooting sport practiced with air rifles that are equipped with sighting tools. It is fun and great for firearm enthusiasts looking to hone their shooting skills. It is also practiced by all kinds of shooters no matter their level of experience.
Whether you do HFT recreationally or as a way to sharpen your skills, it is important to have the right gear at hand. A rifle scope is one of the important tools you should have and not just any scope, but a model that is up to task.
We have the hard work for you and put together a list of the best-rated scopes for HFT. These scopes offer exceptional performance in all shooting environments and are built with durability and longevity in mind. Further in this comprehensive guide, you will find the key things you need to put into consideration when making your purchase. But first, let's begin by taking a look at the attributes of a great scope for HFT.
What Makes a Great Scope for HFT?
A great scope for HFT balances a plethora of attributes to ensure reliable performance. These attributes include:
Advanced Optics
First and foremost, a good hunter field target scope should have advanced optics which provide bright, clear and tack-sharp sight pictures for precision aiming.
Versatile Magnification
A scope with a versatile magnification range is essential for hunter field target shooting. It gives you the flexibility to scan and acquire targets at varying ranges with ease.
Crisp Reticle
Crisp reticle is another attribute that makes a great scope for HFT. With an uncluttered view of the aiming point, you will be able to plan the shot and aim accurately.
Precise Turret Adjustment
It is vital for the scope to have precise turret adjustment. This way, you are able to make quick and accurate corrections for both windage and elevation.
Durable Construction
Last but not least, the best scope for HFT should be built with durability in mind. It should be tough enough to withstand abuse, and fully waterproof, fog proof and dust proof.
Best Scopes for HFT – Our Top Picks
1) Hawke Sport Optics AirMax EV 3-9x40mm AO Rifle Scopes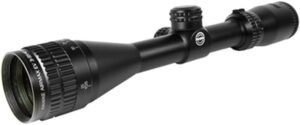 Hawke Sport Optics AirMax EV 3-9x40mm is hands down the best scope for HFT. It is designed with an array of user-friendly and reliable features that will bring new life to your air gun and ensure that you place shot perfectly, every time.
The scope features a variable 3-9x magnification power offered in the second focal plane reticle. It provides a large field of view on the lowest magnification level for quick target finding, and rapid target acquisition when you ramp up the zoom power.
Furthermore, this rifle scope comes with an adjustable objective for image focusing and parallax adjustment. It has a broad 80 MOA adjustment range to ensure optimal flexibility in all fields and a generous eye relief of 3.5 inches.
When it comes to construction, this rifle scope is built on a 1-inch single-piece main tube. It is shock proof for superior strength and fully waterproof and fog proof for all weather performance. Over and above that, it is outfitted with a fast focus eye bell and a high torque zoom ring.
Features
16-layer fully multi-coated optics
Wide view optical system
Glass-etched second focal plane reticle
Integrated adjustable objective
1-inch mono-tune chassis
1/4 MOA low profile fingertip turrets
Fast focus eye bell
3-9x total magnification
Matte finish
Fully waterproof, fog proof and shock proof
Pros
Good eye relief
Relatively lightweight
Great reticle
Excellent built quality
Optical clarity
Cons
2) Bushnell Engage 2-10x44mm Rifle Scope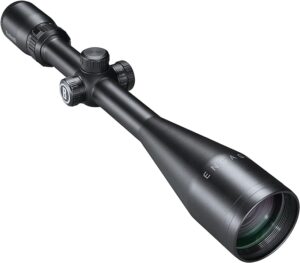 To deliver the best shot, you need a rifle scope that is up to task. This is where the Bushnell Engage 2-10x44mm Rifle Scope comes in. It provides crisp clear views of targets in all environments to boost you speed of target finding and enhance your shooting precision.
The selling point of this scope is optical performance. It has fully multi-coated optics that enhance light transmission in low light for the brightest and clearest sight pictures. Additionally, the scope features an Exclusive EXO barrier lens coating that protects the glass from scratches while providing a clear view in all environments.
With a mere weight of 19.3oz, the scope is lightweight, portable and highly effective at scattering the heavy recoil from air guns. The eye relief is generous enough to accommodate all users even those with eye glasses and with the exposed turrets, you will be able to acquire targets quickly and without strain.
In addition to all these features, the Bushnell Engage 2-10x44mm Rifle Scope has a 30mm tube that is IPX-7 certified to be fully waterproof, dust proof and fog proof.
Features
EXO barrier lens coatings
Fully multi-coated optics
Tool-less locking turrets
44mm objective lens
IPX-7 waterproof and dust proof
30mm main tube diameter
Matte finish
Second focal plane reticle
25 MOA adjustment click value
Pros
Optical clarity
Generous eye relief
Economy price
Lightweight
Cons
3) Meopta Optika6 3-18x50mm 30mm Rifle Scope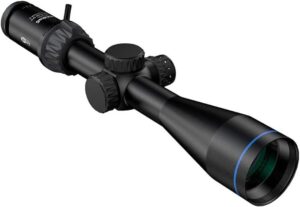 Sitting comfortably in third is the Meopta Optika6 3-18x50mm 30mm Rifle Scope. Mounting this rifle scope on your preferred HFT weapon will improve your efficiency at any distance, get you on targets quickly and hone your overall shooting skills.
The scope provides stunning optical clarity even in poor light settings. This is thanks to the massive 50mm objective lens that draws in large volume of light. Other than that, the scope has MeoBright and MeoShield lens coatings to ensure high levels of light transmission and image clarity.
The build quality of this rifle scope is incredible just like the optical features. It is constructed on a 30mm tube for strength and toughness. Besides, the housing is from aluminum, a material that is ultra-durable but lightweight.
Above all, this rifle scope has capped turrets to provide extra shield from bumps and prevent accidental shift in the middle of use.
Features
Matte anodized finish
30mm single-piece tube
Coated glass
70 MOA adjustment range
Waterproof, fog proof and shock proof
MeoShield ion-assisted lens coating
RD illuminated reticle system
Second focal plane reticle placement
Aluminum construction
3-18x total magnification
Pros
Lighted reticle
Great price for the features
Excellent optics
Outstanding durability
Cons
4) Vortex Diamondback 4-16x44mm 30mm Rifle Scope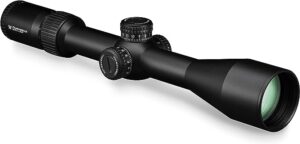 Vortex Diamondback 4-16x44mm Rifle Scope is the ultimate mid and long-range optic for HFT. It provides all the features you need to push your air gun to its full potential and make every shooting expedition a success.
The scope is optimized for durability. It is protected by a tough aluminum housing that is rigid enough to handle abuse, impacts and powerful recoil. The housing is fully waterproof, fog proof and shock proof to complement durability and ensure unimpeded performance in all fields.
Optically, the scope is outfitted with extra-low dispersion glass elements that increase resolution and color fidelity, resulting in ultra-crisp and sharp images. On top of that, it has fully multi-coated optics to maximize light transfer and performance in low light.
Another impressive feature of this rifle scope is the reticle. It is is built with a first focal plane reticle that allows accurate holdover and ranging at all magnifications. The reticle is glass-etched for permanency and optimal reliability.
Features
30mm tube diameter
Precision-glide erector system
Fast focus eyepiece
Raised magnification rib
Fully multi-coated optics
Aircraft grade aluminum housing
XD lens elements
Matte black hard anodized finish
Waterproof and fog proof construction
Pros
Long eye relief
Lightweight and durable
Bright and clear optics
Easy to zero and use
True tracking
Cons
5) Burris Fullfield II 3-9x40mm Rifle Scope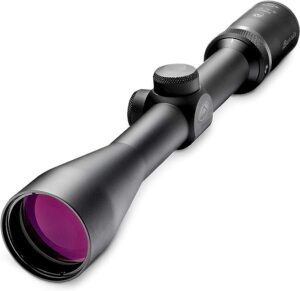 Burris Fullfield II 3-9x40mm Rifle Scope marks our next pick of the best scope for HFT. If you are looking for a budget-friendly but quality HFT scope, look no further than this model.
It is designed with ease of use in mind to fit all users, even beginners. The lightweight design makes it easy to mount, use and carry from one location to the other. Besides, it provides a spacious depth of field across the 3-9x magnification for easy target scanning and acquisition.
Solid construction is another impressive facet of the scope. It has an aircraft grade aluminum body that guarantees many years of reliable field performance. On top of that, the housing is waterproofed and fog proofed to make the scope usable even in the adverse weather conditions.
And that's not all. The Burris Fullfield II 3-9x40mm Rifle Scope features a durable, integrated eyepiece design with a non-slip grip for easy adjustments. It also boasts high-grade optical glass and quality precision-ground lenses which provide exceptional image brightness and clarity.
Features
Rear focal plane reticle
Waterproof and nitrogen filled
Variable 3-9x magnification
High-grade optical glass
Waterproof, fog proof and shock proof
Matte finish
Aircraft grade aluminum construction
Positive steel-on-steel adjustments
Pros
Quality construction
Clear glass
Lightweight
Good value for the price
Cons
Narrow eye relief at max power
6) Hawke Sport Optics Airmax EV 4-12x40mm Rifle Scope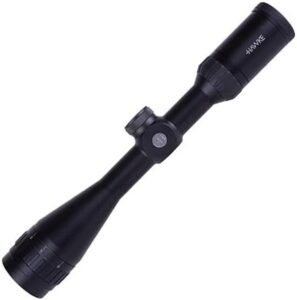 Hawke Sport Optics Airmax EV 4-12x40mm is another high-powered rifle scope with all the modern features you would expect. It has a 40mm objective lens to complement the versatile magnification power and ensure reliable performance in low light.
With the adjustable objective, the scope fits in nearly all hunting and shooting situations. Its reticle is housed on the second focal plane so it doesn't change with change in magnification. On top of that, it is glass-etched for permanency and reliability.
Another stand out feature of this rifle scope is the optics. It has a wide view optical system ideal for air guns. Even better, each optic has 16 layers coatings to maximize image brightness, clarity and sharpness.
Hawke optics are known for their durability and this rifle scope is not made any different. It is constructed from aluminum in a mono-tube chassis for superior strength and durability. It is also nitrogen purged and sealed to provide a lifetime of reliable waterproof and fog proof integrity.
Features
Fully multi-coated optics
Waterproof, fog proof and shock proof
Wide view optical system
Fast focus eyepiece
1-incn mono-tube chassis
Integrated adjustable objective
Glass-etched reticle
1/4 MOA fingertip turrets
4-12x magnification power
Pros
Generous eye relief
Relatively lightweight
Excellent build quality
Great reticle design
Outstanding warranty
Cons
Blur sight picture after 9x zoom power
7) BSA Optics Outlook 4-12x44mm Air Rifle Scope

Our last HFT scope recommendation is the BSA Optics Outlook 4-12x44mm Air Rifle Scope. Optimized for air rifle use, this rifle scope is all you need to get on target quickly and take your shooting skills to the next top level.
The scope features a variable 4-12x magnification for medium and long-range shooting. On top of that, it has an adjustable objective for parallax elimination at extended ranges and an illuminated reticle to ensure precision aiming in low light.
This rifle scope is designed to weather reverse reoil found with most air guns. It is made with an aluminum body with an anodized finish to prevent scratches and rust. Additionally, the optical tube is fully waterproof, dust proof and fog proof to ensure that the scope performs in any weather condition.
To top off everything else, this rifle scope has fully multi-coated lenses which provide vivid sight pictures even in the low-level light settings.
Features
1-inch single-piece tube
Fully-coated optics
1/4 MOA adjustment click value
Waterproof, fog proof and shock proof
Second focal plane reticle
Non-reflective matte finish
Aluminum construction
Adjustable parallax
Pros
Illuminated reticle
Extended eye relief
Lightweight construction
Adjustability and affordability
Bright and clear optics
Cons
What Magnification Do You Need?
Choosing the right scope magnification for hunter field target sports shooting is important if you want to make the most out of every expedition. You need a scope with a versatile and powerful magnification to cover targets at all ranges with ease.
For close and medium range shooting out to about 300 yards, a variable scope with up to 9x magnification will suffice. This is going by the 3x rule at every 100 yards. But for long range shooting more than 300 yards, you need a high-powered scope with at least 12x magnification.
Read Also
Criteria for Choosing the Best Scope for HFT
Here are the most important things to consider when shopping for a scope for HFT.
Durability
Hunter field target shooting calls for a scope that is optimized for durability. Air guns are known to generate heavy recoil that can damage a scope instantly if its cheaply built.
Take a look at the nature of construction of the scope and settle for a model that is built with hard-wearing materials. On top of good construction quality, the best scope for HFT should have reliable protection from water, fog and other elements.
Eye Relief
Eye relief refers to the distance your eye has to be from the scope's eyepiece during use. You need an extended eye relief of more than 3.5 inches for a HFT scope to keep your eye safe from the recoil that air rifles generate. A scope with a generous eye relief also guarantees great eye comfort during long shooting sessions.
Optical Clarity
You will want a scope that provides exceptional optical clarity in all lighting conditions. To achieve all this, the scope should have premium grade optical elements and anti-reflective lens coatings. The glass elements enhance resolution while the lens coatings are responsible for enhancing light transmission in low light and preventing glare in bright light.
Weight
The other thing to consider is weight. The best scope for HFT is lightweight to ensure easy carrying in the field. The average weight of HFT scopes is 1.2lbs but any model under 2lbs will do.
Reticle Type
It is also important to choose a reticle that aligns with your shooting needs and preferences. Duplex, BDC and Mil-Dot reticles are common choices for HFT scopes. Some shooters prefer illuminated reticles for confident aiming in the low light settings.
FAQs
What is hunter field target, HFT?
Hunter field target (HFT) is an air rifle shooting sport that involves shooting targets that are placed at different distances in outdoor settings. The settings resemble real hunting fields and the main aim is to prepare and hone the skills of avid hunters before the actual hunting expedition.
What scope size is the best for HFT?
The best scope size for HFT largely depends on individual needs and preference. We recommend a scope with 3-9x or 4-12x magnification for this kind of shooting activity. Such scopes give you the flexibility to acquire targets at varying ranges, without compromising on the field of view.
What do numbers in a scope mean?
There are two numbers in every rifle scope's configuration. These numbers show the magnification power and the size of the objective lens respectively. So, in a 4-12x44mm rifle scope for example, 4-12x is the magnification power while 44mmm is the diameter of the objective.
Final Words
Hopefully, this article has given you some insight into the best scope for HFT. With the plethora of models available out there, it is easy to make the right purchase if you know the key features that you need the scope to have. Whatever your needs are, there is a HFT scope out there waiting for you.