When it comes to preparing your gear for hunting, you will want to have the best tools by your side to maximize overall hunting experience. Magnified optics are an integral gear for hunting and in today's article, we will be taking a look at the best lightweight hunting scopes that offer a great combination of features without adding any extra weight.
A lightweight and quality scope is not just a piece of accessory, but a game changer when hunting. It will help you scan, find and acquire the game with precision no matter the nature of the hunting field. Besides, a magnified optic goes the extra mile to give you a better view of the target so you can take the crucial shot accurately.
In this comprehensive exploration, we will highlight the benefits of lightweight scopes for hunting and then walk you through the best-performing models that are available on the market. Crafted with the avid hunter in mind, these rifle scopes are not just easy to shoot with, but reliable for use in any hunting environment.
Benefits of Lightweight Hunting Scope
Lightweight hunting scopes offer a wide range of benefits for hunters who value maneuverability and ease of use. These benefits include:
Minimal Recoil Impact
The primary benefit of using a lightweight scope is reduced recoil impact. When you are using a high caliber round for hunting, the lightweight design disperses recoil effectively and enhances the scopes durability.
Versatility
Another key benefit of lightweight scopes is versatility. Generally, these scopes can be mounted on a variety of firearms, including rifles and crossbows and not add any extra weight.
Ease of Use
Lightweight hunting scopes tend to be easy to use, even for the beginners. They are simple to mount and convenient to maneuver around with, without fatigue.
Enhanced Accuracy
A scope that is easy to mount and use guarantees greater shooting precision in the field. It also aids in rapid target acquisition, a feature that is vital for tracking fast-moving game.
Competitive Pricing
Last but not least, the best lightweight hunting scopes come at a price that is reasonably affordable. This makes them an ideal choice for avid hunters who are looking for a sighting tool that offers the ultimate balance between value and quality.
Best Lightweight Hunting Scopes -Top Picks
1) Leupold VX-Freedom 3-9x40mm Rifle Scope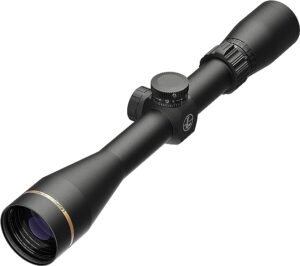 Leupold VX-Freedom 3-9x40mm Rifle Scope is by far one of the best lightweight hunting scopes available on the market today. Designed and built with hunters in mind, this mid-powered rifle scope has everything you could dream of and want in a hunting scope.
It excels across all lighting conditions from when the sun rises to when it sets. This is made possible by the advanced optical system it is built with. Besides, it employs the legendary Leupold's Twilight Light Management System that guarantees great visibility in twilight conditions.
The build quality of this rifle scope is as stunning as the optical performance. It is made with 6061-T6 aircraft quality aluminum which guarantees great durability and longevity. The rock- solid make is also fully waterproof and fog proof.
Another stand out feature of the Leupold VX-Freedom 3-9x40mm Rifle Scope is extended eye relief. This allows for great glassing comfort, with or without spectacles. Besides, the scope is built with 60 MOA adjustment range for both windage and elevation.
Features
Matte finish
Scratch resistant lenses
3-9x total magnification power
Second focal plane reticle placement
1-inch body tube
Fully waterproof and fog proof
60 MOA adjustment range
Twilight Light Management System
Pros
Sufficient eye relief
Competitive price
Clear, quality glass
Solid and reliable construction
Capped turrets
Cons
A bit difficult to sight in
2) Vortex Strike Eagle 1-6x24mm Rifle Scope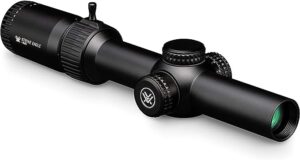 Not only is the Vortex Strike Eagle 1-6x24mm Rifle Scope lightweight, but also compact in form. This design makes it a perfect companion for hunting as it is very easy to maneuver with in tight spaces.
The optical performance the scope provides is a force to reckon with. It employs fully multi-coated lenses and extra-low dispersion glass to provide vivid sight pictures. Even in challenging light settings, the scope provides image views that are beyond bright and sharp.
Moreover, this rifle scope is crafted to be virtually indestructible. It has a robust aluminum body that is anodized and protected from scratches and corrosion. The rugged make coupled with all-weather protection make the scope an ideal choice for hunting in all fields.
In addition to all these benefits, the scope comes with a fast focus eyepiece which not only provides lightning-fast target acquisition, but also boosts the hunter's overall accuracy and shooting experience.
Features
Second focal plane reticle placement
LED illumination
Aircraft quality aluminum housing
Fully multi-coated optics
30mm single-piece main tube
Durable anodized finish
Water, fog and shock proof construction
XD lens elements
Glass-etched reticle
Pros
Great glass clarity
Accurate
Easy to use and adjust
Lighted reticle
Good value for the price
Cons
Small eye box at high magnification
3) Bushnell Prime 3-9x40mm Illuminated Rifle Scope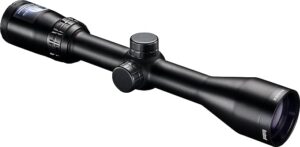 Bushnell Prime 3-9x40mm Illuminated Rifle Scope is a highly reliable sighting tool. Adding this rifle scope to your favorite hunting rifle will get you on targets quickly and turn every expedition into a success.
As one of the best lightweight hunting scopes, this optic has a variable 3-9x magnification offered in the rear focal plane. This zoom range offers you the ability to transition from close to mid ranges seamlessly. Besides, it provides a spacious field of view across the entire magnification for quick target identification.
The scope provides outstanding optical performance in all environments. It employs broadband anti-reflection lens coatings to ramp up light transfer in low light and prevent glare in bright light. Furthermore, the exterior optic has a proprietary EXO barrier coating that is responsible for repelling dust, dirt and moisture.
To top off everything else, the Prime 3-9x40mm Illuminated Rifle Scope is built with a single-piece 1-inch main tube which is fog proof and IPX-7 rated against moisture and dust.
Features
Zero reset turrets
1-inch single-piece main tube
Wide exit pupil
Capped finger-adjustable turrets
Waterproof and nitrogen filled
Durable aluminum alloy chassis
Second focal plane Multi-x reticle
3:1 zoom range
Broadband anti-reflection lens coatings
60 MOA windage and elevation range
Pros
Ease of use
Competitively priced
Bright and clear optics
Partially illuminated reticle
Cons
4) Athlon Optics Talos 4-16x40mm Rifle Scope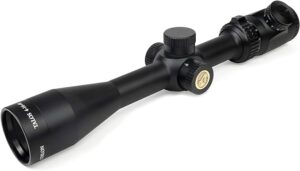 If you are looking for the best budget hunting scope, look no further than Athlon Optics Talos 4-16x40mm Rifle Scope. It provides a comprehensive set of user-friendly and dependable features at a cost that is remarkably cheap.
The broad 4-16x magnification offers the ultimate balance of precision shooting at close to long ranges. Besides, the large 40mm objective lens makes the magnification useful at each level by drawing in as much light as possible.
While this rifle scope is lightweight, it doesn't cut corners on quality. It is built with aircraft quality aluminum for optimal durability. Furthermore, the optical tube is sealed and fog proofed to enable reliable use in all weather conditions.
Optically, the Athlon Optics Talos 4-16x40mm Rifle Scope comes with high-end glass elements that provide great resolution. It also boasts fully multi-coated optics to ensure that the reflected light doesn't interfere with your shot. These coatings also provide a brighter sight picture overall, as well as extra shield from scratches and bruises.
Features
Second focal plane reticle
1-inch main tube diameter
Fully multi-coated optics
Adjustable parallax
Waterproof, fog proof and shock proof
Aircraft grade aluminum housing
Matte finish
Variable 4-16x magnification
Pros
Clear optics
Low price
Crisp and solid turrets
Cons
5) Burris Fullfield II 3-9×40 mm Rifle Scope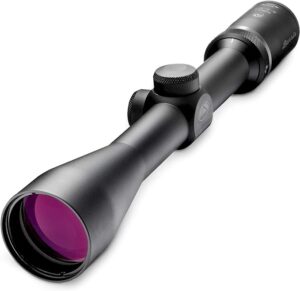 Burris Fullfield II 3-9×40 mm Rifle Scope is a single-piece 1-inch tube scope that offers the ultimate balance of precision and value. It is ideal for general purpose hunting where it performs really well at close to medium ranges.
The highlight of this rifle scope is reticle system. It boasts a Ballistic Plex reticle housed on the second focal plane. This reticle has lower vertical crosshair with miniature ballistic lines that compensate for bullet drop automatically from 100 to 500 yards for most common hunting cartridges.
Moreover, this rifle scope is built with ease of use in mind. Both the eyepiece and magnification ring have been made into a single solid unit for easy adjustments. This construction design also goes an extra mile to provide better sealing properties.
And that's not all. The Burris Fullfield II 3-9×40 mm Rifle Scope employs high-end optical glass which provides stunning image brightness and clarity. It also features quality, precision-ground lenses for better light collection.
Features
Second focal plane reticle
High-grade optical glass
3-9x total magnification
Positive steel-on-steel adjustments
Waterproof and nitrogen filled
Hi-Lume multi-coated optics
1-inch tube diameter
Aircraft grade aluminum housing
50 MOA total adjustment range
Pros
Clear glass
Well built
Large field of view
Simple to use
Cons
Non illuminated
Mushy clicks
6) Steiner P4Xi 1-4x24mm Rifle Scope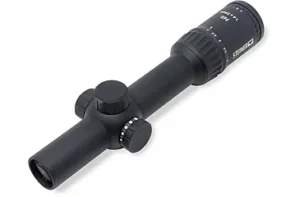 Next to grace our list of the best lightweight hunting scopes is Steiner P4Xi 1-4x24mm Rifle Scope. Carrying the highly respected Steiner name, this sighting tool packs a multitude of functions into a small package that is ultra-lightweight and portable.
The true 1x low-end power settings of this rifle scope will enable you to aim with both eyes open. This is essential for rapid target acquisition as well as retaining situational awareness. Other than that, you can easily dial up the magnification up to 4x and acquire targets accurately out to 400 yards.
Steiner has reputation of making premium-quality optics that last a lifetime. The P4Xi 1-4x24mm Rifle Scope is not any different. It is built with hard-wearing materials in a single-piece 30mm tube for increased strength and reliability. Furthermore, the scope is fully waterproof, fog proof and usable in temperatures ranging from -13 to 145℉.
In addition to the solid and sturdy construction, this low power variable optic has low profile turrets that hardly snag or hang up during movement. It also brings to the table an illuminated reticle that enables confident aiming in low light and a generous eye relief across the whole magnification range.
Features
Waterproof and nitrogen filled
1-piece 30mm tube
4x zoom
Low profile turrets
LED illumination
Second focal plane reticle placement
True 1x
Pros
Solid and sturdy construction
Generous eye relief
Illuminated reticle
Holds zero well
Clear optics
Cons
7) Trijicon Credo CR940 3-9x40mm Rifle Scope

For hunting in dense timber, Trijicon Credo CR940 3-9x40mm Rifle Scope is your ideal option. It provides superb image brightness in such environments and a wide field of view that is vital for speedy target acquisition.
The durability of this variable powered optic is incredible. It has a ruggedized design engineered to stand up to extreme conditions. Moreover, the 1-inch single-piece tube is protected from all- weather elements, including moisture, dust and mist to ensure unimpeded performance in all fields.
Another impressive feature about the scope is low light visibility. When hunting at dawn or dusk, you will be able to locate and acquire targets seamlessly. Furthermore, the battery-free illuminated reticle enables confident aiming in any light.
For extra value, the Trijicon Credo CR940 3-9x40mm Rifle Scope boasts an easy focus eyepiece that is essential for rapid reticle focusing. On top of that, there is a diopter to accommodate to your individual shooting prescription.
Features
1-inch tube diameter
Second focal plane reticle
3-9x total magnification
LED illumination
Fully multi-coated optics
11 brightness settings
Fully waterproof, fog proof and dust proof
Easy focus eyepiece
Repositionable magnification lever
Pros
Exceptional picture quality
Lighted reticle
Fast scanning, detection and tracking
Generous eye relief
Quality construction
Cons
Read Also
What Magnification Do You Need?
Magnification is one of the primary factors to consider when shopping for the best lightweight hunting scopes. Majorly, your ideal magnification power is determined by how far you purpose to hunt and the environment you will be hunting in.
It is best to get a low power variable optic or mid-powered scope with up to 10x magnification for hunting in dense timber. In this type of environment, a large field of view is indispensable. On the other end, long range hunting requires a high-powered scope with at least 12x magnification. So, a model with 3-12x or 4-16x should suffice.
Criteria for Choosing the Best Lightweight Hunting Scope
Settling for a lightweight rifle scope is the first step towards finding the ideal hunting scope. The other essential factors you should take into consideration include:
Optical Quality
In hunting scopes, optical quality is dependent on the type of glass employed and nature of the lens coatings. Go for a scope that employs the best glass elements you can afford. We recommend models that use ED, UHD or fluorite glass.
With lens coatings, opt for a hunting scope that features fully-coated or multi-coated optics. The more layers of lens coatings a scope has, the greater the light transmission.
Eye Relief
The next important facet to consider is eye relief. This is the distance from which your eye has to be from the scope's eyepiece during use.
The best lightweight hunting scopes have an extended eye relief to ensure maximum eye comfort with or without eyewear. A tip is to settle for a model that has more than 3.5 inches eye relief.
Durability
Hunting, no matter the distance or type of hunting field calls for a scope that is optimized for durability. As you maneuver the fields looking for game, you expose the scope to rough handling, abrasions and accidental falls.
If the scope is cheaply built, it will not hold up well to the rough handling. But if it is crafted with hard-wearing materials, it will weather any abuse and last long. Features such as water and fog protection are also vital for a hunting scope.
Reticle System
The reticle system that a scope employs can make or break your hunting experience. Get a product that comes with a user-friendly reticle system for precision aiming and easy target acquisition. For general purpose hunting, a duplex reticle should suffice. On the other hand, long-range hunting calls for a more sophisticated reticle such as Mil-dot or BDC.
Final Words
I hope that this article has shed more light on the best lightweight hunting scopes. There are some outstanding scopes for hunting out there and the models we have listed above have the added benefit of being lightweight, portable and easy to use. Look at the features and specification that make each model the right purchase and settle for one that aligns the best with your hunting needs.