Looking for the best scope for varmint hunting? You have landed in the right place. This is your ultimate guide to the best scopes for varmint hunting available on the market.
One of the most thrilling hunting activities is varmint hunting. It combines the rapid action of target shooting and the excitement of chasing a game. Besides, the population of varmints is so high that there is no single day that you'll lack one to hunt down.
Mounting a good quality scope on your hunting weapon helps make your varmint hunting expedition more rewarding. It helps you track down these predators swiftly and make an accurate shot even at long distances. And since hunting conditions vary greatly, having the best scope varmint hunting is vital.
Best Scopes for Varmint Hunting
With the multitude of rifle scopes available on the market today, finding the right scope for varmint hunting is easier said than done. Here are some of the best models that make a perfect companion for every modern hunter. Let's take a look.
1) Vortex Optics Crossfire II 3-12×56 Adjustable Objective Hog Hunter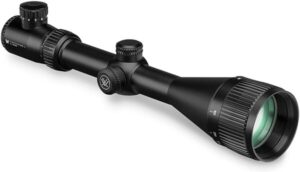 The Crossfire II 3-12×56 AO Hog Hunter is a high-quality scope suitable for varmint hunting. It provides the high-quality optical performance in low light conditions, which is needed by most hunters who prefer to hunt from early evening to late evening. It boasts fully multi-coated optics which provide the much-needed light transmission for bright, clear and sharp image production.
Featuring a versatile 3-12x magnification, this scope is ideal for hunting varmints at both short and long distances. The rugged housing perseveres unforgiving environments , while the hard-anodized finish reduces glare during the day and camouflages your hunting position. moreover, the scope is fully waterproof and fog proof so you can use it in extreme weather conditions.
The Hog hunter Crossfire is designed to offer unmatched accuracy. It has an adjustable objective for easy parallax removal for accurate shooting on long distances. It also brings to the table an illuminated center dot which gives you a precise aiming point in low light settings and a fast focus eyepiece which makes reticle focusing a breeze. Above all, it has a lightweight design for convenient portability and comes with a long eye relief to boast your shooting confidence.
Features
Variable and versatile 3-12x magnification
Superb low light performance
Fully multi-coated optics
Capped reset turrets
Durable aircraft grade aluminum construction
Waterproof and fog proof
Adjustable objective
Hard-anodized finish
Illuminated center dot
Second focal plane reticles
Fast focus eyepiece
Long eye relief and ultra-forgiving eye box
2) Leupold VX-Freedom Rimfire Riflescope 3-9x40mm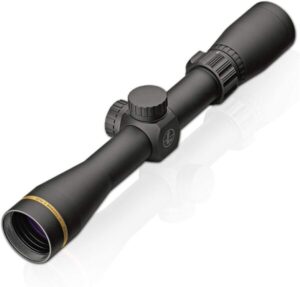 This rimfire riflescope from Leupold provides extremely impressive varmint hunting features. First, it offers outstanding clarity especially in low-light conditions and it has a Twilight Light Management System which provides additional glassing light in dismal environments and high-quality images from dawn till dusk.
Parallax in this riflescope can be adjusted for 60 yards. This makes it ideal for varmint hunting at any distance. The 0.25 MOA finger click windage and elevation adjustments provide absolute reliability and repeatability over a lifetime of field use. You can use the 3x magnification to engage short-range targets then increase the power to 9x for targets that are far away.
This riflescope is 100% waterproof and fog proof. You can use it even when it's raining and it will still perform.  Additionally, it has a shockproof design for greater strength and durability so you can take it anywhere you go. Overall, it's a great scope that offers excellent performance.
Features
Rugged and shockproof construction
100% waterproof and fog proof
Unmatched low light clarity
Lightweight design
Twilight Light Management System
Parallax adjusted for 60 yards
1/4 MOA finger click windage and elevation adjustment
Versatile 3:1 zoom ration
40mm objective lens
3) ATN X-SIGHT LTV Ultra-Light Day/Night Vision Hunting Scope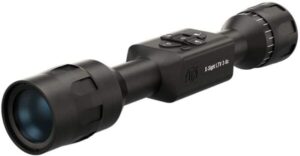 If you like to hunt varmints during the day as well as at night, the ATN X-SIGHT LTV hunting scope is your ideal companion. It offers brilliant and clear images during the day and excellent nighttime performance too. Thanks to the 10+ hour battery life, you can hunt all night long and not worry about the battery getting depleted.
Weighing just 1.6lbs, this scope is incredibly light and portable. It doesn't add any unnecessary weight that can interfere with the rifle's accuracy. It boats ATN's one shot zero which helps you aim accurate and minimize ammo wastage. Additionally, it comes with a HD video recording feature that you can use to upload videos and pictures of your hunting trip.
The classic ergonomic design makes this hunting scope user-friendly and beginner-friendly. It also brings to the table a wide field of view that's very essential for track moving targets varmints and monitoring their movement after you have made the shot. To top it all, the scope is highly flexible and it mounts easily on any platform with 30mm standard mount rings.
Features
Day and Night Vision Mode
HD screen
3-inch eye relief
Classic ergonomic design
Simple to use
Wide field of view
Mounts smoothly on any platform with standard 30mm rings
One Shot Zero
10+ hours battery life
IR illuminator
4) NIGHTFORCE SHV 5-20x56mm Zeroset .250MOA Scope

As one of the best scopes for varmint hunting, NIGHTFORCE SHV 5-20x56mm comes with every feature you need to make your hunting trip a success. This top-tier scope is build with avid hunters in mind. It provides outstanding optical performance, consistent tracking and great versatility that hunters need.
This scope will change the way you hunt varmints for the better. It features a Nightforce Forceplex reticle that facilitates easy and accurate aiming as it's very simple to read. The unobstructed field of view helps you track moving targets smoothly, while the 1/4 MOA thick center crosshairs facilitate accurate aiming. It also brings to the table a MOAR reticle which is perfect for hunting all varmints regardless of their size.
The big 56mm objective lens collects ample light needed for bright image production. This large objective also makes it ideal for hunting in low light situations. Besides that, the scope has a Zeroset technology that helps you get back to your original zero regardless of the number of windage and elevation changes that you have made. For added convenience, this product offers a generous eye relief for safe and comfortable shooting.
Features
1/4 MOA thick-centered crosshairs
Powerful 5-20x magnification
56mm objective lens
Zeroset technology
Wide and clear field of view
Forceplex and MOAR reticles
Side parallax adjustment
80 MOA elevation adjustment
6" eye relief
Sturdy and durable construction
5) Burris Scout Rifle Scope 2-7x32mm

The Burris Scout Rifle Scope 2-7x32mm is another excellent scope for varmint hunting. It's boats a multitude of high-end features for top-end performance. One thing that makes the scope stand out is that it allows you to shoot with both eyes open. This is important for fast target acquisition and increased situation awareness. It's also a handy feature for tracking and shooting fast-moving targets.
Having a total length of 9.7-inches and weighing 13oz only, this riflescope is lightweight, compact and a convenient companion for varmint hunting. The scope features high-grade optics glass which provides long-lasting durability and excellent image brightness. It's also equipped with large precision-ground multi-coated lenses that provide better light transmission.
In terms of construction, the scope is sturdily built to provide unbeatable durability. It has a tough housing that's fully resistant to shock, impacts and harsh recoil. It's also fully waterproof for use in wet and rainy conditions and nitrogen filled to prevent internal fogging that's usually caused by rapid temperature and humidity changes.
Features
Multi-coated lenses
Compact and lightweight
Versatile 2-7x magnification
High-grade optics glass
Rapid target acquisition
Extended eye relief
Forward mounting design
Waterproof, fog proof and shockproof
Finger adjustable, low-profile turrets
6) Monstrum G2 6-24×50 First Focal Plane Rifle Scope

The Monstrum G2 6-24×50 is another good varmint hunting scope for the budget buyers. It's built to deliver excellent performance at a cost that's easy on the wallet. It's magnification ranges from 6x to 24x which is perfect for both mid and long-range application. It also offers a long eye relief for comfortable shooting with or without eyeglasses.
This riflescope comes with a first focal plane reticle for quick range estimation and holdover correction. The adjustable objective eliminates parallax for accurate long-range shooting, while the glass-etched reticle enhances durability. With or without the illumination, this reticle stays highly visible in all lighting conditions for easy and accurate aiming.
For all-weather reliability, this riflescope is fully waterproof and fog proof. In terms of construction, it's made from 6061 aircraft-grade  aluminum which enhances durability without adding any unnecessary weight. Overall, it's a great scope for long-range varmint hunting.
Features
Glass-etched reticle
Aircraft grade 6061 aluminum construction
Fully waterproof and fog proof
Lightweight design
Variable 6-24×50 magnification
Adjustable objective
First focal plane mil-dot reticle
Long eye relief
7) Zeiss Conquest V4 6-24×50 Rifle Scope

Featuring a versatile 6-24x variable magnification and a side parallax adjustment, the Zeiss Conquest V4 6-24×50 Rifle Scope is your best option for long range hunting. Despite having a high magnification power, this scope offers a decent field of view for easy target identification.
This riflescope boasts the best-in-class optics. It features HD glass that provides 90% light transmission for clear views across the whole magnification range. It also features Zeiss T lens coating that delivers maximum clarity at dusk or dawn and the  hydrophobic LotuTec lens coating that give you unobstructed views in any weather conditions. Above all, the scope has a lightweight design for convenient portability.
Features
90% light transmission
Powerful 6-24x magnification
LotuTec coating
Non-illuminated ballistic reticle with MOA sub tensions
Lightweight design
Zeiss T coating
Superb low light performance
See Also
Factors to Consider when Choosing the Best Scopes for Varmint Hunting
Buying the best scope that you can afford will help you get the best out of your varmint hunting expeditions. Here are some of the important factors you should consider when looking for the best scopes for varmint hunting.
Magnification
Magnification is the first thing you look for in a scope for varmint hunting. Go for a scope with high magnification if you'll be hunting varmints over long distances. This will help bring the target closer for accurate shooting. For close and mid-range distances, look for a low power scope as a product with a higher one might be an overkill.
Reticle
Scopes have different reticles suitable for different applications. Since varmints are more active when the sun goes down, the best scope for varmint hunting is one with an illuminated reticle. An illuminated reticle will help you aim smoothly and shoot accurately in low light situations. Another good reticle you can go for is the BDC reticle which works well for extreme-long range applications.
Eye Relief
Eye relief is very important when using a high-caliber rifle. It not only boasts your confidence by providing comfortable views, but it also keeps your eyes safe from the recoiling rifle. Try to look for a scope with an eye relief of at least 3-inches.
Objective Lens
Your varmint hunting scope must have a large objective lens that collects optimum light needed for bright image production. This is particularly important since most varmints are active in low light settings. Since large sized objective lens make the scope heavy, make sure that you find the perfect balance between weight and objective lens size. A scope whose objective lens diameter ranges from 40 to 50mm will suffice.
Durability
Go for a scope that's sturdily built to provide long-lasting durability. Your scope will be subjected to different environments when hunting. It might fall accidentally or get hit by a hard object. So, get a scope that's crafted from durable and shockproof materials preferably aircraft grade aluminum.
In addition to this, make sure that the scope is built to provide all weather reliability. The weather conditions can change abruptly when you are out in the field and it's important to be prepared all the time.
Weight
The best scopes for varmint hunting are lightweight. If you want your hunting expedition to be more fun and less cumbersome, go for the lightest scope possible. A light scope is not just simple to carry around, but simple to work with as well. It doesn't add any unnecessary weight on your hunting firearm which can affect its accuracy.
Price
Last but not least is price. With varmint hunting scopes, you should never compromise the quality of the scope. If you get a low-cost model, it might end up breaking down after a few hunting expeditions and you'll end up in the market again looking for another scope. To avoid this, go for a top-tier model that you can afford.
FAQs
Varmint is a term used to describe different types of animals and birds that destroy crops and livestock. They may include pests, vermin, certain types of rabbits, coyotes, foxes, birds and some squirrels. All these animals are hunted to control their population as well as prevent the damage they cause in the farms.
What makes the best scopes for varmint hunting?
The best scopes for varmint hunting are those that meet your hunting needs and hunting habits. A good scope should be impact-resistant and shockproof so it will last long. It should provide high quality images at all lighting conditions, be easy to use and be fully weatherproof so you can use it in any weather condition.
What magnification do you need for varmint hunting?
It depends on your shooting distance. In most cases, a scope with not more than 9x is sufficient for close and mid-range varmint hunting particularly during the day. But for long-range hunting, you'll want a scope with more than 9x magnification so you will be able to identify the small targets.
How are scopes for varmint hunting different from other scopes?
Scopes for varmint hunting are usually bigger in size than regular riflescopes. They have larger objective lens and high magnification power as well. This is because most varmints are small in size and difficult to spot with regular riflescopes.
Conclusion
We hope that you have found this post helpful. When varmints aren't controlled, they can cause great damage to your farm and property. Shooting them is one of the most effective methods of keeping their population controlled. Use our buying guide above and get yourself a scope that's works best for your varmint hunting needs and your hunting habits too.