When it comes to viewing the outdoor world in magnificent detail and clarity, few tools match the performance and versatility of binoculars. Today, binoculars come in a wide range of sizes and configurations and in this post, we will be exploring the very best 10×32 binoculars.
10×32 binoculars are a gateway to the world of exploration. They offer the perfect balance between zoom power and portability; two features that outdoor enthusiasts look for in binoculars. Besides, these binoculars stand out in terms of versatility and excel in all applications they are used in.
Whether you use binoculars for birding, hunting, ocean viewing or any other thrilling sport activity, you can never go wrong with 10×32 binoculars. Inside this guide, we will explore the benefits of the best 10×32 binoculars and then take you through the top performing models available on the market, exploring their features, pros and cons.
Benefits of 10×32 Binoculars
Binoculars with 10×32 configuration are a popular choice for many outdoor and indoor applications. Here are the key benefits of using 10×32 binoculars.
Ease of Use
10×32 binoculars are very easy to use, even for beginners. They fit in the palm of your hands perfectly so you are able to hold them steadily during use
Portability
The best 10×32 binoculars are compact and lightweight. This makes them easy to carry in the field and convenient to pack and carry during travel
Powerful Magnification
With the high 10x magnification factor, you are guaranteed of easy target finding even at extended ranges
Spacious Field of View
The field of view in 10×32 binoculars is relatively larger compared to models with higher magnification. As a result, you will be able to find your targets with ease in different environments
Budget-Friendly
Compared to other high-powered and high-end binoculars, 10×32 binoculars are more budget friendly without compromising on durability, optical clarity or performance.
Best 10×32 Binoculars – Top Picks
Whether you are avid birder, nature enthusiast or simply and outdoorsy person, here are the 10×32 binoculars that stand out as versatile, functional and reliable sighting tools. Let's take a look.
1) Zeiss Terra ED Binoculars 10×32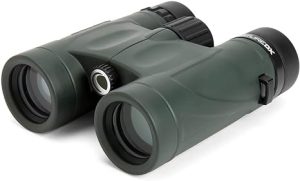 Zeiss Terra ED Binoculars are hands down the best 10×32 binoculars. Carrying the well-respected Zeiss name, this pair of binoculars is perfect for bird watching, hunting and sightseeing.
It has a large, smooth and easy to grip focus wheel that makes focusing really easy and quick. Furthermore, the binocular is built with a compact size and low weight design for easy portability and comfortable handling.
Though lightweight, the binocular doesn't compromise on durability. It has a robust body construction which guarantees readiness for use under all conditions. The housing is also non-slip for secure handling.
Another feature that makes it stand out is image brightness and clarity. It employs high-quality glass elements and hydrophobic multi-coated lenses which provide stunning optical clarity and precision in all light settings.
Features
Anti-reflective lens coatings
Ruggedized construction
Schmidt-Pechan prism
Large focusing wheel
Wide 61° viewing angle
Closed bridge configuration
Twist-up rubber eyecups
Waterproof and nitrogen filled
Pros
Compact, light and durable
Functional handling
Outstanding image brightness and clarity
Multifunctional
Cons
The focus wheel is a bit stiff
2) Celestron – Nature DX 10×32 Binoculars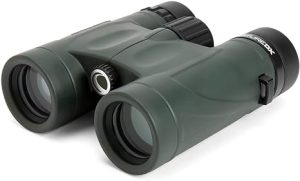 Celestron, a leading brand in the field of optics has a reputation of making quality and cost-effective binoculars and the Nature DX 10×32 Binoculars are not any different. They are great all-round binoculars ideal for birders and outdoor enthusiasts.
The optical performance of this set of binoculars is phenomenal. It has fully multi-coated lenses to fight glare and enhance light transfer. Furthermore, it employs high-quality BaK-4 prisms that are phase-coated to ensure optimal resolution and high color contrast.
This binocular has a powerful 10x magnification and a close focus distance of 6.5 feet. This makes it ideal for use at virtually all distances. Besides, it offers a significantly spacious field of view to help you identify your subjects without strain.
The build quality of this binocular is also impressive. It is built with a polycarbonate housing which protects the optics from damage. It is also sealed and purged with dry nitrogen gas to be fully waterproof and fog proof.
Features
Center focus wheel
Twist-up rubber eyecups
Polycarbonate housing
Fully multi-coated optics
Phase-coated BaK4 prisms
Fully waterproof and fog proof
Closed-bridge configuration
5ft close focus
Pros
Cost effective
Lightweight and portable
Outstanding brightness and clarity
Easy to use
Cons
3) Vortex Optics Diamondback HD 10×32 Binoculars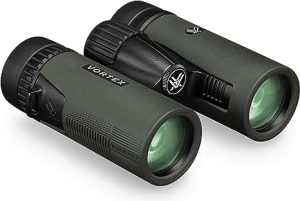 Vortex Optics Diamondback HD 10×32 Binoculars offer the ultimate balance between performance and value to become a rock-solid optic that punches high compared with similarly priced models in its class.
This binocular comes with twist up eyecups that enable comfortable glassing with or without eyewear. The center focus wheel adjusts both barrels simultaneous during use for extra convenience. Moreover, it comes with a right eyepiece diopter to adjust for differences in the user's eyes.
Optically, this pair of binoculars has HD glass elements and dielectric coated prisms to maximize resolution and color finesse. The lenses are also fully multi-coated so at to ramp up light transmission and suppress glare.
Vortex optics are outstanding in durability and this set of binoculars is not built different. It has a rugged construction to withstand repeated use and abuse. Furthermore, the chassis is rubber armored to provide non-slip grip and durable external protection.
Above all, the Vortex Optics Diamondback HD Binoculars are fully waterproof, fog proof and dust proof for performance in all environments.
Features
Aluminum chassis
Roof prism optical path
Fully multi-coated optics
Adjustable eyecups
Rubber armored body
Dielectric prism coating
Tripod adaptable
Center focus wheel
Right eyepiece diopter
Pros
Great for travel
Easy to use
Excellent build quality
Bright and clear optics
Cons
4) Hawke Nature-Trek Binoculars 10×32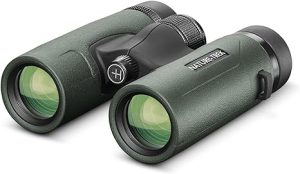 From bird watching to nature viewing, the Nature-Trek Binoculars make a steadfast companion for its users. It is lightweight, portable and very comfortable to carry and use, even during long glassing sessions.
This pair of binoculars gives amazing views with crisp clear sight pictures and true natural colors. This is made possible by the multi-coated lenses which work together with high-performance BaK-4 roof glass prisms for intense color and contrast.
Moreover, the binocular is nitrogen purged to prevent fogging and misting when use in cold weather. It also boasts a rugged construction that guarantees long term durability no matter the environment you use it in. On top of that, it is outfitted with a high grip rubber armor which makes it shock resistant.
Features
Twist-up eyecups
High-performance BaK-4 roof glass prism
Durable rubber coated chassis
Fully multi-coated optics
2m/6.6ft close focus distance
Compact top hinge design
Tripod mountable
Pros
Relatively lightweight
Good image quality
Portable design
Solid and sturdy construction
5) Swarovski NL Pure 10×32 Binocular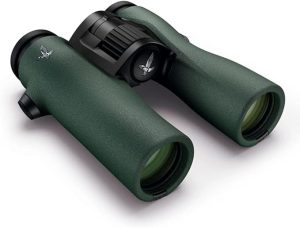 Swarovski NL Pure 10×32 Binoculars are the best 10×32 binoculars for bird watching. As a birding beginner or enthusiast, this pair of binoculars is packed with all the features you need to take your bird watching to the next top-notch level and make every expedition memorable.
With the high 10x magnification, this set of binoculars guarantees incredible views in all environments. It is compact for convenient transportation and lightweight to let you observe in comfort, even during long glassing periods.
Moreover, the binocular has an ergonomic design that fits perfectly in any adult-sized hands. As a result, you are assured of functional handling during use. Other than that, you get a wide field of view of 132fm at 1000m for close monitoring of the birds in flight.
To top off everything else, the Swarovski NL Pure Binoculars are made with durability in mind and comes with nitrogen filled optical tubes for fog proof and waterproof protection.
Features
Field flattener lens system
Waterproof and nitrogen filled
Short closed bridge design
Three position twist-up eyecups
Fluorite-containing HD glass elements
Rubber armored body
Magnesium alloy housing
Ultra-wide 69° viewing angle
Pros
Wide field of view
Long eye relief
Comfortable exit pupil
Exceptional image brightness
Compact and lightweight
Cons
6) Steiner Peregrine Binoculars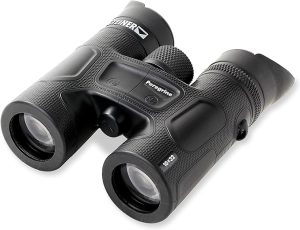 Next up, we have the Steiner Peregrine Binoculars. This pair of binoculars provides a unique balance of power, clarity and comfort that you need to make the most out of every outdoor adventure.
The wide field of view makes the high 10x magnification useful at all distances. Furthermore, this binocular boasts high image stability which makes finding and following mobile subjects fast and easy.
Steiner optics are world renowned for ferocious toughness and this set of binoculars is not any different. It is built with a lightweight but durable polycarbonate chassis with NBR long life rubber armoring. The armoring provides a non-slip grip which is neither tacky nor spongy.
To complement the rock-solid construction, the binocular is fully waterproof and fog resistant for all weather reliability. Over and above that, it is outfitted with a Distance Control System that lets you pre-set focus at a known distance for a more clear viewing.
Features
Makrolon housing
Sports auto focus
Advanced lens coatings
Fully waterproof and fog resistant
NBR long life rubber armoring
Polycarbonate chassis
Large center focus wheel
BaK4 roof prisms
Distance control system
Pros
Bright and high image quality
Large field of view
Superb light transmission
Lightweight but durable
Cons
7) Kowa BD II XD 10x32mm Binocular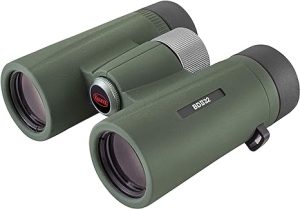 As one of the best 10×32 binoculars, Kowa BD II XD 10x32mm binocular model comes with all the modern features you would expect. It is affordable without compromise and ideal for a full range of applications both indoors and outdoors.
A defining feature of this binocular is optical features. It employs high grade ED glass elements that optimize resolution and color accuracy. Besides, the anti-reflective-coatings-rich lenses offer class leading image brightness and clarity, even in the low light settings.
What's more, this binocular offers wide angle performance to help you find your targets with ease. It is also engineered for comfort with an ergonomic design and fluid-responsive focus wheel which delivers pin point accuracy.
Rugged reliability is another facet that makes this binocular a good purchase. It benefits from a magnesium alloy chassis with the strength of a metal to provide a sense of security and longevity.
Features
High grade ED lenses
Fully multi-coated optics
Magnesium alloy body
Fully waterproof and nitrogen filled
32mm close focus distance
16mm eye relief
Rubber armored body
Pros
Lightweight and compact
Affordable
Wide angle field of view
Impressive close focus
Sleek, ergonomic design
Cons
The quality of the glass could be better
8) Leupold BX-4 Pro Guide HD Binoculars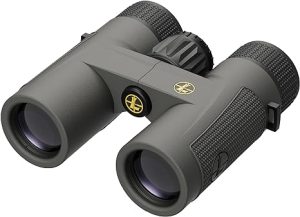 Leupold BX-4 Pro Guide HD Binoculars, mark our last recommendation of the best 10×32 binoculars. This 10x binocular is the Jack of all trades when it comes to glassing. It gets you closer to the distant targets with the panoramic views it provides, while delivering enough field of view for the tight spaces.
The selling point of this HD binocular is durability. It boasts the legendary Leupold ruggedness that enables reliable performance even in the most unforgiving environments. On top of the solid construction, the binocular is waterproof, fog proof and guaranteed for life.
Optically, this pair of binoculars has an advanced optical system which offers excellent light transmission from dusk to dawn. Additionally, it employs elite-level glare reduction for use in harsh light, and BaK-4 prisms which fight edge distortion to deliver the perfect sight picture.
To top off everything else, this pair of binoculars comes with an open-bridge, dual-hinge design which makes it extremely lightweight and ergonomic.
Features
Fully waterproof and fog proof
Advanced optical system
Built-in 1/4 -20 tripod adaptor port
Open bridge design
Scratch and smudge resistant lens coating
HD calcium-fluoride lenses
BaK-4 roof prisms
Aluminum chassis
Pros
Excellent build quality
Great glass
Good low light visibility
Cons
See Also
Criteria for Choosing the Best 10×32 Binoculars
Intended Use
The first factor to take into account is intended use. Are you planning to use the binoculars for birding, sight-seeing, nature observation or any other application? Be activity specific then focus on finding a quality pair of binoculars that aligns the best with your needs.
Quality of Optics
The quality of optics that a set of binoculars is built with can make or break your entire glassing experience. So, look for binoculars that are made with the best quality of optics you can afford. Models with HD, ED or fluorite containing glass elements are the best. On top of that, opt for binoculars with several layers of premium anti-reflective coatings.
Durability
Durability is the other essential facet to consider. Irrespective of the kind of application you will be using the binoculars for, opt for a model that is made to last for long. The chassis needs to be made using premium quality materials such as aluminum or magnesium alloy. Also go for binoculars that are fully waterproof, dust proof and resistant to fog and mist.
Eye Relief
Ample eye relief is very important for binoculars. This is no matter if you wear eyeglasses or not. A binocular with a forgiving eye relief is comfortable to glass with even during long sessions. We recommend buying binoculars with at least 15mm eye relief.
Budget
It is also important to factor in how much you are willing to pay when shopping for the best 10×32 binoculars. There are so many models available on the market and each pair comes with a different cost.
Like any other binocular configurations, the high-end 10×32 binoculars come at a cost. So, look at the features that each model offers and opt for one that will give you the best value for money.
FAQs
What do numbers in binoculars represent?
The magnification power and size of the objective lens respectively. So, for models with 10×32 configuration, 10x is the magnification power and 32mm is the size of the objective.
What is the price range of good-quality 10×32 binoculars?
It depends on the brand as well as the features that you want the binocular to have. On average, be ready to pay over $200 for the good quality budget models and above $500 for the high-end models.
Are 10×32 binoculars any good?
Absolutely. 10×32 binoculars are good for nearly all kinds of outdoor adventure applications. From birding and nature observation to sightseeing and hunting, a quality model makes a steadfast companion for those who like to spend time enjoying the great outdoors.
Final Words
Hopefully, you have found our article to be of significant help. Before you make any selection, understand your glassing requirements and then focus on finding the right pair for your needs.
Choosing the best 10×32 binoculars requires thorough homework and careful selection, but whatever you have in mind, there is a model out there for you.