Looking for the best 7×50 Binoculars? If your answer is yes, you have come to the right place. Binoculars make a versatile tool for a wide range of indoor and outdoor expeditions and in our post today, we shed a light on the best 7×50 binoculars that are suitable for a variety of applications including marine and astronomy.
The significance of 7×50 binoculars for outdoor applications cannot be overstated. They are useful in practically every situation where you need to have a closer look of targets at a distance. Because of their broad range of uses, they have become an indispensable tool for people of virtually all professions, not just for astronomy or marine use.
When shopping for the best 7×50 binoculars, it is important to consider the kind of application you will be doing, budget and preference. But with the sea of models out there, finding the right pair for your individual needs is no mean feat. If you are having a hard time finding the right set of binoculars, we are here to assist.
We have scoured the market and put together a round up of the attributes that make a great 7×50 binoculars and a number of the best-rated models available on the market. We have also provided you with a detailed buying guide to help you make the best selection.
What Makes a Great 7×50 Binoculars
A great 7×50 binoculars is one that offers great performance and value for money. To achieve this, it should have the following attributes:
Durable Construction
A great 7×50 pair of binoculars should have a sturdy and tough chassis that guarantees durability. The chassis should also be rubber armored for additional protection from shock and elements.
Low Light Visibility
A good binocular should have premium quality glass elements and high-transmission lenses to ensure reliable optical performance in low light settings.
Lightweight Design
Lightweight construction is another important attribute of a good 7×50 binoculars. The more lightweight the binocular is, the more comfortable it will be to use and carry around.
Smooth Focus System
Last but not least, the best 7×50 binoculars should have a focus system that is smooth to operate for quick target finding.
Best 7×50 Binoculars – Top Picks
1) Steiner Navigator Pro 7×50 Binoculars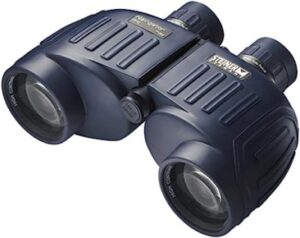 First up, we have Steiner Navigator Pro 7×50 Binoculars. Steiner is a brand that is known for its top-grade optics and this is clear in the Navigator Pro 7×50 Binoculars. It is designed with a variety of amazing features and advanced technology which make it the best 7×50 binoculars.
The durability of this set of binoculars is a force to reckon with. It is made with a temperature and impact resistant Makrolon polycarbonate chassis which is outstanding in sturdiness and rigidity. The chassis is rubber armored on the exterior to resist oil, weathering and elements while providing a slip-resistant grip in all environments.
In addition to the quality construction, the binocular is nitrogen filled for fog proof performance, and waterproofed for added protection from dust and moisture. Over and above that, it has a minimum focus distance of 66"/ 20.1m and a wide field of view of 117.2m at 1000m for quick and effortless target finding.
Furthermore, this pair of binoculars brings to the table a Sports-Auto Focus System for straightforward focusing. It also features high contrast optics which produce bright and clear images without any chromatic aberration.
Features
Autofocus system
Makrolon housing
Waterproof, fog proof and temperature resistant
NBR rubber armored body
Porro prism optical path
High contrast optics
Floating prism system
Pros
Large field of view
Smooth focus mechanism
Crystal clear optic
Excellent construction quality
Cons
2) Bushnell Marine 7×50 Waterproof Binocular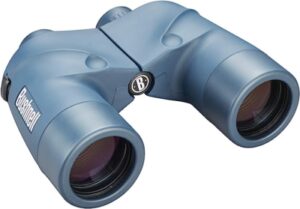 Bushnell Marine 7×50 Binocular offers the perfect balance between functionality and value. It is an excellent sighting tool for a wide range of outdoor applications including astronomy, boating, hunting and marine use.
The optical performance of this pair of binoculars is stunning. The large 50mm objective lens maximizes performance in low light by collecting large volumes of light. Furthermore, the binocular has quality optics with phenomenal HD clarity and fully multi-coated lenses to ramp up light transmission.
Another impressive thing about this binocular is quality construction. It is made with high-quality materials to last for a long time. On top of that, it has a durable, non-slip rubber armor which provides extra protection from shock.
To top it all off, the Bushnell Marine 7×50 Binocular is hermetically sealed to be fully waterproof and dust proof. It is also purged with nitrogen gas to remove all internal moisture and keep the lenses fog free.
Features
HD quality optics
Premium BaK-4 Porro prisms
IPX-7 waterproof and fog proof
Fully multi-coated lenses
Non-slip, non-skid rubber armor
Durable construction
Pros
Inexpensive
Spacious field of view
Built to last
Bright and crisp clear with sharp focus
Cons
3) Nikon 7440 OceanPro 7×50 Waterproof Binocular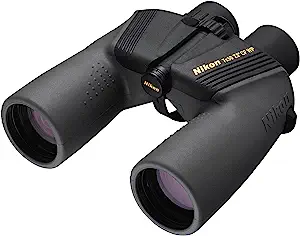 Nikon is a household name in the optics industry. It manufactures high-quality optical gear like the OceanPro 7×50 Waterproof Binocular to meet the needs of outdoorsy people all over the globe.
This pair of binoculars offers a perfect combination of waterproof compact housing and excellent optical characteristics. It excels in in virtually all light conditions, where it yields bright, clear and high-contrast sight pictures.
Furthermore, the binocular is built to be nearly indestructible. It has a robust chassis that is shockproof to take in any abuse. On top of that, it incorporates a rubber armored exterior which provides a slip-resistant grip and helps prevent sliding in wet environments.
For all weather reliability, the OceanPro 7×50 Waterproof Binocular is built waterproof and fog proof. Other than that, it has a diopter adjustment to accommodate the differences in your eyes and a large central focus knob for easy focusing.
Features
1mm exit pupil
Waterproof and nitrogen filled
Large central focus knob
Fold-down rubber eyecups
Lightweight polycarbonate housing
Rubber armored exterior
Multiple layers of anti-reflective lens coatings
Pros
Long eye relief
Phenomenal picture quality
Good build quality
Bright with accurate focus
Cons
4) Konus Tornado 7×50 Binocular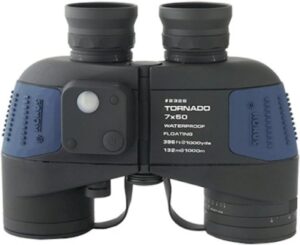 Konus Tornado 7×50 is by far the best 7×50 binoculars for the budget buyers. It is inexpensive but it does not cut any corners on quality or durability.
A highlight of this pair of binoculars is durability. It is built with the most hard-wearing materials to withstand the hazards of marine activities and any rough handling. On top of that, it is charged with dry nitrogen gas to survive extreme temperature changes and prevent fog build up. It is also sealed against dust and moisture to survive heavy weather.
Not only is the binocular's build quality exceptional, but also the optical performance. It is built with extra-bright BaK4 prisms to ramp up resolution and color contrast. Furthermore, the optics are fully multicoated to enhance light transmission for optimal optical clarity.
What's more, this pair of binoculars has a range finding reticle and built-in calculator to help you measure the distance to the target and size of the faraway objects. An illuminated calculator is also included for navigation.
Features
Waterproof and nitrogen purged
Range finding reticle
Illuminated compass
BaK4 prisms
Individual focus type
Floating body
Fully multi-coated optics
Built-in calculator
Pros
Tripod adaptable
Relatively lightweight
Inexpensive
Clear glass and great visual
Cons
5) Fujinon Mariner 7×50 WP-XL Porro Prism Binocular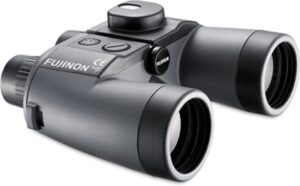 Next up, we have the Fujinon Mariner 7×50 WP-XL Binocular. This pair of binoculars is your ideal option if you are always on the go. It cuts both weight and cost, without compromising on quality.
This set of binoculars is built ready for use in any environment. It is 100% waterproof, fog proof and dustproof. When used with the provided strap, it floats on water for added protection. Besides, it is built with durability in mind to weather the rough handling you subject it to.
Optically, the binocular has fully coated optics to complement the large 50mm objective lens. The premium lens coatings maximize transmission of light in low light and provide brilliantly clear sight pictures.
For added convenience, this pair of binocular has extra-long eye relief of 18mm so it is comfortable to use with or without eyeglasses. On top of that, it comes with an illuminated compass and reticle for navigation purposes.
Features
Fully-coated optics
Individual focus
Waterproof construction
Porro prism optical design
LED illuminated compass and reticle
Closed-cell foam flotation neck strap
Pros
Generous eye relief
Lightweight design
Easy to use
Great build quality
Great value for the money
6) Barska AB12738 Floatmaster 7×50 Binoculars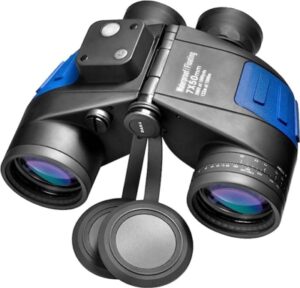 Sixth in our list of the best 7×50 binoculars is Barska AB12738 Floatmaster 7×50 Binoculars. This piece of gear is ideal for all water-based applications from marine use to boating, fishing and more.
Optical finesse is what makes it outstanding. The large 50mm objective lens draws in large volume of light and enhances performance in low light. On top of that, the optics are fully multi-coated to ramp up light transfer and provide bright, clear and tack-sharp sight pictures.
This pair of binoculars offers complete waterproof protection to outlast elements. It is completely buoyant if dropped in water for extra shield. Moreover, it has a yellow armored housing that is not just durable, but also visible in low light settings.
What's more is that the Barska AB12738 Floatmaster 7×50 Binocular features a long eye relief of 23mm to ensure snug glassing. It also has a large center focus knob and a close focus distance of 5m/15ft.
Features
Lens floating capability
Rubber armored body
Waterproof protection
Large center focus knob
BaK-4 Porro prisms
Fully multi-coated optics
Non-slip grip
Pros
Easy handling
Long eye relief
Rugged design
Bright and clear optics
Cons
7) Hooway 7×50 HD Waterproof Military Marine Binoculars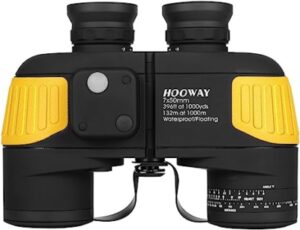 When it comes to versatility, the Hooway 7×50 HD Binoculars are hard to beat. They are an excellent tool for marine applications, birding and hunting, in addition to wildlife viewing, travel and sports matches.
The versatility of this pair of binoculars is attributed to is stunning optical performance. It excels in virtually all lighting and weather conditions, where it provides stunning views of targets. Furthermore, it boasts a wide field of view of 396 feet at 1000 yards for easy target finding.
This binocular is operable even in the most challenging weather conditions. It is completely sealed to prevent moisture, dust and sand from penetrating the optics. Moreover, the optical tubes are purged with dry nitrogen to provide a lifetime of fog proof performance.
To ensure comfortable glassing with or without eyewear, this binocular has a long eye relief of 22mm. Other than that, it is outfitted with an illuminated compass for direction location and internal rangefinder for determining the size and distance of objects.
Features
Fully multi-coated optics
Built-in rangefinder
Waterproof and fog proof
Illuminated compass
Premium BaK-4 prisms
8mm exit pupil
Center focus type
Tripod adaptable
Pros
Bright and clear optics
Generous eye relief
Ease of use
Great value for money
Cons
8) AOMEKIE Marine Binoculars for Adults 7×50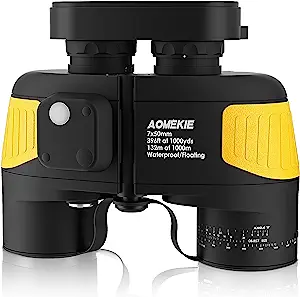 AOMEKIE Marine Binoculars, marks our last pick of the best 7×50 binoculars. It features an array of user-friendly attributes that make it an ideal choice for tons of outdoor adventure excursions.
This pair of binoculars is built with BaK-4 Porro prisms. It is compact enough to be easy to carry, yet ultra-sturdy to handle whatever punishment you throw at it. Furthermore, the lenses are fully multi-coated to gather more light and provide outstanding picture quality and clarity.
With a spacious field of view of 395ft at 1000 yards, this binocular will help you find targets with ease and make your overall glassing less fatiguing. Besides, it comes with anti-aging silicone eyecups that are skin-friendly for added convenience.
Over and above that, the AOMEKIE Marine Binoculars are outfitted with a rangefinder reticle for measuring the size and distance to targets, and an illumination compass for navigation. It is also 100% waterproof, floatable and nitrogen filled for uninterrupted performance in all kinds of weather conditions.
Features
High-quality optics
Waterproof and fog proof
High-index BaK4 Porro prisms
Auto focusing system
Fully multi-coated lenses
Individual focus type
Durable rubber armored coating
Foldable eyecups
Illuminated compass
Pros
Comfortable field of view
Sufficient eye relief
Skin-friendly eyecups
Easy to carry and store
Excellent build quality
Cons
Read Also
Why Choose 7×50 Binoculars
There are two sets of numbers in each binoculars' configuration. The first number represents the magnification power and the second number shows the size of the objective lens.
7×50 binoculars have a 7x magnification power and an objective lens diameter of 50mm. Here are the benefits that come with buying a 7×50 binocular.
Versatility. The primary benefit of 7×50 binoculars is versatility. They are an excellent companion for a variety of expeditions from marine use to astronomy and boating among others
Wide Field of View. In optics, magnification power is inversely proportional to field of view. 7×50 binoculars offer a significantly spacious field of view which is essential for easy target location
Cost-effective. Majority of the best 7×50 binoculars are reasonably affordable compared to models with higher magnification power
Ease of use. 7×50 binoculars also have the added benefit of being simple to use even for beginners
Criteria for Choosing the Best 7×50 Binoculars
Let's now look at the important things you need to consider when shopping for the best 7×50 binoculars.
Usage
The first and most important thing to consider is the application you intend to use the binoculars for. 7×50 binoculars are ideal for a wide range of applications like marine use, hunting, boating and astronomy. By being application-specific, it becomes much more simple to find a model with all the features you require.
Build Quality
Binoculars no matter the application are an investment and 7×50 binoculars are not any different. No matter the application you will be using the binoculars for, you will want to get a unit that will last for many years. Check the quality of construction and materials used and get a model that is built with durability in mind.
Weight
The weight of binoculars is another important thing to consider. We recommend that you settle for a binocular that weighs not more than 2pounds. Anything heavier than that will necessitate the need to get a tripod so as to take weight off your hands. Heavy and gigantic binoculars also have a drawback of being less pack-able and portable.
Weatherproof Construction
The best 7×50 binoculars are built ready for all-weather operability. The tubes are filled with a dry inert gas like argon or nitrogen to drive out internal moisture and prevent the internal lenses from fogging. The binocular should also be sealed to lock out moisture and dust. Moisture, dust particles and any other debris are major enemies of optics and can cause unrepairable damage if they get inside the optical tubes of the binoculars.
Eye Relief
Also remember to look at eye relief. If you are new in the field of optics, eye relief is a measure of how far your eyes have to be from the binoculars eyepiece during use. In binoculars, it is measured in millimeter and varies from one product to the other. A tip is to get a pair that has at least 15mm of eye relief.
Final Thoughts
We hope that you have found the information on this post to be of great help. With the right 7×50 binoculars at hand, you can rest assured that your outdoor excursions will be more fun and successful. Take a look at the specs and features that each binocular brings to the table and pick the pair that blends best with your individual needs.